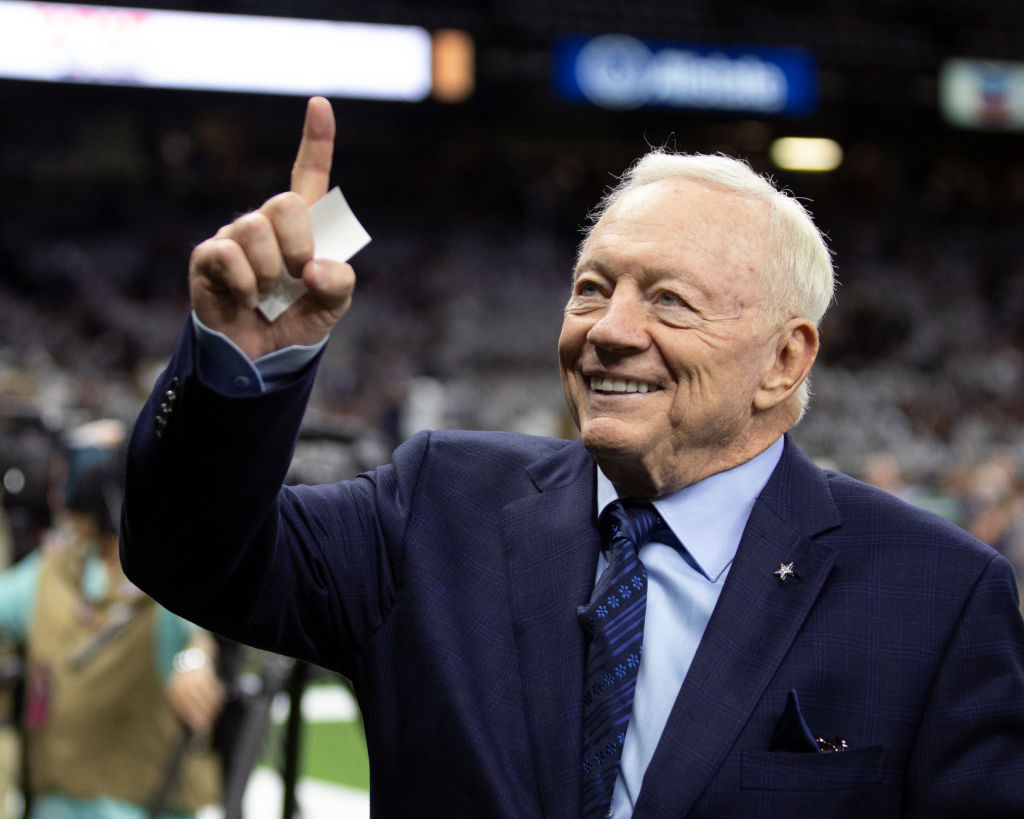 Jerry Jones Is Worth Billions but Not Even Close to Being the Richest NFL Owner
Jerry Jones is the most publicly recognized NFL owner. While Jones might have the highest profile, he doesn't have the highest wealth of NFL owners. It's not even close.
Jerry Jones is easily the most recognized owner in the NFL. While Robert Kraft of the New England Patriots makes headlines for his team's success and Daniel Snyder of the Washington Redskins garners attention for his controversial decisions, Jones is in a league all by himself.
The Dallas Cowboys owner is never one to shy away from cameras or a microphone. He even has his own radio show. Although Jones might have the highest profile of all NFL owners, he doesn't have the highest amount of wealth, and it's not even close. 
4. Jerry Jones — $8.5 billion
Jerry Jones struck it rich, literally, in the 1970s in the oil business. Throughout the 1970s and into the 1980s, as gas prices soared, so did Jones's wealth. By the end of the 1980s, Jones had accumulated enough wealth to purchase the Dallas Cowboys.
When Jones bought the club in 1989 for $150 million, many in the business world and NFL thought the oilman was crazy. Up to that point, no one had spent more than $100 million on a sports franchise. In retrospect, Jones looks like a genius.
The Dallas Cowboys were most recently valued at $5.5 billion. In addition to his ownership of the Cowboys, Jerry Jones is still involved in the oil business and has a diversified portfolio that includes retail and residential real estate projects in Dallas as well as ownership in 75 Papa John's pizza franchises. The 77-year-old has a reported net worth of $8.5 billion.
3. Shahid Khan and the Jacksonville Jaguars — $8.6 billion 
Just edging out Jerry Jones for higher net worth is Jacksonville Jaguars owner Shahid Khan. The Pakistani-born Khan is CEO and owner of Flex-N-Gate, an American automotive company, and OEM that supplies automotive parts. Khan started in the car bumper business before buying out his former employer in 1980. 
During the next 30 years, Khan's business would explode and by 2010, it employed more than 13,000 people at 52 factories worldwide. Sales reached $3.4 billion in 2011. Late in 2011, Khan purchased the Jacksonville Jaguars for $770 million.
Two years after Khan purchased the Jaguars, he added to his portfolio by purchasing Fulham F.C. of the English Premier League for $300 million. In addition to ownership of the two franchises, Khan also owns the professional wrestling organization All Elite Wrestling. The 69-year-old Khan has a reported net worth of $8.6 billion, just slightly more than Jerry Jones.
2. Stan Kroenke and the Los Angeles Rams — $9.7 billion
Stan Kroenke made his fortune after he married Walmart heiress Ann Walton in 1974. Soon after the couple tied the knot, Kroenke launched a real estate development firm that built most of its properties near Walmart stores. As Walmart expanded into markets across the nation, so did Kroenke's development projects. 
While Kroenke is current owner of the LA Rams, he has been involved in sports franchise ownership since the late 1990s. After initially buying into the St. Louis Rams in 1995, Kroenke bought the Denver Nuggets and NHL's Colorado Avalanche. He also is owner of the MLS's Colorado Rapids.
In August 2018, Kroenke, like Khan, expanded his portfolio to include an English Premier League club when he bought Arsenal. In recent years, Kroenke has recently invested in e-sports teams and is owner of the LA Gladiators in the Overwatch League and LA Guerrillas of the Call of Duty League. The 72-year-old Kroenke has a reported net worth of $9.7 billion, which is a little over a billion more than Jerry Jones.
1. David Tepper and the Carolina Panthers — $12 billion
David Tepper was hired in 1985 as a credit analyst by Goldman Sachs. Tepper soon became the top trader for the company. But after seven years and being passed over for a role as a partner on two occasions, Tepper started his own private hedge fund, Appaloosa Management, which today has a reported value of $13 billion.
In 2009, Tepper first ventured into sports team ownership when he purchased a five percent share of the Pittsburgh Steelers. That was just a warmup. In May 2018, Tepper bought the Carolina Panthers from Jerry Richardson for $2.2 billion.
Late last year, Tepper added another sports team to his portfolio when he reportedly paid a $325 million franchise fee and was awarded an MLS franchise in Charlotte, which will begin play in 2021 at Bank of America Stadium. Tepper is 15 years younger than Jerry Jones at 62 and has a net worth of $12 billion, almost four billion more than the Cowboys owner.   
All net worth figures courtesy of Business Insider.