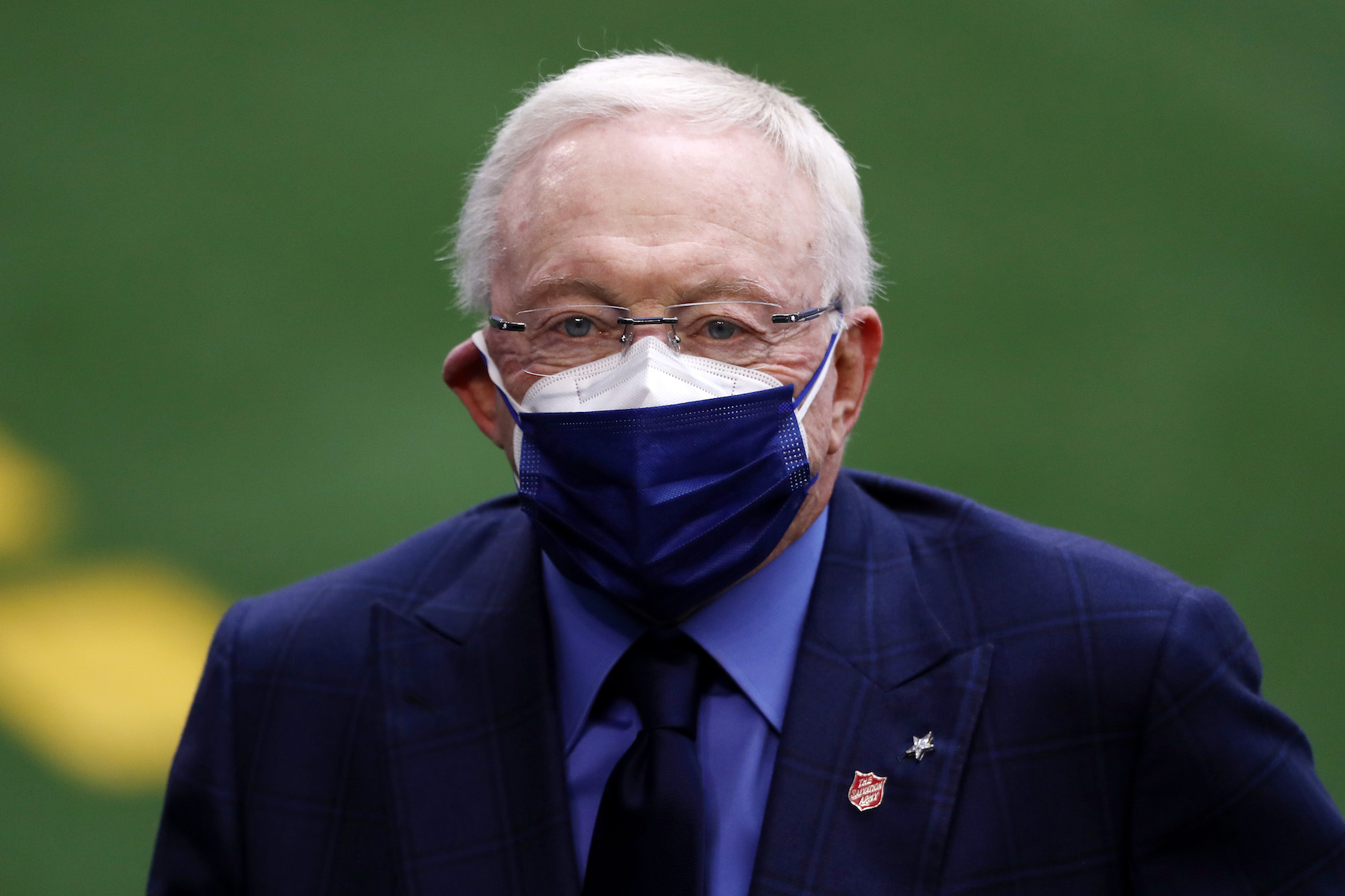 Jerry Jones Is Worth $8.4 Billion, but He Just Proved That His COVID-19 Talk Is Cheap
While Dallas Cowboys owner Jerry Jones has built up an $8 billion net worth, his COVID-19 talk sure sounds pretty cheap.
Even if they've never set foot in the state of Texas, just about every NFL fan is familiar with Jerry Jones. During his time at the helm of the Dallas Cowboys, the owner and general manager has seen and done it all. He's won Super Bowls, destroyed a dynasty, and, on an individual level, made plenty of money.
Despite having a massive $8.4 billion net worth, though, Jerry Jones' COVID-19 talk is pretty cheap. While the owner is doing what he can to keep himself safe during the pandemic, he also has no problem with welcoming more fans into AT&T Stadium.
Jerry Jones' time with the Dallas Cowboys has made him rich and unpopular
For most professional sports owners, it's enough to sit in a luxury box and watch the money roll in. Jerry Jones, however, does things his own way.
After buying the Dallas Cowboys in 1989, Jones immediately stamped his mark on the franchise by firing Tom Landry and bringing in Jimmy Johnson. While results didn't immediately improve, the team eventually amassed enough talent to turn into a modern dynasty.
Although that on-field success eventually stagnated, the Cowboys turned into a massive windfall for Jones. Based on Forbes' estimates, the franchise is worth roughly $5.5 billion; his personal fortune clocks in at around $8.4 billion.
Despite his individual accomplishments, though, Jones isn't exactly beloved around the NFL. Cowboys fans feel that he's to blame for the team's recent failures. Those outside of Texas don't love him either; the billionaire has become somewhat of a caricature of a rich businessman, giving interviews and accumulating wealth while his investments fail to produce.
Allowing more and more in-person fans to watch the Cowboys, even during a pandemic
As mentioned above, Jerry Jones does seem to have a knack for business; even if he's not the greatest general manager the NFL has ever seen, he knows how to make money. That trend has, for better or worse, continued during the COVID-19 pandemic.
While some teams have been playing in empty stadiums, Jones has opened his doors and allowed Cowboys fans to watch America's Team in person this season. The owner has previously claimed that AT&T Stadium's sheer size and natural airflow would allow patrons to have a safe experience watching football.
Even as COVID-19 cases surge around the country, Jones isn't deviating from his plan to increase capacity with each passing home game. While no outbreaks have been traced to NFL games, it's still reasonable to question the wisdom of allowing tens of thousands of people to gather in one place, no matter how spacious and well-ventilated it might be.
Jerry Jones is more than willing to keep himself safe from COVID-19
Based on his willingness to allow Dallas Cowboys into AT&T Stadium, you might assume that Jerry Jones isn't taking COVID-19 seriously. On a personal level, though, he's taking all the right precautions.
"No, I've changed completely. I really have," Jones said on 105.3 The Fan, when asked if COVID-19 has changed his day-to-day life, according to the Dallas Morning News. "And I was early — I've been all over the map, but boy I'm double-masked. I'm literally thinking that everybody I'm around has COVID. And I'm thinking, I don't want to get it. So I'm distanced, I'm masked, I don't go to anything without everybody having been tested, and the main thing is all of the other things, the hygiene and all of that."
On a personal level, Jones explained that he knows he's susceptible to the virus and would hate to slip up just as there appears to be some light at the end of the tunnel."
"But I am and why, is because I really do feel that we're right around the corner," the Dallas Cowboys owner continued. "As you know I'm in an age bracket that is one that would be vulnerable. And so, it would be a shame, just for me on a personal basis here, it would be a shame to go as far as we got and a vaccine almost sitting right here on the shelf and I'll be the first in line to grab a vaccine. And so my point is that I want to be extra careful right now."
That attitude, however, seems a bit incongruous with Jones' business stance. If he's wearing two masks, keeping a social distance, and following all the other precautions, why is he allowing fans into his stadium? If the Dallas Cowboys owner is assuming that everyone he interacts with could be sick, then why isn't he extending the same assumption to the thousands of people coming to watch football?
As any Cowboys fan can confirm, Jerry Jones is no stranger to hypocrisy and bad decisions. His COVID-19 logic seems to be cut from the same cloth.