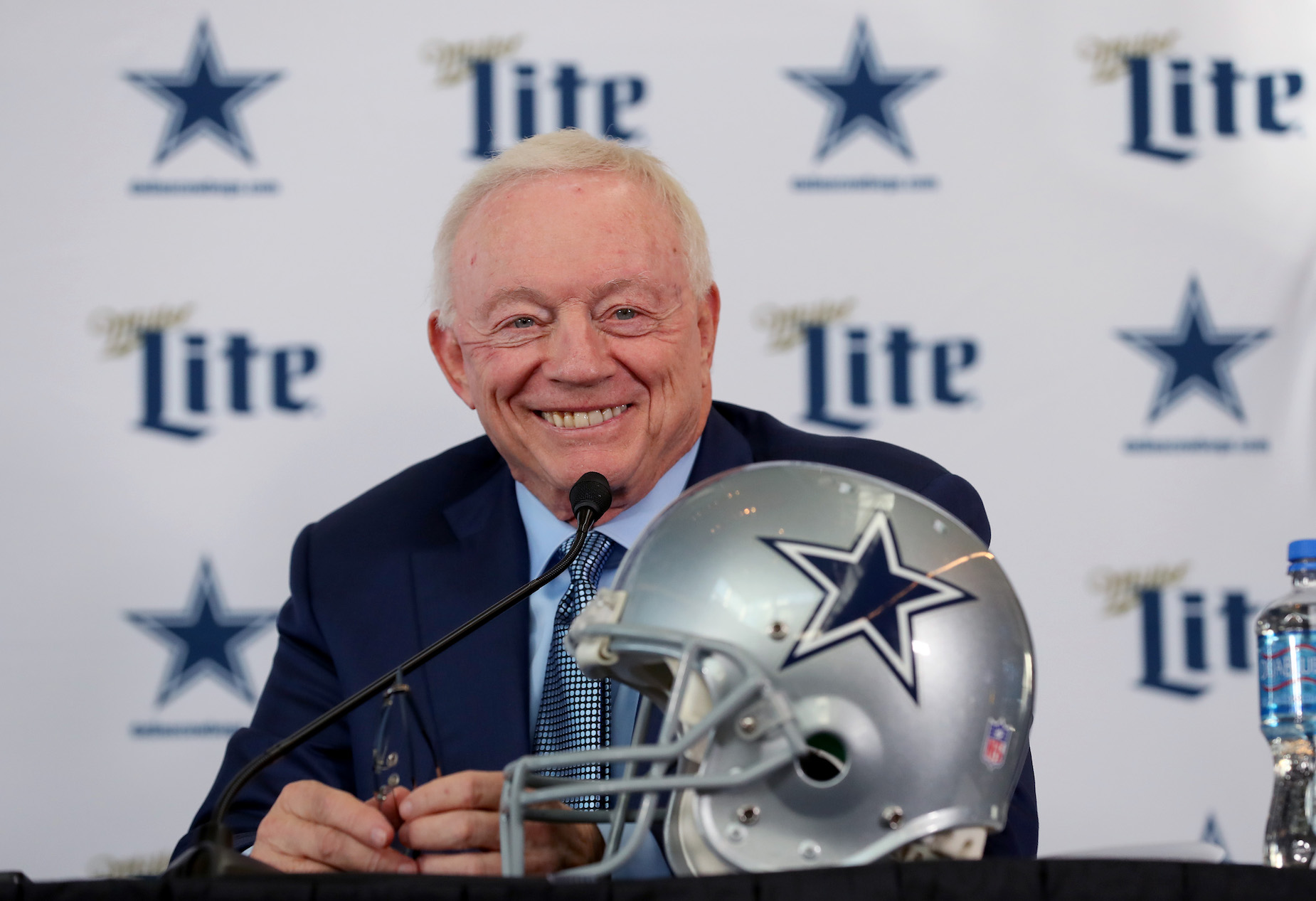 Jerry Jones Believes That His $1.2 Billion Investment Will Allow Fans to Attend Cowboys Games This Fall
Want to watch the Dallas Cowboys in person this fall? Jerry Jones believes his $1.2 billion investment will let you safely do so.
Say what you will about Jerry Jones, but the Dallas Cowboys owner is never shy about sharing his opinion. While most NFL executives prefer to remain in the background, things are a bit different in Texas; you never have to wonder what Jones is thinking. On Wednesday, he made a bold claim about playing football in front of live fans this fall.
While the coronavirus pandemic has changed the realities of professional sports, Jones spoke with his characteristic confidence. Come the fall, he believes that his $1.2 billion investment will allow fans to watch the Dallas Cowboys in person.
The Dallas Cowboys have made Jerry Jones rich and famous
Believe it or not, Jerry Jones isn't actually the richest owner in the NFL. Despite that reality, though, the Dallas Cowboys boss is still living out his football dreams.
Jones grew up playing football and, when it came time for college, headed to the University of Arkansas. He joined the Razorbacks squad as an offensive lineman; by the time he graduated, Jerry had become co-captain of the team and helped capture the 1964 national championship.
After college, though, Jones didn't immediately find success. He borrowed money from the Teamsters union to open a string of pizza restaurants, but couldn't strike it rich; he also tried, and failed, to buy the San Diego Chargers. While he ultimately landed at Modern Security Life Insurance, working alongside his father, Jerry wasn't satisfied.
In the 1970s, he founded Jones Oil and Land Lease and started wildcatting; he struck it rich and used that money to buy the Dallas Cowboys. While on-field results have suffered since the 1990s, that investment has paid off. In addition to becoming a household name among football fans, Jones is worth more than $8 billion.
Building a $1 billion football stadium
As the cliche says, everything's bigger in Texas. When Jerry Jones built AT&T Stadium, it seems like he took that saying to heart.
When it came time for the Dallas Cowboys to leave their old home at Texas Stadium, Jones knew it was an opportunity to make a statement; it's safe to say he did just that. While the construction of Cowboys Stadium—now known as AT&T Stadium—started, the estimated cost clocked in at around $650 million. By the time the dust settled, though, things were a bit different. According to ESPN, the project " cost $1.2 billion to build, with the taxpayers of Arlington contributing $325 million. Jones paid the rest."
Inside, though, Jerry World comes with all the bells and whistles. As detailed by Arlington.org, the stadium's interior covers 3 million square feet, features a "world-class contemporary fine art collection," and boasts 15,000 club seats. Above the field, there's a massive jumbotron and the world's largest dome over a sports facility.
Jerry Jones believes AT&T Stadium's unique design will make it safe for fans
Due to the coronavirus pandemic, mass gatherings have been put on hold. Jerry Jones, however, believes that AT&T Stadium's unique design will allow fans to watch the Cowboys in person this fall.
According to Michael Gehlken of the Dallas Morning News, Jones said that the Cowboys "will adhere to all [state] protocols …and adapt them to the uniqueness of our stadium." That uniqueness apparently means sheer size in addition to airflow.
As documented in a Tom Pelissero tweet, AT&T Stadium's sheer size could theoretically allow for some social distancing; if a low percentage of the seats were filled, fans could sit within their own "pods." Ed Werder also tweeted that Jones believes the stadium's "naturally-built airflow" will help keep people safe.
At this point, everything we know about the coronavirus suggests that in-person events held outside of a bubble aren't a good idea. Jerry Jones, however, seems to have different plans for the 2020 Dallas Cowboys season.