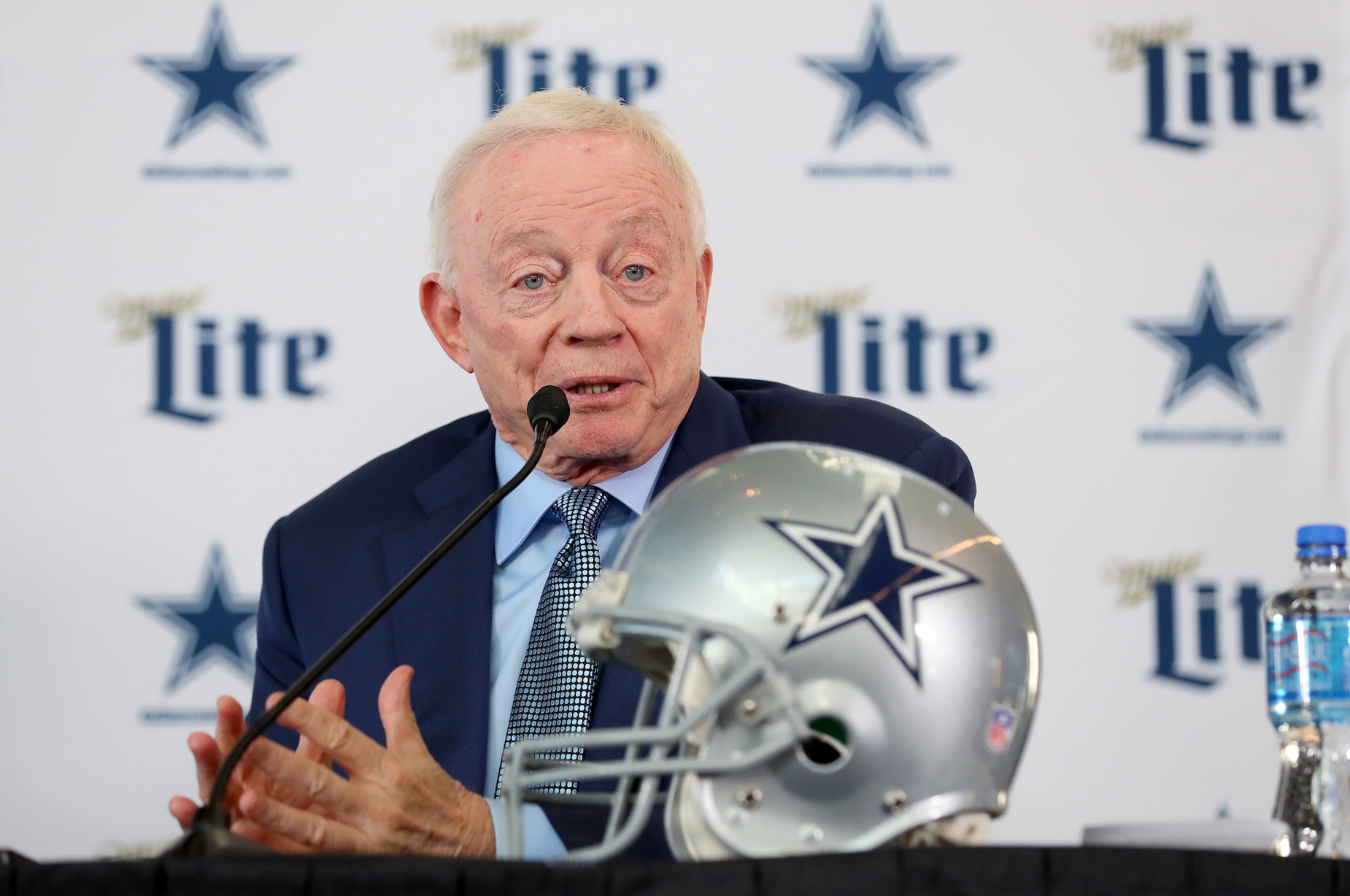 Jerry Jones Owns America's Team, but He's Pretty Unpopular in Texas
As the owner of the Dallas Cowboys, Jerry Jones has become incredibly rich and famous. According to a latest poll, though, he's also pretty unpopular.
For better or worse, just about every football fan knows Jerry Jones. Over the course of an NFL season, it's virtually impossible to avoid the Dallas Cowboys owner and general manager; he simply has a knack for finding himself in front of a camera or microphone and sharing his thoughts with the sports work. That familiarity, however, hasn't made the billionaire a beloved figure.
Despite owning an iconic NFL franchise and having an incredible fortune, Jerry Jones isn't the most popular man around. In fact, a recent poll confirmed that Texans have a pretty poor opinion of the Dallas Cowboys boss.
Jerry Jones didn't always own the Dallas Cowboys
These days, it's impossible to imagine Jerry Jones doing anything other than being an NFL owner. It goes without saying, though, that he wasn't born into the Dallas Cowboys organization.
Jones, however, did grow up as a football fan and played college ball at the University of Arkansas. While he might not seem like a fearsome physical specimen today, Jerry found a home on the Razorbacks' offensive line; he served as a co-captain of the team and helped win the 1964 national championship.
Jones didn't immediately fall into professional football, though. After graduation, he used a loan from the Teamsters to open some Shakey's Pizza parlors; that business venture, however, would end in failure. He also tried to purchase the San Diego Chargers, then of the AFL, but couldn't secure the required funds in time.
On the back of those two failures, Jones took a job at Modern Security Life Insurance, working alongside his father. Jerry wasn't destined to stay in insurance, though.  In the 1970s, he founded Jones Oil and Land Lease; before long, he struck black gold and, in 1989, used that money to purchase the Dallas Cowboys.
Becoming rich and famous, but not popular
Taking a position in the public eye always includes a certain amount of scrutiny. During his time owning the Dallas Cowboy, Jerry Jones has learned that firsthand.
While the Cowboys became a modern dynasty during Jones' time at the helm, things haven't been as successful in recent years. Despite having a talented roster, the club can't make it over the hump; that leaves many fans pointing the finger at Jerry, himself.
As both the owner and general manager, Jones has an incredible say in how the team does business; he makes the personnel decisions and, when push comes to shove, no one can tell him what to do. While that could work in an ideal situation, the Dallas Cowboys are not an ideal situation. Jones wants to prove he can build a Super Bowl-winning roster and, consequently, has been running in circles for years.
With that being said, though, Jones has still reaped some impressive financial rewards from NFL ownership. According to Forbes, the Dallas Cowboys are worth an estimated $5.5 billion; Jones himself clocks in with an $8.4 billion net worth.
A recent poll found that Jerry Jones is pretty unpopular in Texas
With the 2020 presidential election coming up, there have been plenty of polls going around. At least one of them, however, included a question about Jerry Jones and confirmed that the Dallas Cowboys owner is pretty unpopular.
According to Fox 4 News, the UMass-Lowell polled almost 1,000 Texas likely voters on a variety of issues. While there were plenty of questions about politics and current events, responders were also asked their opinions about a variety of Texas sports figures and local brands.
According to the numbers, 23% of respondents said that they had a favorable opinion of Jerry Jones; 33%, however, said they had an unfavorable opinion of the Dallas Cowboys owner. While that might not sound like a large number, it was the highest unfavorable rating of any sports figure.
For context, there were two other Cowboys on the list. 9% of responders said they had a negative opinion of coach Mike McCarthy; Dak Prescott received 35% positive reviews and 11% negative responses.
If there's one silver lining for Jerry Jones, however, it's that only 17% of Texans polled said that they didn't know who he was. As they say, no publicity is bad publicity.