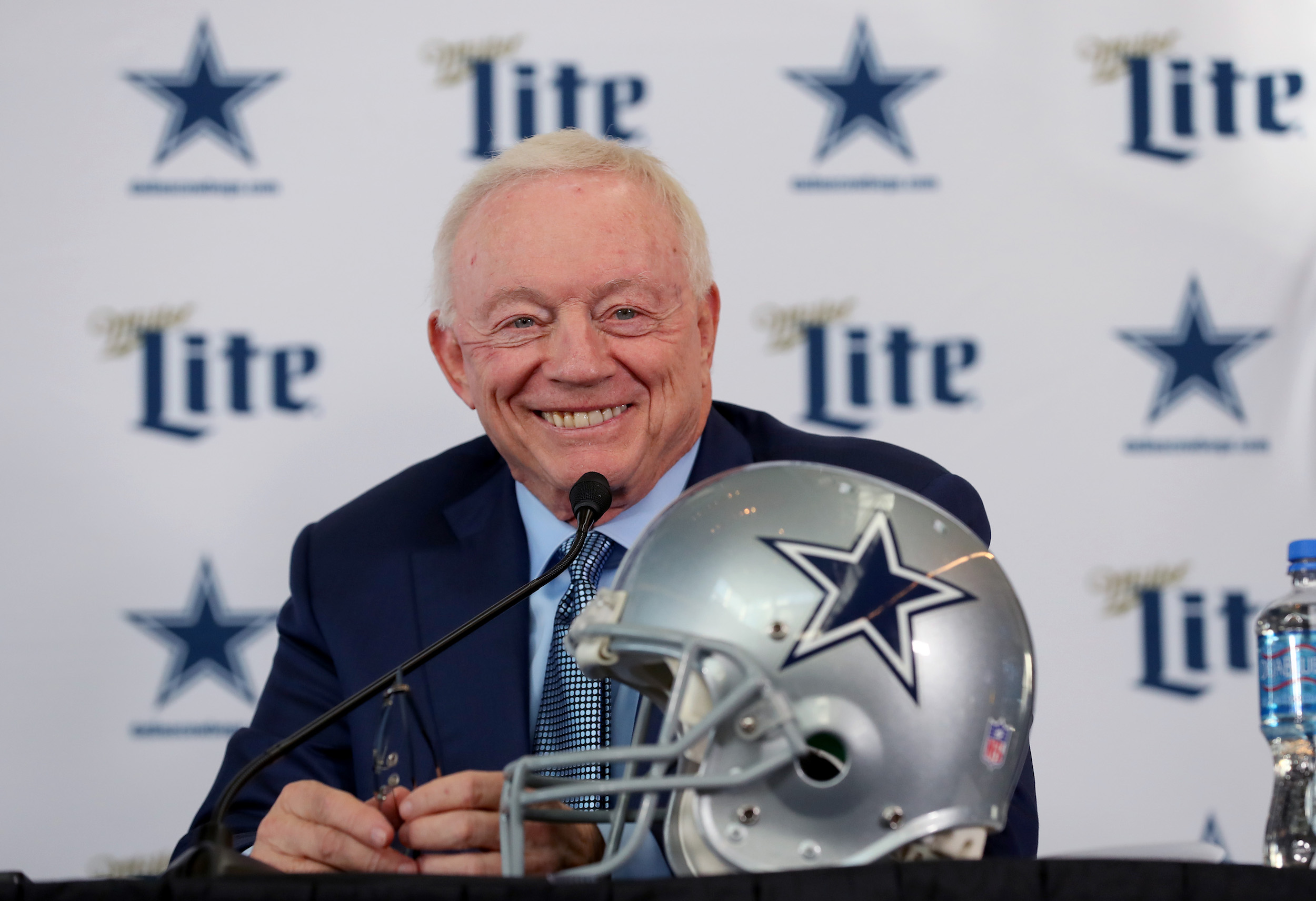 Jerry Jones Learned the Key to Business Success in an Arkansas Grocery Store
While Jerry Jones is now a billionaire in charge of the Dallas Cowboys, he learned the key to business success as a boy in small-town Arkansas.
Whether you love him or hate him, it's hard to argue with Jerry Jones' business acumen. While the Dallas Cowboys have fallen off since the 1990s, their owner is still an unabashed financial success. He's worth billions of dollars today but learned a key lesson about entrepreneurship in much more humble circumstances.
As a boy, Jones spent time in his father's Arkansas grocery store. There, he got a crash course in business and showmanship.
Jerry Jone's business career before buying the Dallas Cowboys
These days, it's impossible to imagine Jerry Jones as anything other than the owner and general manager of the Dallas Cowboys. Before breaking into the NFL, though, he was already rich and successful.
Even in his youth, Jones loved football. He attended the University of Arkansas and earned a job on the Razorbacks' offensive line. While Jerry might pale in comparison to today's massive lineman, he eventually became co-captain of the team and helped win the 1964 national championship.
After graduation, however, Jones didn't find immediate success. He tried to break into the restaurant industry, using a loan from the Teamsters union to open several Shakey's Pizza parlors; that venture went belly-up. Jones also tried to return to the gridiron by buying the San Diego Chargers, but couldn't close the deal.
While Jerry eventually found a role at Modern Security Life Insurance, where his father also worked, he wasn't ready to settle in for the long haul. In the 1970s, he founded Jones Oil and Land Lease and wildcatting; that venture would provide the capital he needed to buy the Dallas Cowboys.
Learning the secret to business in his father's grocery store
In 1989, Jerry Jones made his dream a reality and purchased the Dallas Cowboys. Many years earlier, though, he learned the secret to business success in much more humble circumstances.
As he explained on Real Sports With Bryant Gumble, Jones grew up living above his father's small-town Arkansas grocery store. While he picked up plenty of people skills—Jerry's mother dressed him in a bow tie, had him greet customers, and push grocery carts to earn tips—the future NFL owner also learned about the value of showmanship.
"My father would put on a white hat and walk around in cowboy boots to greet the customers," Jones explained. "And he built a bandstand right in the middle of the store. He had live amateur talent shows while the customers were going around the store."
Jerry Jones has used that lesson to become a billionaire
While there's not much room for showmanship in the oil industry, Jerry Jones has put his father's lesson to good use in the NFL. Even with the Dallas Cowboy's recent struggles, the team is still a marquee attraction and a major cash cow.
As soon as he took over the franchise, Jones started putting on a show. He gave a memorable press conference claiming he would know the Dallas Cowboys "down to the jocks and socks;" he also made headlines by firing Tom Landry and replacing him with Jimmy Johnson.
While results have dropped off from the 1990s, Jones still does his part to keep his in the spotlight. His yacht, for example, stole the show at the 2020 NFL draft. The massive AT&T Stadium is a draw in its own right, associating the Cowboys brand with from pro wrestling to college basketball. Jerry also has never met a camera or a microphone that he doesn't like; every Sunday, you'll probably see or hear from him at least a handful of times.
Although it would be naive to say that the Dallas Cowboys financial success stems directly from Jerry Jones' showmanship, he did transform a floundering franchise into a massive brand. According to the Midland Reporter-Telegram, the team was losing $1 million each month when Jones took over. Today, Forbes lists the Cowboys as the most valuable team in the world, clocking in at $5.5 billion. On a personal level, Jones is worth an estimated $8 billion.
While plenty of NFL fans hate the Dallas Cowboys, Jerry Jones probably won't mind. As he learned did in that humble Arkansas grocery store, it's all about garnering attention and putting on a show.