Jerry Jones' Controversial Rule Changes Made 14 Cowboys Cheerleaders Quit the Team
Jerry Jones applied controversial rule changes when he took over the Dallas Cowboys in 1989. It led to 14 cheerleaders quitting the team.
Billionaire Jerry Jones has had a busy and mostly successful tenure as the Dallas Cowboys' owner.
When Jones took over the team in 1989, he made immediate changes to the organization. Everyone from Cowboys players, front office members, and even the cheerleaders experienced the new day.
Those cheerleaders, ones who had been around for years, quit the team when Jones imposed a controversial rule change.
The Dallas Cowboys cheerleading squad has a long history
The cheerleaders that fans see and, well, cheer for during the NFL season partly originated from the Dallas Cowboys' squad.
The Cowboys weren't the first team to use cheerleaders when the franchise debuted in 1960. That title belonged to the Colts, who first utilized cheerleaders in 1954.
What the Cowboys did, though, was have cheerleaders wear less clothing than they had in the past. After a scantily-woman named Bubbles Cash drew attention during a 1967 game, Cowboys general manager Tex Schramm wanted all of his cheerleaders to wear similar outfits.
By 1969, the Cowboys cheerleading team only featured younger women in revealing outfits. Nicknamed 'America's Sweethearts,' the squad was as iconic as Tom Landry and Roger Staubach in Dallas.
Jerry Jones wanted 'America's Sweethearts' to build relationships with players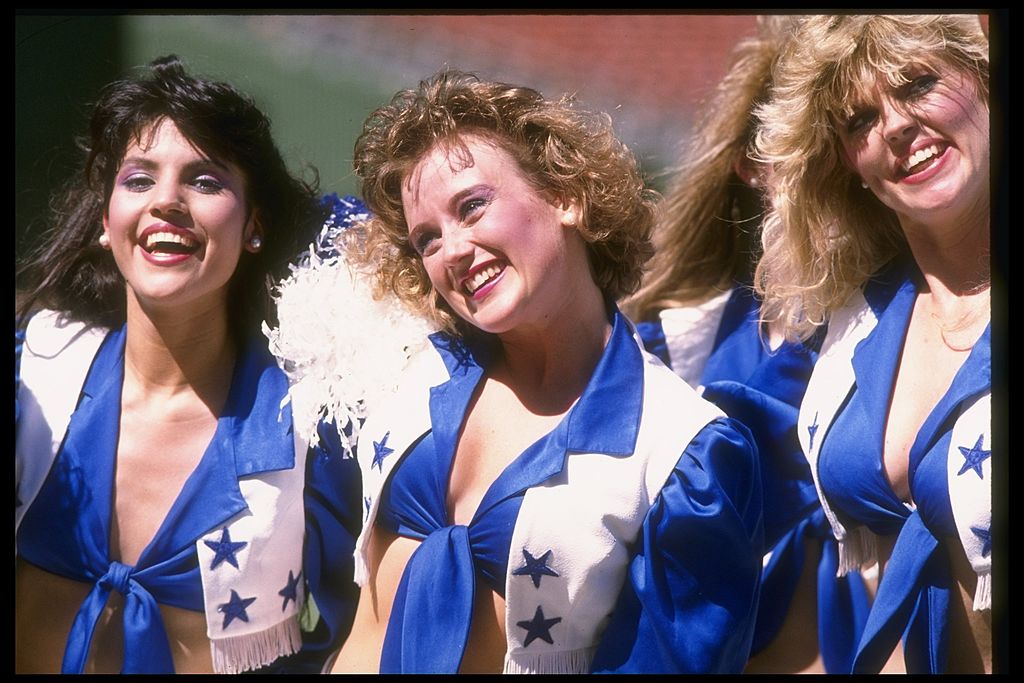 When Jerry Jones bought the Dallas Cowboys in 1989, he did what many new owners and bosses do: present ideas about the future of the company.
Several of those ideas caught Cowboys cheerleaders by surprise. According to the Tulsa World, Jones wanted the cheerleaders to trade their current uniforms — long-sleeved shirts, a vest, and shorts — for biker shorts and a halter top.
Cheerleaders also had to work parties as hostesses and fraternize with players.
Several cheerleaders were angered when Jones told them they had to appear in beer commercials. The Cowboys didn't allow cheerleaders to drink or be photographed with someone drinking.
Jerry Jones needed to find new cheerleaders when 14 quit
Dallas Cowboys cheerleaders loved their jobs, but they hated what Jerry Jones intended to do to the team.
Fourteen veteran cheerleaders turned in their pom-poms and quit. One cheerleader, Twiggy Isip, explained her decision to the Tulsa World and said Jones didn't understand what made the squad so special.
"These changes are not good changes. All the things that the Dallas Cowboy Cheerleaders have worked to become would be gone. If these changes were to be made, we would be like any other NFL cheerleaders. We're more than that."
The season went on as business per usual. Jones found women who wanted to join the cheerleading squad.
Like the team they cheer for, the Dallas Cowboys cheerleading team has become a worldwide icon in its own right. Those who left may not have agreed with Jerry Jones' ideas, but even they likely realize how much his impact paid off.