Dak Prescott Is Already Favored to Win a Specific Piece of NFL Silverware in 2021
After a tough 2020, Dak Prescott seems to have gotten back on track. From a business perspective, the Dallas Cowboys quarterback scored more or less the exact extension he wanted. From a physical and football perspective, his ankle seems to be well on its way back to full health.
Unsurprisingly, the betting markets have taken notice of that early success. While the 2021 NFL season is still months away, Prescott has already become an early favorite to take home a specific piece of silverware.
Dak Prescott seems to be on the right track after a tough 2020
On the whole, most people will probably have a pretty dim view of 2020. From a professional perspective, Prescott also had a year to forget.
While it may seem like an eternity ago, Cowboys contract drama dominated the 2020 NFL offseason. After his rookie deal expired, Prescott and Jerry Jones needed to sit down and hammer out an extension. That proved to be easier said than done, though, and the quarterback left the bargaining table with nothing more than a one-year franchise tender.
On the field, things didn't get much better. While the Cowboys struggled during the early weeks of the season, Prescott proved to be a lone bright spoke. In Week 5, however, a brutal ankle injury brought his campaign to an early end.
Since then, though, things have been working out for the quarterback. Earlier this offseason, he got the extension he wanted, signing a four-year, $160 million deal. Prescott also seems to be recovering well from his injury and, barring any unforeseen issues, could even be cleared to participate in training camp.
Dak Prescott is already the favorite to win the Comeback Player of the Year title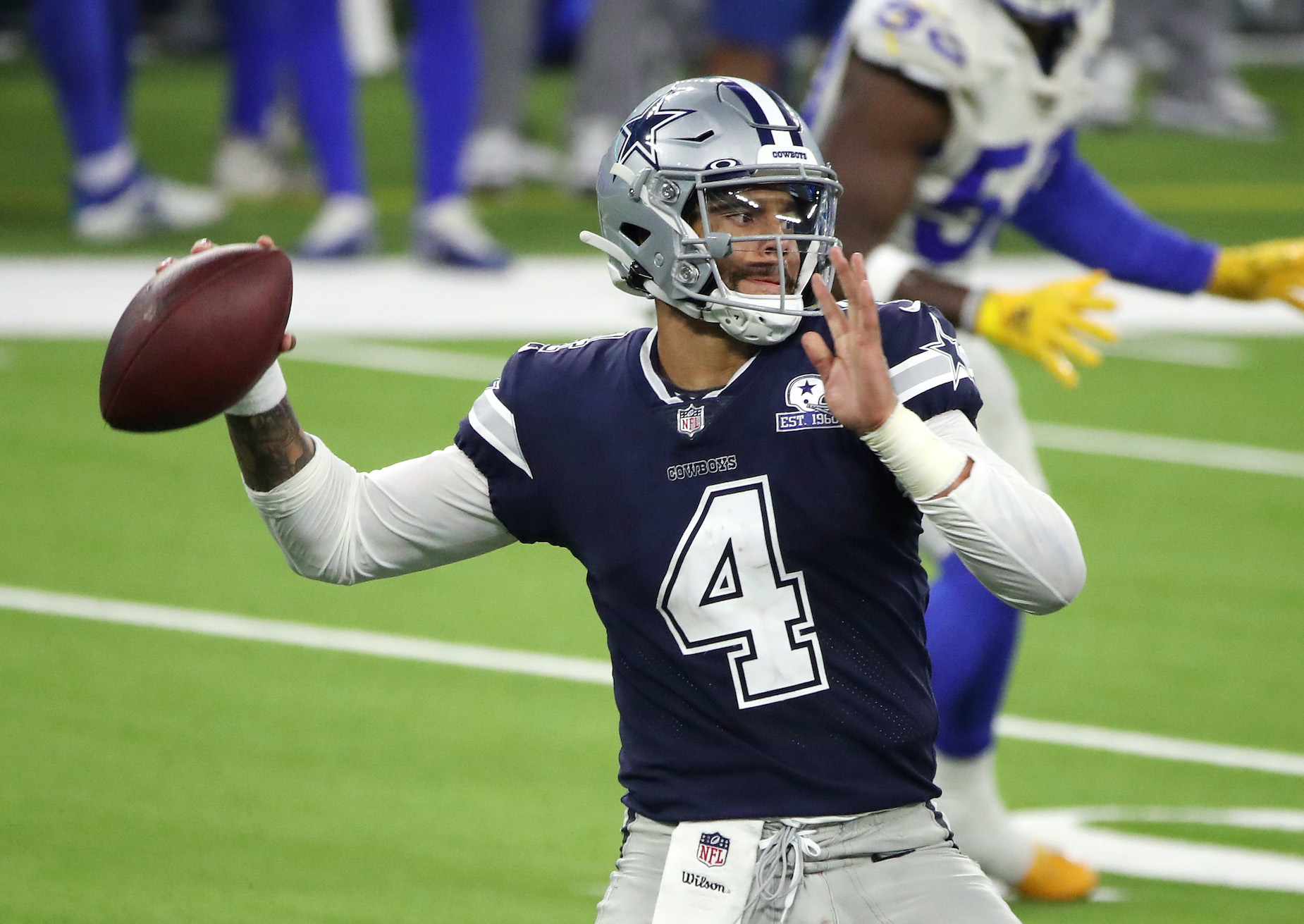 While the NFL's opening night is still months away, it seems like the betting markets have already taken notice of Prescott's offseason progress. As noted by Mike Florio of ProFootballTalk, the Cowboys quarterback is already DraftKings' favorite to take home the Comeback Player of the Year title.
Prescott's odds clock in at +150. His closest competition — the trio of Saquon Barkley, Joe Burrow, and Christian McCaffrey — all clock in at +600. Nick Bosa sits at +700, with odds only getting worse from there.
And yes, in case you're curious, there are betting odds for Tim Tebow. He's listed as a +3300 long shot.
While it's impossible to predict the future, Prescott does make sense as the Comeback Player of the Year favorite. On an individual level, it's safe to assume that he'll stuff the stat sheet; the Cowboys have a talented offense, and, in the past, we've seen that Dak is more than capable of letting it fly.
Team success, whether fairly or not, also matters to some extent and should also give Dak an advantage. Although none of the Cowboys, Giants, Bengals, Panthers, and 49ers look like worldbeaters, Dallas has the best chance to turn in a solid campaign. If Prescott can post his usual numbers and make the playoffs, he should be a fairly safe bet.
Can the Cowboys quarterback take home any more hardware in 2021
While winning Comeback Player of the Year is a nice honor, it's hardly the height of any player's career. Unfortunately for Prescott, it's probably the only trophy he'll be claiming in 2021.
Prescott may be a talented quarterback, but he's not in the top tier when it comes to MVP voting. The likes of Patrick Mahomes, Josh Allen, and Aaron Rodgers dominate there; Dak currently has +1600 odds, according to Vegas Insider. Similarly, the Cowboys don't seem capable of lifting the Lombardi Trophy, taking Super Bowl champion and Super Bowl MVP off the table.
At this point, it's not even a foregone conclusion to assume that the Cowboys will escape the NFC East and qualify for the postseason. On paper, the team has more than enough talent to win the division, but, as we've seen in recent years, that's not a guarantee of success.
If nothing else, though, getting Prescott back on the field will be a positive step for America's Team. Only time will tell just how positive things turn out to be in terms of silverware and success, though.