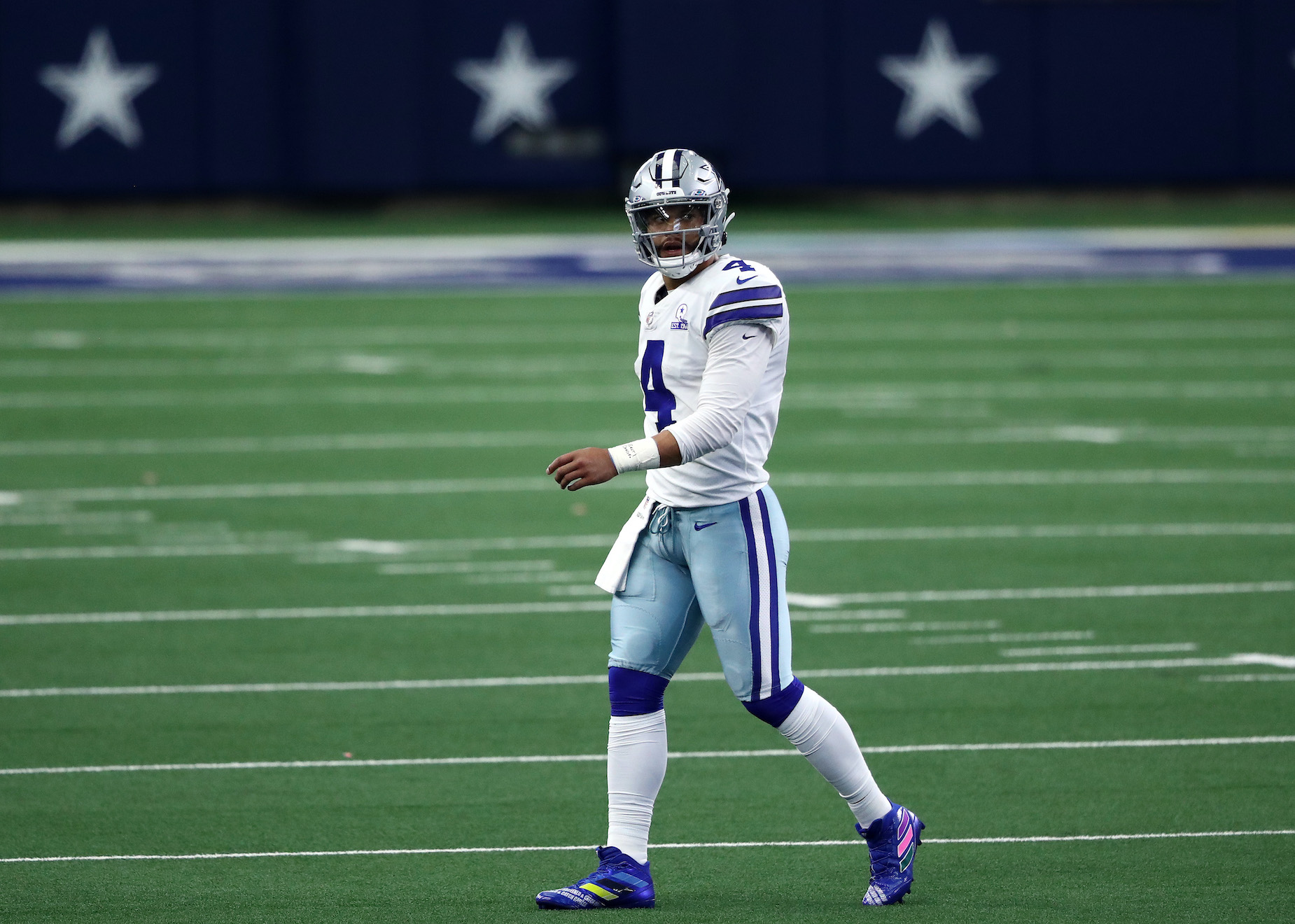 Dak Prescott Can Thank 2 Former NFC East Quarterbacks for His $160 Contract With the Dallas Cowboys
Dallas Cowboys star Dak Prescott can thank two former NFC East quarterbacks for his $160 million contract extension.
After what felt like an eternity, Dak Prescott and Jerry Jones finally agreed to a deal. By and large, the Dallas Cowboys quarterback got exactly what he wanted; the deal is only four years long but still pays him $160 million. At the end of the day, though, two other signal-callers helped Dak get things done.
While negotiations boiled down to Dak Prescott and Jerry Jones, both Alex Smith and Roger Staubach made a difference. While neither QB was at the bargaining table, they both gave the Dallas Cowboys signal-caller an assist in their own unique way.
Dak Prescott refused to blink and scored the contract he wanted from Dallas Cowboys
Since the end of the 2019 NFL season, it's been almost impossible to talk about the Dallas Cowboys without mentioning their quarterback situation. Those issues, however, are now a thing of the past. Whether you like it or not, Dak Prescott signed a contract extension with America's Team.
During the 2020 offseason, Prescott and Jerry Jones were unable to see eye-to-eye. At that time, the main issue appeared to be contract length; the quarterback favored a four-year deal, while the team wanted to sign him for five years. Ultimately, they couldn't hammer out an agreement, and Dak signed a one-year franchise tender.
The season, however, didn't go according to plan. Prescott suffered a gruesome ankle injury, ending his campaign in Week 5. Without their starter, the Cowboys struggled. Dak, all of a sudden, had the leverage.
That advantage, it seems, paid off. While the Cowboys technically franchise-tagged Prescott again, they then signed him to a four-year, $160 million contract. Both from a financial perspective and a term perspective, that's a win for the quarterback.
Dak Prescott thanked Alex Smith for inspiring his comeback
When a star player signs a new contract, you'll usually hear plenty of thanks during their subsequent press conference. After Dak Prescott inked his new deal, however, he shouted out another quarterback: Alex Smith.
Smith, of course, suffered an awful injury, undergoing countless surgeries and almost losing his leg, before returning to the gridiron in 2020. After breaking his ankle, Prescott used his NFC East rival as inspiration.
"I have to thank, honestly, Alex Smith," Prescott explained, according to NFL.com. "Because at that moment when you're sitting there, and you have an injury like that, or you come out of surgery, to see somebody who's already done it and did it actually in worse circumstances, that allowed my mind just to go to straight, 'Hey, I can do this. I'm going to beat this. It's just a matter of time."
Roger Staubach also provided an assist via Jerry Jones
Alex Smith wasn't the only quarterback to indirectly assist Dak Prescott, though. Jerry Jones was apparently guided by some wisdom from Roger Staubach during the contract negotiations.
"Cowboys owner/general manager Jerry Jones has never forgotten the quarterback advice he got from arguably the greatest quarterback in team history," Rob Phillips wrote on the team's official site. "Get somebody at quarterback that the players will follow. That's the biggest thing of all,' Jones recalls Staubach telling him years ago. 'I've had that in my mind for the last five, six years."
While it's not clear exactly who Staubach was specifically talking about, if anyone at all—based on Jones' estimation, he could have made the comments around the time when Prescott replaced Tony Romo—the words apparently made all the difference. At the end of the day, the owner believed Dak was his guy; that meant paying the price to keep him, even if it was $160 million.
Contract negotiations are a complicated thing with plenty of moving parts. Dak Prescott did plenty to help his own cause but, without Alex Smith and Roger Staubach, things could have worked out differently.