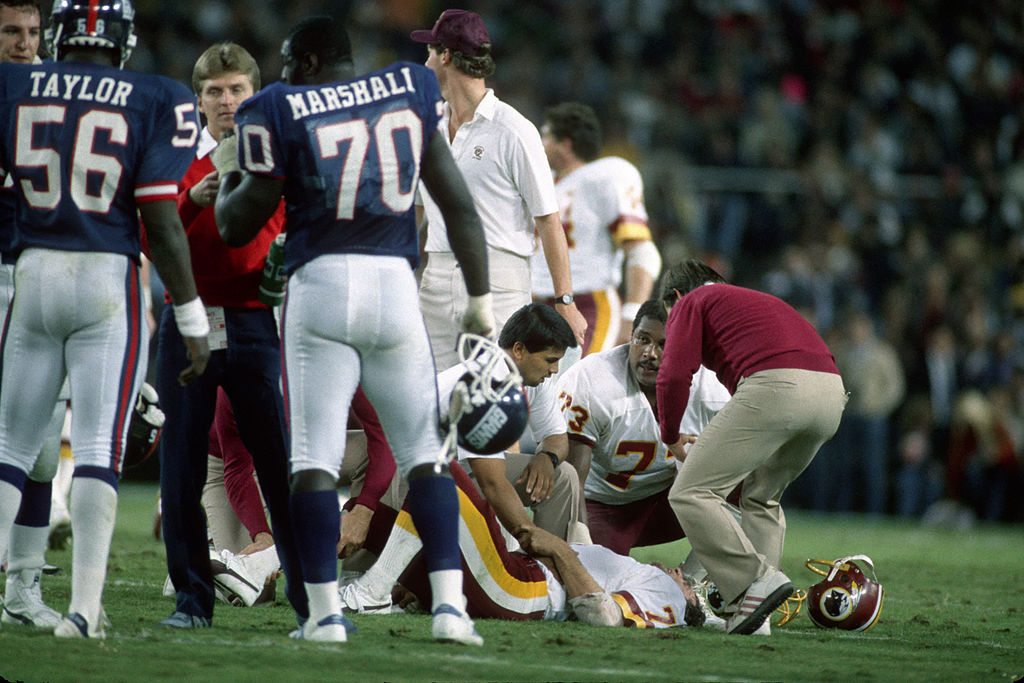 Joe Theismann's Gruesome Leg Injury Helped Change His Image for the Better
How former Washington Redskins quarterback Joe Theismann's gruesome leg injury helped change his image for the better.
It was arguably one of the most gruesome injuries in all of sports. It was a leg bending the way it's not supposed to and it was shown in front of a national audience Nov. 18, 1985. It was a Monday Night Football game between the Washington Redskins and the New York Giants. When Lawrence Taylor sacked Redskins quarterback Joe Theismann and broke his fibula and tibia, it not only marked the end of Theismann's NFL career, but it also sparked a change for the better in Theismann himself.
Joe Theismann's NFL career
Joe Theismann was drafted by the Miami Dolphins in the fourth round of the 1971 NFL draft. He played his college football at Notre Dame but was also an outstanding baseball prospect. Theismann was also drafted by the Minnesota Twins in the 1971 MLB draft in the 39th round. After failing to sign a deal with Miami, Theismann took his talents to the Canadian Football League.
In 1974, Theismann was traded to the Washington Redskins for a first-round pick and became the team's punter in his rookie season. Theismann started five games at quarterback in 1976 and then six in 1977 before replacing Billy Kilmer as the full-time starter in 1978. In 1979, Theismann guided the Redskins to a 10-6 record as he threw 20 touchdown passes.
Theismann made the Pro Bowl in the 1982 and 1983 seasons with his best season coming in 1983. During the 1983 season, Theismann led the team to a 14-2 record by throwing 29 touchdown passes and 3,714 yards, both career highs. He was named the league's MVP that season. For his career, Theismann compiled a 77-47 record and tosses 160 touchdown passes. He was also a Super Bowl champion.
Theismann's career-ending injury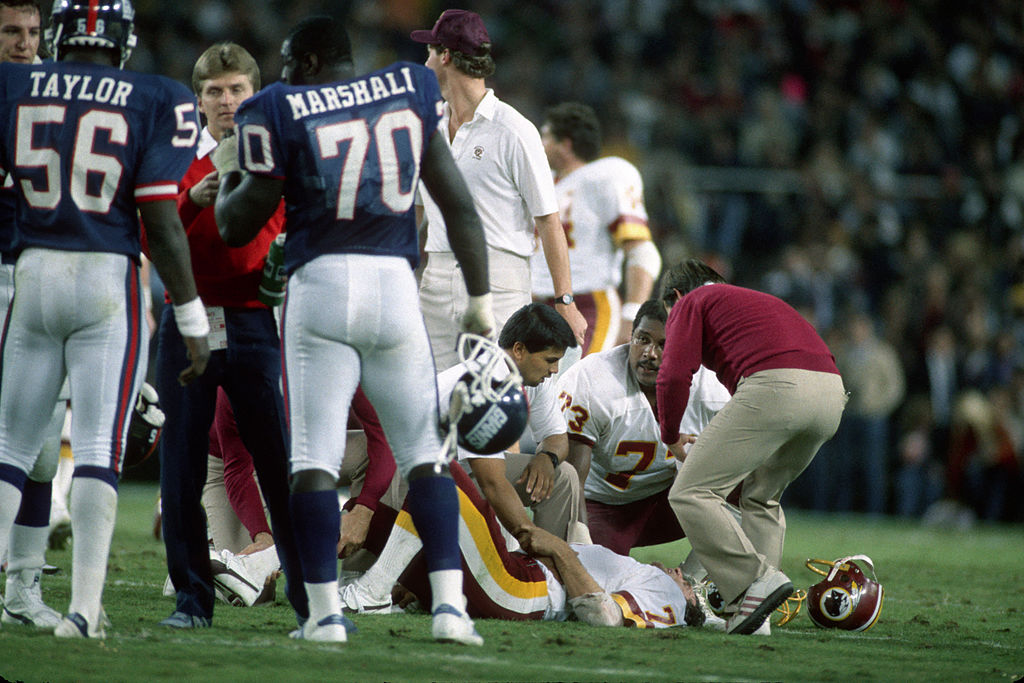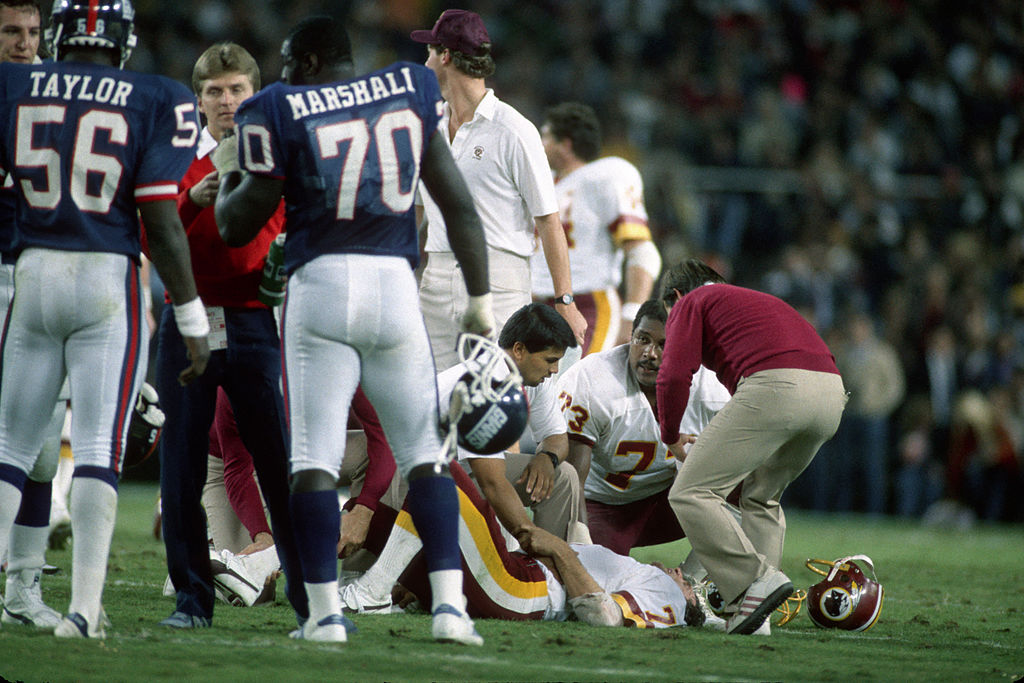 The Washington Redskins were playing the New York Giants on Monday Night Football when Redskins quarterback Joe Theismann's career came to an abrupt end. The score was tied 7-7 in the second quarter when Theismann handed the ball to running back John Riggins, who then lateraled the ball back to Theismann on a 'flea-flicker' play.
All-Pro linebacker Lawrence Taylor wasn't fooled on the play and sacked Theismann. On the play, Theismann's leg snapped and Taylor immediately got up and called for the trainers to come on the field. "I remember handing the ball to John, getting it back and then looking downfield," Theismann said in a 2005 Washington Post article. "I couldn't find Art (Monk) deep, and then I looked to my right for (tight end) Donnie (Warren). At that point, I was feeling some pressure, and the next thing I knew, I heard what sounded like a shotgun going off — Pow! Pow! — and felt this excruciating pain. Then I was on the ground."
Theismann said, miraculously, the pain subsided. "It was at that point, I also found out what a magnificent machine the human body is," Theismann said. "Almost immediately, from the knee down, all the feeling was gone in my right leg. The endorphins had kicked in, and I was not in pain." Theismann had broken both his fibula and tibia and he never played in the NFL again.
Theismann called the injury a blessing, not a tragedy
After the devastating injury, Joe Theismann has planned on making a return to the Washington Redskins. It never happened. He remembers working out at the complex trying to impress those in attendance. He wanted to show he could come back. A little while into his workout, he looked up and everyone was gone. "So, I came walking back in and I said, 'I'm not done with my workout yet!'" Theismann told WUSA9 last year. "And I forget who it was … but somebody said to me, 'Oh yes, you are.'"
It was at that moment, he was no longer the Washington Redskins quarterback. "That's when the reality of what had happened to me really hit me," he said. "When the Redskins released me and I wasn't Joe Theismann, Washington Redskins football player anymore, I was a guy that had played the game of football and it was gone." He was dealt a hard dose of reality and knew he had to change. He had to drop his ego.
"People would say that it was a tragedy that happened in my life, but it really wasn't. It was a blessing," he said. "I'd become somewhat of a self-absorbed individual and didn't really care much about a lot of things except myself. I looked at myself and I wanted to be a better person. And ever since that day in my life, 30 plus, 33 years ago, I've tried to be a better person."