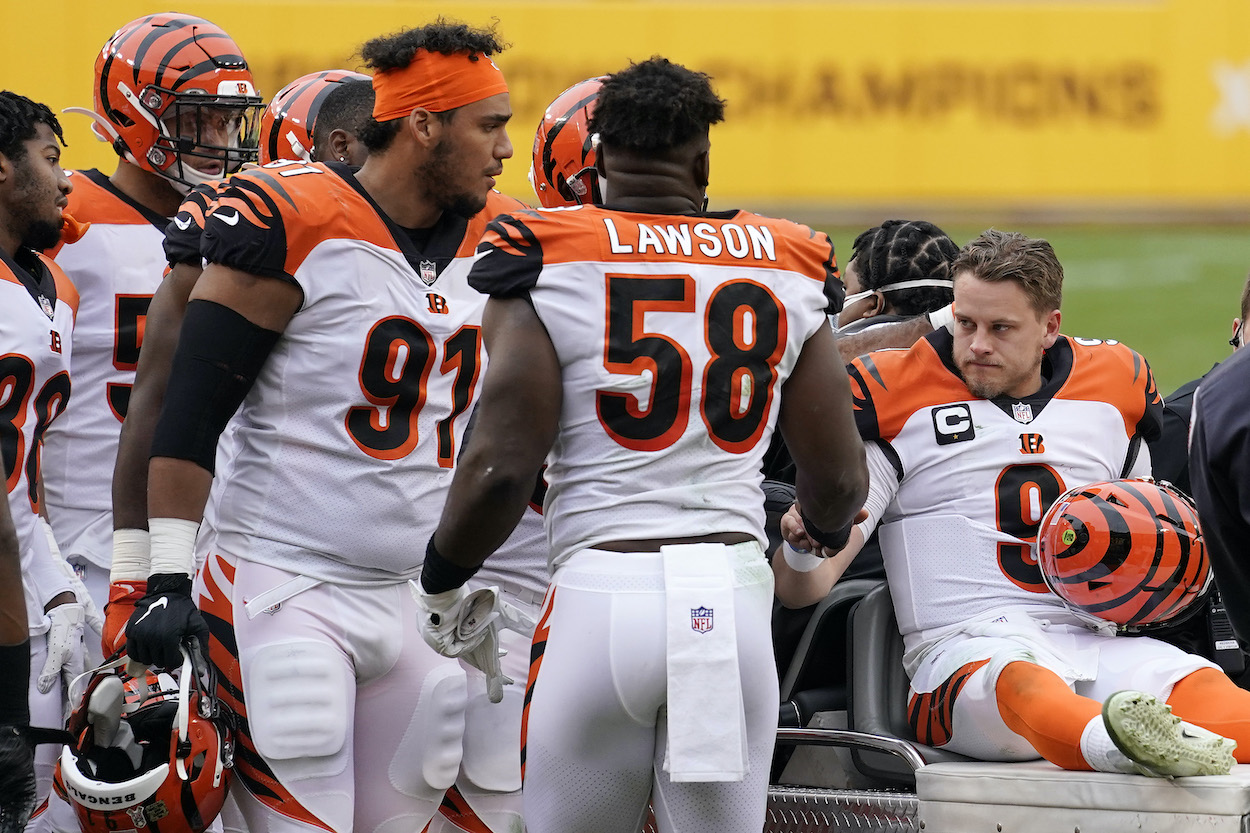 Michael Jordan Apologized to Joe Burrow for Causing His Knee Injury
Cincinnati Bengals quarterback Joe Burrow received a text message shortly after his knee surgery to repair his torn ACL. The text was from Michael Jordan, his former Ohio State and current Bengals teammate who apologized for his role in the injury. Jordan will face stiff competition to hold his starting spot this season.
An ACL injury ended what was shaping up to be an incredibly promising rookie season for Cincinnati Bengals quarterback Joe Burrow. After surgery, he received an apologizing text from someone who felt responsible for causing the injury.
It was from Michael Jordan.
No, not THAT Michael Jordan or even the actor Michael B. Jordan. It was from Burrow's former college teammate, and current Bengals left guard with the very familiar, very famous name.
Michael Jordan and Joe Burrow played together at Ohio State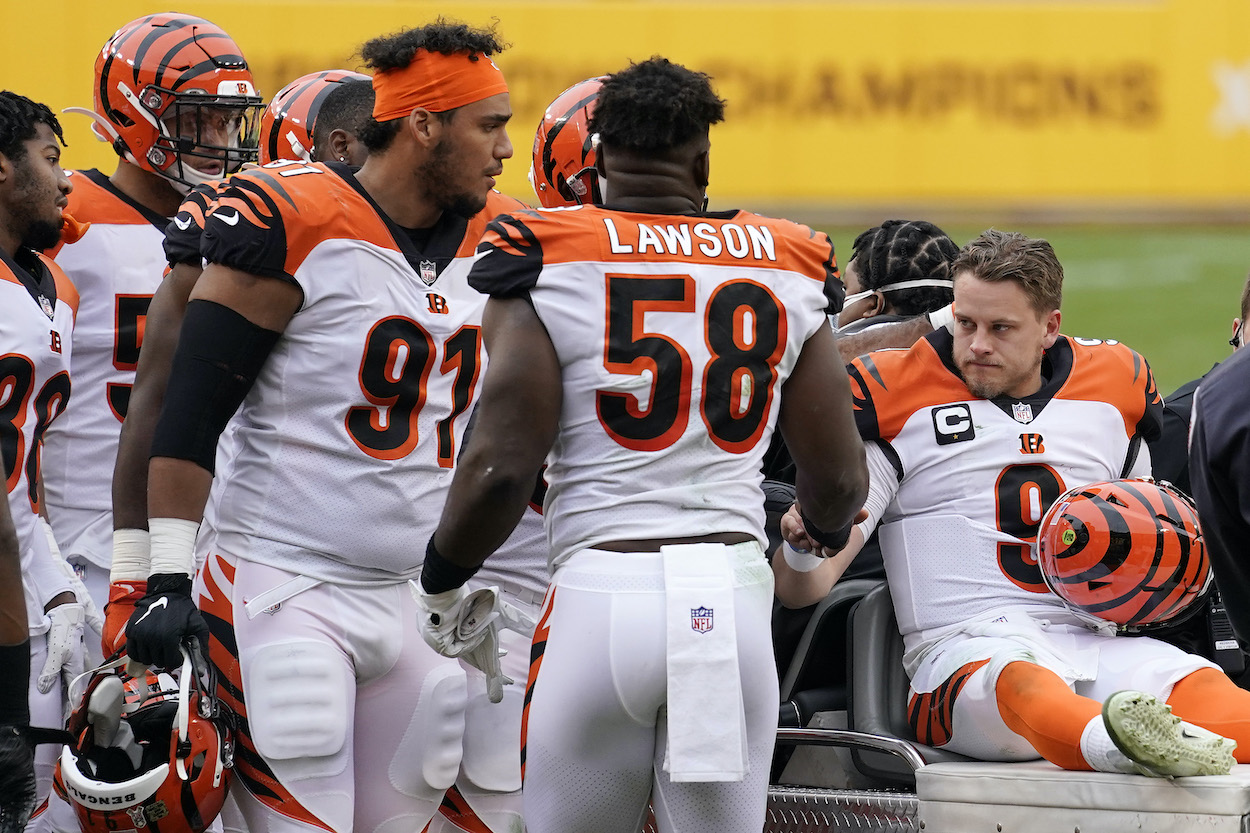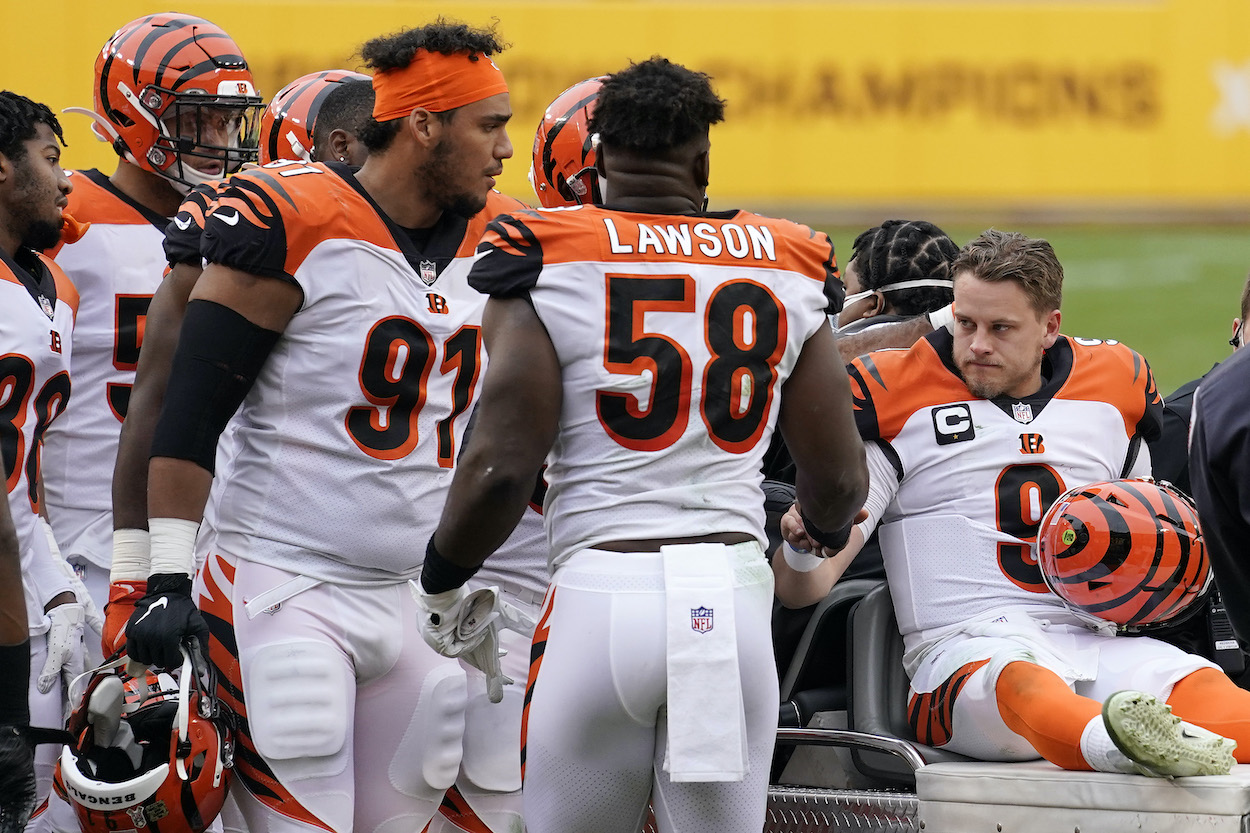 Before they were teammates in Cincinnati, Burrow and Jordan were teammates at Ohio State University. Burrow came to the Buckeyes in 2015, and Jordan followed a year later. In three years at Ohio State, Jordan played right guard and center, according to Bengals.com.
Burrow only threw 39 passes in his Ohio State career. Following a redshirt year and two years as a backup, he lost out on the starting job as a junior to Dwayne Haskins and transferred to LSU. In Louisiana, Burrow became a top QB prospect and, ultimately, the 2020 No. 1 overall pick.
As a fourth-round draft pick in 2019, Jordan wasn't expected to play all that much but started at left guard nine games in his first season and 10 games in his second. Season number two for Jordan saw him once again blocking for his former Buckeye passer.
Jordan felt responsible for Burrow's knee injury
In Week 10 of the 2020 season, Jordan lined up against the Washington Football Team's defensive tackle Jonathan Allen. On the play, Burrow got injured, Allen bull-rushed Jordan and carried him into the backfield. As defensive end Montez Sweat was hitting Burrow high, Allen and Jordan crashed into Burrow's left knee as he was throwing.
"I took [Burrow's injury] really personal," Jordan told The Athletic. "It took me about a week to get out of my own head." He even texted Burrow after surgery to personally apologize for his role in the injury.
First thing I did was I apologized to Joe. I told him he was not going to hear any more words from me. Just actions. I can tell him I'm going to do better. He doesn't want to hear that. He wants to see it. I'll prove what I'm saying and my convictions this upcoming season. Not a whole lot of talking; I'm just going to show it.
Jordan has committed to getting better and transforming his body to better protect his old friend in the offseason. When Bengals training camp starts at the end of July, though, Jordan will have quite a bit of competition to get back in the starting lineup for 2021.  
The Cincinnati Bengals spent a lot on upgrading the offensive line in the offseason
The Bengals spent a lot, both in terms of money and draft capital, on improving the line in front of Burrow in 2021. They drafted tackle De'Ante Smith (East Carolina, fourth round) and center Trey Hill (Georgia, sixth-round). They signed free agent tackle Riley Reiff, according to Bengals.com, and have tackle Jonah Hill returning from injury.  
The guard spot is where the team really beefed up, though. They drafted Jackson Carman (Clemson, second round), re-signed 2020 midseason acquisition Quinton Spain, and have 2019 free-agent pickup Xavier Su'a-Filo returning from injury as well.
If Jordan wants to see his offseason work pay off so he can continue to protect his former and current teammate, he will have to overcome a lot of competition. That competition is excellent news for Burrow, who could become one of the best QBs in the NFL if his line can keep him upright this season.
All stats courtesy of Pro Football Reference and Sports Reference