Joe Burrow has 'Been Talking Crap About Chess' to a Key Offensive Target
Cincinnati Bengals QB Joe Burrow is learning chess and talking trash to teammate C.J. Uzomah about it, which bodes well for the team in 2021. Burrow looks good on the field and is building relationships off it. Uzomah is particularly important to the Bengals' success as tight ends are the Bengals' thinnest offensive group.
Joe Burrow, the Cincinnati Bengals No. 1 overall pick in 2020, looked great through 11 weeks of his inaugural season. A devastating knee injury cost him the chance to finish his rookie year, which was heartbreaking to Bengals fans.
Burrow has said the hardest part of the injury was that the team was starting to gel when he went out. Now, Burrow is back on the field with his teammates, and they are once again beginning to come together, both on the field and off.
That even includes some good-natured trash talk between Burrow and one of his most important offensive weapons about, of all things, chess.
Joe Burrow is looking healthy in OTAs
Burrow's ACL rehab has reportedly gone well in the last six months. His knee surgeon has officially given the LSU product a clean bill of health, saying he's a "full go for the start of the season."
The QB has participated in the Bengals minicamp and looks like his pre-injury self. The Athletic reported that Burrow was "ripping off 30-yard corners" and, at the end of practice, was throwing 50-plus-yard bombs.
This is good news for Burrow and his speedy young receivers. In addition to veteran speedster Tyler Boyd and second-year wideout Tee Higgins, the Bengals also added Burrow's LSU teammate Ja'Marr Chase, who ran a 4.34-second 40-yard dash.
All these pass-catchers are surely salivating over being able to run under these Burrow deep balls when the 2021 season kicks off.
Joe Burrow is learning chess and 'talking crap' to tight end C.J. Uzomah about it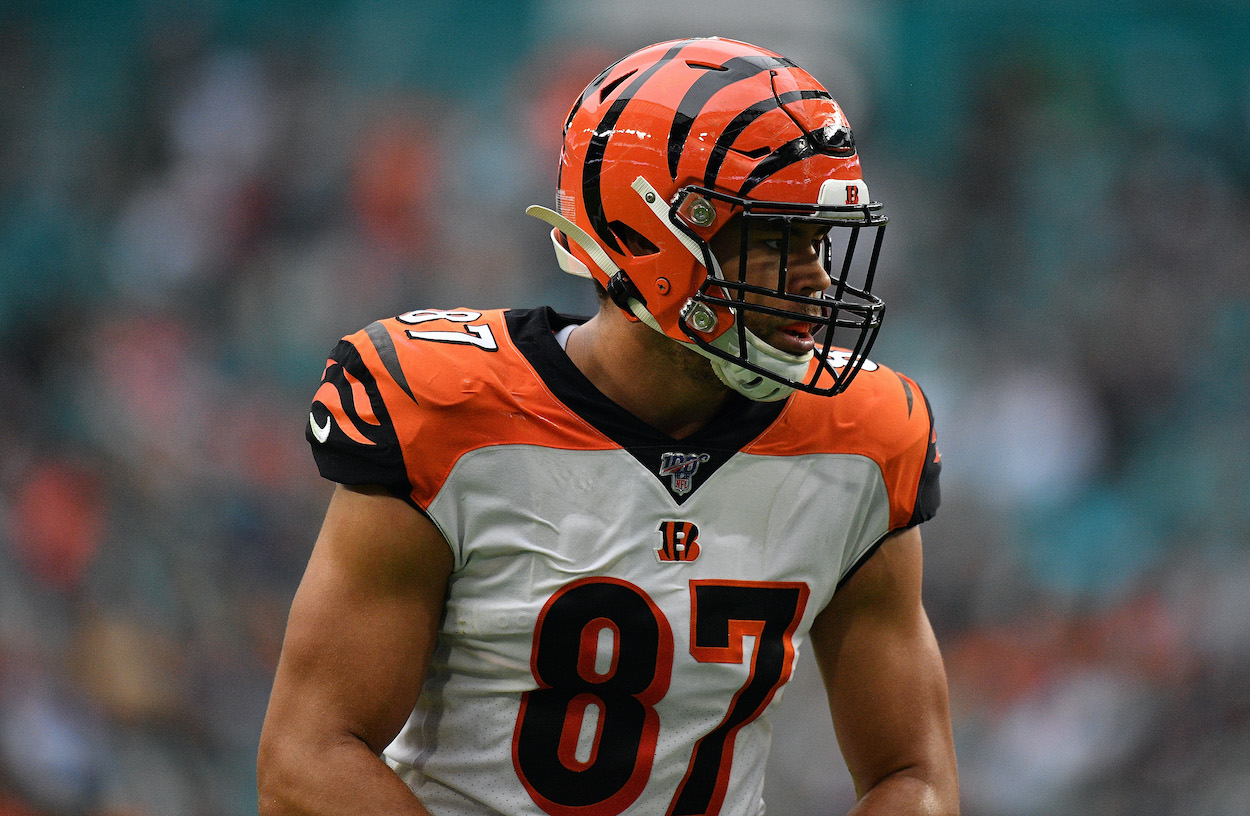 It's not just on the field where Burrow is starting to make connections and showing off his stuff. He's bonding with his teammates, as well.
The 24-year-old signal-caller is apparently learning how to play chess and is already bragging about his skills to teammates. After one OTA practice, tight end C.J. Uzomah told reporters:
The good thing I can say is [Burrow and me] have been talking crap about chess right now. We haven't played yet, but he thinks he's good at chess. He probably watched Queen's Gambit. I have been playing chess for longer than that. I think I've probably got him on that.
The 6-foot-6 tight end also shared that his QB teases him about always being on his way to get a new tattoo, which the inked pass-catcher did say was usually a fair statement.
This relationship between Burrow and Uzomah seems emblematic of many of Burrow's relationships with his offensive teammates. Stories about the returning QB make him sound like a fun guy and a player others genuinely enjoy being around.
Uzomah will likely be Burrow's No. 1 tight end in 2021
On the field, Uzomah and Burrow developing a relationship will be important in the coming season. Cincinnati is loaded at receiver and features Joe Mixon at running back. The tight end group, however, is less heralded and accomplished than the other skill positions.
Last year's leading receiver at tight end was Drew Sample, a then-second-year player who caught 40 balls for 349 yards.
Uzomah caught eight balls on 11 targets for 87 yards and a touchdown last year over just two weeks in 2020. He ruptured his Achilles' tendon in the second game and went out for the season, like several Bengals players in 2020. This season, they will be looking for the big target to pick up where he left off with Burrow. Uzomah should be the primary tight end target in 2021.
In addition to bringing Uzomah and Sample back, the Bengals didn't do much else at the position except sign a few rookies and unproven players. One interesting tight end on the roster now is Thaddeus Moss. Moss signed in 2020 as an undrafted free agent with the Washington Football Team. The Bengals claimed him off waivers after Washington released him. He played with Burrow at LSU, though, so they may be able to rekindle their chemistry.
If the tight ends can step up and provide Burrow with a reliable outlet — and maybe even some big plays in 2021 — the Bengals' offense could be something special.
All stats courtesy of Pro Football Reference