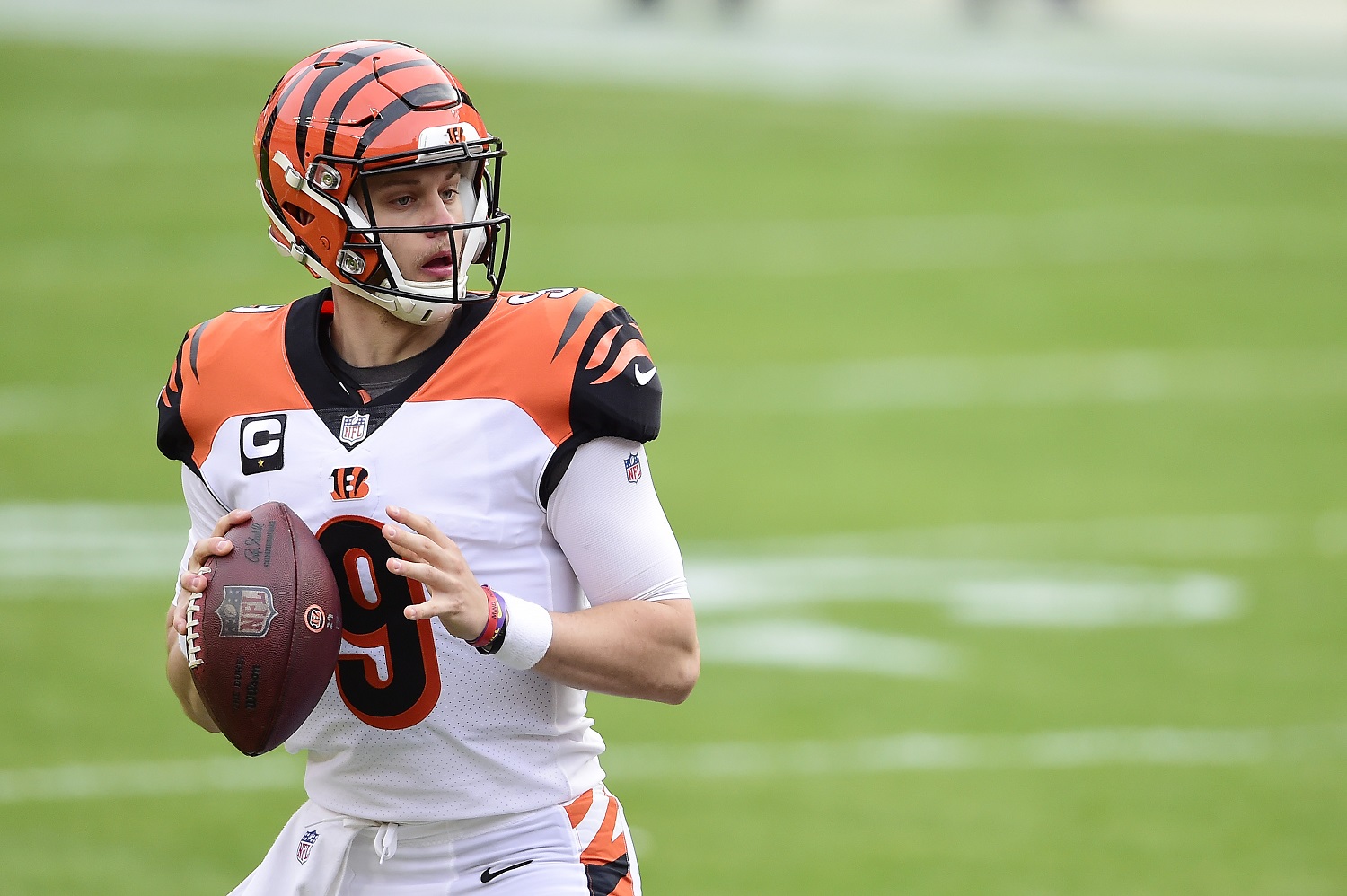 Joe Burrow Is Still a College Kid at Heart, and the Bengals QB Has the $500 Bar Tab That Proves It
Cincinnati Bengals quarterback Joe Burrow bought $500 of shots for Ohio University fans watching the NCAA Tournament.
Cincinnati Bengals quarterback Joe Burrow knows a little something about the excitement of a big college contest. Burrow led the LSU Tigers football team that ran the table in 2019, completing its season with a 42-25 victory over Clemson for the national championship.
When Ohio University stunned Virginia in the first round of the NCAA Tournament, Burrow wanted to see Bobcats basketball fans in Athens, Ohio, enjoy themselves for Monday's game.
He ran up a $500 bar tab to make it happen.
Ohio University pulled a shocker
The 2021 NCAA Tournament has been chock full of surprising results while trimming the field to the Sweet 16. The biggest surprise of the bunch saw 15th seeded Oral Roberts oust No. 2 Ohio State in overtime, 75-72.
Thirteenth-seeded Ohio University beating No. 4 Virginia, 62-58, in the first round was at last as much a surprise the following day. Ben Vander Plas scored 17 points, and Jason Preston chipped in with 11 points and 13 rebounds.
Ohio U. finished in fifth place in the Mid-American Conference regular season before winning three games in three days to capture the conference tournament and the league's automatic bid. The hot streak gave them nine wins in their last 10 games heading into the NCAA Tournament.
Beating Virginia was simply too much for Cincinnati Bengals quarterback Joe Burrow to ignore. Burrow played his college ball at Ohio State before transferring to LSU, but he grew up near the Ohio U. campus while his father was an assistant coach and defensive coordinator there from 2005-18.
Joe Burrow is still a college kid at heart
Ohio University's upset of Virginia, the 2019 champion, sent the Bobcats into the second round of the NCAA Tournament against fifth-seeded Creighton. With the pandemic sending the entire tournament to Indiana and limiting attendance, most Bobcats fans had to settle for watching on television.
One of the watering holes that attracts students and other fans is The College Inn in Athens, Ohio. According to Outkick.com, Cincinnati Bengals quarterback Joe Burrow sent $500 to the bar manager with a two-word instruction: "F—-n party."
The staff obliged, lining up approximately 100 to 115 shots on the bar for fans to indulge.
Alas, the game didn't go as hoped. Creighton walked away with a 72-58 victory to move on to the Sweet 16.
Joe Burrow's credit card is getting a workout
Splurging for shots at an Athens, Ohio, bar during the NCAA Tournament wasn't the only wining and dining that Cincinnati Bengals quarterback Joe Burrow has been doing.
The No. 1 pick of the 2020 NFL draft has been wooing free agents this month, and ESPN reports he was instrumental in recruiting free-agent offensive tackle Riley Reiff and defenders Trey Hendrickson. Mike Hilton, Larry Ogunjobi, and Chidobe Awuzie.
Burrow took the players to a dinner at a Cincinnati steakhouse.
"I walked away from eating that steak and I was like, 'I want to block for this guy,'" Reiff said.
Said Hilton: "He has an aura about him. He's a young guy, but he commands the room. He takes pride in being the leader of the team and just embraces the room."
Like Sportscasting on Facebook. Follow us on Twitter @sportscasting19.