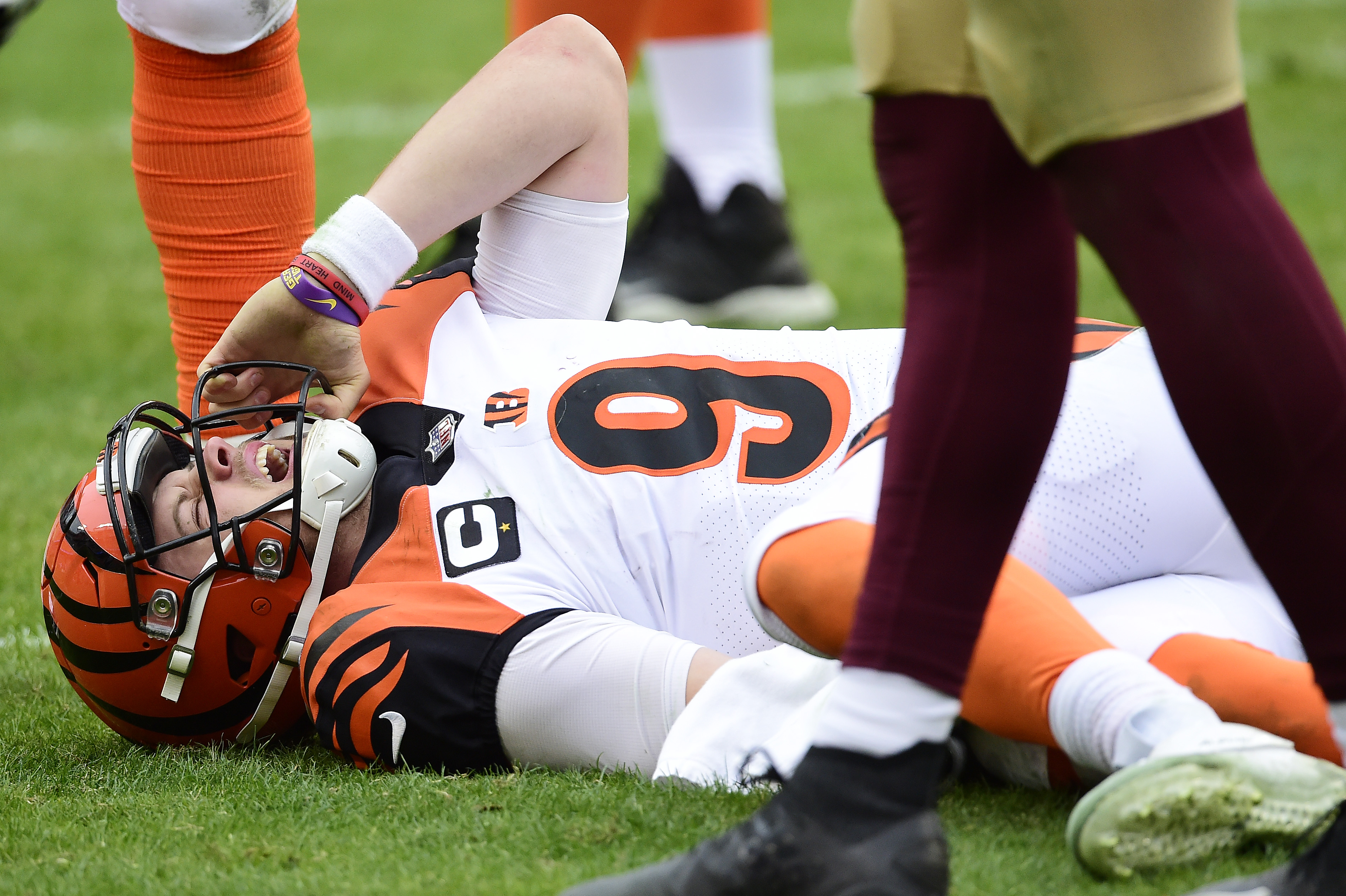 Joe Burrow Reveals What Might Be the Worst Part of His Knee Injury
Joe Burrow's promising rookie season came to an end with a devastating knee injury. He recently revealed the worst part about the injury.
Cincinnati Bengals quarterback Joe Burrow's rookie season was a roller coaster of emotions for the team's fans, players, coaches, and the quarterback himself. His career started with an incredible amount of promise. Everyone invested in the Bengals franchise couldn't help but feel optimistic about the future. Then he suffered a devastating knee injury in Week 11.
Burrow had successful surgery on the knee shortly after the injury and is rehabbing during the offseason. The quarterback hasn't given many interviews during this time, but in one, he revealed what he believes might be the worst part of his knee injury.
Joe Burrow became the first overall pick and looked good in his rookie season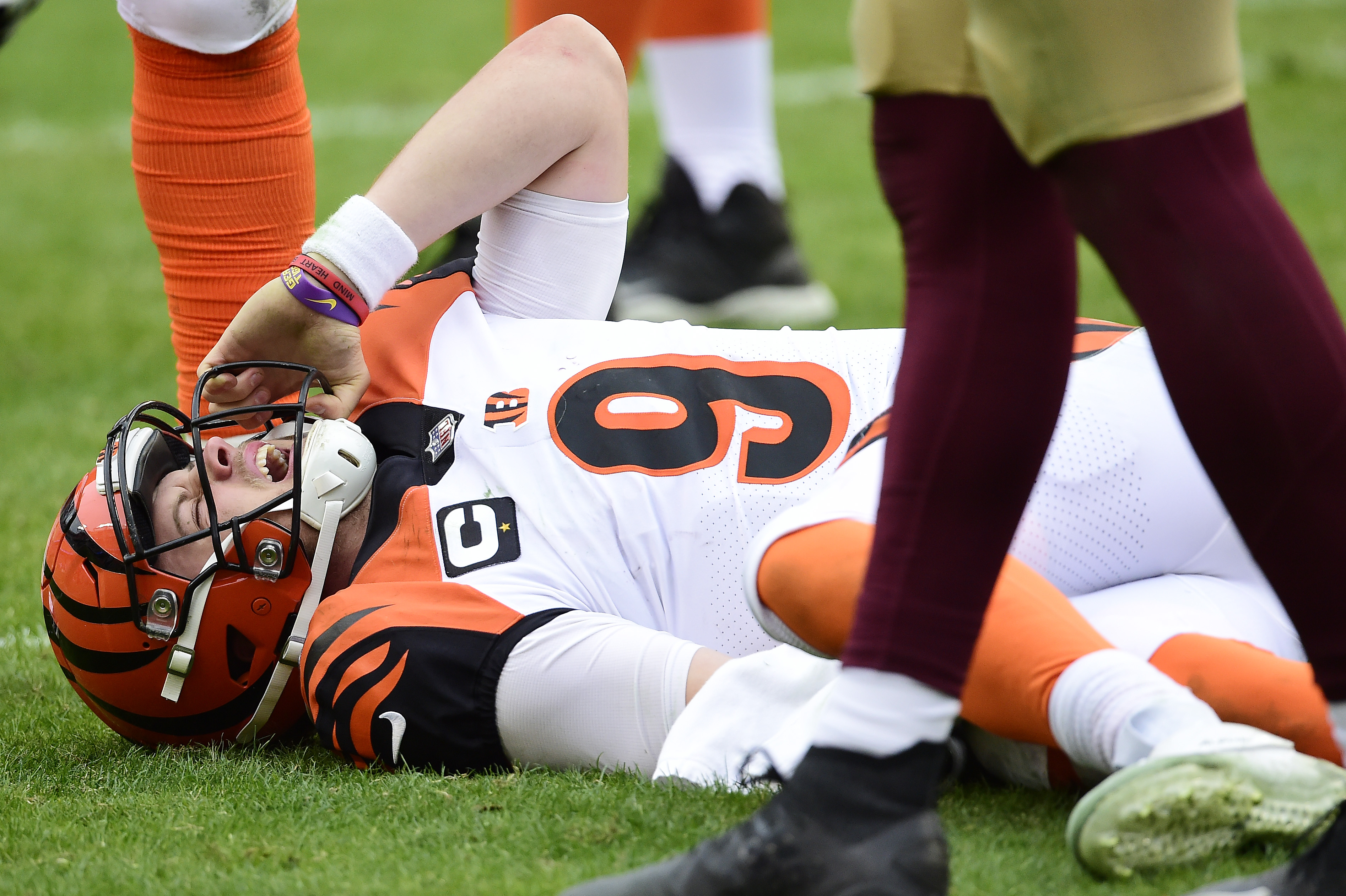 Burrow's college career got off to a rocky start. After becoming a 4-star recruit and being named Ohio Mr. Football in high school, he signed with Ohio State. In three years at the Big Ten school, he saw action in a total of 10 games and started none. In 2018, he left the Buckeyes and became a grad transfer at LSU.
LSU is where the quarterback's career really took off. Burrow started 13 games his junior year and became the first player in school history with 2,500 passing yards and at least 350 rushing yards in a single season. His senior season propelled him to the No. 1 pick in the NFL draft, though.
Burrow's 2019-20 season now lives in the history books. He not only captured the Heisman Trophy but also led the Tigers to an undefeated season and a national championship. He did all that while breaking nearly every single-season LSU passing record along the way.  
The Bengals unsurprisingly took Burrow with the top pick in the 2020 NFL draft, and he rewarded their faith in him right away. He threw for an impressive 2,688 yards in just 10 starts to begin the 2020 season. He also threw 13 touchdowns and ran for three more while throwing just five interceptions. The first-year quarterback's youth and enthusiasm, along with his talent, made Bengals fans excited for the future.  
Burrow recently revealed the worst part about the timing of his injury
Despite looking like a future NFL star quarterback, Burrow suggests that he didn't always feel that way during his rookie season. He told Bengals.com:
In the NFL you see some crazy defenses you've never seen before, defenses teams shouldn't be able to play but they play them. I was getting comfortable with my checks in those situations. Numbers advantage. Rotation. Checking back-side routes. Checking three-man concepts to the field. We were starting to roll. 
While the injury is still worrisome for Bengals fans, quotes like this should make them feel good. When your quarterback says the worst part of an injury isn't the pain, the impact on his career, or the hard work it takes to rehab but instead the fact it derailed the progress of the team, that is the mark of a winner.
The Bengals have waited a long time for a leader like Burrow, and it seems like they finally found their guy.
Joe Burrow expects to play Week 1 of the 2021 NFL season 
Bengals fans can also be thankful that Burrow is expecting to make a full recovery and be available for Week 1 of the new season. The rehabbing quarterback recently provided a "very optimistic" update on his rehab progress and should be back under center soon.
The good news is that Burrow's offense could look different when he comes back. The Bengals are picking fifth in the upcoming NFL draft. At least three of the four teams ahead of them are expected to choose quarterbacks, which means they should have their pick of offensive talent.
Cincinnati will have to decide between keeping Burrow healthy by picking an offensive lineman or giving him more weapons with a wide receiver. Whichever position it chooses, it should get the top prospect there. Both Oregon tackle Penei Sewell and Burrow's former running mate, LSU receiver Ja'Marr Chase, project to be on the board at No. 5.
That should make fans and Burrow himself even more excited for his return in 2021.
NFL stats courtesy of Pro Football Reference