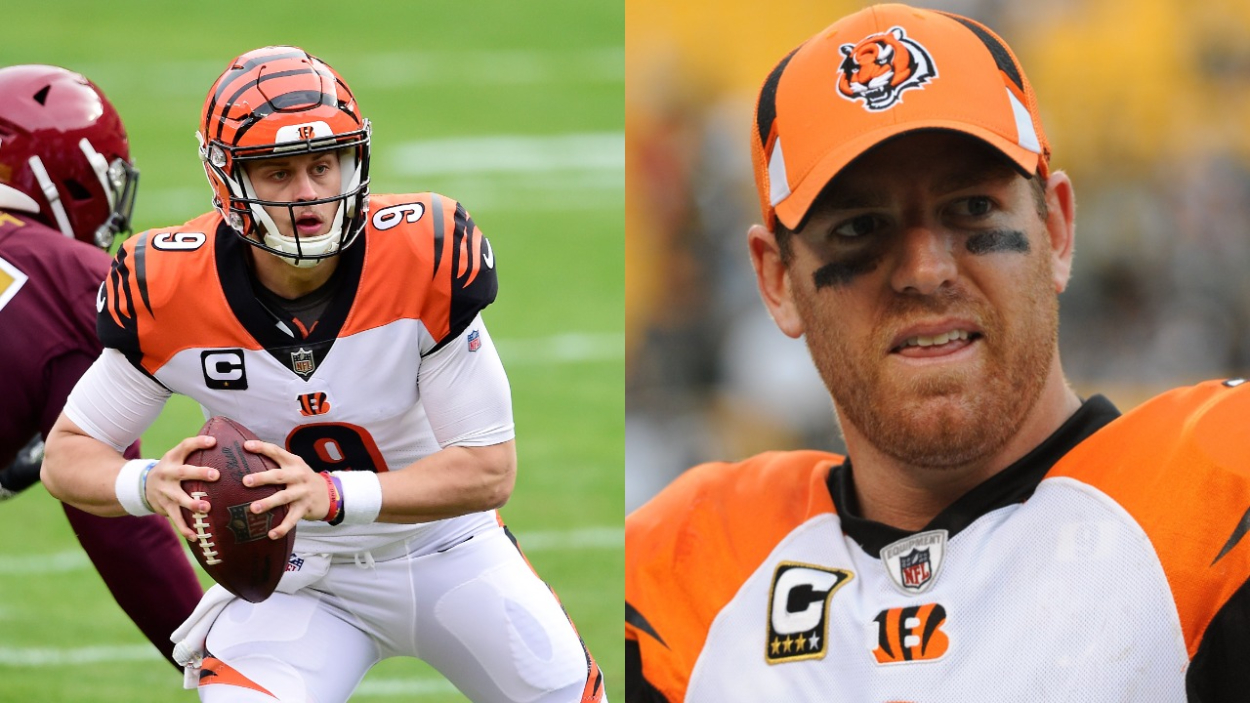 Joe Burrow's Devastating Injury Actually Came Just 'At the Right Time,' According to Former Bengals QB Carson Palmer
Joe Burrow suffered a season-ending knee injury with the Bengals. However, Carson Palmer thinks it happened just "at the right time."
Joe Burrow was having a tremendous season for the Cincinnati Bengals, but during a Week 11 game, the inevitable happened — he suffered a season-ending injury. Anyone who had watched just a few snaps of Bengals football in 2020 knew that Burrow would get hurt at some point. Cincinnati's offensive line played horrible for most of the year, and consistently failed to protect him.
However, despite the injury still being a brutal blow, former Bengals quarterback Carson Palmer thinks that Burrow got hurt "at the right time."
Carson Palmer knows a thing or two about being a Bengals quarterback
The Cincinnati Bengals selected Carson Palmer with the No. 1 overall pick in the 2003 NFL draft, and he became a star in Cincinnati. In his third season in 2005, Palmer earned a Pro Bowl selection, as he threw for 3,836 yards, an NFL-leading 32 touchdowns, and 12 interceptions. Palmer then earned another Pro Bowl selection in 2006, too. He ultimately threw for 4,035 yards, 28 touchdowns, and 13 interceptions that year.
The Bengals and Palmer ended up having an ugly divorce. During his career in Cincinnati, though, Palmer threw for 22,694 yards, 154 touchdowns, and 100 interceptions. He also led them to two playoff appearances.
Palmer then went on to play for the Oakland Raiders for two seasons before finding a lot of success with the Arizona Cardinals. In 2015 with the Cardinals, Palmer earned his third Pro Bowl selection. He ended up throwing for 4,671 yards, 35 touchdowns, and 11 interceptions that season. The Cardinals went all the way to the NFC Championship Game, too.
Overall in his entire career, Palmer threw for 46,247 yards, which is 14th all-time. He also recorded 294 passing touchdowns, which is 13th all-time.
Carson Palmer is very impressed with Joe Burrow
Like Palmer, Joe Burrow went to the Bengals with the No. 1 overall pick in the draft. He then had a great start to his rookie season in 2020, too. Through nine games and part of another, Burrow threw for 2,688 yards, 13 touchdowns, and five interceptions.
However, in a Week 11 game against the Washington Football Team, Burrow suffered a torn ACL and MCL. He also had other partial tears in his PCL and meniscus, according to ESPN. His season was over.
Through the games he played, though, Palmer was impressed.
"I was shocked; I thought he was going to be a really good pro and thought the sky was the limit," Palmer said on the Feb. 5 episode of The Pat McAfee Show. "But he came in and played as a rookie on a team that was just not quite as good as every team they played personnel-wise, and he still — with that supporting cast around him — played like one of the top 10 quarterbacks in the league. I was blown away."
Carson Palmer thinks that Joe Burrow got hurt 'at the right time'
As of Jan. 11, Burrow has said that he is potentially ahead of schedule in his recovery, according to a report from ESPN's Ben Baby. The Bengals' Twitter account even posted a video of him walking well without a brace.
While no one wanted to see him get injured, Palmer, though, thinks that it happened at the right time of the season.
"If it wasn't his knee that gave … it was going to be something else because he was absolutely taking a pummeling," Palmer, who also suffered a knee injury with the Bengals during the 2005 season, said on The Pat McAfee Show. "But, in retrospect, when you look back, he got hurt with that knee injury at the right time in the year. Because, now, he's got enough time for the surgery, the rehab, getting himself back, getting his confidence back in his knee in time for preseason games. … So, if there is a silver lining in all of it, he got hurt at the right time in the season."
Palmer makes a good point. We all wish that Burrow had never gotten hurt in the first place. However, it's better to get hurt in the middle of the year than the end of the year. He actually has a chance to play at the start of the 2021 season now because of the timing of his injury.
Hopefully, Joe Burrow can get back to full strength with the Bengals. If he can, he has proven that he can become a pretty special quarterback.
Stats courtesy of Pro Football Reference