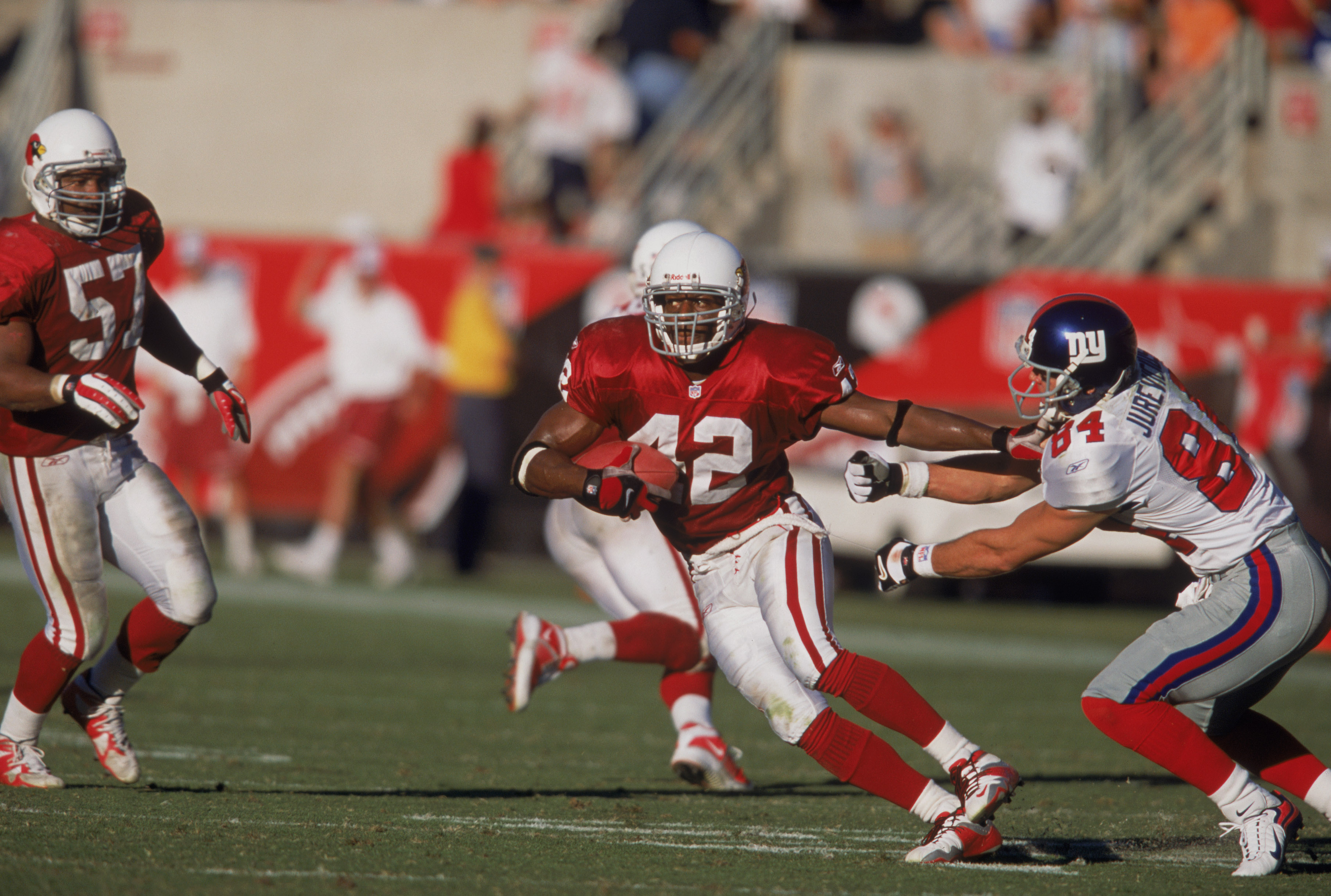 The Tragic Death of Former Arizona Cardinals Safety Kwamie Lassiter
Kwamie Lassiter, the former Arizona Cardinals safety who shares an NFL record with most interceptions in a game, died tragically last year.
He shares a National Football League record for most interceptions in a game. Kwamie Lassiter played 10 seasons in the NFL, defying most odds after entering the league as an undrafted free agent. The former Arizona Cardinals free safety died tragically last year of a heart attack after working out, but his memory and zest for life continues to live on.
Kwamie Lassiter's football career
Kwamie Lassiter played three seasons of college football as a defensive back at Kansas from 1992-94. He finished his career with seven interceptions despite playing in just two games during the 1993 season. He went undrafted in the 1995 NFL draft but hooked on with the Arizona Cardinals as an undrafted free agent.
Lassiter played in just five games his rookie season and then saw his production gradually increase. By his third season, he played in all 16 games and by 1999, his fifth year in the league, he was starting all 16. In the 1998 season, Lassiter racked up eight interceptions and then collected a career-high nine in the 2001 campaign.
Lassiter spent eight years with the Cardinals. He spent the 2003 season with the San Diego Chargers, playing in 10 games and returning an interception for a touchdown. In 2004, he played four games with the St. Louis Rams. In his 10-year career, Lassiter had 25 interceptions and finished with 437 solo tackles.
Lassiter's monster game against the San Diego Chargers
Kwamie Lassiter was a player who came up big when it counted most. That was evident during the 1998 season when the Cardinals played the San Diego Chargers in the regular-season finale. The playoff-hungry Cardinals needed a win to reach the postseason for the first time in 16 years.
Lassiter came up huge in the game, picking off four passes and tying an NFL record that still stands. Lassiter intercepted Chargers quarterback Craig Whelihan four times as the Cardinals earned a 16-13 victory and a much-needed playoff berth. Despite his big day, Lassiter shifted the focus from himself to a pair of veterans who were starving for playoff football.
"The four interceptions didn't really hit me until today," Lassiter told The Daily Press three days after the game. "I'm thinking about guys like Larry (Centers) and Aeneas (Williams) finally getting to go to the playoffs. That's what made those four interceptions special – that I was a part of that."
Kwamie Lassiter's tragic death
Kwamie Lassiter was one of the NFL's good guys. He was a great teammate and was very active in the community. His sudden death at age 49 shook that community. According to azcentral.com, Lassiter died of a heart attack after working out in January of 2019.
Former Arizona Cardinals head coach Dave McGinniss was hit very hard by the news of Lassiter's death. "In 31 years of coaching, I've coached a lot of great human beings, a lot of Hall of Fame players," McGinnis said. "Kwamie was a special dude. He really was.
"It broke my heart. We lost a special human being. There was a great vibe and life about him. He was great in the locker room, even when things weren't going well."
Lassiter's son, Kawmie Lassiter II, is a wide receiver at the University of Kansas.