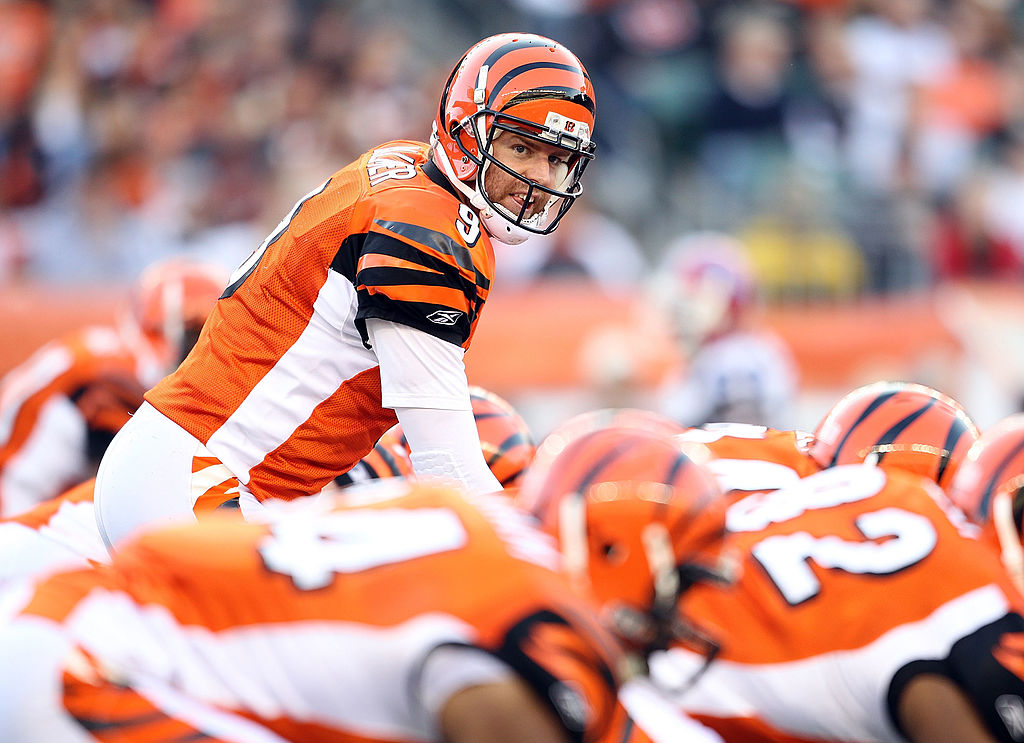 Carson Palmer and the Cincinnati Bengals Had One of the Messiest Breakups in Sports
Carson Palmer was a talented quarterback in the NFL. His breakup with the Cincinnati Bengals was very messy, though.
Carson Palmer had a pretty good NFL career. Being drafted with the first overall pick in the 2003 NFL draft by the Cincinnati Bengals, Palmer earned three Pro Bowl honors in his career. However, Palmer's breakup with the Bengals might have been one of the messiest in all of sports. 
Carson Palmer was a legend in college
Carson Palmer played at USC from 1998 through 2002 as he used a redshirt year during his sophomore season after only playing three games due to injury. Palmer then played okay during his redshirt sophomore and junior seasons.  However, his senior year was unreal.
Palmer threw for 3,942 yards, 33 touchdowns, and 10 interceptions in 2002. He led USC to an 11-2 overall record and a win in the Orange Bowl. Palmer also won the Heisman Trophy that season. This led to him becoming a top prospect in the NFL draft. 
The Bengals selected Palmer at No. 1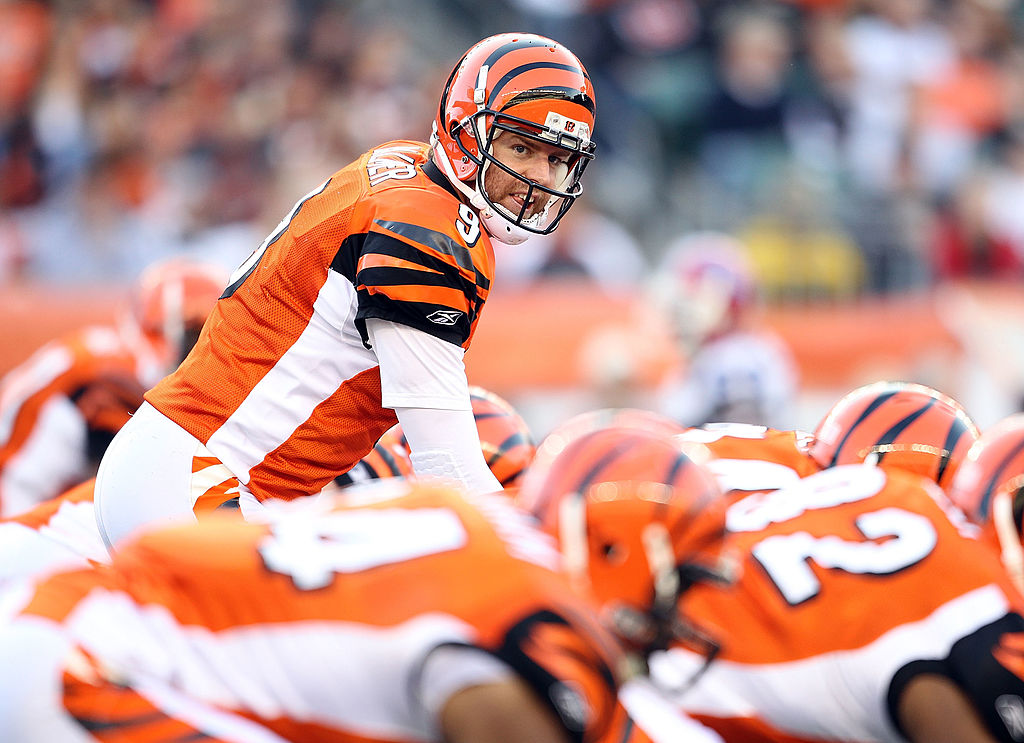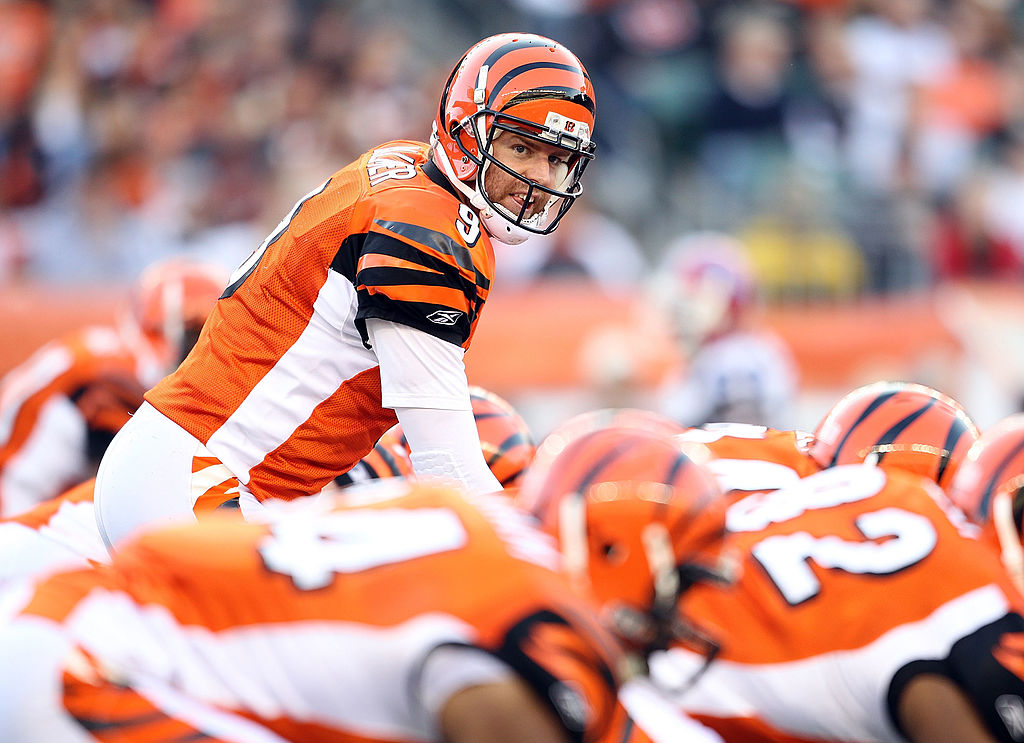 The Cincinnati Bengals selected Palmer with the No. 1 overall pick in the 2003 NFL draft. Palmer then had a lot of success with the Bengals. His best season was probably during his third year in 2005. Palmer led the Bengals to an 11-5 record that year as he threw for 3,836 yards and a league-leading 32 touchdowns compared to 12 interceptions. He ultimately earned his first Pro Bowl appearance that season.
Overall in eight seasons with the Bengals, Palmer threw for 22,694 yards, 154 touchdowns, and 100 interceptions. He earned two Pro Bowl appearances in Cincy in 2005 and 2006. However, during Palmer's time in Cincinnati, the Bengals only went to the playoffs twice and never won a playoff game.
One of the messiest breakups in sports
After the Bengals went 4-12 in 2010, ESPN reported that Carson Palmer was going to request a trade from the team. If he did not get his wish, Palmer was then going to contemplate retirement. Palmer signed an extension in 2005 with the Bengals that ran through the 2014 season.
Another report from WCPO-TV then said that Palmer told a confidant he would, "never set foot in Paul Brown Stadium again," according to ESPN.
"I have $80 million in the bank," Palmer reportedly said, according to ESPN. "I don't have to play football for money. I'll play it for the love of the game but that would have to be elsewhere. I'm prepared to live my life." 

Carson Palmer (reportedly) according to ESPN
However, Bengals owner Mike Brown did not seem keen on the idea of trading Palmer. According to Pro Football Talk, Brown said that Palmer signed a contract and made a commitment. He said that they expected him to perform there. Brown went on to say, "If he is going to walk away from his commitment we aren't going to reward him for doing it."
Then with Palmer not reporting to training camp for the 2011 season, and with the Bengals selecting Andy Dalton in the 2011 NFL draft, the team placed him on the reserve/did not report list, according to the Cincinnati Enquirer. Brown said that he wished Palmer well and that Palmer was retired.
The Bengals traded him to the Raiders
The 2011 season started and Palmer never officially filed for retirement. He was also working out in California to stay in shape, according to the Cincinnati Enquirer. In October 2011, Oakland Raiders quarterback Jason Campbell broke his collarbone. Then on Oct. 18, 2011, the Bengals traded Palmer to the Raiders for a 2012 first-round draft pick and a 2013 second-round draft pick.
Palmer played for the Raiders in 2011 and 2012 and things never really panned out. However, he spent the last five seasons of his career with the Arizona Cardinals and had some good seasons. His best year in Arizona was in 2015 when he earned Pro Bowl honors after throwing for 4,671 yards, 35 touchdowns, and 11 interceptions. The Cardinals went 13-3 that season and reached the NFC Championship Game.
Palmer is still critical of the Bengals 
Palmer retired after the 2017 season. He finished 14th all-time in passing yards with 46,247, and 13th all-time in passing touchdowns with 294.
Just in 2019, Palmer was still critical of Cincinnati on a podcast, according to the Cincinnati Enquirer. 
"(The Oakland Raiders) were just a solid organization," Palmer said according to the Cincinnati Enquirer. "And we built something special. We got better every year. … We continued to improve and make strides and so it was just so comforting – coming from Cincinnati, who is a whole nother kind of mess and disaster. So coming from that and then going to Oakland and then all of a sudden, I got to Arizona, I was like, man, this is the NFL. This is how you're supposed to do it."

Carson Palmer
Palmer was certainly a good NFL quarterback and a great college quarterback. He had a solid football career. However, his breakup with the Bengals was one of the messiest in all of sports.