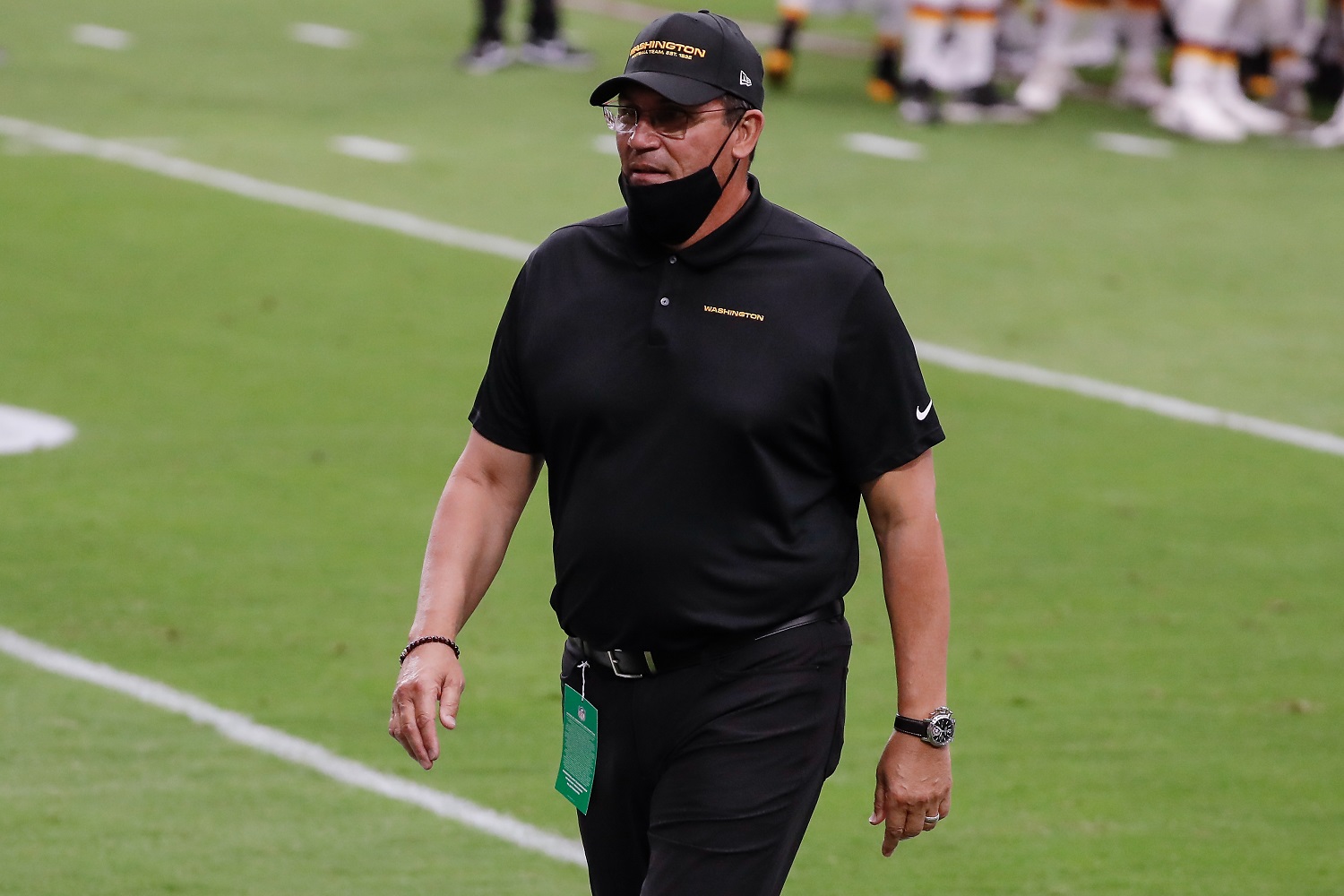 The Washington Football Team's No. 1 Concern Has Been Resolved
Washington Football Team coach Ron Rivera revealed he has been given a clean bill of health after undergoing cancer treatment in the fall.
Every football team goes into the offseason with uncertainty about the future while preparing for free agency and the NFL draft. The Washington Football Team made strides last reason by reaching the playoffs, but questions about who'll play quarterback next season make their to-do list more worrisome than most. The good news is that coach Ron Rivera has resolved one of the biggest concerns.
The Washington Football Team has a quarterback problem
Waiving a first-round draft pick from a mere two years ago is never good. In the case of the Washington Football Team, it was doubly bad because the player in question was their quarterback. Dwayne Haskins was supposed to man the most important position on the field for a decade. Instead, he lasted 16 games and 13 starts.
Taylor Heinicke, an undrafted free agent with his fifth organization in six years, made the playoff start against the Tampa Bay Buccaneers in the NFC wild-card round. There's no guarantee that he's the man – and he likely isn't. Nor can the WFT front office be sure whether going back to or moving on from Kyle Allen and Alex Smith is the right move.
If coach Ron Rivera feels they have to go in a different direction, there are the usual three options: free agency, trades, and the draft. All require an admission that the WFT is starting over in 2021 – not a popular way to pump up a fan base that was encouraged by this season's changes.
The Washington Football Team has other needs
Every team faces decisions about its own free agents, and the Washington Football Team has an easy one to make after a 7-9 regular season: re-sign sixth-year guard Brandon Scherff, who just made first-team All-Pro for the first time. Scherff made $15 million last season and will command more as an unrestricted free agent, but outstanding offensive linemen are a precious commodity in the NFL.
Washington rarely invests high draft picks in wide receivers and rarely gets it right when it goes in that direction. As USA Today points out, four of their five most targeted wideouts last season were undrafted. If Terry McLaurin goes down in 2021, well, there's no sense in contemplating an upgrade at quarterback.
On the other side of the ball, Ron Rivera's presence made the expected impact – and then some. In 2019, Washington ranked 27th in the league in yards allowed and points allowed. In the just-concluded season, Washington was fourth in points and second in yardage. Much of the credit goes to rookie defensive end Chase Young and his 7.5 sacks.
If Washington finds more help on that side of the ball through free agency or the draft, then so be it. However, it won't be a high priority.
Ron Rivera resolves a key question
Last NFL season began on a somber note for the Washington Football Team as new head coach Ron Rivera disclosed that he had been diagnosed with cancer. A statement at the time by the team described the illness as squamous cell cancer, and there understandably was concern as Rivera remained on the job while undergoing treatment.
In October, the team website posted a video showing Rivera ringing a ceremonial bell at his medical center to signify that he had completed his round of treatments.
On Thursday, Rivera's family provided another update: Following additional testing, Rivera is cancer-free. The coach followed up shortly afterward by posting a picture in which he posed with his dogs and held up a sign declaring, "We kicked cancer's ass."
Rivera didn't miss any games while undergoing his treatment, but he did experience weight loss and understandably couldn't be fully focused on football. Now, the all-clear message from his doctors means Rivera will have even more time to make further strides in improving his team in 2021.
Like Sportscasting on Facebook. Follow us on Twitter @sportscasting19.