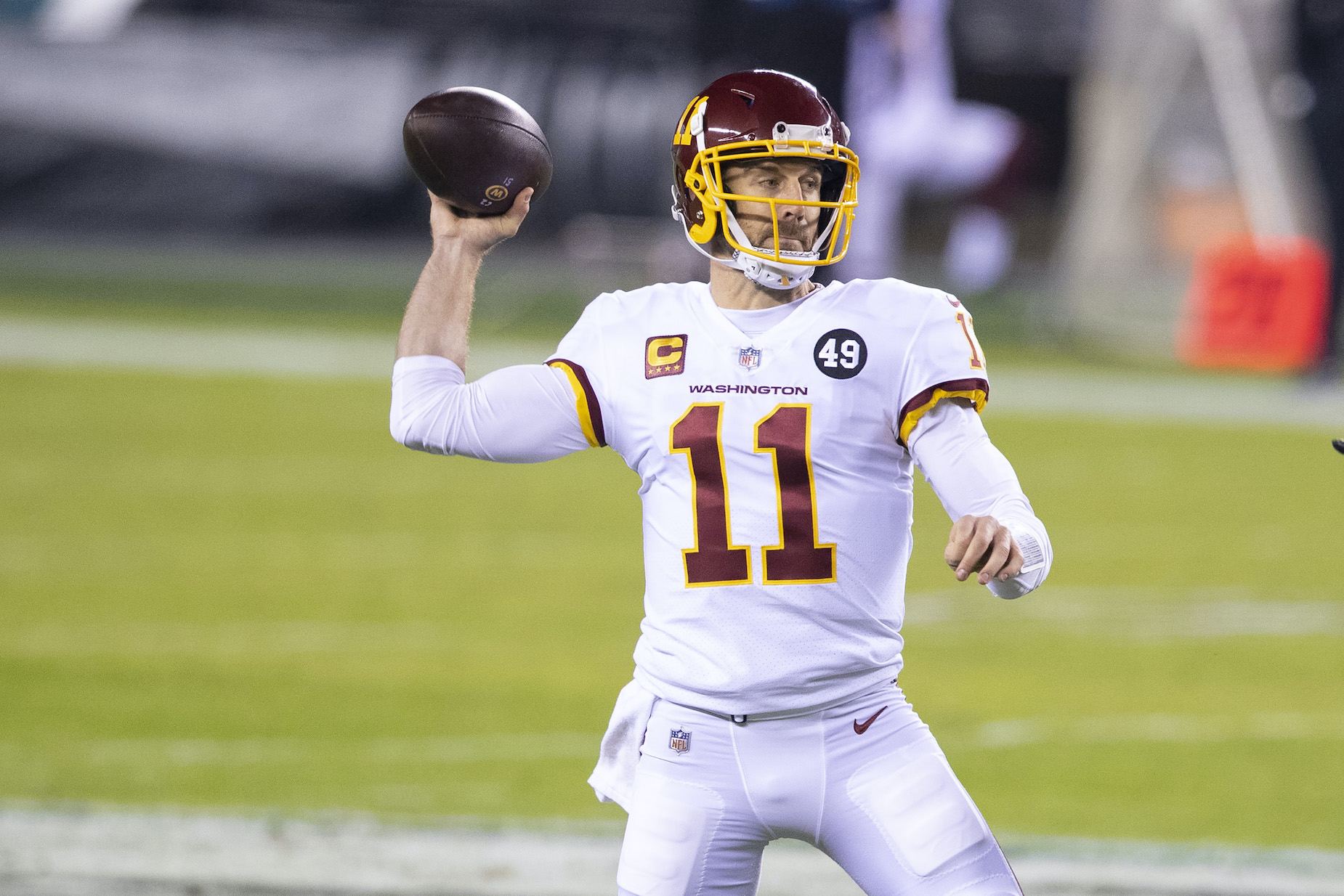 Alex Smith Has Made Almost $190 Million in the NFL, but He Used to Drive an Awful Pickup Truck Called 'the Red Baron'
Before Alex Smith made millions in the NFL, he used to drive a pretty awful pickup truck dubbed 'the Red Baron.
While he might not quite have a Tom Brady-level resume, Alex Smith still has had quite the NFL career. The quarterback entered the league as the first-overall pick of the 2005 draft; he was hit or miss with the 49ers, found his footing with the Chiefs, and then suffered a horrific injury in Washington, D.C. He's since returned to the field, though, and has earned almost $190 million in salary along the way.
Despite that fortune, Alex Smith wasn't always living the high life. In fact, he spent his youth driving 'the Red Baron,' which, despite the name, was a pretty awful pickup truck.
Alex Smith's impressive NFL career
If you looked at Alex Smith's resume without any context, you'd probably say he had a decent NFL career. Looking at the larger picture, though, the quarterback has earned the respect of just about every football fan.
As mentioned above, Smith joined the San Francisco 49ers as the first-overall pick of the 2005 NFL draft. While he showed flashes of brilliance in the Bay Area, his game never fully came together; between injuries and inconsistency, the quarterback never became a star.
Smith got a second lease on life in 2013, though, when he joined the Kansas City Chiefs. There, his 'faults'—like preferring short, safe passes over deep balls—proved to be a strength. In Andy Reid's offense, the quarterback didn't need to be a star; he just had to conduct the orchestra. Smith did that perfectly.
With the emergence of Patrick Mahomes, though, Smith was dealt to the then-Washington Redskins. During his first season in D.C., though, the quarterback suffered a brutal injury; he ended up needing 18 surgeries and almost lost his leg. In 2020, though, he returned to the field and helped get the Washington Football Team into the playoffs.
Making almost $190 million in salary along the way
Throughout his career, Alex Smith has been labeled as little more than a 'game-manager.' Whether that's a fair assessment of his game or not, the quarterback has still earned plenty of money during his NFL career.
According to Spotrac's numbers, Smith has earned a hair under $190 million in salary through the end of the 2020 campaign. While it's not clear what the future holds—the quarterback is taking some time to consider his options and might not return to Washington—he's still under contract for two more years, which are worth a non-guaranteed $40 million if he and the Football Team choose to keep working together.
Even if he does decide to call it a career, though, Smith's time in the pros has been nothing to sneeze at. Along with his impressive earnings, he's proved himself to be a solid player and, perhaps even more importantly, showed true toughness during his lengthy rehab process.
Alex Smith has millions today, but he used to drive an awful pickup truck
No matter when he hangs up his helmet, Alex Smith will have plenty of money in the bank. Before turning pro, though, life was a bit different.
Growing up in California, Smith's family had an "old, dingy Chevy LUV pickup truck" that was passed from sibling to sibling. It died shortly before Alex got his license, though, meaning the teenager would need a new truck. What he got, however, was new in name only.
"We went and looked at this truck, which became 'the Red Barron," Smith told Graham Bensinger. "It was worst than the Chevy LUV. To call it red, it was just rusted over, like completely rusted over, but not in a cool way."
The issues, though, didn't end there.
"The passenger door didn't even open on it," Smith continued. "No stereo, we had a little, tiny boombox on the ground. And it had this great feature that when you got on the freeway and you got above 50 [miles-per-hour], the windows would fall down because of the pressure. … It was no AC, no defroster." The truck could also be easily unlocked and put in neutral, so Smith would sometimes leave football practice to find his friends had rolled the Red Baron away as a joke.
In the end, though, everything worked out well for Smith. Being a first-round pick, after all, has its perks. The quarterback explained that he kept receiving different loaner cars due to his star status; he didn't buy his own vehicle until his sixth year in the league.