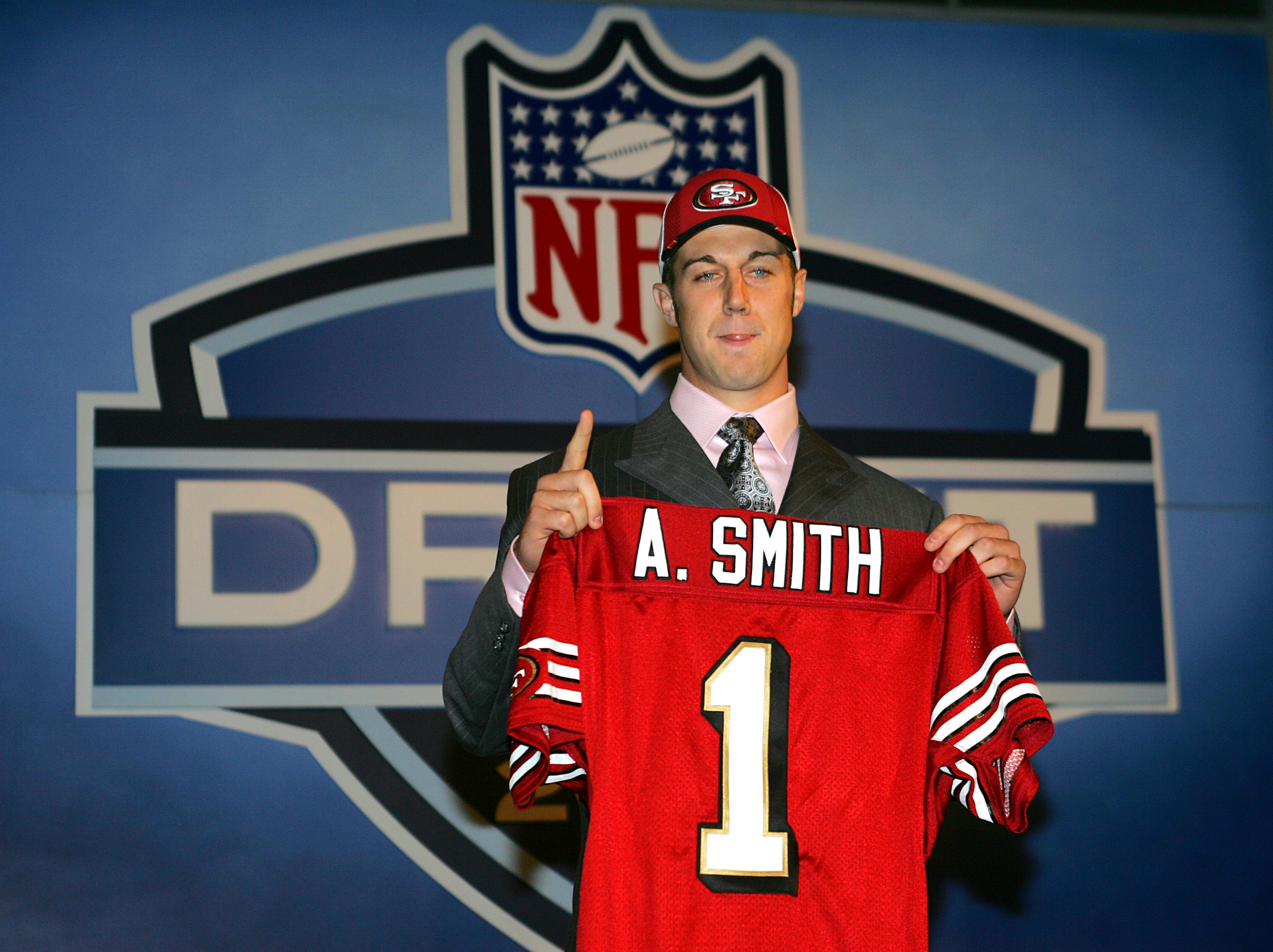 Alex Smith Reveals Going No. 1 Overall 'Added to My Anxiety'
Washington Football Team quarterback Alex Smith said he felt a ton of pressure after being the top pick in the 2005 NFL draft.
Back in 2005, the biggest debate was Alex Smith or Aaron Rodgers. The San Francisco 49ers had the top pick in the draft and were looking at a quarterback. Smith and Rodgers were the top two on the board. It was just a matter of which one would be chosen. Smith went first and he eventually found himself struggling with anxiety.
Alex Smith has been very steady in the NFL
Alex Smith hasn't won the Super Bowl, but he can be considered a winner in the NFL. Smith, the first player taken in the 2005 NFL draft out of Utah, isn't flashy, nor does he put up record-setting numbers. He just wins. Smith has been in the league for 16 years but has played 14 seasons. He missed both the 2008 and 2019 seasons due to injury.
In his 14 seasons of action, Smith has compiled a record of 100-72-1, playoffs included. For his career, Smith has completed 66.4% of his passes. He's thrown 211 touchdown passes against 109 interceptions.
Smith spent the first seven years of his career with the San Francisco 49ers. Prior to the 2013 season, the 49ers traded Smith to the Kansas City Chiefs for a pair of draft picks. Smith became expendable after the emergence of Colin Kaepernick. He spent five seasons with the Chiefs before playing his last three seasons in Washington.
Smith has bounced back from two significant injuries
Alex Smith had a rough 2008 season. He missed the entire season with a shoulder injury and he had been demoted after the San Francisco 49ers brought in a new offensive coordinator in Mike Martz. The team fired Martz the following season and also replaced head coach Mike Nolan with Mike Singletary.
Smith regained his starting job in 2009. Smith really blossomed during his five seasons with the Chiefs. With Kansas City, Smith led the team to three 11-win seasons. He went 50-26 during the regular season as the starter for the Chiefs. He made all three of his Pro Bowls while with Kansas City.
Smith suffered a devastating leg injury in November of 2018 while with the Washington Redskins. He suffered a compound fracture to his tibia and fibula and nearly had his leg amputated. Smith underwent 17 surgeries and missed the rest of the 2018 season and all of 2019. He returned to action this year and is the starting quarterback for the team now known as the Washington Football Team.
Smith reveals the pressure that comes with being the No. 1 pick
Alex Smith said that being the No. 1 pick in the NFL isn't all glory. In an interview with Graham Bensinger, Smith detailed the pressure that comes with being selected first. "I played right away," Smith said, "and I had all these expectations, and man, it was heavy. I walked around with a lot of weight on my shoulders. It added to my anxiety. It added to the pressure."
Smith said his mental state was severely affected. "I walked around with a lot of weight," he said. "I played with a lot of weight and I was so afraid to make mistakes. Everything I did, I felt like I had to be perfect. I was trying to make it in the NFL and deal with being the number one pick. The pressure I applied to myself to be perfect and to not make mistakes mounted and kept mounting. I didn't have a very good rookie year and that just snowballed and I think that added to the weight."
Smith went on to say he heard whispers of being a bust. He said that, combined with not having much success on the field and going through a bunch of coaching changes, made things very difficult. Smith went on to say he's got a lot more "f–k it in me" now that he's gotten older. "You care less deep down in about trying to get people to like you."
Statistics courtesy of Pro Football Reference.