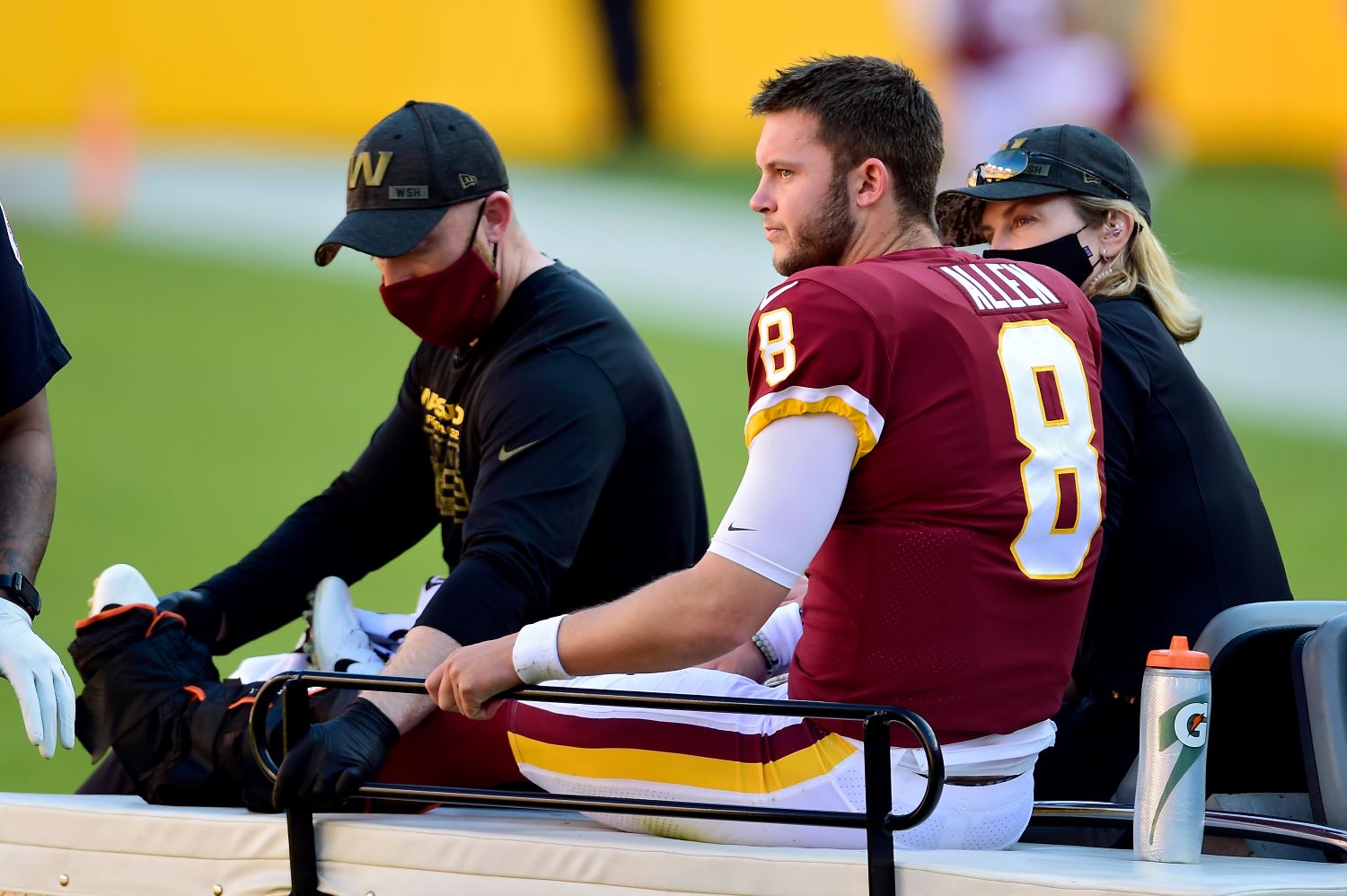 Washington QB Kyle Allen Suffers Season-Ending Injury Blow
With Kyle Allen suffering a season-ending injury, Alex Smith will take over starting quarterback duties for the Washington Football Team.
Once again, Ron Rivera has to make a change at the most important position in football. With Kyle Allen suffering a gruesome ankle injury, the Washington Football Team just lost their starting quarterback for good.
Ironically, his replacement sustained a horrific injury of his own back in November 2018. But after making a miraculous recovery, Alex Smith will re-assume starting quarterback duties in Washington.
Kyle Allen took over starting quarterback duties in Week 5
Ron Rivera pulled the plug on the Dwayne Haskins experiment after only four games. Although the 2019 first-round pick threw for a season-high 314 yards in Week 4, he lost his starting job to Kyle Allen.
The former Carolina Panthers quarterback lost his first two starts before leading Washington to a 25-3 win against the Dallas Cowboys. Allen completed 15-of-25 passes for 194 yards and two touchdowns to give the team its second win of the season.
Overall, he completed almost 69% of his passes for four touchdowns and one interception in his first three starts.
Heading into Week 9, the 24-year-old looked to carry the momentum from the Dallas game against a New York Giants team coming off a two-point loss to the Tampa Bay Buccaneers. Unfortunately for Allen, Sunday ended up being a painful day at the office.
The Washington Football Team just lost Allen to a season-ending injury
Kyle Allen got off to a hot start against the Giants. However, after completing five passes for 62 yards, he watched his season end in sickening fashion in the first quarter.
On Washington's third possession, Giants safety Jabrill Peppers leg-whipped Allen on a blitz and earned a 15-yard penalty. However, the damage had already been done.
After having his lower left leg placed in an air cast, Allen got carted off the field in obvious pain. According to ESPN, the Washington Football Team QB "dislocated the ankle and suffered a small fracture" in Sunday's 23-20 loss.
On Monday, Ian Rapoport gave a sobering update about Allen's health status.
"Washington Football Team QB Kyle Allen is having surgery on his dislocated ankle and is out for the season, per source," Rapoport tweeted.
Now that they've lost their starting quarterback for good, the Washington Football Team better hope Alex Smith can rediscover his vintage form sooner than later.
Alex Smith is back as QB1
With Kyle Allen done for the year, Ron Rivera confirmed that Alex Smith will take over as the starting quarterback for the Washington Football Team. Of course, Smith suffered a nasty lower-leg injury of his own two years ago.
But after working tirelessly in rehab, the 36-year-old now takes over a team that somehow is in second place in the NFC East.
Before replacing Allen on Sunday, Smith had only made one appearance all season. In Week 5, the former No. 1 overall pick completed 9-of-17 attempts for just 37 yards against the Los Angeles Rams. Smith absorbed six sacks in the 30-10 defeat.
Although the Giants took Smith down just twice, they did pick off the veteran QB three times. The former Kansas City Chiefs starter did throw for 325 yards and one touchdown on 32 attempts.
Moving forward, Smith has to do a better job taking care of the football. Currently, Washington is tied for fourth with 15 total turnovers. Only the Cowboys have lost more fumbles than Rivera's squad.
Can Smith be an effective game manager during the second half of the season? If so, Washington could threaten for the NFC East crown thanks to their 11th-ranked scoring defense.
But if the offense continues to struggle to put up points and protect the ball, Washington will continue to rack up losses and secure yet another top-five draft pick.
All statistics courtesy of Pro Football Reference.