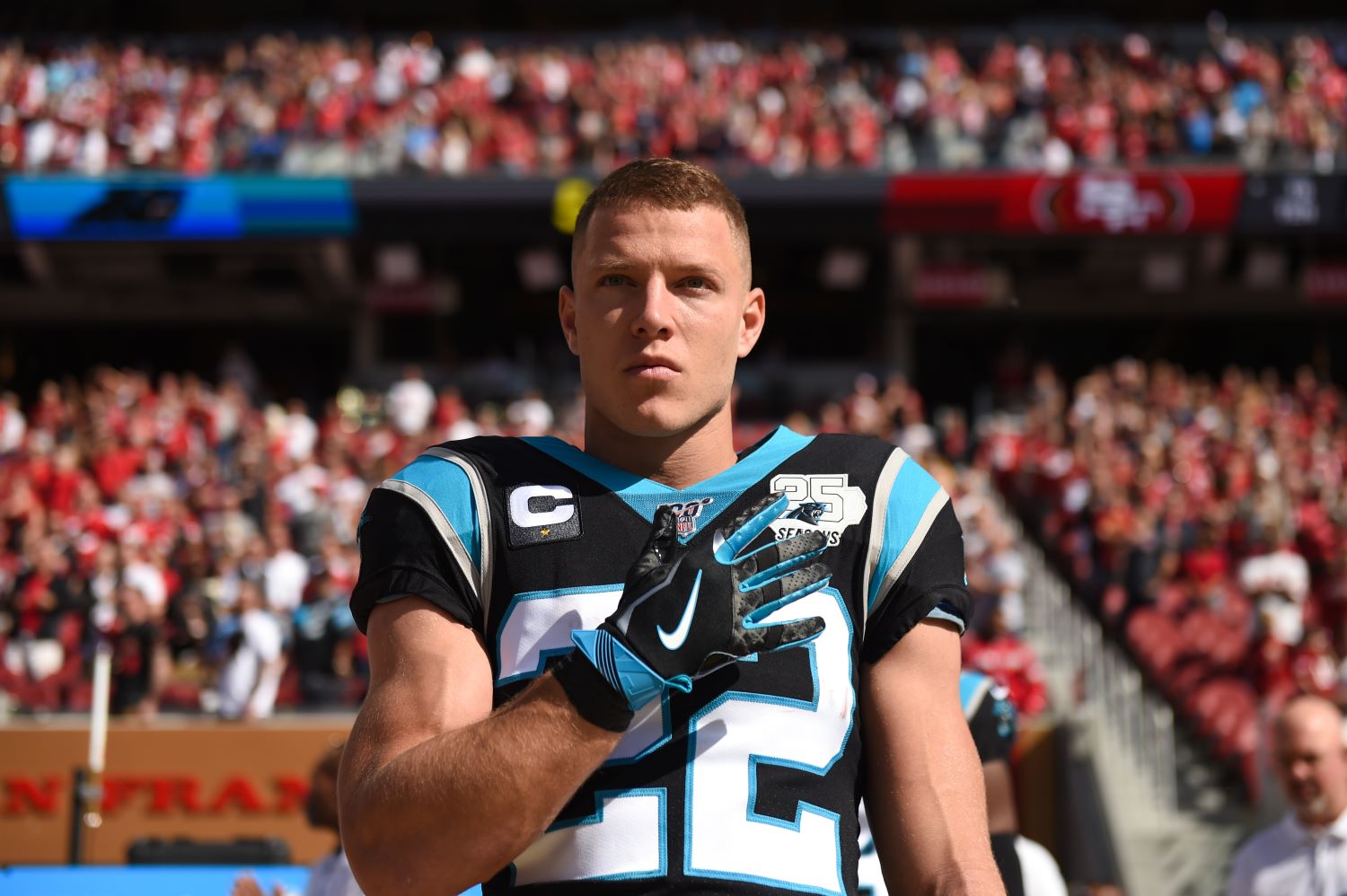 Christian McCaffrey Will Save Panthers' Season if He Lives Up to $64 Million Contract
The Carolina Panthers need star RB Christian McCaffrey to play up to his $64 million contract in order to keep their playoff hopes alive.
After never missing a game through the first three years of his NFL career, Christian McCaffrey hasn't played since Week 2 due to an ankle injury. Without their highly-paid and highly-productive running back in the lineup, the Carolina Panthers have gone 3-3 and currently have an overall record of 3-5.
But with McCaffrey set to return on Sunday, they may just have a chance at making a second-half turnaround. But in order to do so, the Panthers desperately need their $64 million star to earn every penny of his record-setting contract extension.
Christian McCaffrey has been sidelined for the first time in his career
Since going eighth overall in the 2017 NFL draft, Christian McCaffrey has developed into arguably the best overall running back in football. In 2019, he earned first-team All-Pro honors after leading the league in yards from scrimmage (2,392) and total touchdowns (19).
The Panthers rewarded their star offensive weapon with a four-year, $64 million contract extension this offseason. However, after playing every game since entering the NFL three years ago, McCaffrey has spent most of the season sidelined with an ankle injury.
In his absence, the Panthers have managed to go 3-3. Carolina appeared in good shape after rattling off three straight wins immediately after McCaffrey got hurt. However, Teddy Bridgewater and Co. have lost three in a row and currently sit in third place in the NFC South.
The Panthers' star running back should play on Sunday
With a matchup against the Kansas City Chiefs looming, the Panthers finally got some great news about their biggest star. On Friday, first-year head coach Matt Rhule discussed Christian McCaffrey's health status during his press conference.
Rhule said the Panthers plan to activate their star running back from the injured reserve list either on Friday or Saturday. Obviously, that would give Carolina a major boost on offense heading into a difficult matchup against Kansas City.
While it seems unlikely that the Panthers will take down the reigning Super Bowl champions on the road, that doesn't mean their season is totally lost. But if Carolina has any hope of a second-half turnaround, McCaffrey will have to play up to his $64 million contract.
Carolina needs McCaffrey to live up to his $64 million deal to keep playoff hopes alive
Although it seems likely the Panthers will fall to 3-6 after Sunday, they still have an outside shot at making the playoffs. Sure, the path will be incredibly difficult. But Carolina paid Christian McCaffrey record-setting money for a reason. And although he doesn't have Derrick Henry's size or Raheem Mostert's speed, McCaffrey excels as a do-it-all weapon who can attack defenses in multiple ways.
Carolina's second-half schedule actually looks quite winnable, especially considering how close most of the team's losses have been. In Week 1, the Panthers lost to the Las Vegas Raiders by only four points. Although they lost by 14 to the Tampa Bay Buccaneers in Week 2, the Panthers' last three defeats have come by an average of just six points.
Here's who Carolina plays down the stretch:
Week 9 – at Kansas City
Week 10 – vs. Tampa
Week 11 – vs. Detroit
Week 12 – at Minnesota
Week 13 – BYE
Week 14 – vs. Denver
Week 15 – at Packers
Week 16 – at Washington
Week 17 – vs. New Orleans
While the Chiefs, Bucs, and Packers present difficult matchups, it's conceivable that the Panthers could win every other game. In that case, the team would sit at 8-8.
The Panthers may just have a chance against the Chiefs and Packers
Christian McCaffrey's return, however, could swing the odds more in Carolina's favor. Although Kansas City ranks third in points allowed, Andy Reid's team ranks 29th against the run. Can the Panthers exploit the Chiefs' weak run defense on Sunday and possibly steal a win at Arrowhead?
While taking down Tom Brady and the Bucs may not happen, the Panthers could absolutely give the Packers trouble. Green Bay's 16th-ranked scoring defense got torched by Alvin Kamara in Week 3 to the tune of 58 rushing yards, 139 receiving yards, and two touchdowns. Bucs RB Ronald Jones ran for 113 yards and two TD against the Packers in Week 6. And in Week 8, Dalvin Cook racked up 163 rushing yards, 63 receiving yards, and four TD against Green Bay.
Given McCaffrey's own dual-threat abilities, the Panthers can unleash more creativity on offense. And if they start putting up more points on the scoreboard, perhaps they will succeed in stealing a win or two and finish with a winning record.
Considering how crazy the 2020 season has been, that may just be good enough for a postseason berth.
All statistics courtesy of Pro Football Reference.