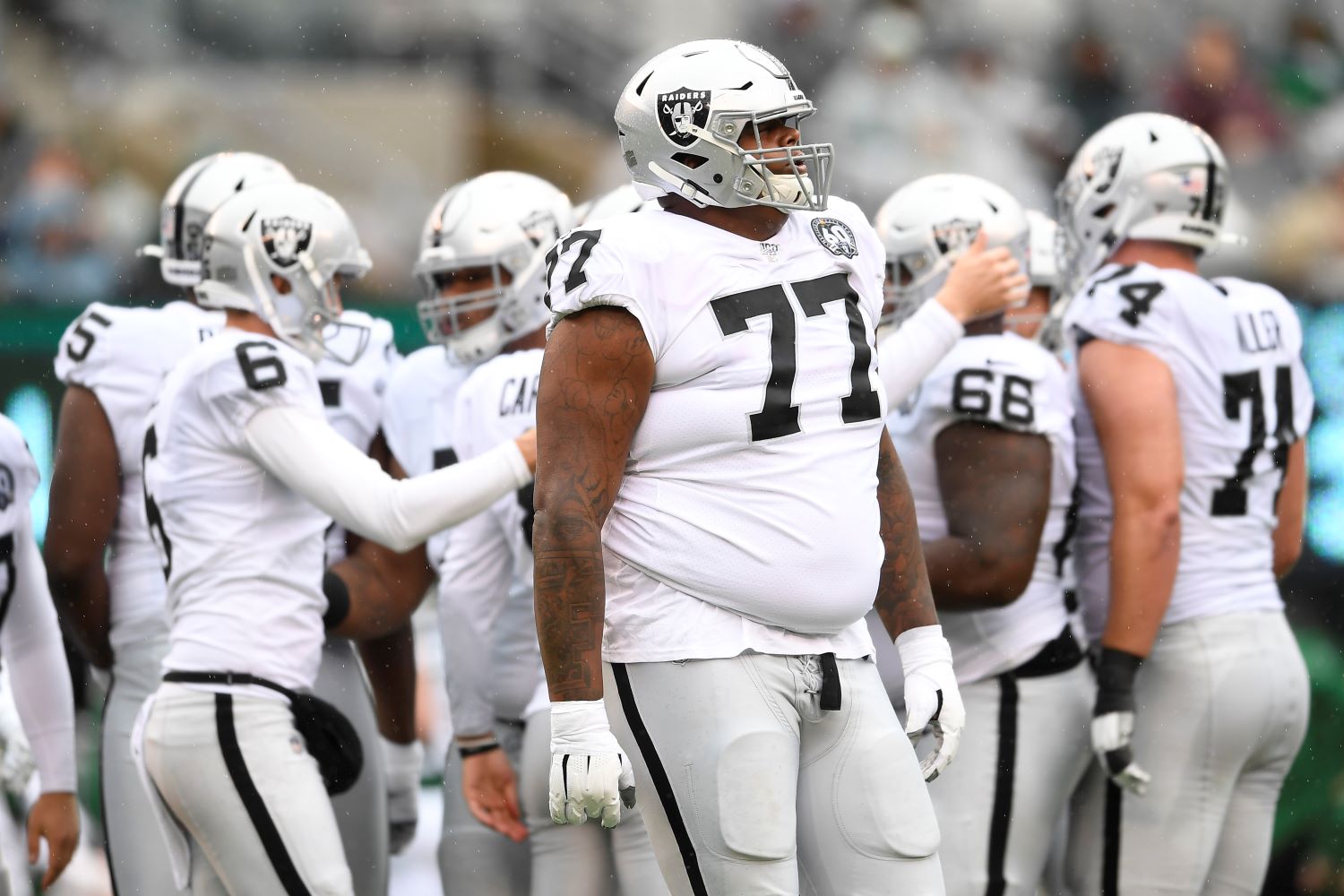 The Las Vegas Raiders' $66 Million Star Just Suffered an Unexpected Setback
With Trent Brown landing on the reserve/COVID-19 list again, the Raiders will once again be without their $66 million star right tackle.
The Las Vegas Raiders continue to get a bad return on their investment in Trent Brown. While injuries limited the towering tackle to 11 games last season, COVID-19 has played a significant role in his inability to stay on the field in 2020.
Unfortunately for the Raiders, their highly-paid offensive lineman just suffered an unexpected setback that will keep him out of the lineup against the LA Chargers on Sunday.
Trent Brown has only played 13 games since signing with Las Vegas
After winning a Super Bowl ring as the starting left tackle for the New England Patriots, Trent Brown cashed in. The 6-foot-8, 308-pound lineman signed a four-year, $66 million contract with the Raiders that included nearly $37 million guaranteed.
However, that investment has not paid off. Though Brown earned Pro Bowl honors in his first year with the team, he played only 11 games and got placed on injured reserve in December. The Raiders finished with a 7-9 record and missed the playoffs for the third straight season.
Expected to dominate from his right tackle spot this year, Brown has played just two games so far. A calf injury caused the 27-year-old to miss matchups against the Saints, Patriots, and Bills.
To make matters worse, Brown had to get placed on the reserve/COVID-19 list on Oct. 21. While he did get activated nine days later, an incident with his pregame IV resulted in Brown having to get rushed to the hospital. Instead of suiting up for the first time since Week 5, he missed his 10th game since signing with the Raiders.
The Raiders' $66 million star suffers an unexpected setback
Having already missed ample time due to his calf injury and COVID-19, Trent Brown just suffered an unexpected setback.
On Thursday, ESPN's Field Yates reported that Brown will head back to the reserve/COVID-19 list. The Raiders' $66 million star just got removed from the list six days ago.
The MMQB's Albert Breer provided further context via Twitter.
According to Breer, Brown is still experiencing complications from the virus. He will likely miss Sunday's showdown against the Chargers.
For Brown—who has played all 16 games just twice in his first five years in the NFL—this setback puts a damper on an already-challenging season. For the Raiders, losing their star right tackle couldn't have come at a worse time since they have to take on Joey Bosa on Sunday.
But even if Brown does return at some point this season, his days in Las Vegas could be numbered.
Don't be surprised to see Brown playing elsewhere in 2021
Trent Brown scored a life-changing raise when he signed with the Raiders. However, while Mike Mayock and Jon Gruden may have overpaid for his services, they did protect themselves in the event they want to get out of Brown's big-money deal.
Las Vegas can cut Brown after this season without any salary-cap ramifications. His four-year, $66 million deal essentially amounts to a two-year, $36.75 million pact. With no guaranteed money beyond this season, the Raiders can get out of Brown's deal without taking on any dead-money charges.
That might be the best move for Las Vegas given their salary commitments for 2021. The Raiders will have to make some tough cuts if the cap gets reduced to $175 million due to the impact of COVID-19.
Given Brown's durability concerns, it would be wise to get out of the remaining two years of his deal and find a more cost-effective solution at right tackle.
But will Gruden cut a player who he just made the highest-paid offensive lineman in NFL history last offseason? Or can Brown prove he deserves to stay in Las Vegas?
The second half of the season will certainly go a long way in determining his future with the Raiders.
All contract data courtesy of Spotrac. All statistics courtesy of Pro Football Reference.