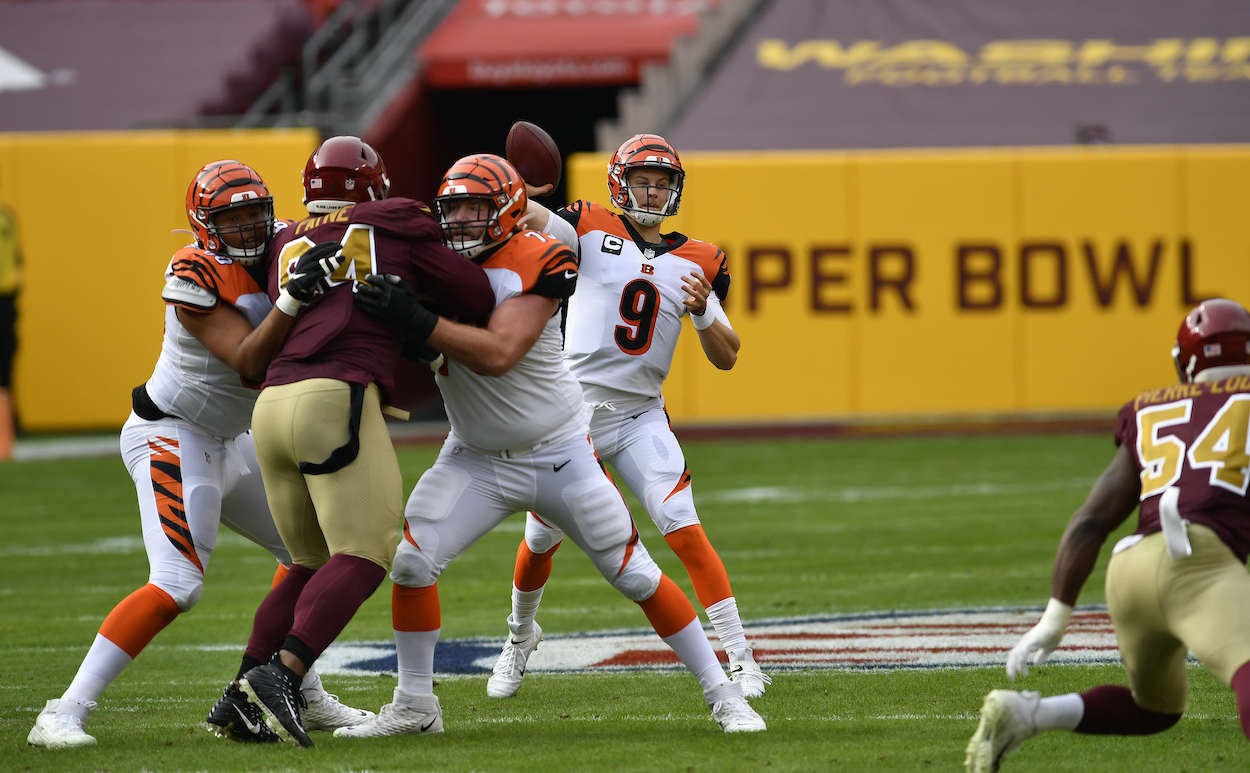 A Cincinnati Bengal Coming Back From a Major Knee Injury Will Be the Key to the Team's Success, but It's Not Joe Burrow
Bengal fans are thrilled their exciting rookie QB Joe Burrow is coming back from a knee injury in 2021. However, his and the team's success hinges on another position group with another player coming back from a knee injury as well. If Cincinnati's O-line can improve in 2021, so can the Bengals.
In 2020, the Cincinnati Bengals had hope for the first time in a long time.
The team hasn't been to the playoffs since 2015 and hasn't won a playoff game since 1990. But, by drafting Joe Burrow No. 1 overall in the 2020 draft, Bengals fans now have hope that they can return to heights not seen in Cincinnati since the Boomer Esiason/Ickey Woods days.
That hope quickly changed to despair when Burrow injured his knee and went out for the year. Now, in 2021, it seems like Burrow should come back from the injury healthy to start the year, but it's actually another Bengal returning from this type of injury that holds the key to the Bengals' new season.
Joe Burrow is coming back from a devastating knee injury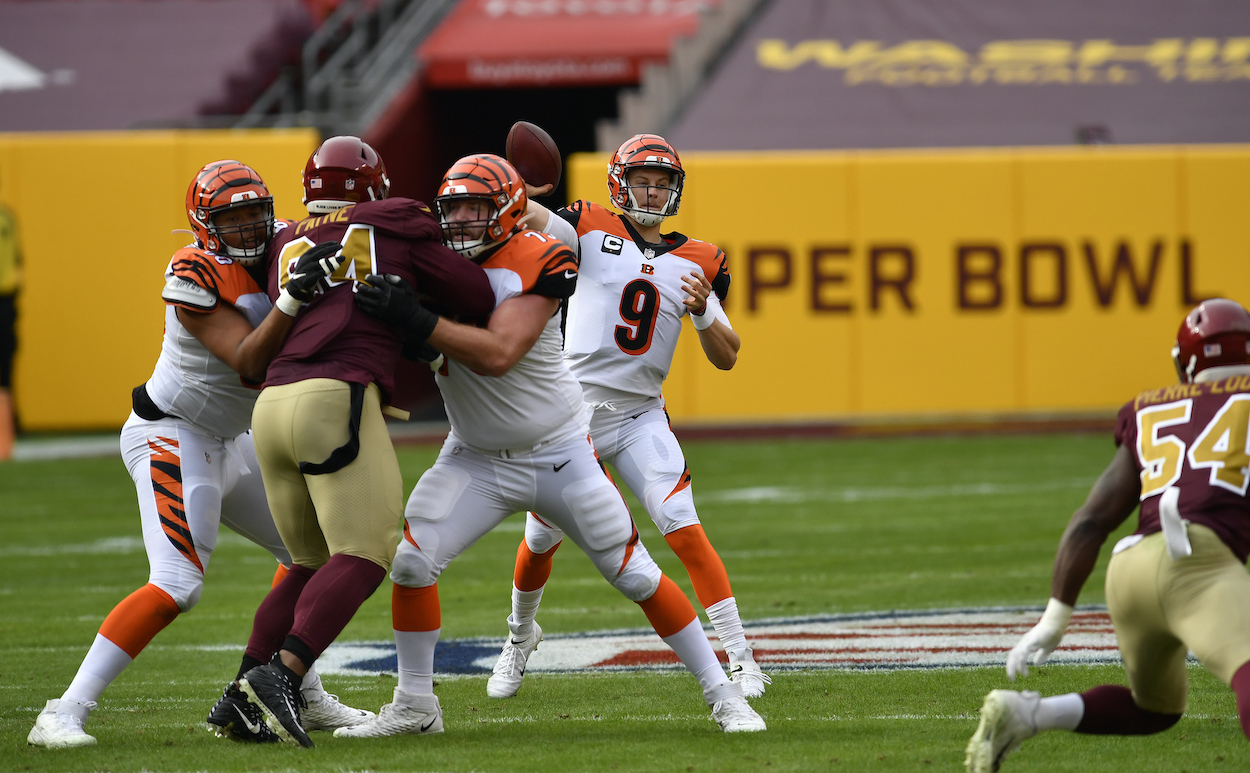 Burrow started his college career at Ohio State, but after losing the Buckeyes' starting job to Dwayne Haskins, he transferred to LSU.
In Louisiana, Burrow put up monster numbers in his senior season (5,670 yards, 60 touchdowns, six interceptions, 76.3% completion rate) on his way to a national championship and the Heisman Trophy.
Selected by his home-state Bengals, Burrow picked up in the pros right where he left off in college. His abbreviated rookie season saw him throw for 2,688 yards, 13 TDs, five INTs, and a 65.3% completion rate in his nine and a half games of action. These numbers put him on pace to break several NFL rookie passing records.
The worst part, according to Burrow, is that the team was just starting to gel, in his opinion, when the injury happened.
Burrow's prognosis after surgery and rehab is very positive, and it looks like he should return close to full strength to start 2021. Another Bengal is coming off a knee injury as well, and he may be even more critical to the Bengal's success in 2021.
The key to the Bengals success will be Jonah Williams and the offensive line
Cincinnati selected offensive tackle Jonah Williams with the No. 11 pick in the 2019 draft. Williams tore his labrum in OTAs before his rookie season and tore his MCL in Week 13 of 2020. Like Burrow, he is also feeling good heading into the new season, which is great news for Bengals fans.  
"I feel great, better than I ever have," Williams told The Athletic. "It sucked being out last year. But I just looked at this offseason as an opportunity to get my body feeling good and stronger than ever."
The team focused on upgrading the O-line overall in the offseason. They brought in Riley Reiff from the Minnesota Vikings and resigned Quinton Spain, who the team picked up midseason after the Buffalo Bills released him. They also took three linemen in the draft, Clemson guard Jackson Carman (No. 46 overall), East Carolina tackle D'Ante Smith (No. 139), and Georgia center Trey Hill (No. 190).
This group is the key to the Bengals chances of success in 2021.
The most obvious reason that the O-line is so crucial is that they have to protect Cincinnati's $36 million investment in Burrow better than they did last year. The offense struggled overall last year outside of Burrow's heroics, though, ans much of these struggles are because of the big guys up front.  
The team finished 27th in passing yards, 24th in rushing yards, 29th in points, and 30th in yards per play at 4.9 in 2020.
Cincinnati has plenty of weapons at the skill position these days, and if Burrow returns to form, he can be an outstanding quarterback. Now, if the offensive line can step it up and play better, the Bengals have a chance to climb out of the basement of the AFC North.  
Several other important Bengals are returning from injuries as well in 2021
The injury bug hit the Bengals hard last year. It's not just Burrow and Williams returning to action in renewed health in 2021. Four other starters will be returning after suffering season-ending injuries in 2021 as well.
This group includes running back Joe Mixon, defensive tackle D.J. Reader, tight end C.J. Uzomah and cornerback Trae Waynes. Reader and Mixon both clicked nicely with Burrow in year one, so having those guys back should help the offense.
With the return of Burrow, Williams, Mixon, and Uzomah, coupled with the upgrades on the line and the addition of Burrow's former LSU teammate, WR Ja'Marr Chase, with pick No. 5, the Bengals offense has a real shot of making its way into the upper echelon of the league.
That is if, and only if, Williams and the O-line can protect Burrow this year.
All stats courtesy of Pro Football Reference and Sports Reference