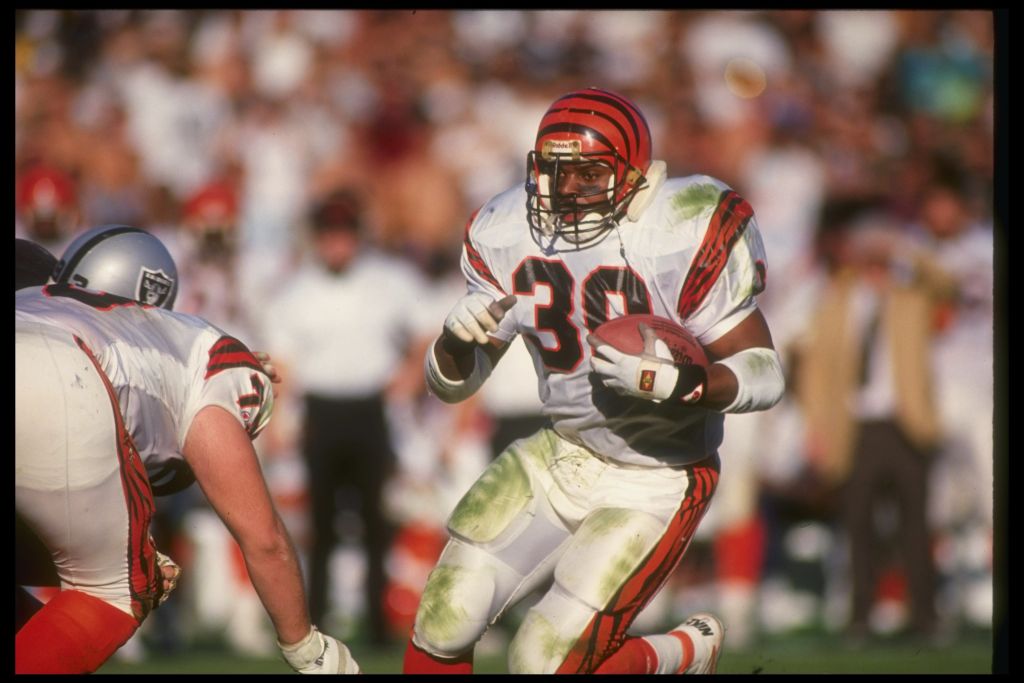 Whatever Happened to Cincinnati Bengals Running Back Ickey Woods?
Whatever happened to Cincinnati Bengals rookie running back Ickey Woods and his Ickey Shuffle celebration dance?
He played just 37 games in the National Football League, but Ickey Woods seemed to be bigger than life in his playing days.
The Cincinnati Bengals selected Elbert 'Ickey' Woods in the second round of the 1988 NFL draft and Woods wasted no time making his mark. Woods was an immediate star, setting Bengals rookie records with 1,066 yards and 15 touchdowns.
The Ickey Shuffle was born in 1988

Woods burst onto the scene in 1988 as he led the league as a rookie with a 5.3 yards-per-carry average to go along with his 15 touchdowns. After each touchdown, Woods would hold the ball in his right hand and shuffle to the right, then switch the ball to his left hand and shuffle to the left to celebrate the score.
The Ickey Shuffle caught fire around the league, helping to cause the NFL to impose a penalty for excessive celebration. The threat of a penalty forced Woods to perform his Ickey Shuffle on the sidelines after scoring a touchdown.
Woods said league officials and Bengals owner Paul Brown didn't approve of the dance, but someone more important than them did.
"His [Brown's] wife loved it," Woods said. "So the team picked up some fines."

Ickey Woods suffered a significant knee injury during the 1989 season
The Ickey Shuffle didn't last much beyond that 1988 season as Woods saw his season abruptly end during the second game of the 1989 season. In a lopsided victory over the Pittsburgh Steelers, Woods tore the ACL in his left knee. He was forced to sit out the next 13 months for rehabilitation.
"It was a freak accident," Woods said of his injury, which came on a clean tackle by Pittsburgh's Thomas Everett. 'But accidents happen and you have got to live on. "Whatever it takes to come back, that's what I will have to do. I will try to get back as soon as I can."

During the 1991 season, Woods suffered an injury to his right knee during the preseason and missed a significant portion of the season. After rushing for 1,066 yards in his rookie season, Woods managed just 459 yards for the rest of his career. His pro football career was over by the age of 26.
The sudden death of Ickey Woods' son Jovante in 2010
Since the sudden death of Woods' 16-year-old son Jovante in 2010, the former Cincinnati Bengals running back has found a new mission in life. Jovante Woods died from a severe asthma attack.
Woods has vowed to do whatever he can to raise awareness about the disease and help find a cure. He was so dedicated to helping others with asthma, he launched the Jovante Woods Foundation.

"I came to find out asthma is one of the fastest-growing diseases with the least amount of money. We took it upon ourselves to raise money for asthma research and education to start educating people about the severity of asthma."

Ickey Woods
Woods also found a unique way to bring back the Ickey Shuffle. In 2014, Woods was the star in a Geico commercial that featured the former running back excessively celebrating when his number was called at the deli. He performed his famed celebration dance while chanting, "get some cold cuts, get some cold cuts."