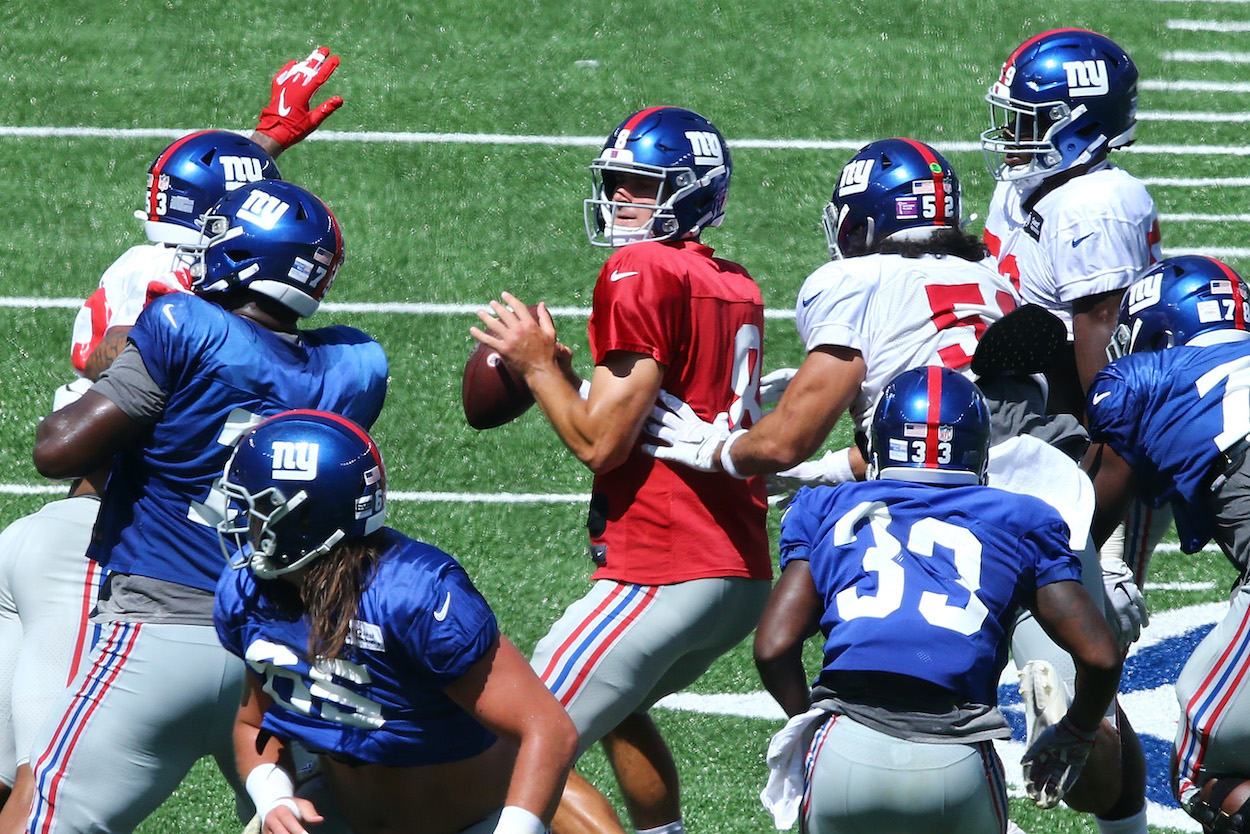 Giants Training Camp Ends With Daniel Jones In the Middle of a Wild Brawl: 'I've Never Seen Joe Judge That Angry,' Says an NFL Insider
A wild New York Giants brawl led to head coach Joe Judge angrily punishing the team in a way any former youth athlete will remember well. The fight resulted in wind sprints, push-ups, and Judge dressing down the team in a private session, without any other Giants coaches.
NFL training camp fights are nothing new, but the New York Giants brawl at camp today is a little different. After a long, stressful training camp, guys who've gone against each other for weeks on end are bound to get a little frustrated at times and lose their cool.
What makes this Giants training camp brawl different is how early it happened and how Giants head coach Joe Judge reacted after his starting QB got caught up in it.
A New York Giants training camp session ended in a wild brawl
One week to the day after New York Giants training camp started, a raucous brawl broke out to close the Tuesday, August 3 session. SNY reporter and Giants and Jets insider Ralph Vacchiano tweeted on the details of the fight:
A full-team brawl at Giants camp with QB Daniel Jones somehow at the bottom of the pile. … Joe Judge is absolutely livid. He's got the players lined up now to run.

Hard to see exactly what happened. RB Corey Clement took a big hit at the end of a run. TE Evan Engram retaliated and then he got popped by Logan Ryan. Then everybody — and I mean everybody — jumped in.

Ralph Vacchiano on the New York Giants brawl
A fight is one thing, and often NFL coaches celebrate their players mixing it up a bit. They point to these training camp fights to demonstrate passion and competitiveness.
A full-scale brawl is a different story.
Judge was understandably livid that the entire team jumped into a melee that could have hurt players, including the most important one on any team, the star quarterback. The second-year head coach responded in a way that anyone who's played sports on any level knows well.
Judge punished Giants players harshly and reprimanded the team
When the New York Giants brawl subsided, Judge lined up the entire team in the end zone for the classic sports punishment: wind sprints.
"After doing 100 yard runs — and not hard enough for Joe Judge's liking — players are now lined up on the foal [sic] line doing push ups," Vacchiano reported. "There is dead silence except for Joe Judge's whistle and his expletives. … So many expletives."
Following the physical punishment, Judge wanted to lay into his team in a very personal, private manner. "Now Joe Judge gathered his players around him … and sent his coaches away," the Giants insider continued. "He wants them all to himself."
The final tweet in Vacchiano's thread characterized just how incensed Judge was about brawl:
And now practice is mercifully over. Wow. I've never seen Joe Judge that angry. Actually I'm not sure I've ever seen anyone that angry.

Ralph Vacchiano on the New York Giants brawl
The New York Giants brawl sounds like a wild scene and one that anyone involved will not soon forget.
The team needs to improve in 2021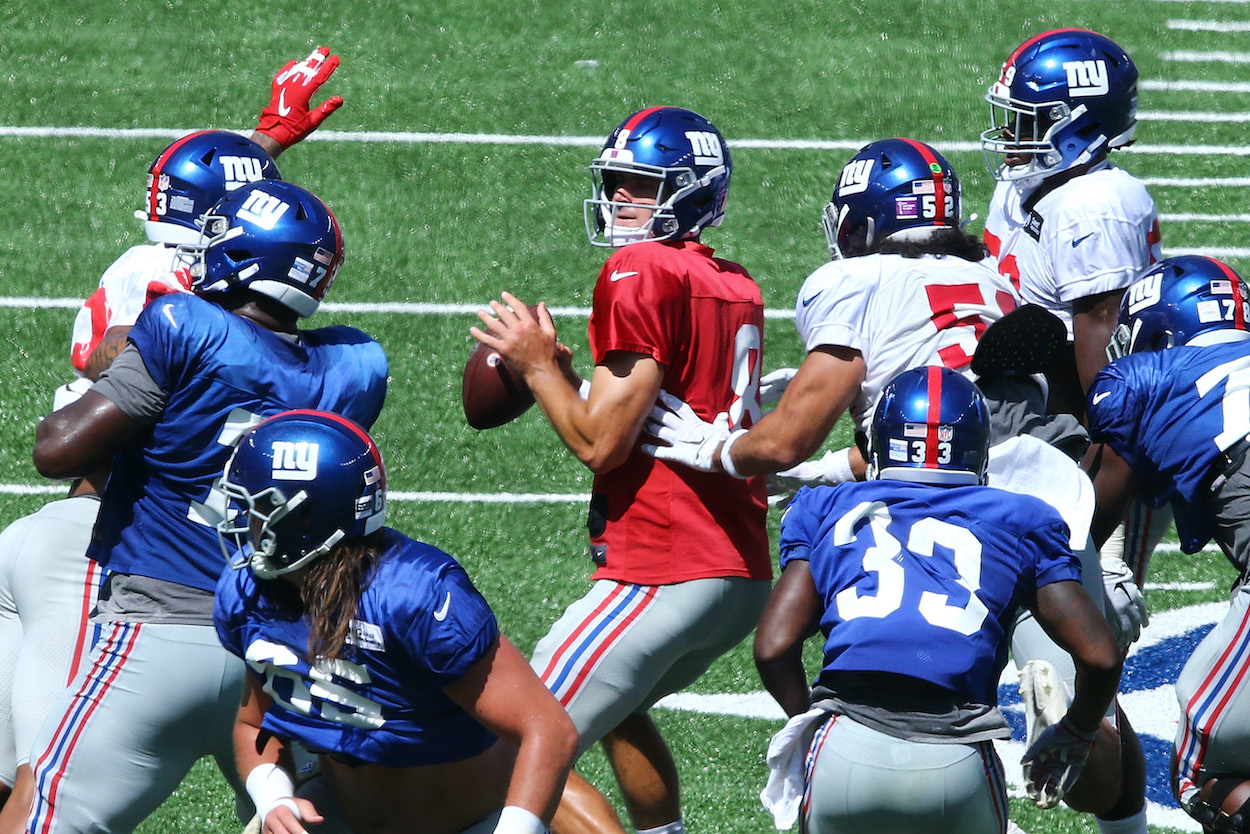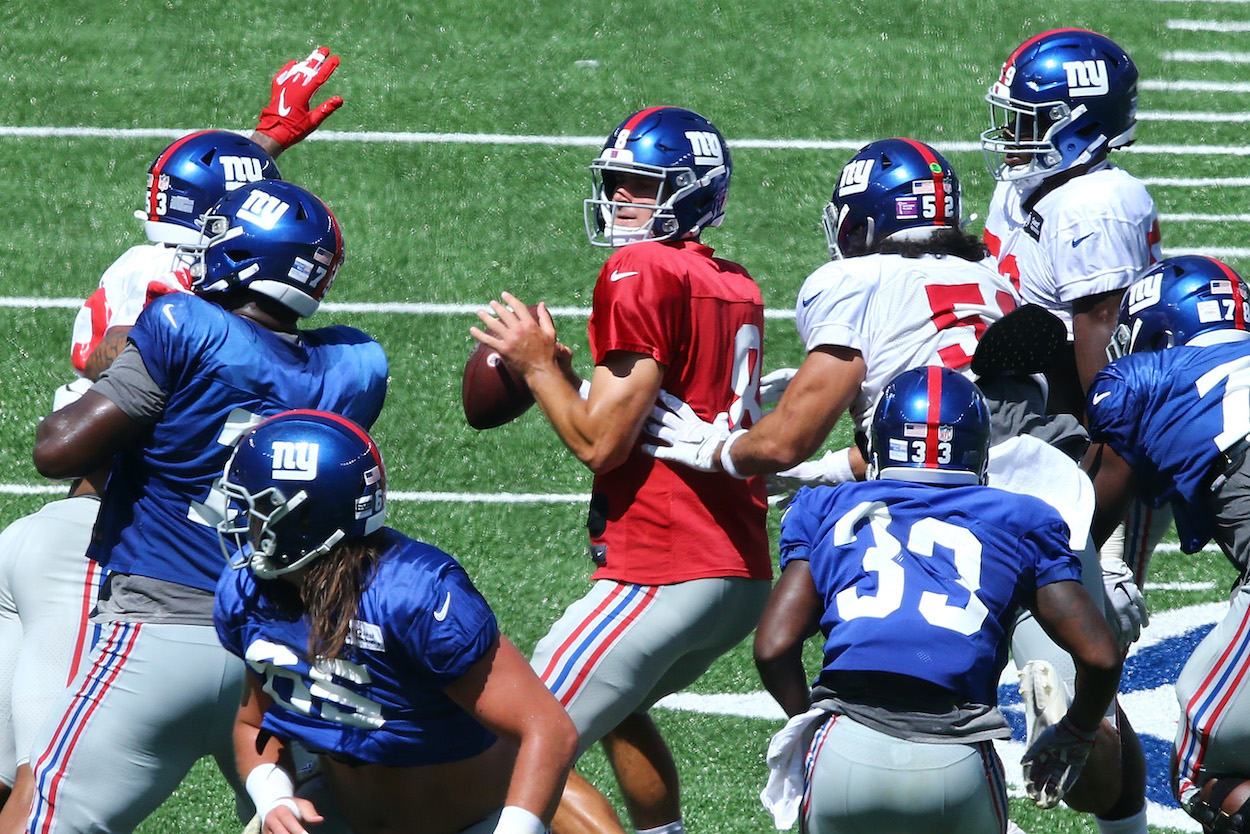 Judge was a surprise pick to become the 21st head coach in New York Giants history. The former Alabama Crimson Tide and New England Patriots special teams coach comes from a well-respected coaching tree, but special teams coaches rarely get head jobs.
His first season in charge started poorly. He lost his star running back, Saquon Barkley, less than two full games into the season. This loss, combined with the up and down performance of his second-year QB Daniel Jones, gave the G-Men a 1-7 start to the season.
Just when all looked lost, Judge seemed to find his footing and led the team to a respectable back half of the season. The squad won five of its last eight games to finish 6-10. This run included wins over the Seattle Seahawks and the other three teams in the NFC East.
Judge is the fourth Giants head coach since the organization let Tom Coughlin go in 2015. The team performed well enough at the end of last year that his job shouldn't be in jeopardy this season. However, he could be on the hot seat soon without improvement.
More than Judge, this season may write the book on Barkley and Jones' time with the team. The former Penn State running back is due a $6 million-plus raise next year, which will be hard to justify if he doesn't produce in a big way in 2021.
The Giants also need to decide whether to give Jones a big fifth-year raise after this season. If he doesn't look like a franchise QB now, his time with the organization may be coming to an end.
Whether Judge, Jones, Barkley, and the Giants as a whole succeed or fail this season, we might look back on the New York Giants brawl in camp and point to that as a reason why.
All stats courtesy of Pro Football Reference