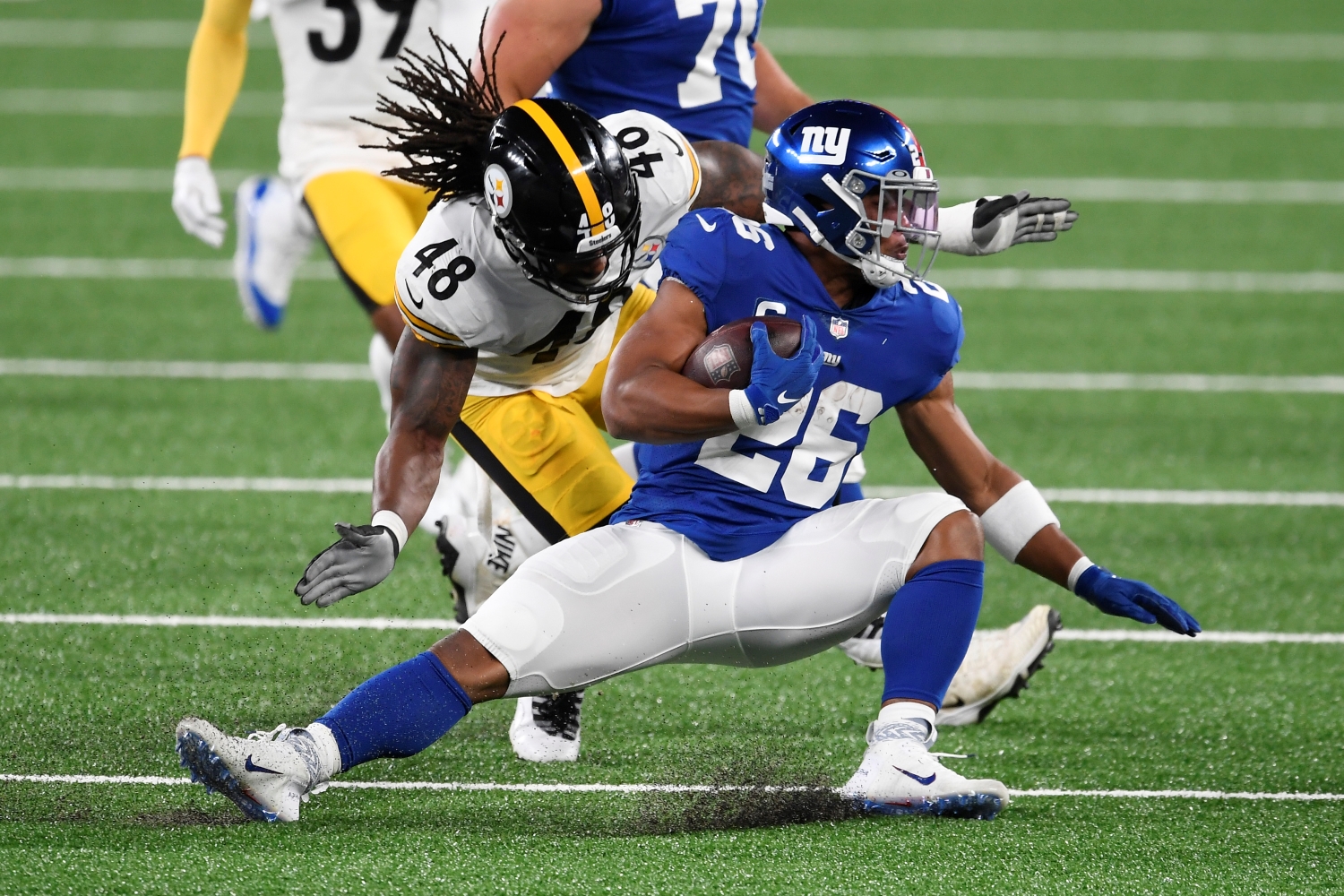 Saquon Barkley's Latest Comments About His Injury Recovery Should Raise Some Red Flags for Giants Fans
Does Saquon Barkley still have a bright future ahead of him? Unfortunately for New York Giants fans, the running back's latest comments about his devastating ACL injury should raise red flags about what lies ahead.
The New York Giants suffered more than just their fourth straight losing season in 2020. They also lost their franchise running back to a potentially career-altering injury. While nobody doubts Saquon Barkley's work ethic, his latest comments should raise concerns for Giants fans about what lies ahead.
And if the former Penn State star can't rediscover his vintage form, it will only make Dave Gettleman look worse for the way he handled the 2018 NFL Draft.
Saquon Barkley suffered a painful setback in his third year in New York
After entering the league as the No. 2 overall pick, Barkley captured 2018 NFL Offensive Rookie of the Year honors by totaling a league-high 2,028 yards from scrimmage and 15 total touchdowns. Needless to say, he lived up to expectations in his first year in New York.
Barkley's second season with the Giants didn't go quite as smoothly. A high-ankle sprain caused him to miss three games. Meanwhile, his yards-per-carry average dropped from 5.0 to 4.6, and he only scored eight total touchdowns. Barkley did eclipse 1,000 rushing yards for the second straight season, but the Giants finished 18th in scoring and posted a disappointing 4-12 record.
Unfortunately for the talented running back, his third NFL season ended not long after it began. Following a forgettable Week 1 performance against the Pittsburgh Steelers (15 attempts for six yards, six catches for 60 yards), Barkley experienced an unforgettable day against the Chicago Bears. The 24-year-old had to get carted off the field after suffering a knee injury.
Tests confirmed Barkley tore his right ACL. He didn't play a single down after the Bears game.
The Giants finished with a 6-10 record despite ranking ninth in points allowed. But without Barkley carrying the offense, Jason Garrett's unit ranked second-to-last in scoring at 17.5 points per game.
Barkley's latest comments should raise red flags for Giants fans
Giants fans had their worst nightmare come to life when Barkley's knee gave out in Week 2. Although it's almost 10 months since that fateful game against the Bears, the fourth-year running back hasn't helped shed any concerns about what lies ahead. In fact, his comments on The Rich Eisen Show should raise some red flags for fans of the historic NFC North franchise.
Barkley understandably faced questions from Eisen about his knee injury and the recovery process. However, as he does to would-be tacklers, the talented tailback did some clever maneuvering to avoid giving clear answers about what lies ahead.
"When you're listening to your body right now, does your body say Week 1 of the NFL season, Saquon Barkley?" Eisen asked.
Barkley didn't attempt to put any type of long-term timeline in play.
"You know, my body tells me what's ready for the next day," he explained. "That's the only thing I can do. I can't look too far. I got to take it one day at a time and keep that approach."
Eisen tried again to get Barkley to give him a definitive answer about his status.
"Am I off in saying that? That you're ready?" he asked.
Barkley eluded picking a side.
"I can't agree or disagree," he responded.
While Barkley credited the team's medical staff for helping him in his journey to get back to full strength, his comments shouldn't inspire a ton of confidence about his chances of playing at a Pro Bowl level anytime soon. He dealt with a major ankle injury in his second season before tearing his ACL two games into his third. It's not exactly encouraging to hear the day-by-day timeline mentioned so often for someone who plays a position with a short shelf life.
Plus, let's not forget that Barkley recorded 773 touches in 38 college games, so he entered the NFL with some tread on his tires. After sustaining two lower-body injuries within his first three years in the league, it's entirely fair to wonder whether he will ever live up to being the second overall pick in a draft class that has produced stars with far more value than even a healthy version of Barkley.
Should the Giants regret drafting the former Penn State star?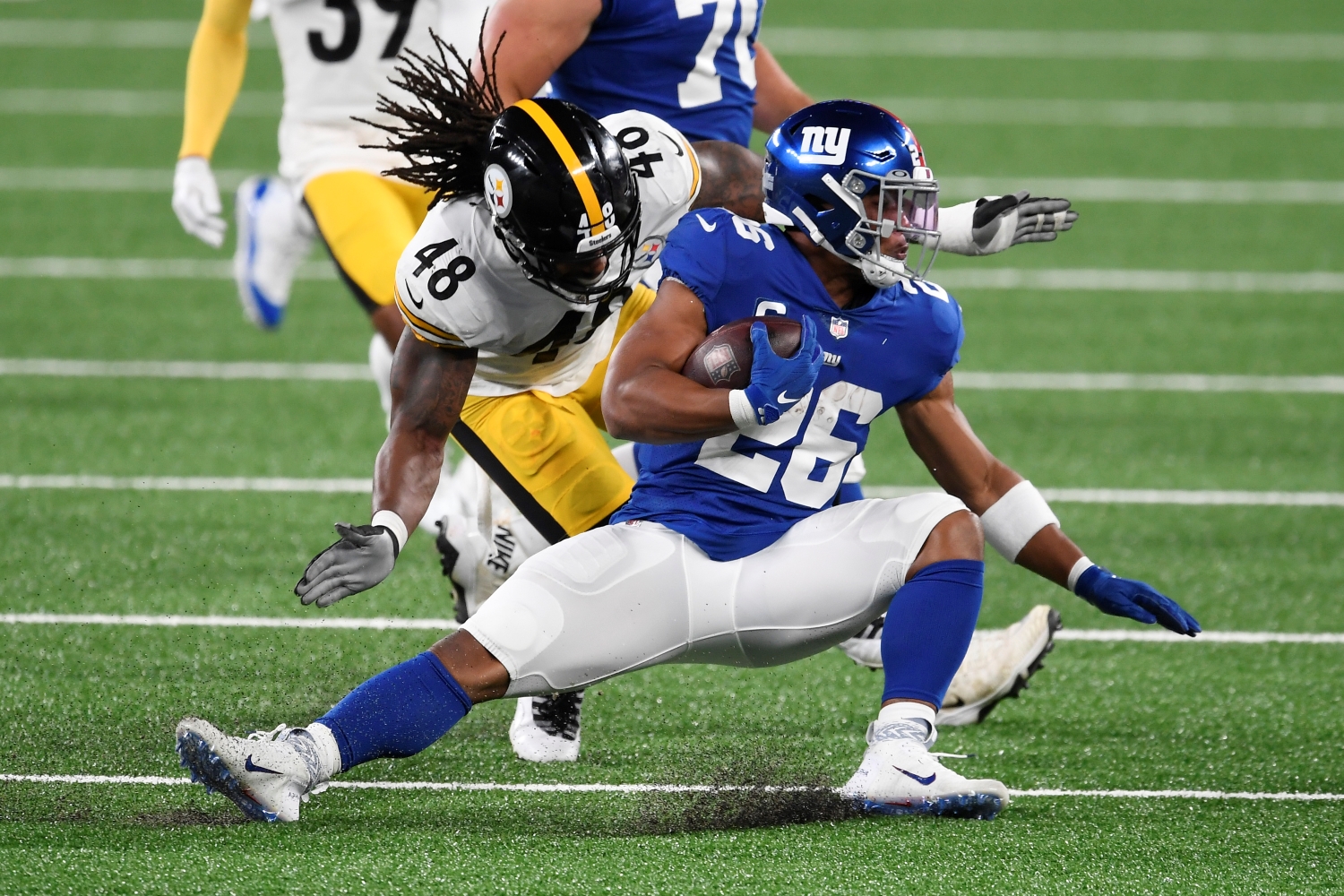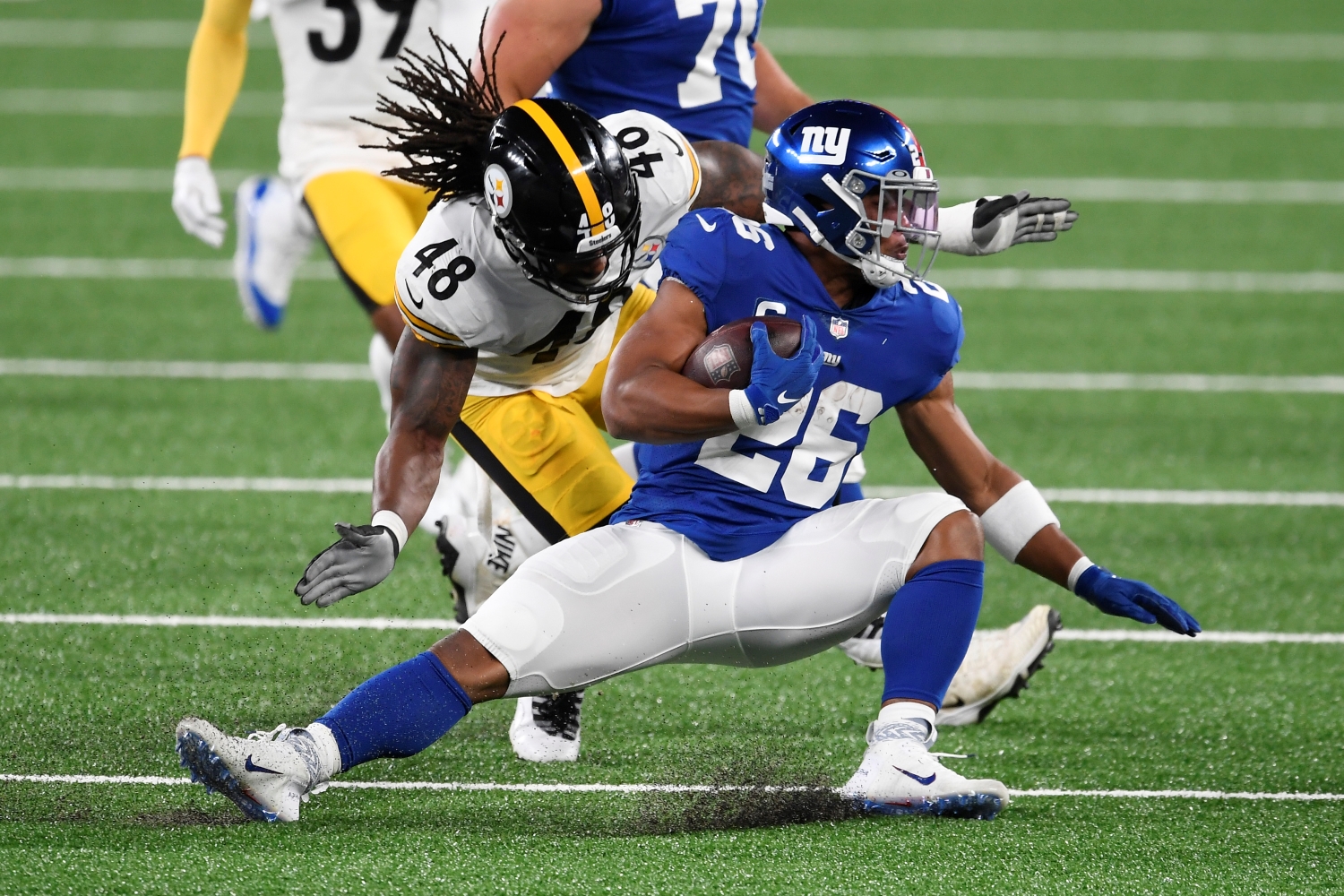 At this point, it's time to wonder how much longer the Giants will let Dave Gettleman run the show. Did he know Barkley would get hurt when he got to the pro level? Of course not. But that doesn't excuse the fact that the longtime NFL GM took a huge gamble by selecting a running back over a number of other blue-chip prospects who play more valuable positions.
Once Baker Mayfield went No. 1 overall to the Cleveland Browns, Gettleman could have gone in any number of directions. Josh Allen would have looked nice in a Giants uniform, right? Or how about Lamar Jackson? Even if Gettleman wanted to go with a non-quarterback, wouldn't cornerback Denzel Ward be a big help for Patrick Graham's defense? Or what if Roquan Smith was leading the huddle on that side of the ball?
Instead, Gettleman committed the foolish mistake of using the second overall pick on a running back. No matter how great Barkley looked at Penn State, it simply made no sense for a team without a young franchise quarterback to pass over prospects like Allen, Jackson, and even Sam Darnold.
So unless third-year starting quarterback Daniel Jones, who Gettleman took sixth overall in 2019, takes a substantial leap forward in 2021 and Barkley plays like a star again, the Giants will only look worse for botching the top of the 2018 NFL Draft.