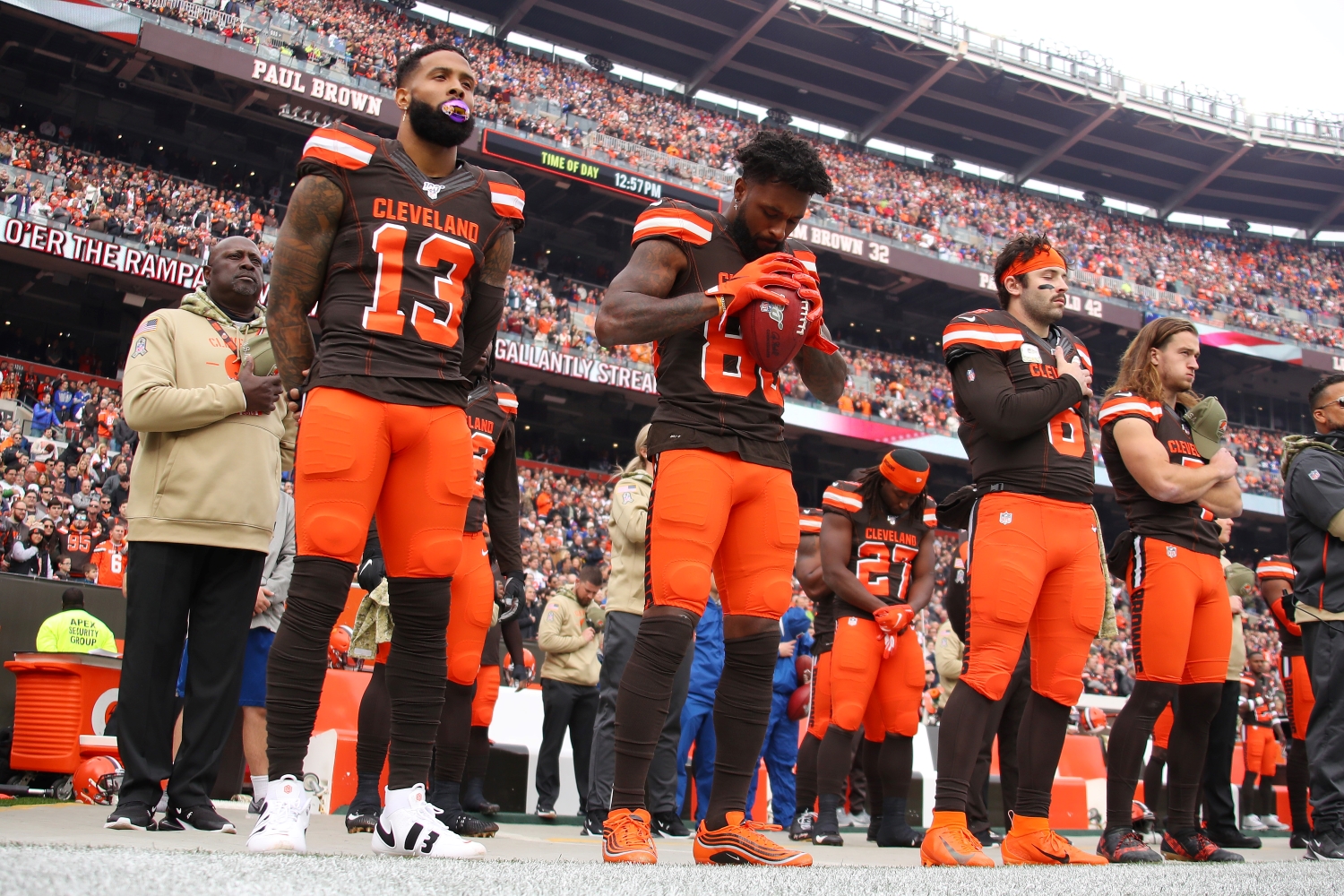 It's Put Up or Shut Up Time for the NFL's Most Expensive Offense
With more money invested on their offense than any other team in the NFL, it's officially put up or shut up time for the Cleveland Browns. Can Baker Mayfield and Co. finally achieve championship glory?
Money can't buy happiness. But for the Cleveland Browns, it better buy points.
With Baker Mayfield leading the huddle, the Browns feature a frightening offense, at least on paper. Of course, they will also dedicate more financial resources on that side of the ball in 2021 than any team in the NFL.
While Mayfield and Co. showed plenty of promise during the first year of the Kevin Stefanski era, the unit still didn't completely live up to the hype. And with the young quarterback's financial future on the line, it's put-up-or-shut-up time for the NFL's most expensive offense.  
The Browns haven't finished in the top-10 in scoring since the days of Derek Anderson
The last time the Browns fielded a top-10 offense, Tom Brady set the single-season record with 50 passing touchdowns. For anyone not familiar with the GOAT's timeline, his awe-inspiring season occurred more than a decade ago—in 2007.
Yes, it's been that long since the Browns put up enough points to finish among the 10 highest-scoring teams in the league. In what turned out to be Cleveland's only winning season from 2003-19, a Derek Anderson-led squad went 10-6 and somehow missed the playoffs. Part of that had to do with the fact that the Browns finished 21st in points allowed (23.9 per game). But thanks to standout performances from Jamal Lewis (1,304 rushing yards, 11 total touchdowns), Braylon Edwards (80 catches for 1,289 yards and 16 touchdowns), and Kellen Winslow Jr. (82/1,106/5), the Browns finished eighth in scoring (25.1 points per game).
Unfortunately for fans of the AFC North franchise, the last decade-plus has mostly been a major disappointment on that side of the ball. The Browns have started uninspiring quarterbacks like Colt McCoy, Brandon Weeden, Brian Hoyer, and DeShone Kizer. They've dealt with the ups and downs of Josh Gordon and the embarrassment of the Johnny Manziel experience. And even with Mayfield under center the last three years, the Browns have finished 20th, 22nd, and 14th in scoring.
Not exactly elite, right?
It's put up or shut up time for the NFL's most expensive offense
Jimmy Haslam might rank as one of the worst owners in pro sports, but even Browns fans who can't stand him have to feel for his wallet right now. After all, he's about to pay a ridiculous price to field what many believe is the NFL's most talented offense.
Whether the Browns live up to that label remains to be seen. What we do know, though, is that Cleveland will have the most expensive offense in the league. And considering how much money Haslam will spend this season to ensure Stefanski has the players he needs to succeed, it's now or never for Mayfield and the rest of that star-studded unit.
According to NFL analyst Warren Sharp, the Browns top the list of the league's most expensive offenses for the 2021 season at $141 million. The Dallas Cowboys rank second at $126 million. Nine other teams will surpass $100 million in spending on that side of the ball this year.
At that price, the Browns better put up big point totals every week. Consistency eluded Cleveland during the 2020 season, as the offense had three games in which it got held to seven points or less. In fact, the Browns had six games in which they failed to reach 20 points. And when you give up just north of 26 per game, that's not a recipe for success.
Mayfield has to take another step in his development, Odell Beckham Jr. needs to stay healthy and play like a No. 1 receiver, and Jarvis Landry ($14.8 million) and Austin Hooper ($8.25 million) to produce more to justify their expensive cap hits. Plus, Stefanski has to figure out the best way to maximize the talents of the backfield duo of Nick Chubb and Kareem Hunt, and he has to strike the right balance of running and passing to keep defenses guessing. If the Browns don't make a substantial leap and become a consistent force on offense in 2021, they have no business being taken seriously as a Super Bowl contender moving forward. This team simply has too much raw talent not to succeed, so it's time for Mayfield and his high-priced teammates to step up before it's too late.
Some of the top Super Bowl contenders surprisingly spend much less on offense
least expensive 2021 offenses ($MM)

99 – SF
98
97 – BUF, NYG, MIA, NO
96 – LAC
95
94
93 – ARI
92
91
90
89
88 – NE
87 – PHI, JAX
86 – PIT, CAR
85 – CIN
84 – CHI, LAR, KC
83
82 – MIN
81
80
79
78 – DEN, BAL
77
76 – DET

— Warren Sharp (@SharpFootball) June 2, 2021
Although the Browns will outspend the other 31 teams to field a star-studded offense, that doesn't mean they will make the playoffs. In fact, when you look at the breakdown of how other franchises will allocate financial resources this season, it's interesting to note that some of the top title contenders don't invest significant money on scoring points.
According to Sharp, the Baltimore Ravens rank near the bottom of the league at only $78 million. Of course, that number will skyrocket in the near future once Lamar Jackson signs a contract extension.
The Kansas City Chiefs surprisingly check in at $84 million. And the Los Angeles Rams will also spend roughly that amount on offensive players in 2021. Both teams look capable of winning a title despite not having expensive offenses.
As for the reigning champions?
The Tampa Bay Buccaneers rank third at $118 million.
Let's see if spending that type of cash will lead to another day of Lombardi Trophy tossing for TB12.