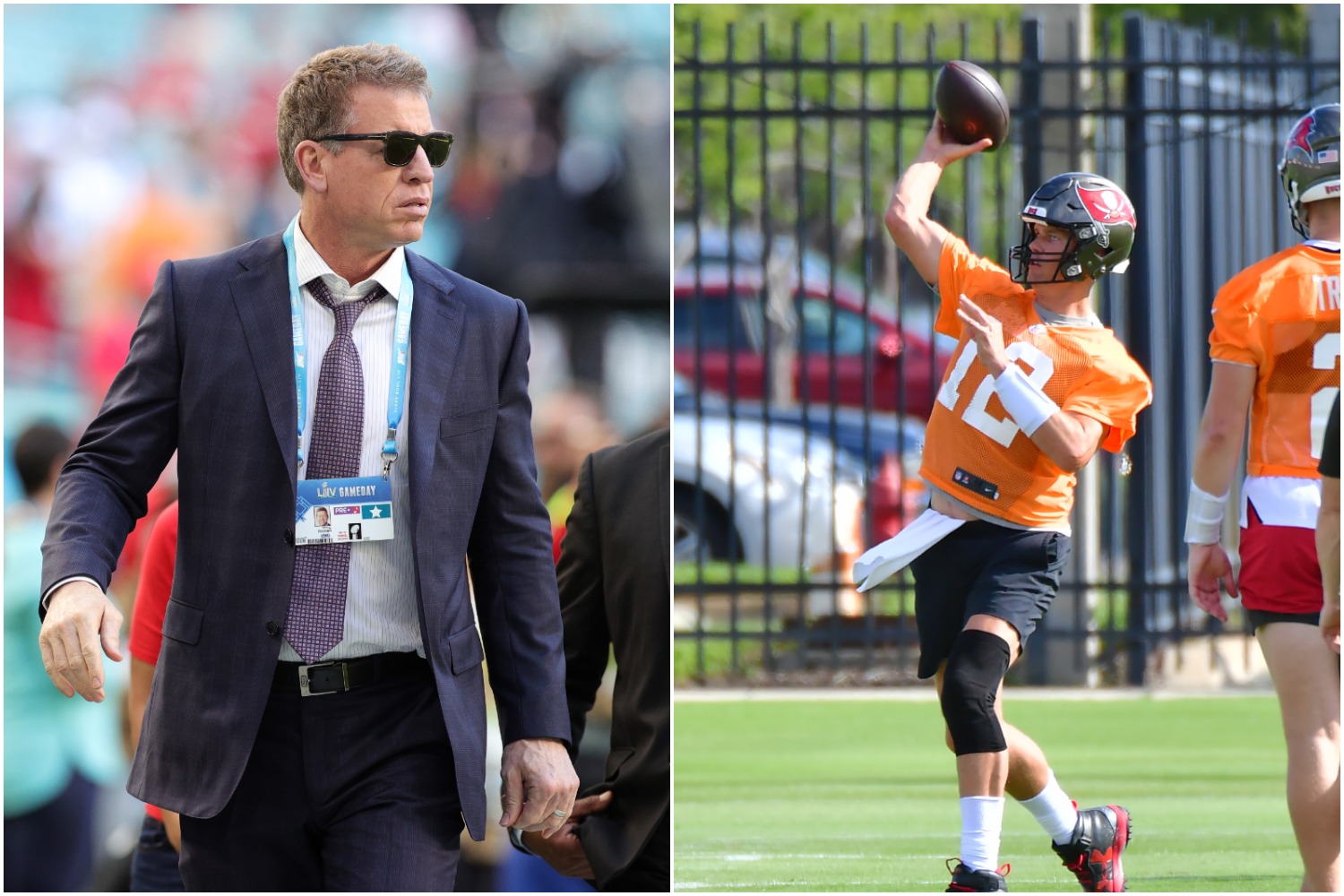 Troy Aikman's Bold Claim About Tom Brady's Hypocritical Comments Makes the GOAT Look Like an Evil Genius
Did Troy Aikman expose the true reason why Tom Brady championed for less practice time? If the Cowboys legend's intuition is on point, it only underscores why Brady should be considered an evil genius.
As a former NFL quarterback himself, Troy Aikman understands the benefit of playing a few mind games. After all, the best players at the position often operate in a cerebral fashion so they can maintain full control of what's going on between the hashes.
So after hearing Tom Brady make some comments that seem rather hypocritical on the surface, the Dallas Cowboys legend delivered a bold take on what he believes the GOAT's true intentions are behind the push for less practice time.
And based on Aikman's interpretation of the situation, Brady looks like an evil genius who'll stop at nothing to put his team in the best position to win.
The only problem?
Brady's plan will hurt other players' chances of reaching their full potential.
Tom Brady hasn't been shy about pushing for changes to the league's offseason program
Despite preaching about the value of practice and preparation for years, Brady has taken a different approach in 2021. With players seeking modifications to the rules governing offseason workouts, the legendary quarterback raised eyebrows in early May by voicing his opinion about the problems he sees with the way the program currently works.
"We shouldn't have overly competitive drills in May and June. There's no f—— pro baseball player that's throwing 95 MPH in the middle of December," Brady said during a call with the NFL Players Association, according to Ben Volin of the Boston Globe.
Weeks after making his impassioned plea, the 43-year-old signal-caller hosted his own passing camp at the New York Yankees' spring training complex, which is located a quarter-mile from the Buccaneers' home stadium. Bruce Arians then allowed Brady to host a private throwing session at the team's facility with no coaches present. As much as the Buccaneers seem willing to work with their star quarterback, it's clear Brady wants the league to make permanent alterations to the offseason program.
Troy Aikman's bold claim about Brady's comments makes the GOAT look like an evil genius
As someone who excelled at playing the position, Aikman knows what it takes to be an elite quarterback. So when the Cowboys icon heard Brady's comments about pushing for changes to the offseason program, he understandably had a confused reaction.
"I was surprised to hear Tom Brady say the players need more time off," Aikman said on the Flying Coach podcast hosted by Los Angeles Rams coach Sean McVay and NFL analyst Peter Schrager. "He was very vocal. It shocked me because I know Tom well."
But according to the three-time Super Bowl champion, the GOAT's surprising stance on practicing less has everything to do with trying to gain a leg up on the other 31 teams in the league.
"And then I realized, that's the greatness of Tom Brady. Because I can assure you, he's not taking those days off, and that team is not taking those days off," Aikman said. "And so he views it as a total competitive advantage. If teams are practicing less, and he's practicing more, that's going to give him a leg up on the competition, and I think that was really the whole motivation for those comments."
If that's truly the case, Brady deserves the "evil genius" label. As arguably the biggest star in NFL history, his vocal support could lead to changes to the offseason program. If that causes teams to spend less time on the field, that will make Brady's job even easier. Given his unparalleled competitive drive and desire to win, it wouldn't be surprising at all if his actual motivation for a less demanding offseason program boils down to putting his opponents in a weaker position to succeed.
NFL players should think twice before aligning themselves with the legendary quarterback
Brady seems all-in on reducing players' workload in the spring and summer. But the rest of his peers should think twice before supporting the GOAT.
Does less practice time sound like a recipe for a better on-field product? Will players develop at the same rate if they don't get as many reps? How can a quarterback build chemistry with his receivers without actually throwing them the ball? How can linemen prepare for the grind of battling in the trenches without working in full pads?
Trimming OTAs and minicamp and training camp practices in any manner doesn't necessarily set a team up for success. Those sessions provide players and coaches with the opportunity to better understand their strengths and weaknesses. They also allow general managers and scouts to assess the overall state of the roster. It seems like a major risk to take away reps, especially from younger players who need to work on technical aspects of their game.
Then again, when you're about to turn 44 in August, practice probably doesn't matter as much.
And if the league backs Brady at some point, the GOAT will enjoy a new competitive advantage for however long he wants to keep playing football.