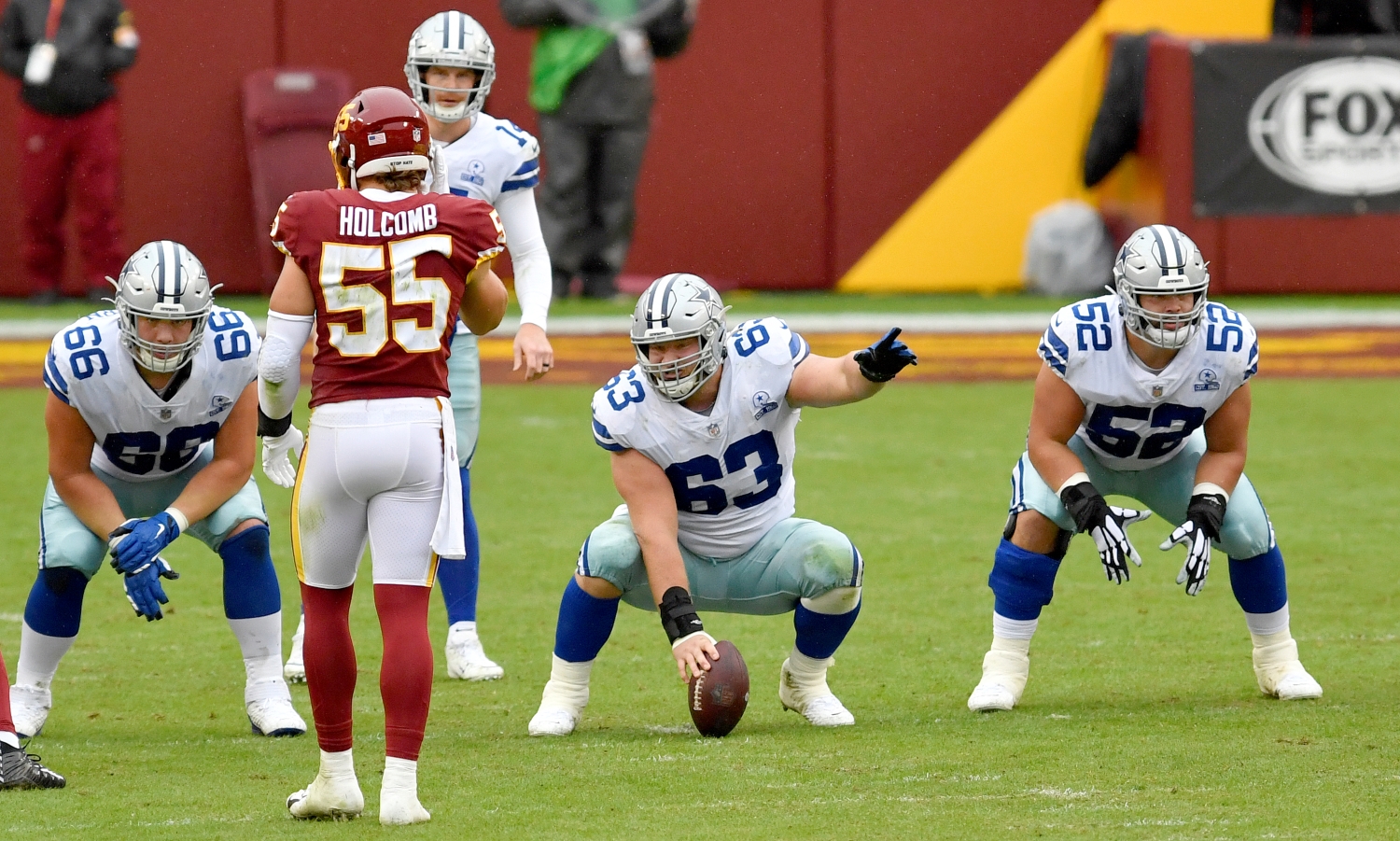 The Future Suddenly Looks Much Brighter for the Cowboys' Shaky Offensive Line Situation
Can Tyler Biadasz fill the void left behind by All-Pro center Travis Frederick? Based on some comments made by his teammates, the Cowboys should feel excited about the future of their offensive line.
Not long ago, the Dallas Cowboys had the best offensive line in the NFL. While stalwart guard Zack Martin seems destined to earn at least a few more All-Pro selections, it's incredibly challenging to predict what the future holds for some of his closest teammates. And with Dak Prescott returning from a gruesome ankle injury, that uncertainty doesn't inspire much confidence about the Cowboys' ability to protect their franchise quarterback.
As shaky as the situation looks on the surface, Dallas may have a budding star ready to break out. But even if the Cowboys have a long-term building block at a key position, they should still have concerns about their offense. After all, with so many players looking to bounce back from disappointing seasons, it's fair to question whether Mike McCarthy's team will live up to expectations in 2021.
Injury issues have raised serious concerns about whether Dallas can protect Dak Prescott
Just two years ago, the Cowboys' starting offensive line included Tyron Smith and La'el Collins at tackle, Martin and Connor Williams at guard, and Travis Frederick at center. With three perennial Pro Bowlers in place, the unit looked capable of dominating defensive lines for the foreseeable future.
However, that plan got upended shortly after the conclusion of the 2019 season when Frederick abruptly retired due to long-term health concerns. Losing the five-time Pro Bowler represented a massive blow to an offensive line that depended on him to consistently identify blitzers, execute clean snaps, and make tough blocks. So instead of having one of the league's elite centers for Prescott's prime years, the Cowboys had to hit the reset button at one of the most pivotal positions on the field.
To make matters worse, Dallas dealt with major injuries along the offensive line last season. Coming off four straight 13-game campaigns, Smith didn't play a down after Week 2 because of a neck injury that required surgery. Meanwhile, Collins missed the entire season due to a nagging hip ailment. Needless to say, the downgrade from Smith (a seven-time Pro Bowler) and Collins (who signed a $50 million contract extension in 2019) was significant.
With both of their starting tackles sidelined, the Cowboys allowed 44 sacks in 2020. Only six teams gave up more, so it's clear Dallas has to improve quickly to rise to the top of the NFC East. Plus, after signing Prescott to a $160 million contract extension, Jerry Jones needs to do everything possible to keep his highest-paid player out of harm's way.
The future looks much brighter for the Cowboys' shaky offensive line situation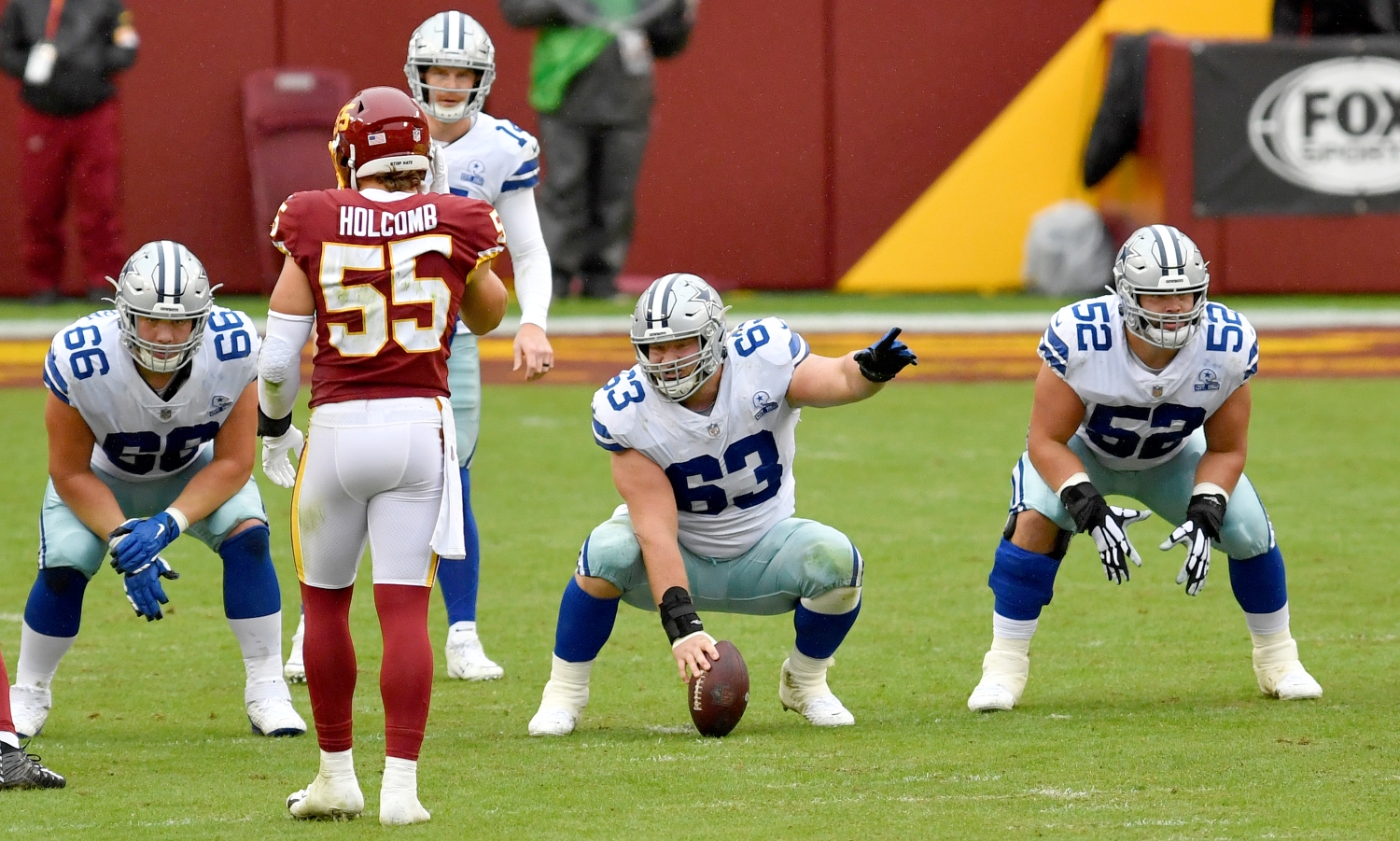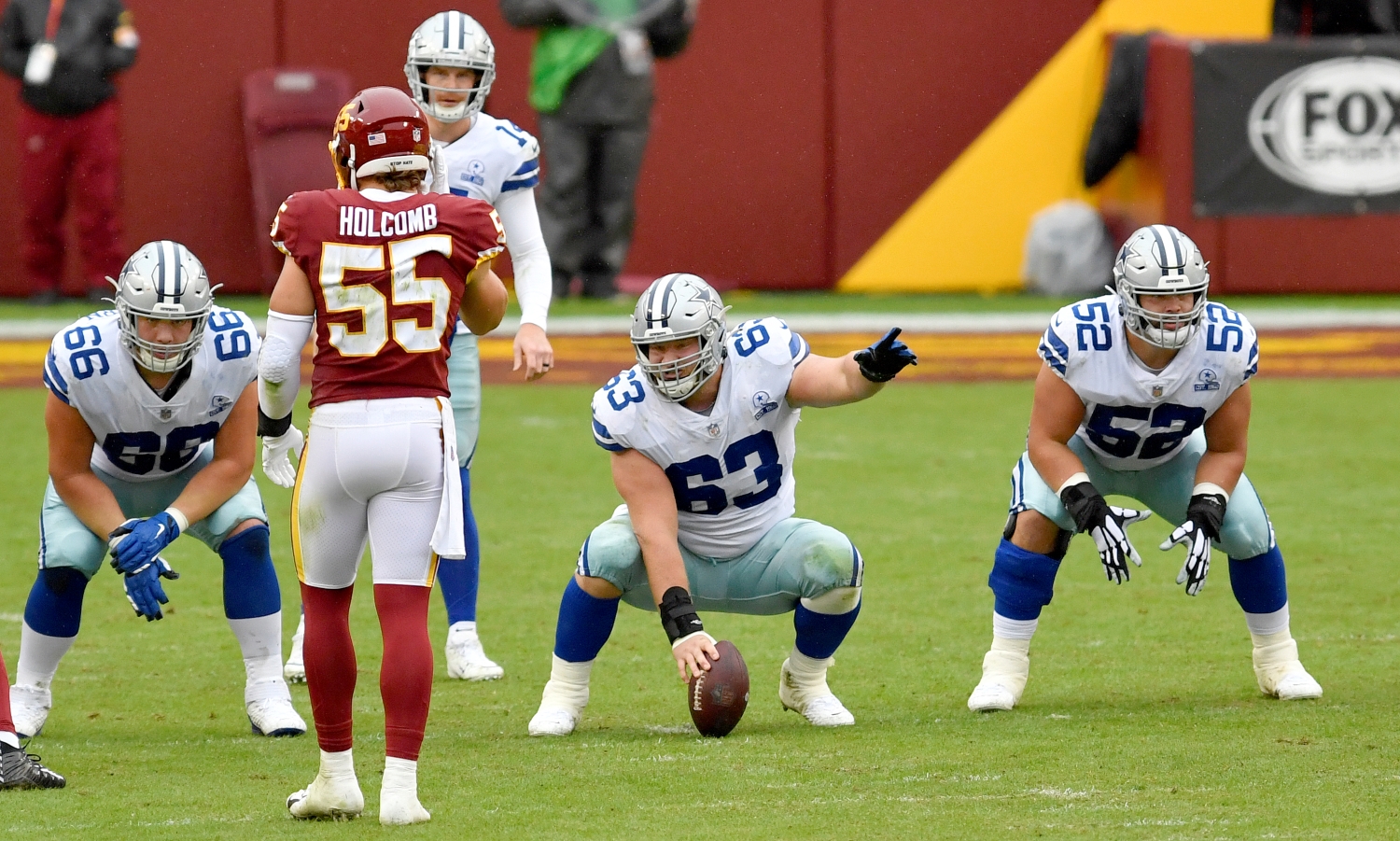 The Cowboys stole a Pro Bowl center with the penultimate pick of the first round of the 2013 NFL draft. While Tyler Biadasz waited much longer to hear his name called, he has a chance to follow in Frederick's footsteps. In fact, a few of his battle-tested teammates have spoken quite highly about the incredible progress made by the 2020 fourth-rounder.
"He's grown quick," Smith said during his June 8 press conference. "Ever since his first year, he came with a mature attitude. Very high energy, and we love it. You'd think the kid has been playing for four years."
After winning the Rimington Trophy (given to the nation's top center) and earning first-team All-America honors in his final year at Wisconsin, Biadasz played in 12 games as a rookie. Even though he only recorded four starts, a lack of in-game experience doesn't look like a roadblock for the 6-foot-4, 318-pound lineman.
"He's just figured out everything that he needs to know being the center of the offensive line — making the calls," Collins explained during a recent press conference. "He's speaking with more confidence. He's asking the questions that you want a center to ask against certain different things, adjustments, and everything like that."
Cowboys fans should feel even more excited about the future of the offensive line based on Collins' apt comparison for Biadasz.
"He reminds me a lot of Trav [Frederick]," he said. "He's got a lot of Travis in him. He's great to see because we all know how great Travis was."
Tyler Biadasz isn't the only projected starter with questions to answer
Biadasz has a long way to go before he belongs in the same sentence as Frederick. But if the promising second-year pro continues to do and say all the right things in the huddle and at the line of scrimmage, the Cowboys should consider the center spot taken care of.
But what about the rest of the offense?
The guard positions look set with Martin and Williams. Amari Cooper should surpass 1,000 receiving yards without a problem. And Michael Gallup and CeeDee Lamb look like strong bets to threaten for 1,000 yards, too.
Yet, questions exist with many of the other projected offensive starters.
Will Prescott take his game to another level despite suffering a serious injury? Does Ezekiel Elliott still deserve to get called an elite running back? Can Smith and Collins stay healthy?
Only time will yield answers to those questions. And depending on what happens, Biadasz may have to say goodbye to a few of his teammates after the 2021 season.