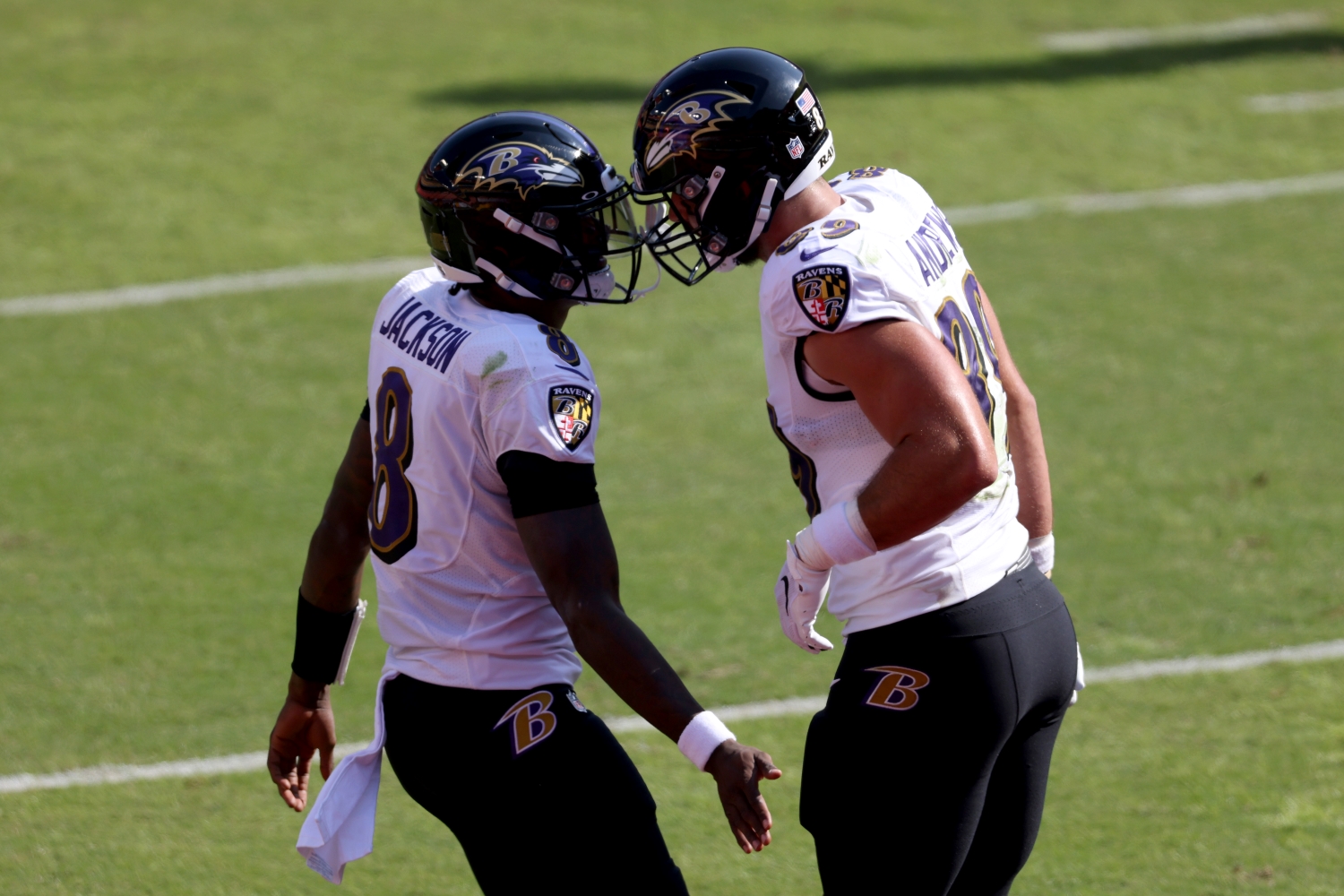 Lamar Jackson's Contract Isn't the Only Financial Problem the Ravens Must Solve to Keep Their Super Bowl Hopes Alive
The Ravens will have to pay a premium price to keep Lamar Jackson in Baltimore for years to come. Will general manager Eric DeCosta break the bank to keep other key players around, too?
The Baltimore Ravens have to take care of business with Lamar Jackson to ensure he remains their starting quarterback for at least another four or five years. However, general manager Eric DeCosta has more on his plate than just figuring out the right numbers to retain the 2019 NFL MVP. After all, some of Jackson's key teammates need new deals, too.
And depending on how the Ravens play their cards, they will either set themselves up for sustained success or leave their franchise quarterback short-handed moving forward.
Baltimore will have to break the bank to retain Lamar Jackson
Think the rest of the league regrets letting Jackson slide all the way to the bottom of the first round of the 2018 NFL Draft? While the uber-athletic quarterback still has room to improve, there's no doubt the Ravens landed an all-time talent with the 32nd overall pick.
After showing flashes of Pro Bowl potential as a rookie, Jackson completely shattered expectations in his second season with the Ravens. By season's end, the 6-foot-2, 212-pound dual-threat signal-caller had racked up 3,127 passing yards and a league-leading 36 touchdowns. Oh, Jackson also broke Michael Vick's single-season rushing record for a quarterback by totaling 1,206 yards and seven touchdowns during his magical 2019 campaign.
Although his numbers took a slight dip across the board last season, the 24-year-old still played at a high level for a Ravens team that went 11-5 and made the playoffs for the third straight year. As he enters his fourth season with the franchise, Jackson undoubtedly deserves a raise. However, Baltimore has yet to pull the trigger on a contract extension that should make the 2018 first-round pick one of the highest-paid players at his position.
With Jackson's rookie contract set to expire after the 2022 season, the Ravens should sign him to a multi-year deal in the coming months, if not sooner.
But even if DeCosta succeeds in working out the numbers with Jackson, the highly respected GM can't afford to ignore other financial problems he needs to solve soon.
Jackson's contract isn't the only financial problem the Ravens have to solve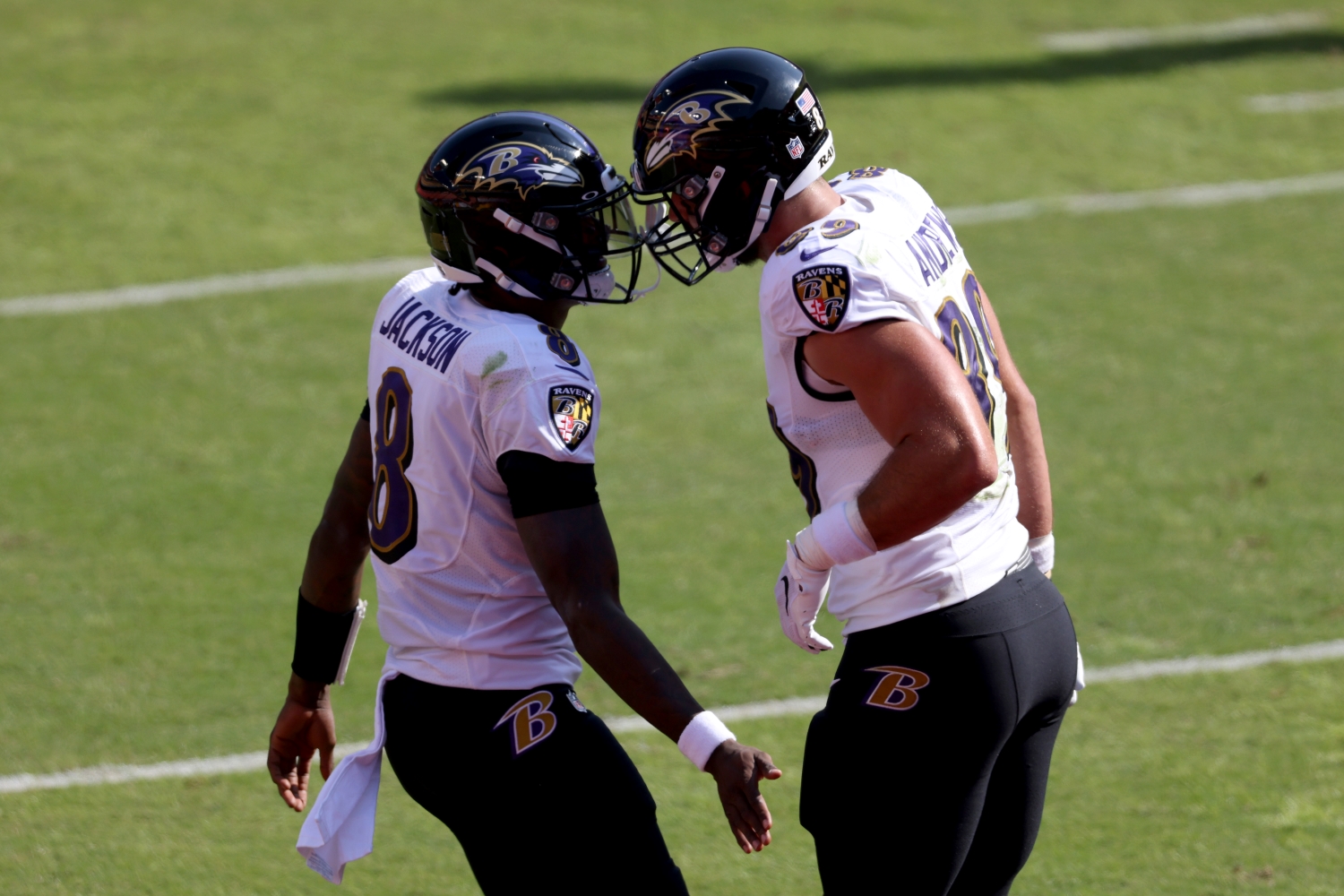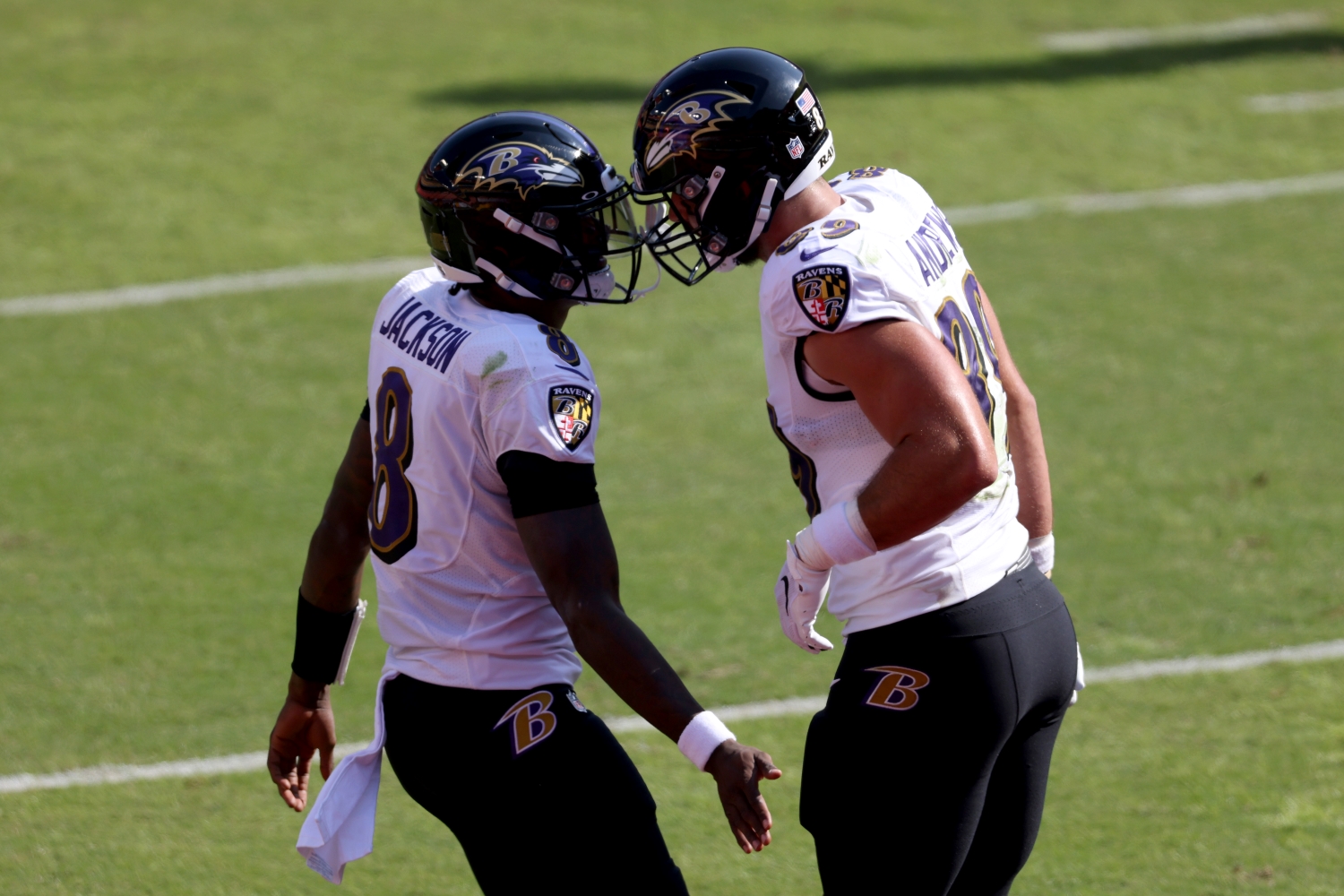 The Ravens did well to get some of their core players signed to long-term deals in recent years. However, DeCosta has to decide how he wants to allocate future financial resources to shape the roster. While getting a deal done with Jackson remains priority No. 1, Baltimore must figure out what to do with other key players who have contracts set to expire soon.
Will tight end Mark Andrews remain a Raven for years to come? As Jackson's most trusted target, the 6-foot-5, 256-pound tight end provides the dynamic quarterback with a big frame and wide catch radius. And with 20 touchdown receptions in 45 career games, the 2018 third-round pick clearly has a nose for the end zone.
However, as pointed out by Jeff Zrebeic of The Athletic, Andrews will likely command a contract in excess of $12.5 million per year. So the Ravens better prepare to pay a premium price to keep Jackson's favorite weapon around after the 2021 season.
In addition to Andrews, defensive linemen Calais Campbell and Brandon Williams, fullback Patrick Ricard, and cornerback Anthony Averett are all set to hit free agency next spring. It doesn't seem likely that all of them will return, but things could change depending on how the upcoming season goes.
If Watkins shows instant chemistry with Jackson, will the Ravens want to bring him back? Or if Averett finally puts everything together in his fourth year with the team, will the 2018 fourth-round pick secure a contract extension? Ultimately, the reality remains that Jackson's deal only represents the tip of the iceberg for a team that has several projected starters heading into training camp without any long-term job or financial security. And with cornerbacks Marcus Peters and Tavon Young and wide receiver Marquise Brown set to become free agents after the 2022 season, the Ravens have more decisions to make down the line.
Should the Ravens be considered a legitimate Super Bowl contender?
If the Ravens make Jackson the highest-paid player in franchise history in the near future, that should set the team up for success for years to come, right?
Even if the electrifying quarterback signs a record-setting deal to remain in Baltimore, that doesn't mean he'll experience the thrill of lifting the Lombardi Trophy in the air. Sure, Jackson can take over a game with his unique skill set. But where has that gotten the Ravens so far?
Baltimore suffered an opening-round loss in the 2018 playoffs before getting bounced in the divisional round in each of the last two seasons. And even Jackson loyalists have to admit the former Louisville star simply hasn't delivered in the postseason. He's completed just 55.9% of his passes for 900 yards, three touchdowns, and five interceptions in four starts. If Jackson wants to live up to the lucrative deal he'll soon receive, he has to carry over his regular-season success to the postseason.
Luckily for the fourth-year pro, his GM has put together a rock-solid roster that features star power on both sides of the ball. So barring any major injuries to key starters, the Ravens should do damage against most teams on their schedule.
But the only thing that matters is what happens after Baltimore wraps up its 17th regular-season game. And until Jackson proves he can play at an elite level in the playoffs, it's difficult to envision him winning a Super Bowl title.