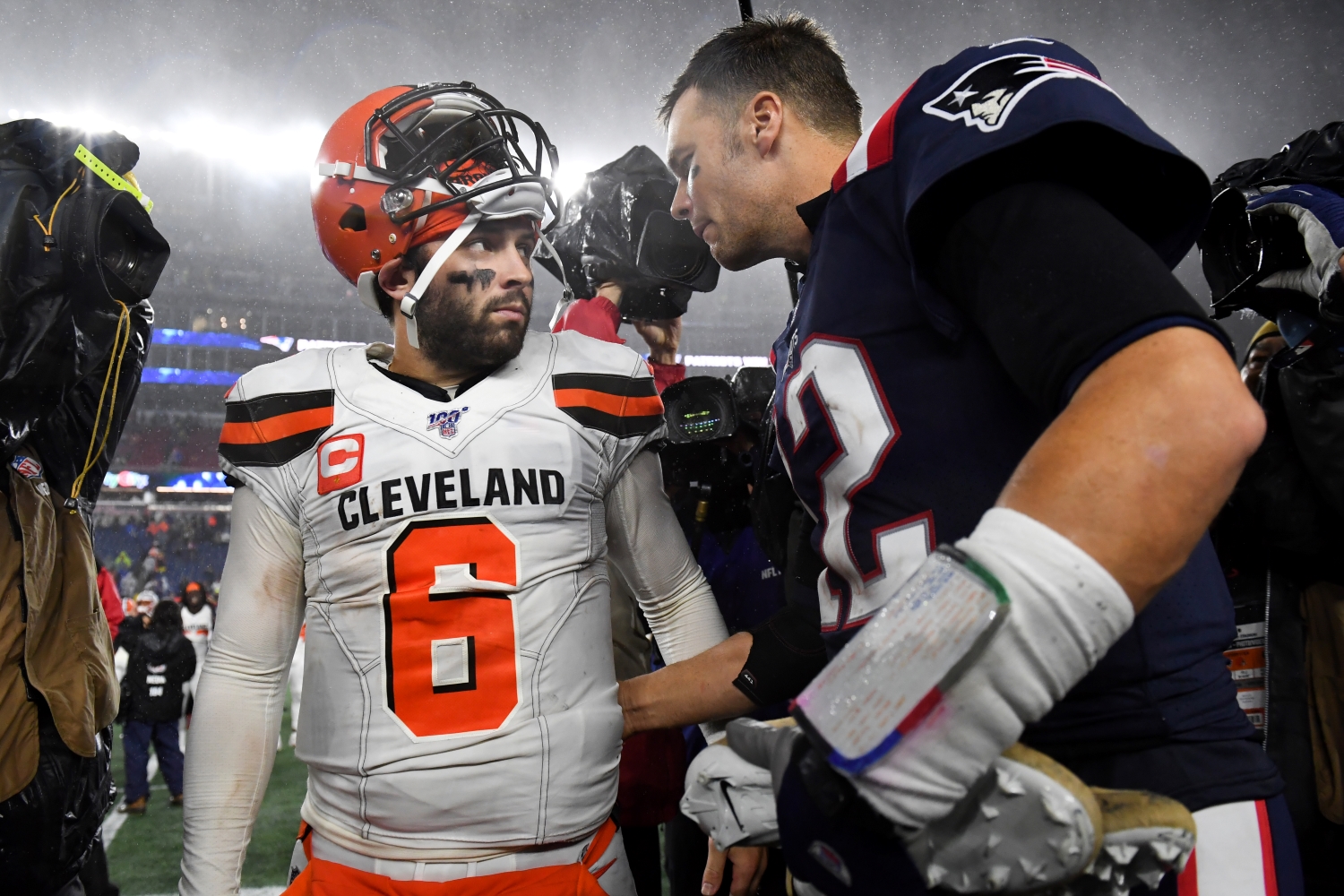 The Browns Desperately Need Tom Brady to Save Baker Mayfield From Making a Potentially Career-Altering Mistake
Baker Mayfield may want to break the bank with his next contract, but the Browns need him to pull a page out of Tom Brady's playbook and leave a little money on the table to keep the team's championship window open.
Unlike Tom Brady, Baker Mayfield became a multi-millionaire the instant he heard his name called during the NFL draft. However, going No. 1 overall didn't just make him a wealthy young man. It also placed enormous expectations upon the same 6-foot-1, 215-pound frame that caused some scouts to cringe over the idea of Mayfield as a franchise quarterback.
As he enters his fourth year with the Cleveland Browns, the former Oklahoma star still has to silence some doubters. And with his financial future on the line, Mayfield has plenty of incentive to take his game to another level. However, he better think twice before taking an aggressive approach at the negotiating table.
In fact, if Mayfield wants to avoid a potentially career-altering mistake, he needs to have a conversation with the GOAT. And if both of their teams live up to expectations this season, the two may just have a chance to speak at Super Bowl 56.
The Browns have an expensive decision to make about their quarterback's future
The Browns may have found a franchise quarterback when they selected Mayfield with the first pick in the 2018 NFL Draft. But given some of the inconsistencies he's shown through his first three years in the league, he enters the 2021 season with questions to answer. After all, he followed up on a promising rookie campaign with a major sophomore slump that included an ugly touchdown-to-interception ratio of 22:21.
Luckily for Mayfield, Cleveland made a terrific move by hiring Kevin Stefanski as head coach. Surrounding by a strong supporting cast and a rock-solid offensive line, the talented quarterback completed 62.8% of his passes for 3,563 yards, 26 touchdowns, and a career-low eight interceptions. Most importantly, Mayfield led the Browns to their first playoff berth since 2002, and the team defeated the Pittsburgh Steelers in the opening round of the postseason.
With their young quarterback under contract through 2022, the Browns have to decide whether Mayfield will continue to call Cleveland home for years to come. His solid 2020 season should inspire confidence about his long-term outlook. However, whether Mayfield deserves top-five money right now remains up for debate. Either way, an extension seems likely.
But if the Browns want to keep their championship window open for the foreseeable future, they better find a way to get Mayfield in touch with Brady.
Cleveland needs Tom Brady to save Baker Mayfield from making a career-altering mistake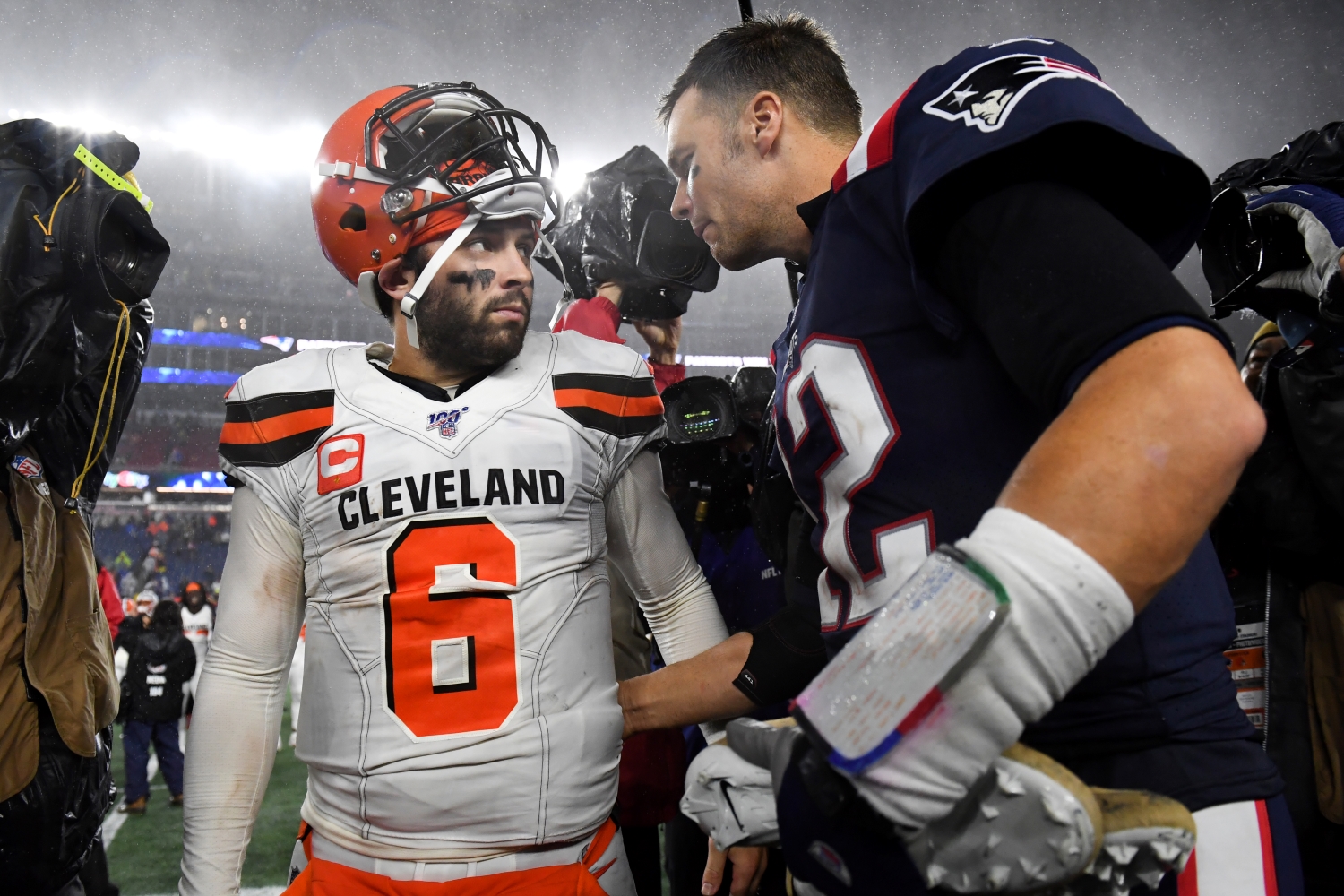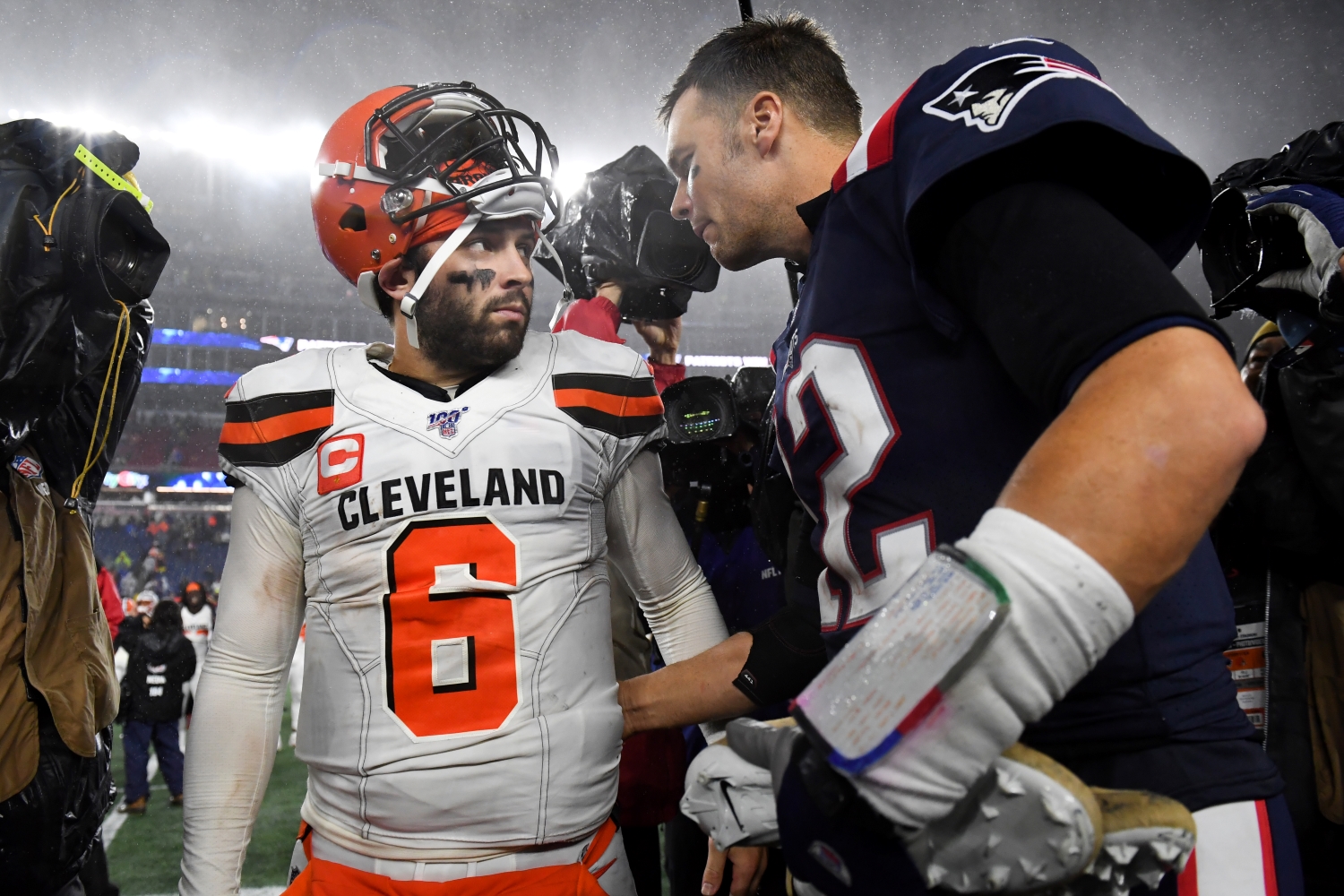 On Thursday's edition of ESPN's Get Up, NFL reporter Jeremy Fowler provided an update on Mayfield's contract situation.
"I've talked to execs who think that Baker Mayfield's deal is the easiest to do because Lamar Jackson, Josh Allen are considered more in that top five-to-seven range of quarterbacks in the league, a little bit of a higher tier, proved a little more," Fowler said. "And then Mayfield's money might be a little more manageable as a result, if the Browns can get it to the finish line. But Mayfield is hardly going to take a discount here. I know the Browns are going to look very hard at this."
No hometown discount?
That sounds like a recipe for disaster for Mayfield and the Browns.
As much as the young quarterback may want to get paid, he needs to pull a page out of the TB12 playbook and realize the importance of long-term stability. Brady routinely left money on the table during his days with the New England Patriots. While Bill Belichick didn't always use that extra cap space wisely, the franchise obviously remained competitive for an unprecedented amount of time. The fact Brady took hometown discounts also sent a message to the rest of the locker room. After all, if the GOAT didn't demand to get paid like he was actually worth, how could anyone complain about money?
Some of Mayfield's key teammates — including running back Nick Chubb, cornerback Denzel Ward, and guards Wyatt Teller and Joel Bitonio — need new deals soon, too. If his next contract takes up too much cap space, the Browns may not have the financial flexibility to keep all of those key contributors. As a quarterback who depends largely on the offensive system and strength of his supporting cast, Mayfield needs to do everything possible to keep as many of his teammates around him as possible. That starts with taking a Brady-like approach and leaving a few dollars on the table.
Don't be surprised if Mayfield and Brady face each other in the biggest game of the season
Even if Mayfield doesn't talk to Brady at all over the next few months, he could meet him face-to-face in February.
Both the Browns and the Tampa Bay Buccaneers have fantastic rosters full of established stars and young ones on the rise. If Mayfield takes another step forward and Cleveland's defense plays up to its talent level, don't be surprised if a stacked Browns team represents the AFC in Super Bowl 56. Meanwhile, the Brady-led Buccaneers brought back all of their starters, so they look poised to play in the biggest game of the season again.
And how ironic would it be if the two quarterbacks end up playing each other for the Lombardi Trophy?
It might be just another ordinary February for Brady, but for Mayfield, getting to the Super Bowl would be a career-altering accomplishment.
But if he doesn't give the Browns a hometown discount on his deal, he shouldn't be surprised if he doesn't make a return trip.
And if he's wavering on what to do, he better ask Brady about the benefit of giving your team a little more breathing room.