Jerome Bettis and Former Steelers Teammates Reveal Scary Details About Their Life-Threatening Health Issues: 'We Were Like a Walking Pharmacy in One Regard'
From serious injuries to nasty contract disputes, NFL players face challenges most of us never encounter. Plus, they often deal with distractions and setbacks that the general public doesn't always know about.
As it turns out, the Pittsburgh Steelers had three key starters who had to figure out how to avoid letting their life-threatening health issues interfere with their ability to perform on the field. And based on the details provided by Jerome Bettis and two of his former teammates, it's clear NFL players deserve far more credit for sacrificing their bodies and brains to entertain fans around the world.
Jerome Bettis relied on Alan Faneca and Kendall Simmons to pave the way for him in Pittsburgh
Long before Antonio Brown and Le'Veon Bell arrived, the Steelers ran their offense through Bettis. Affectionately dubbed "The Bus" because of his burly frame and bruising running style, the 5-foot-11, 255-pound tailback surpassed 1,000 rushing yards in each of his first six seasons in Pittsburgh. Though he didn't possess great speed or elite quickness, Bettis utilized his strength and power to pave a path to the Pro Football Hall of Fame.
Of course, it helped to have one of the best interior offensive linemen of all time clearing defensive linemen and linebackers out of the hole. Alan Faneca, who the Steelers selected No. 26 overall in the 1998 NFL Draft, started 158 regular-season games at left guard during his decade-long run with the team. A six-time first-team All-Pro who got elected to the Hall of Fame earlier this year, Faneca's blocking and leadership skills made him one of the most respected players in franchise history.
Bettis also benefitted from running behind another first-round guard: Kendall Simmons. After joining the organization as the 30th overall pick of the 2002 NFL Draft, he went on to start 80 regular-season games and seven postseason contests for the Steelers.
Though Bettis eventually lost his starting job to Willie Parker, he still played a key role for a Pittsburgh team that defeated the Seattle Seahawks in Super Bowl 40. More than 15 years later, though, the legendary running back and his two former teammates still haven't forgotten the life-threatening obstacles they faced together.
Former Steelers players discuss details about the health problems they dealt with during their careers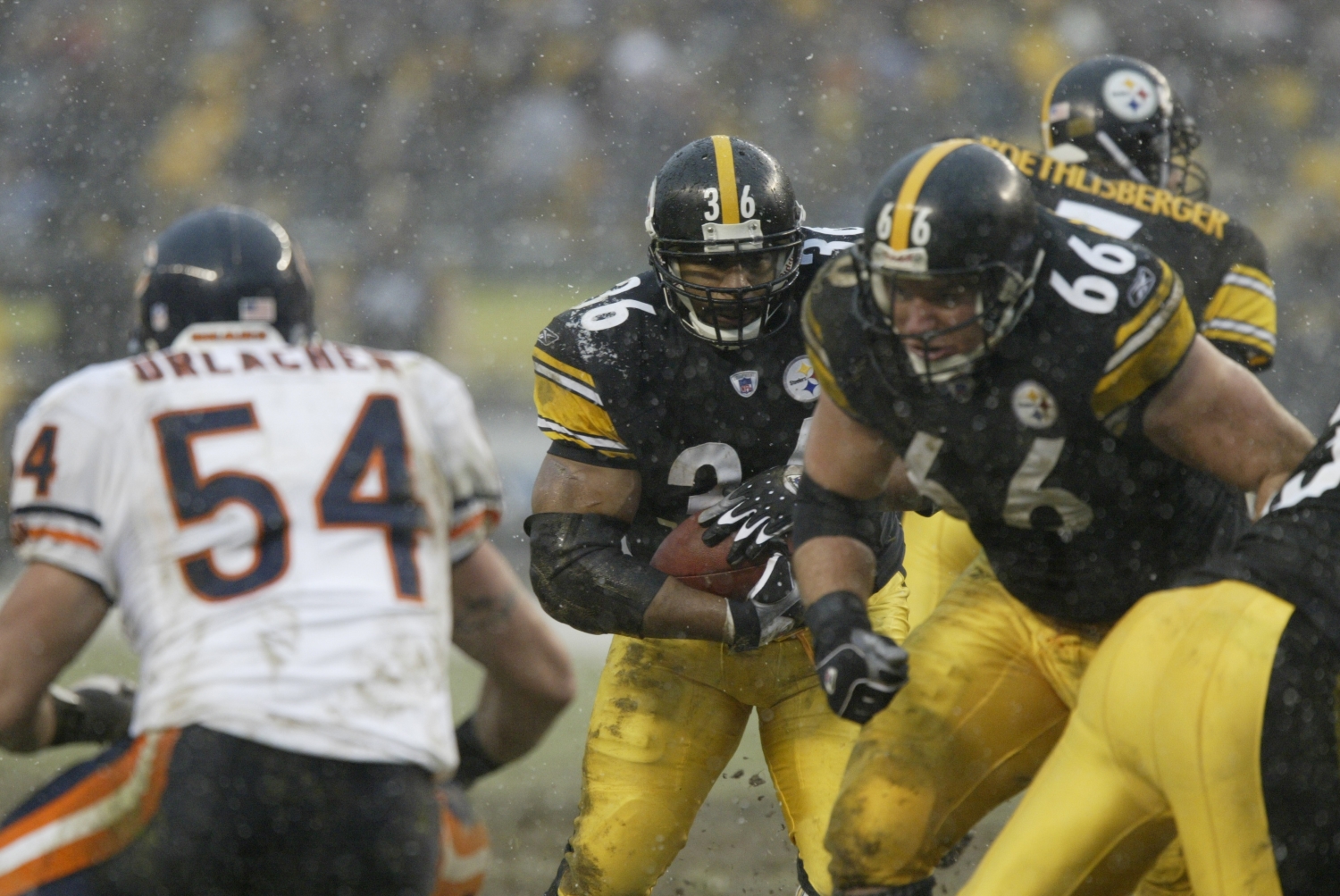 The Athletic's Ed Bouchette spoke to a number of former Steelers players about the health issues they dealt with during their time in the NFL. Let's just say Pittsburgh fans will have a new appreciation for Bettis, Faneca, and Simmons based on some of the shocking details they provided.
"We were like a walking pharmacy in one regard," Bettis told The Athletic. "It is crazy when you think about what each guy was dealing with, obviously all life-threatening issues."
So what plagued each member?
Bettis had to use an inhaler to ward off his asthma during games, which meant the device needed to stay near the Steelers' bench during every game.
"As an athlete, I didn't think of my asthma [as a hindrance]. I thought of it as something I had to deal with," he explained. "I deal with it and that will be that. When you look at other players, you assume everybody has some kind of issue they're dealing with because it's life."
According to Bouchette, Faneca took pills "morning, noon, and night" to control his epilepsy, which can cause seizures. The Hall of Famer got diagnosed with the condition at 15 years old, and he shared a story about an epileptic event that occurred during his pre-NFL days.
"I walked to school in my pajamas one day," Faneca said. "I felt like I was late for school. One of my buddies stopped me and said what are you doing? I snapped out of it, walked home, got dressed, and walked back to school."
Luckily for the New Orleans native, he never had a seizure during his NFL career.
NFL players deserve far more credit for putting their bodies and minds on the line
Meanwhile, Simmons faced a life-threatening issues of his own: diabetes. He lost more than 50 pounds after his initial diagnosis, and he had to check his blood sugar about 10 times before, during, and after games throughout the course of his career.
In fact, he had to take care of his condition while his position coach spoke on the sidelines.
"I would be taking a shot, through my jersey, right in my belly," Simmons said. "It was a struggle. It really was."
The three former Steelers starters deserve tremendous praise for sharing their stories and opening up about the challenges they faced during their days as NFL players. It takes courage to talk about tough topics, and few subjects matter more than health and safety.
What fans should take away from Bettis, Faneca, and Simmons is that pro athletes don't have things so easy. Sure, it helps to have millions in the bank. And it has to feel good to hear fans cheer your name or see them wearing your jersey. But between the physical toll of playing a sport and the mental grind of having to stay focused no matter what distractions exist, athletes undoubtedly deal with stress on many levels.
That's exactly why they deserve more credit and less criticism for doing what they do.
After all, that's what separates the pros from the amateurs.