The Latest Update on Patrick Mahomes' Injury Should Erase a Lingering Concern for Chiefs Fans
Can Kansas City repeat as AFC champions for the third straight year? Based on the latest update on Patrick Mahomes' injury, Chiefs fans should feel extremely confident about the team's chances of making it back to the Super Bowl.
Patrick Mahomes doesn't have to be 100% healthy to make an impact on the field. After all, a banged-up version of the 2018 NFL MVP would still dominate most defenses on any given Sunday. Still, the Kansas City Chiefs would certainly like him to be at full strength heading into training camp.
Luckily for Chiefs fans, the latest update on Mahomes' injury should erase a lingering concern. But does that necessarily mean Kansas City will play in the Super Bowl for the third straight year? Or will another team knock the two-time reigning AFC champions off their throne?
Patrick Mahomes underwent surgery shortly after Super Bowl 55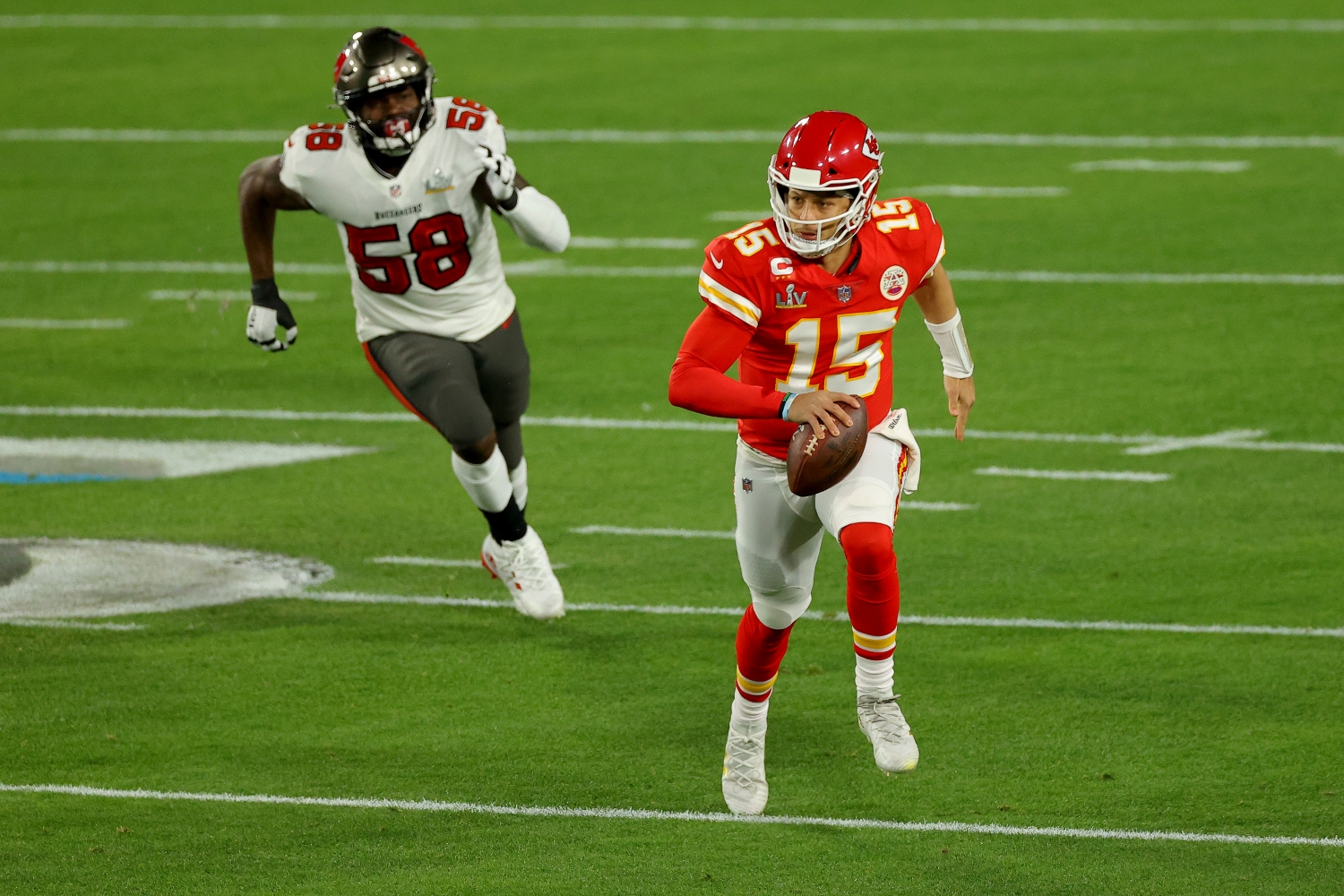 Let's just say Mahomes had a tough night at the office in Super Bowl 55. Playing behind an injury-depleted offensive line, the gifted gunslinger didn't get the protection he needed to keep the chains moving consistently. Already dealing with a nagging turf toe injury, he sustained more damage going up against a Tampa Bay Buccaneers defense led by Jason Pierre-Paul, Shaquil Barrett, and Ndamukong Suh.
Three days after the Chiefs lost to the Brady-led Bucs, Mahomes underwent surgery to repair a torn plantar plate in his foot. Although initial reports suggested he would miss the entire offseason program, his recovery has gone quicker than expected.
In fact, the superstar quarterback participated in voluntary organized team activities and mandatory minicamp without any major restriction.
"We were cautious with him, and he'll do anything, so it was just a matter that we tried to be as smart as we possibly could with it," Chiefs head coach Andy Reid said during his Thursday press conference. "And his communication was great. He kept it open with us and we checked with him to make sure and see how he was doing during practices."
The latest update on Mahomes' injury should erase a lingering concern for Chiefs fans
OTAs and minicamp practices don't match up to training camp or preseason games from an intensity perspective, but they're still important elements of the team-building process. So even though Mahomes didn't spend as much time scrambling and running around as he normally does in a live game, the fact he took the field only a few months after undergoing surgery represented a massive step in the right direction.
Will his troublesome toe hold up, though?
While Mahomes can't predict the future, he sounded quite confident about what lies ahead.
"I don't see any problems moving forward," Mahomes said during his press conference on Thursday. "Obviously, I'll have to continue with the rehab, continue to work on those things — strengthen it, do all that different type of stuff. But I feel like I had a good OTAs, a good minicamp. I was able to move around, scramble around, and do the things that I needed to do."
Chiefs fans can breathe a sigh of relief and look forward to having an even healthier version of Mahomes later this summer. As long as he doesn't suffer any setbacks in the coming months, the 25-year-old should enter the 2021 season as an MVP favorite. And thanks to some strong work by general manager Brett Veach, the Chiefs once again look like a major threat to win the Super Bowl.
Which teams should be on Kansas City's radar in the AFC?
Kansas City significantly upgraded Mahomes' protection this offseason by signing Joe Thuney and trading for Orlando Brown Jr. With an improved offensive line in front of him, the dynamic quarterback should have ample time to scan the field and find Tyreek Hill, Travis Kelce, or whoever else gets open.
Meanwhile, the Chiefs have several established stars on defense (Chris Jones, Frank Clark, and Tyrann Mathieu) who can carry the unit. On paper, the defending conference champions look strong across the board.
So who could challenge Mahomes and Co. for AFC supremacy?
The Tennessee Titans should be considered a strong Super Bowl contender now that they have Julio Jones on their roster. An offense built around Jones, Derrick Henry, A.J. Brown, and Ryan Tannehill should give defenses fits, so expect the Titans to be one of the top teams in the AFC this season.
Depending on what happens at quarterback, the New England Patriots could also topple the Chiefs from their throne. Bill Belichick spent an unprecedented amount of money in free agency to shore up critical roster holes. With a championship-caliber defense and upgraded supporting cast on offense, the Patriots might be able to make some serious noise if they're willing to let Mac Jones play right away.
In addition, the Baltimore Ravens and Buffalo Bills stand out as potential problems for the Chiefs. Both teams play with a high level of physicality, and Lamar Jackson and Josh Allen possess unique skill sets that make them challenging to defend.
At the end of the day, though, as long as the Chiefs have Patrick Mahomes leading their offense, it's difficult to envision any AFC team knocking Kansas City out of the playoffs.