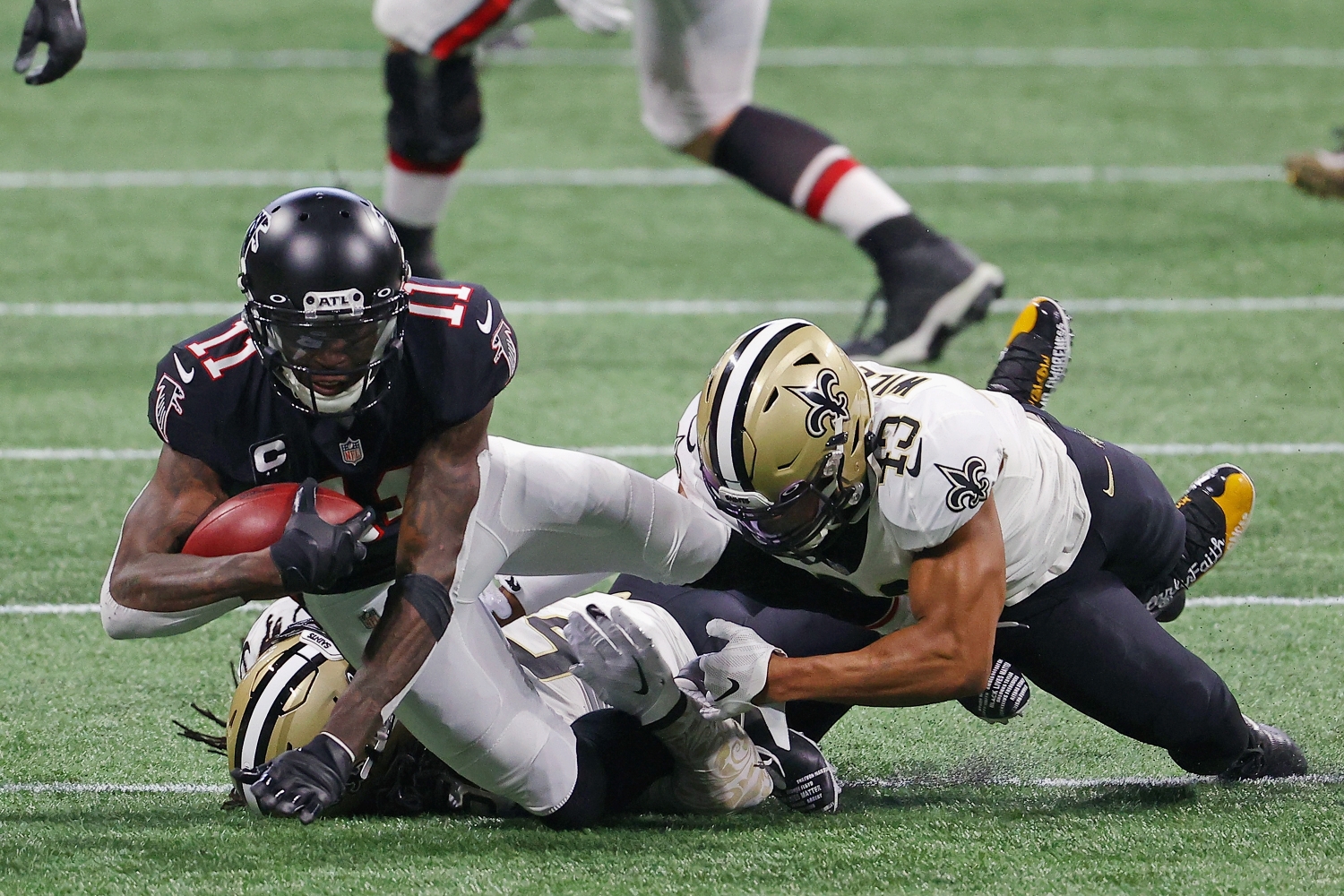 The Harsh Truth About the Julio Jones Trade Makes the Titans Look Foolish For Investing in a Declining Asset
Julio Jones finally secured his freedom from the Falcons. But the surprising truth about the trade involving the aging receiver shows how far his stock has fallen.
There's no doubt Julio Jones deserves a spot in the Pro Football Hall of Fame. In fact, the longtime Atlanta Falcons star could never catch another pass and still be considered one of the greatest receivers in NFL history.
But based on his age, contract, and injury history, Jones looks like a declining asset. And when you take a step back and look at the bigger picture, the Tennessee Titans look even worse for committing significant resources to secure a player whose value seems to be heading in the wrong direction.
Julio Jones finally found a new NFL home after waiting for months
The Falcons entered the offseason with several issues to address. That included figuring out what to do with Jones, who only played nine games in 2020 because of persistent hamstring problems. Despite being one of the most beloved players in franchise history, the seven-time Pro Bowler ultimately got his wish granted of finding a way out of Atlanta.
After weeks of trade rumors and speculation about potential landing spots for Jones, the Falcons finally found him a new NFL home. Tennessee won the sweepstakes for Jones' services by sending a 2022 second-round pick and a conditional 2023 fourth-rounder to Atlanta for the 32-year-old receiver and a 2023 sixth-round selection.
Not exactly an exorbitant price for one of the greatest playmakers of all time, right?
On the surface, the deal doesn't seem too bad from the Titans' perspective. But when you consider the true nature of Jones' trade market, the franchise looks completely foolish for investing in a declining asset.
The harsh truth about the Jones trade makes the Titans look foolish for investing in his future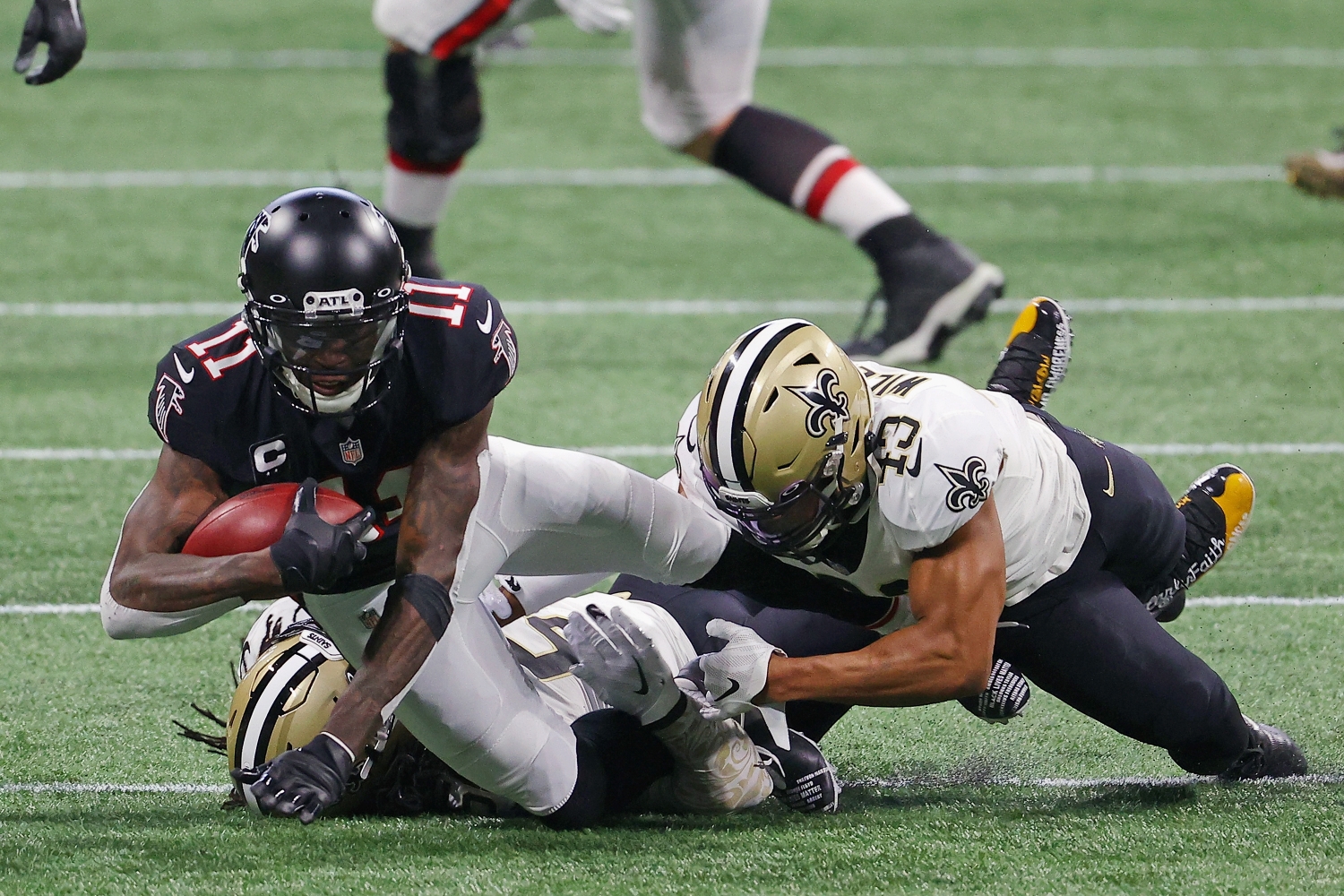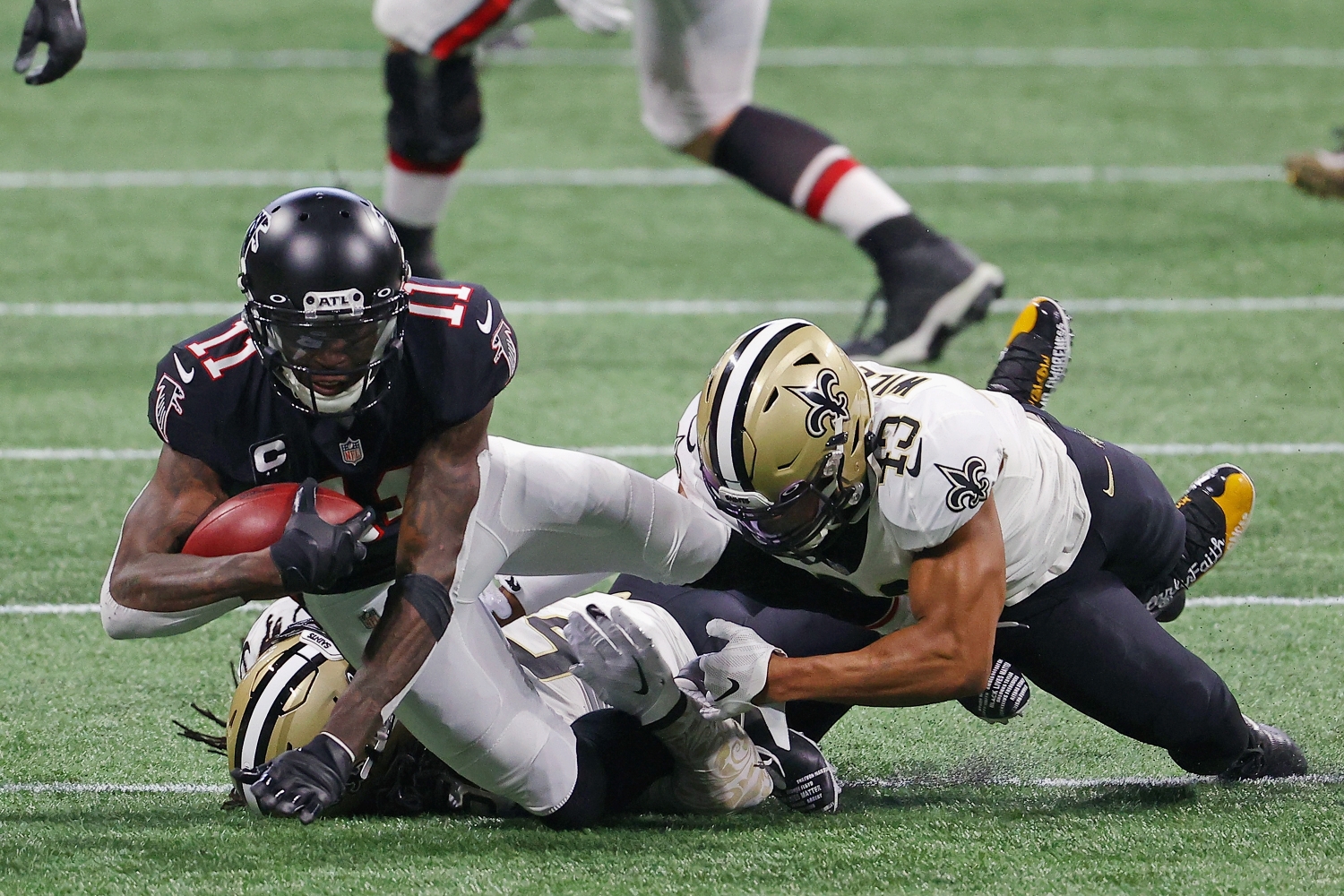 Several teams appeared interested in acquiring Jones. But according to longtime NFL writer Peter King, the Falcons dealt him to the Titans mainly because no other franchise stepped up with a compelling enough offer.
"The market for Jones wasn't as hot as the Falcons thought it would be," King wrote in his weekly Football Morning in America column. "Baltimore was interested before the draft but with Sammy Watkins arriving in free agency and Rashod Bateman and Tylan Wallace coming in rounds one and four of the draft, the Ravens dropped out. New England never had serious interest in committing $38 million to a 32-year-old receiver. Seattle was interested, but not for huge money."
King's source said three other teams were involved in trade talks with the Falcons, but "none were willing to give what Tennessee gave."
Ultimately, the Titans' willingness to include a second draft pick helped seal the deal. More importantly, they took on all the remaining money on Jones' contract.
When you consider all the factors at play, the Titans look completely foolish for making that type of investment. They not only parted ways with an extra pick just to beat out other teams, but they also failed to get the Falcons to pay off at least part of the $38 million owed to Jones over the next three years.
Tennessee has essentially tied itself to an aging receiver who has significant wear and tear on his body. Although moving on from Jones after the season would result in just $2 million in dead money, the Titans would expose themselves to major criticism for sending two draft picks and paying him $15.3 million for only one year of production. Considering wide receivers typically don't get better as they approach their mid-30s, the Titans shouldn't get praised for the deal they made for an aging version of Jones.
Examining the impact of the trade for the Titans and the Falcons
With Jones now in Tennessee, it will be interesting to see how his absence affects Atlanta's offense. Sure, Calvin Ridley has a chance to put up big numbers as Matt Ryan's new No. 1 receiver. But will the 2018 first-rounder look the same without having a Hall of Famer drawing attention from defenses? Perhaps Kyle Pitts can replace some of Jones' production, but that's still a tall task to ask from a rookie. Still, the Falcons can at least look forward to building around the two dynamic playmakers.
As for Jones?
He doesn't even have to be the guy anymore. In reality, A.J. Brown should be Ryan Tannehill's top target.
That doesn't mean Jones won't be needed, though. After losing Jonnu Smith and Corey Davis in free agency, Tennessee has to replace the 106 combined receptions they recorded in 2020.
During his prime, the record-setting receiver could handle that entirely on his own.
Unfortunately for the Titans, they didn't acquire that version of Julio Jones.