Julio Jones Has Dramatically Shifted the Odds of the Tennessee Titans Winning Super Bowl 56
The addition of Julio Jones has dramatically improved the betting odds of the Tennessee Titans winning the Super Bowl and the AFC.
If you haven't heard by now, Julio Jones was traded from the Atlanta Falcons to the Tennessee Titans over the weekend, giving Tennessee yet another weapon in an already potent offense that ranked in the top five in both yards per game and scoring in 2020. In addition, the move dramatically moved the Titans up in the odds to win the Super Bowl, the AFC Championship, and the AFC South.
Julio Jones only adds to an already potent Titans offense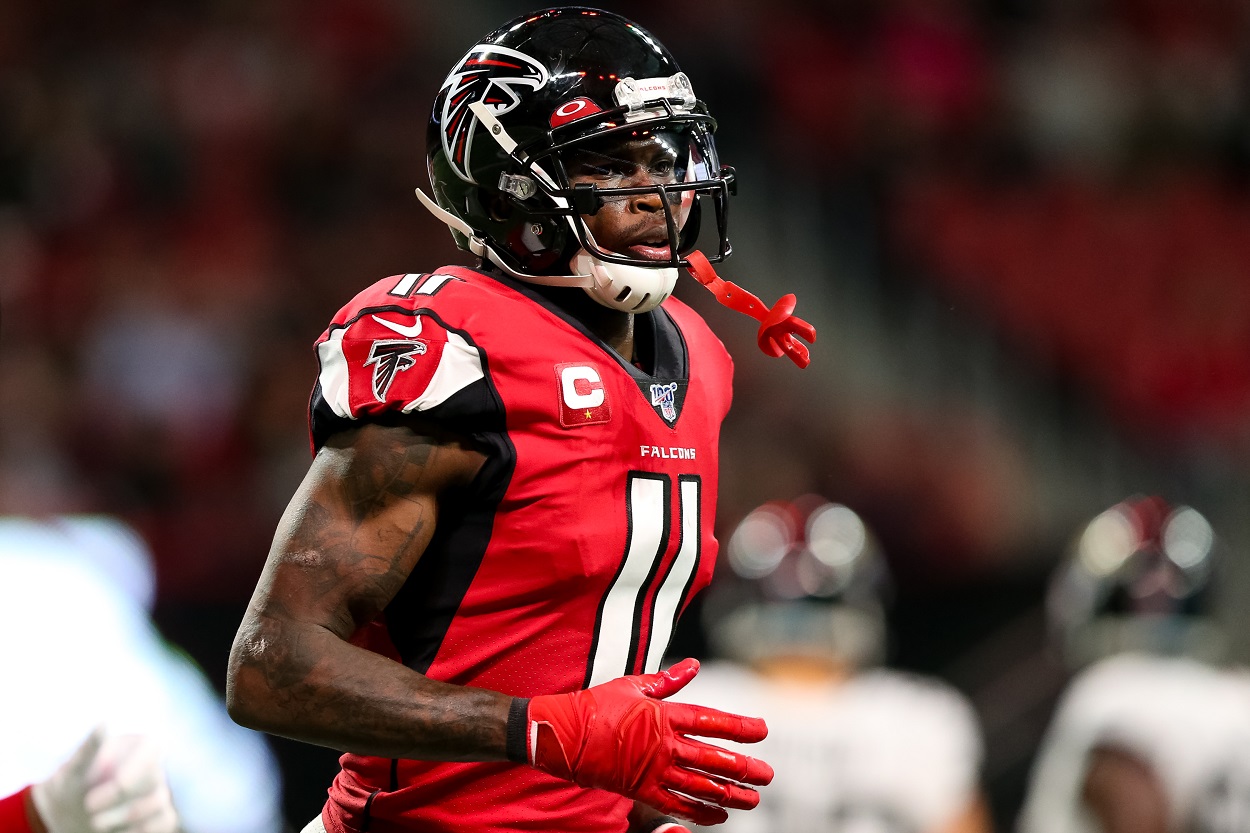 When the rumors first began that Jones was on the trading block, Tennessee really wasn't discussed all that much as a potential landing spot. Many thought the Patriots and Broncos were the frontrunners — maybe the Ravens — but the Titans were able to get the deal done and didn't have to give up all that much to get the seven-time Pro Bowler, losing only a second-round pick in 2022 and a fourth-round pick in 2023. Tennessee also received the Falcons' 2023 sixth-round selection.
Jones now joins a Titans offense that ranked fourth in the NFL in scoring last season (30.7 points per game) and tied for second in yards per game (396.4). Sure, Tennessee lost Corey Davis (65 catches, 984 yards, five touchdowns) and Jonnu Smith (41 catches, 448 yards, eight touchdowns) in free agency. But they signed former Rams wideout Josh Reynolds (52 catches, 618 yards, two touchdowns) to a one-year deal and then used their fourth-round draft pick to select Dez Fitzpatrick, who caught 154 passes for 2,589 yards with 21 touchdowns in four years at Louisville. And, of course, they've still got A.J. Brown, who's surpassed the 1,000-yard mark in each of his first two seasons.
Adding Jones to the mix does nothing but give quarterback Ryan Tannehill, who's coming off the best overall season of his career, another weapon, and will force opposing defenses to focus even more on the Titans' passing game, which opens up more holes for two-time NFL rushing champ Derrick Henry to run through.
The Titans' odds of winning the Super Bowl have improved dramatically
Before the Titans traded for Jones, their odds of winning Super Bowl 56 were at +4000, tied for 17th. Their odds of winning the AFC were at +1800, good for 10th, while their odds of repeating as AFC South champs were at +130, second to the Colts.
Once the trade was confirmed by both Tennessee and Atlanta, the Titans' odds of winning the Super Bowl are now +2500, tied for ninth, and their odds of winning the AFC are now +1200, tied for fifth with the Colts and Broncos behind only the Chiefs, Bills, Ravens, and Browns. They're now at +110 to win the AFC South, tied with Indianapolis.
That's pretty significant movement for Tennessee simply adding a 32-year-old wide receiver who played just nine games a season ago. But if Jones can stay healthy, he's proven he's still one of the top receivers in the NFL.
Jones remains one of the top wideouts in the NFL when healthy
As just mentioned, Jones only appeared in nine games for the Falcons in 2020 due to a hamstring injury. However, the five-time All-Pro selection still managed to catch 51 passes for 777 yards with three touchdowns. And he's just one season removed from a 2019 campaign in which he caught 99 passes for 1,394 yards and six touchdowns.
Can he get back to that level? Maybe. Maybe not. But given all of the other offensive weapons the Titans already have, he really doesn't even need to. Just having Julio Jones on the field opens up all sorts of options for Tennessee and they're easily a better team with him than without him. Now we just have to wait and see how all of this plays out.
Stats courtesy of Sports Reference, betting odds courtesy of DraftKings