Derrick Henry Set an NFL Record on Sunday and Also Joined an Exclusive Club That Includes 3 Hall of Famers
It's been eight years since a running back was named NFL MVP Adrian Peterson in 2012) but Tennessee Titans superstar Derrick Henry really needs to start being included in that conversation for 2020.
Guys like Derrick Henry really aren't supposed to be stars in today's NFL. It's no secret that the league is a little softer these days, a little more finesse, and obviously more focused on quarterbacks and the passing game. But that doesn't work for Henry. He's a tough, old-school running back that wants to run it down your throat and he's been doing just that for the Titans this season and doing it quite well. If someone gets in his way, he doesn't try to dance around him. He goes through him. Just ask Josh Norman about that. Seriously, put the Oilers logo back on the Titans' helmets and you'd almost swear you were watching Earl Campbell.
The former Heisman Trophy winner had yet another fantastic game on Sunday, one in which he set an NFL record and also joined a very exclusive club that includes just three other running backs, all of whom are in the Hall of Fame.
Derrick Henry had more total yards on Sunday than five NFL teams
During his four-plus seasons with the Titans, Derrick Henry has certainly had his share of phenomenal games, which is what made his performance in Tennessee's 42-36 overtime win on Sunday against the Houston Texans so special.
Henry ran the ball 22 times on Sunday for 212 yards and two touchdowns, including his game-winning score in overtime, and also caught two passes for 52 yards. His 264 yards from scrimmage were actually more than five teams (Giants, Browns, Bears, Jets, Packers) had on Sunday.
He's the first player in NFL history to rush for 200 yards in a single game in three consecutive seasons
Sunday marked the third 200+-yard game of Derrick Henry's career, already putting him halfway to the all-time record of six such games held by O.J. Simpson. But the "Juice" never accomplished the feat in three consecutive seasons. In fact, nobody has.
With his 212-yard rushing performance against the Texans on Sunday, Derrick Henry became the first player in NFL history to rush for 200 or more yards in a single game in three straight seasons.
In Week 14 of the 2018 season in a 30-9 Titans win over the Jacksonville Jaguars on Thursday Night Football, Henry rushed for a career-high 238 yards on just 17 carries and scored four touchdowns. When the Titans defeated the Texans in the final week of the 2019 season, a win that secured a postseason spot for Tennessee, he ran for 211 yards and three touchdowns. And then there was Sunday's performance.
Just a heads up for the Texans: you next play Derrick Henry and the Titans in Week 17 so you've got a little time to try and prepare some kind of plan to keep him from rushing for 200 or more yards against you three straight times.
Derrick Henry joined an exclusive club of players with three or more games of 200+ rushing yards and 2+ touchdowns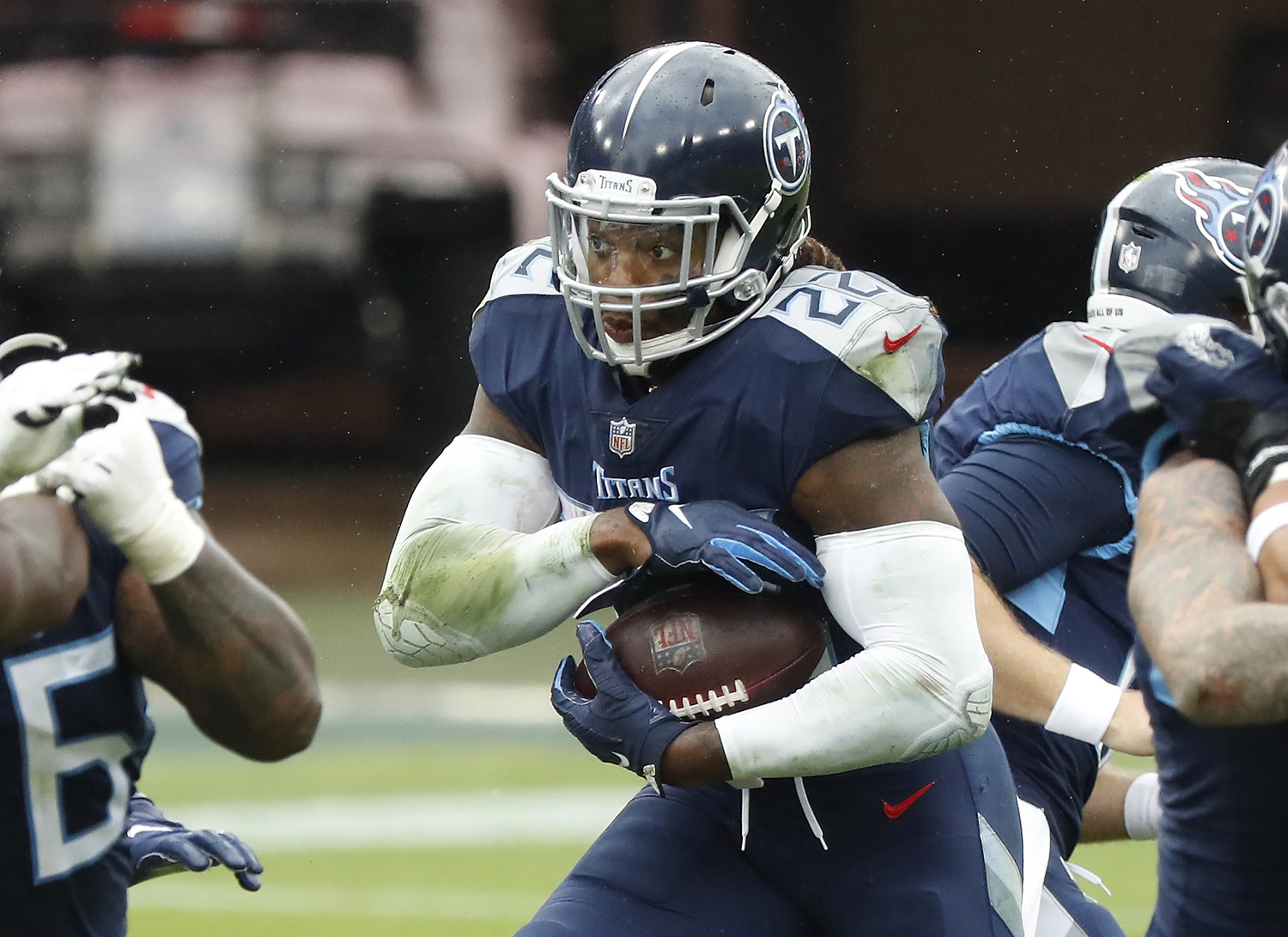 In addition to the NFL history he made on Sunday, Derrick Henry also joined a very exclusive club of Hall of Fame running backs who had three games of 200+ rushing yards and two or more touchdowns.
Before Henry accomplished the rare feat against the Texans, only Jim Brown, Barry Sanders, and LaDainian Tomlinson had previously done so. All three are in the Hall of Fame.
If Derrick Henry keeps up this kind of production, he'll join those three in Canton someday.
All stats courtesy of Pro Football Reference