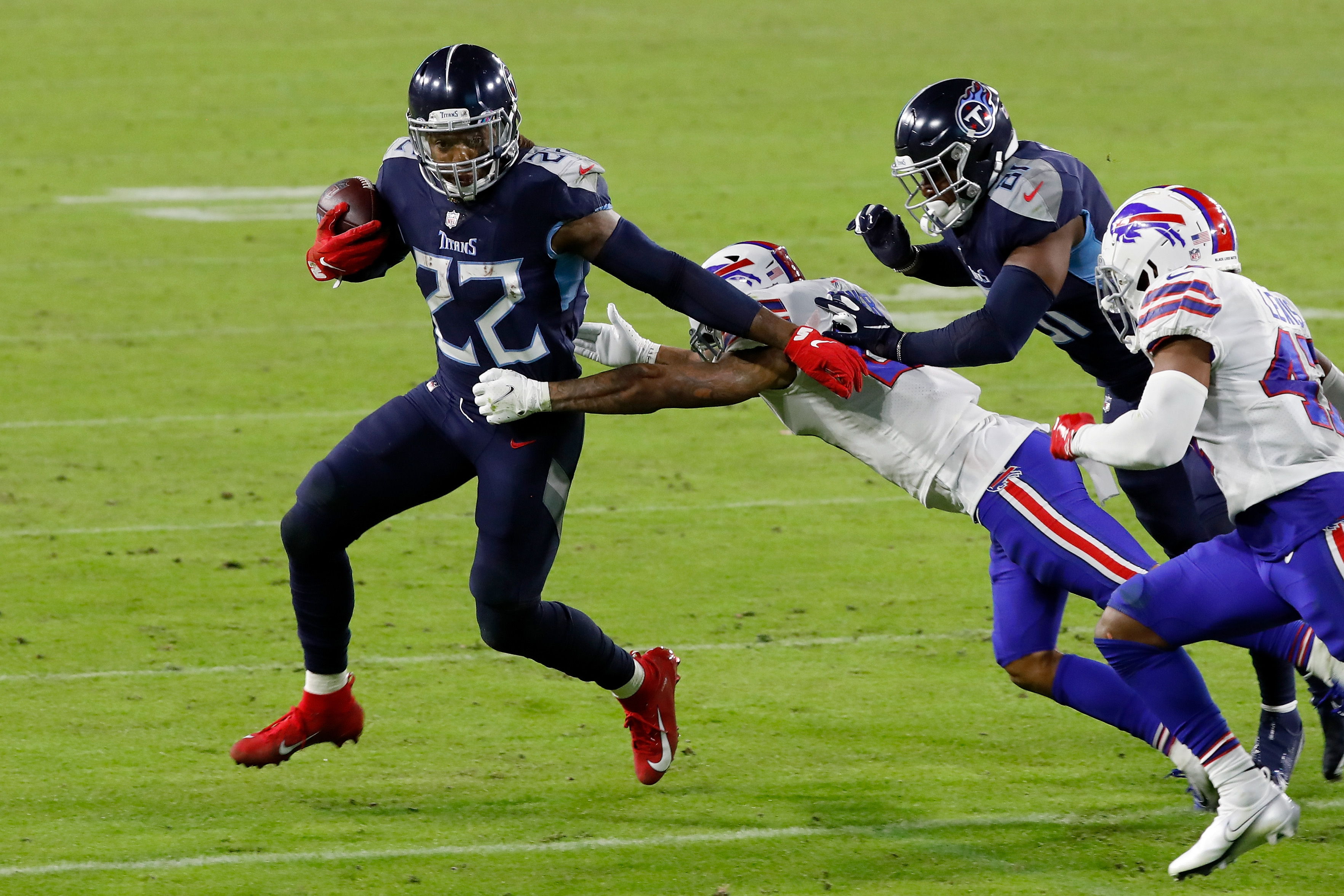 Derrick Henry's Message to Defenders Was Heard Loud and Clear by Josh Norman
Tennessee Titans running back Derrick Henry's message to the NFL defenders was heard loud and clear by Josh Norman.
If you want to tackle Derrick Henry, you better go low. If not, you'll end up like Josh Norman. Henry, the Tennessee Titans running back, sent a message to the rest of the defenders in the NFL Tuesday night, stiff-arming Norman into oblivion.
Derrick Henry's football career
Derrick Henry played his college football at Alabama and was a second-round pick in the 2016 NFL draft. Henry, a 6-foot-3, 247-pound running back, was selected by the Tennessee Titans with the 45th overall pick. The fifth-year back is coming off his first Pro-Bowl season.
It took Henry a couple of years to get going in the NFL. He scored five touchdowns in each of his first two seasons in the league. His workload has increased every year since 2016. Henry had his first 1,000-yard season in 2018 when he racked up 1,059 yards on 215 carries. He rushed for 12 touchdowns.
Henry had his breakout season last year when he led all running backs in just about every category. He had a league-leading 303 rushes despite missing one game. Henry also led the NFL with 1,54 rushing yards and also had an NFL-high 16 touchdowns on the ground. He was tops in the league with a 102.7 yards-per-game average.
Derrick Henry has become a tough guy to bring down
While Derrick Henry had an MVP-type season a year ago, he didn't stop during the postseason. In a 20-13 upset victory over the New England Patriots in the wild-card game, Henry rushed 34 times for 182 yards and a touchdown. After the game, Earl Thomas of the Baltimore Ravens – Tennessee's next opponent – said the Ravens will be ready for Henry.
"Guys didn't seem too interested in tackling him," Thomas said prior to the Ravens/Titans game, according to USA Today. "I think our mindset is a little different. We're gonna try to tackle him, try to swarm and see how it plays out." Instead, Henry turned Thomas into a meme.
Henry stiff-armed Thomas for a 27-yard run as he rushed for 195 yards and led the Titans to an upset over the top-seeded Ravens. Thomas was tossed to the side during the run and Henry said he had something to say to Thomas after the run. "I just said, 'Good to see you, Earl. Good to see you, man. Hopefully, we can do this again,'" Henry said.
Henry tosses Josh Norman like he's nothing
During Tuesday night's game between the Tennessee Titans and the Buffalo Bills, Derrick Henry was at it again. Josh Norman apparently hasn't seen the Earl Thomas stiff arm and decided to go right at the Titans running back. Henry used his patented stiff arm, effortlessly throwing Norman around and sending a message that he's ready to challenge any defender.
The play drew reactions from all over the NFL. One of Henry's teammates, defensive tackle Jeffrey Simmons, said it was so bad that he aid if he was Norman, he would've gone straight to the locker room, according to Yahoo! Sports.
Henry was asked about the stiff arm on Norman. "I have been doing too many curls," Henry said, according to Sports Illustrated. "I have to lay off the arms."