Derek Carr Has Given the Packers Another Reason to Be Nervous About the Future of the Franchise
Will Davante Adams remain with the Packers beyond the 2021 season? If Las Vegas Raiders QB Derek Carr has anything to say about it, Green Bay will have to find a new No. 1 receiver.
The Green Bay Packers don't even play in the same conference as the Las Vegas Raiders. Yet, the front office should feel a little more nervous about the future of the franchise thanks to some comments made by Raiders quarterback Derek Carr.
With the Aaron Rodgers saga still ongoing, the Packers don't need another reason to worry about what their offense will look like moving forward. But if Carr's plan pays off, general manager Brian Gutekunst will have to replace more than just one of the greatest quarterbacks of all time.
The Aaron Rodgers situation looms large in Green Bay
Although he's under contract through the 2023 season, Rodgers no longer looks destined to finish his career in Green Bay. In fact, he may have already played his final down for the Packers.
Unhappy with Gutekunst and the overall approach by the front office, Rodgers remains away from the team. He skipped voluntary organized team activities, didn't show up for mandatory minicamp, and looks primed to miss training camp, too. While that could lead to some steep financial consequences for Rodgers — he will get fined $50,000 for each training camp practice he misses — it's clear money isn't his biggest source of motivation. After all, he already sacrificed a $500,000 workout bonus by not participating in the offseason program.
At this point, nobody knows exactly what will happen with Rodgers.
Will the possibility of losing more than $18 million convince him to cave? Or does he truly intend on never playing for the Packers again?
That level of uncertainty makes Green Bay a difficult team to gauge moving forward. If Jordan Love has to take over starting quarterback duties this season, the Packers could struggle to live up to expectations. With literally zero in-game experience under his belt, the second-year pro represents an obvious downgrade from the reigning MVP.
Derek Carr gives the Packers another reason to worry about the future
The power struggle between Rodgers and the front office doesn't appear to have an end in sight. Until the situation gets resolved, the future of the historic NFC North franchise firmly hangs in the balance.
Unfortunately for Packers fans, a quarterback from a totally different team has already started to lay the groundwork for Rodgers' favorite receiver to leave Green Bay. Considering Derek Carr played alongside Davante Adams at Fresno State, though, it shouldn't be a surprise that the veteran signal-caller has his sights set on reuniting with his college teammate.
"I've learned in this business [that] you never shut a door on anything," Carr told ABC's Bri Mellon. "He's the best receiver in the NFL. The guy's unbelievable. He's been one of my best friends since we've been in college together. I love the guy. I would always welcome playing with him again."
The two NFL veterans made magic happen with the Bulldogs. Out of Carr's 50 touchdown passes as a senior, Adams caught 24 of them. Even though it's been almost a decade since they last worked together, the Raiders quarterback seems highly motivated to make a reunion happen.
"I think it would unlock some things in both of us that people haven't seen yet," Carr said. "I'm always open to that, and I will be recruiting very hard. When that time comes, that will be a full-court press."
Don't count the Raiders out as a potential landing spot for Davante Adams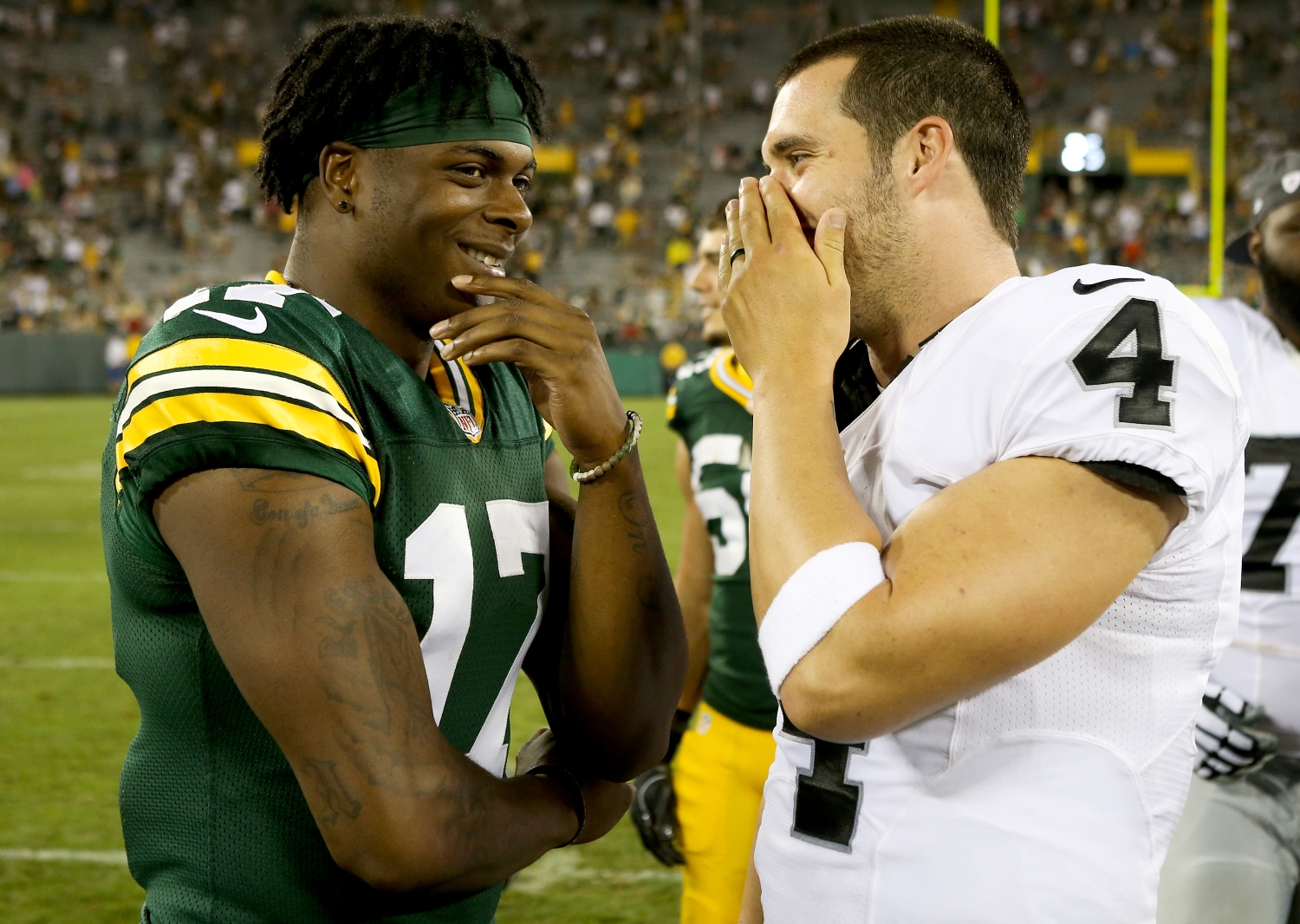 Could the Raiders actually have Adams in their lineup in the near future?
Don't dismiss the idea completely.
As an impending free agent, the 28-year-old wideout has plenty of motivation to play well this season. While the Rodgers situation puts a slight damper on his outlook for 2021, Adams should still put up big numbers as the go-to target in the Packers' passing attack. So even if he has to work with Love, the 6-foot-1, 215-pound receiver should put himself in a strong position to cash in next spring.
Meanwhile, the Raiders enter training camp with a collection of pass-catchers that doesn't feature a true No. 1 option. Hunter Renfrow plays well from the slot, but nobody would describe the 5-foot-10, 185-pound wideout as elite. Henry Ruggs III has terrific speed and intriguing big-play ability. However, the 2020 first-round pick may not have the well-rounded game to become an Adams-like presence in Las Vegas.
The Raiders have shown consistent growth on offense during the first three years of the Jon Gruden era, going from 28th in scoring in 2018 to 24th in 2019. Last season, they finished 10th in points and eighth in total yards. Adding a dominant weapon like Adams would take the unit to new heights. And with the Raiders opening up a new stadium and establishing themselves as a long-term fixture in Las Vegas, it would make sense for the front office to go after a recognizable star in free agency.
Of course, the Raiders could go all-in and make a second splashy move to strengthen their chances of winning a Super Bowl title in 2022.
And if they trade for Aaron Rodgers and sign his trusted receiver next offseason, Gruden might just hoist the Lombardi Trophy as a member of the Raiders after all.