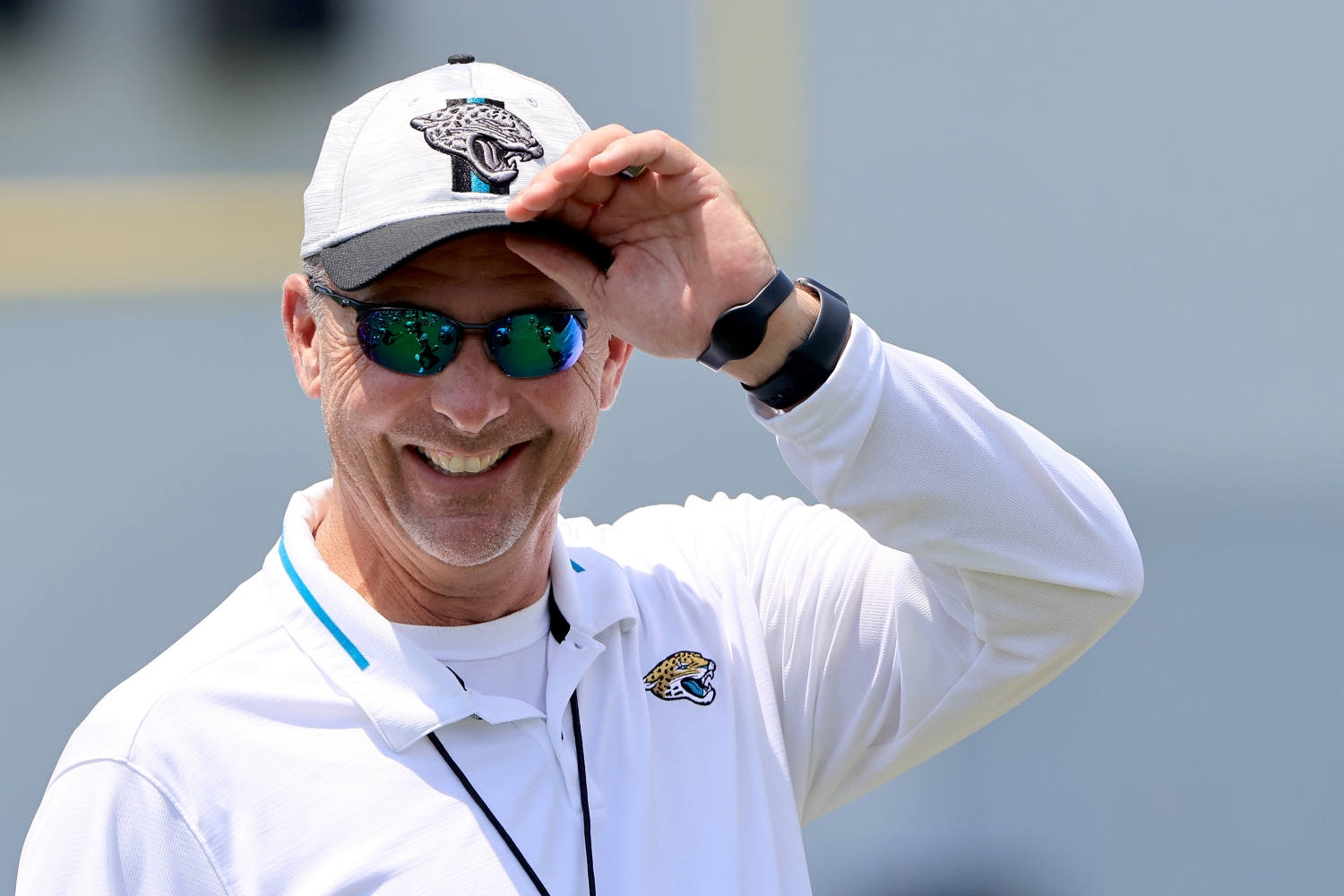 Urban Meyer's Foolish $300,000 Mistake Makes the Jaguars Look Even Worse for Hiring Him in the First Place
Urban Meyer's foolish mistake has cost he and the Jaguars a total of $300,000. At this point, hiring the former Ohio State head coach looks like a massive mistake by Jacksonville.
Should the Jacksonville Jaguars start thinking about hiring a new head coach?
It may be a little premature to start dialing up potential candidates, but owner Shahid Khan should have major concerns about what lies ahead for Urban Meyer.
Already facing criticism for several decisions he made since getting hired, the controversial coach's $300,000 mistake only makes the Jaguars look more foolish hiring him in the first place. And if the first few months of Meyer's "tenure" are a sign of things to come, don't be surprised if the experiment comes to an abrupt end.
Urban Meyer has already made a few questionable decisions since he made the leap to the NFL
The Jaguars didn't hire a coach with a squeaky-clean record. After all, anyone who knows Meyer's background understands he comes with a bit of baggage.
From dealing with an alarming number of player-involved discipline issues during his six years at the University of Florida to leaving Ohio State in the wake of a scandal involving former assistant coach Zach Smith, the 56-year-old certainly had some low moments during his college coaching career.
However, that didn't stop the Jaguars from hiring the three-time national champion as their next head coach. Unfortunately for Jacksonville, Meyer's first few months on the job featured more questionable moves.
None engendered such a negative reaction as the hire of former University of Iowa strength and conditioning coach Chris Doyle. Brought on to be the Jaguars' director of sports performance, Doyle resigned a day later due to backlash about previous accusations of him making racist comments and mistreating athletes.
Meyer also turned heads and raised eyebrows around the league by giving Tim Tebow a chance to resurrect his NFL career. Signing the quarterback-turned-outfielder to learn to play tight end at 33 years old has led to obvious questions about Meyer's team-building philosophy and ability to keep the locker room content.
Meyer's expensive mistake makes the Jaguars look even worse for hiring him
Meyer getting into trouble?
Nobody should seem shocked by that.
On Thursday, ESPN's Adam Schefter reported the NFL fined Meyer $100,000 for violating organized team activity rules. The Jaguars got fined $200,000, and the Dallas Cowboys and San Francisco 49ers, along with their respective head coaches, Mike McCarthy and Kyle Shanahan, also got fined for OTA violations.
According to John Reid of the Florida Times-Union, the Jaguars committed the violation during a June 1 practice in which the coaching staff did not instruct players to do live contact. However, some players did so anyways.
By not having a firm grasp on what went on in practice, Meyer cost himself $100,000 and the Jaguars another $200,000. That's inexcusable, especially given his rather rocky start in Jacksonville. For someone who faces doubts about whether he can succeed at the pro level, making this type of foolish mistake doesn't do anything to silence the narrative that Meyer simply doesn't care about discipline. If he can't follow OTA rules, how does anyone expect things to get better when the intensity ramps up in training camp and the regular season?
While Meyer and Khan can easily make that combined fine of $300,000 disappear, that doesn't excuse what happened. Hiring Doyle and signing Tebow already should have raised red flags for ownership. This violation only underscores the risk the Jaguars took by hiring someone who has a history of having problems at every stop in his coaching career. And it's that type of uncertainty at head coach that makes a Trevor Lawrence-led Jaguars squad truly difficult to gauge moving forward.
Jacksonville shouldn't hesitate to make a change at head coach after the 2021 season
Maybe Meyer will surprise everyone and turn the Jaguars into a respectable team. On the other hand, it's entirely possible that Jacksonville could have a one-and-done situation brewing.
In fact, if Meyer doesn't live up to expectations in his first year at the helm, Khan shouldn't hesitate to hit the reset button. After all, the Jaguars just tied their future to Lawrence, who possesses far more value than a coach who can't seem to figure out how to play by the rules or remain loyal to a program.
Jacksonville can't afford to not put the former Clemson star in the best position to succeed. Lawrence has All-Pro potential, and that might be selling him short. But he'll never make good on his draft pedigree if he's hamstrung by his head coach, so there's no reason for the Jaguars to let the Meyer experiment carry on if it's not going to help Lawrence reach his ceiling.
Plus, if Jacksonville cuts ties with Urban Meyer, you can bet there will be a long line of interested suitors ready to pounce on the opportunity to coach a generational talent.