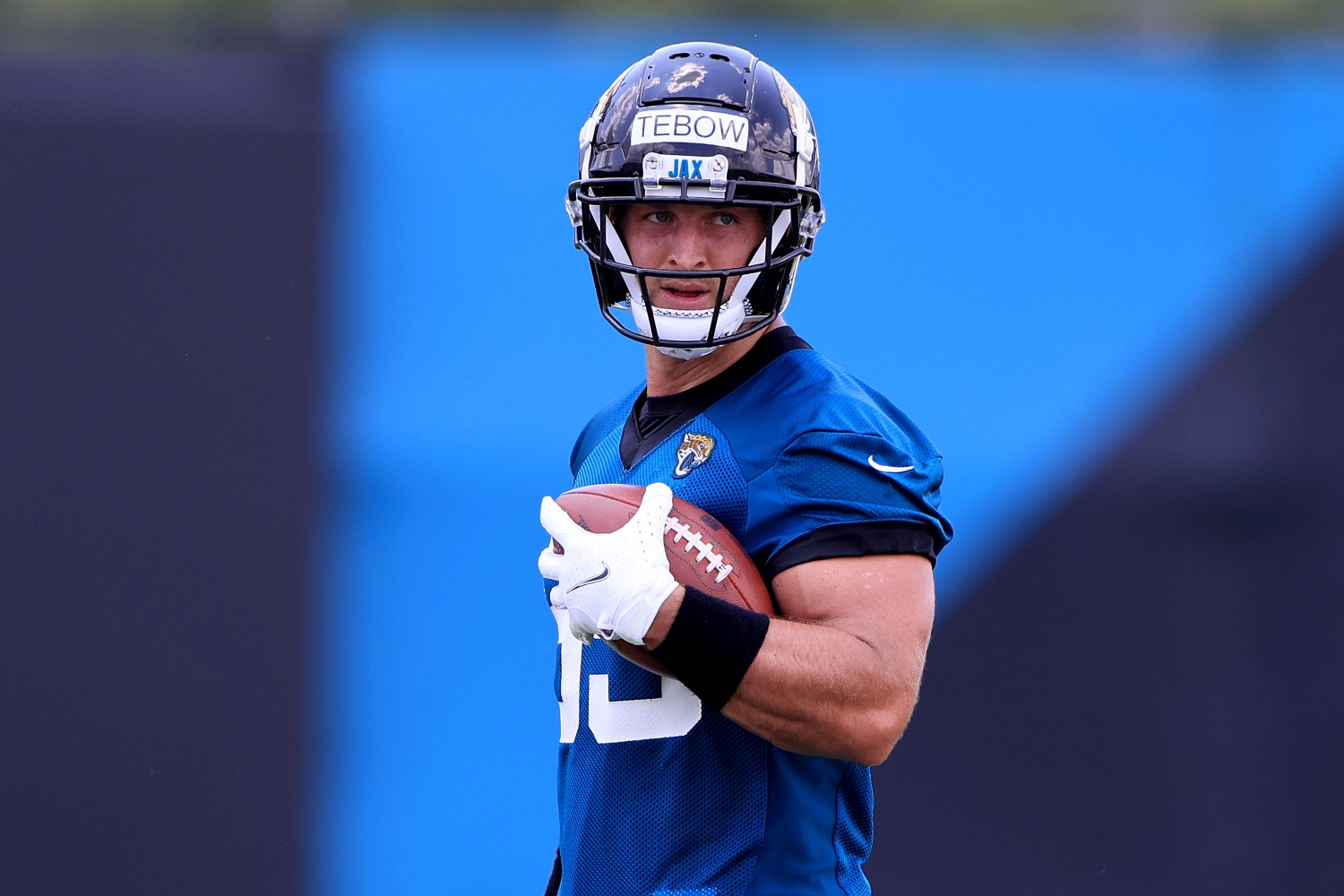 Urban Meyer's Reported Plan for Tim Tebow Sounds Like an Abject Disaster for Trevor Lawrence and the Jaguars
Think Tim Tebow can emulate Taysom Hill in Jacksonville? Urban Meyer's plan for his former quarterbacks sounds like an abject disaster on all levels.
Will Tim Tebow become an NFL quarterback again? Or will he make a successful transition to tight end? Or could the Jacksonville Jaguars have a role for him that doesn't fit into one box?
Urban Meyer apparently thinks his former college quarterback has a future that includes a multi-layered job description. But given all the factors at play, his plan sounds like an abject disaster for Trevor Lawrence and the Jaguars.
Tim Tebow's athletic journey has been full of twists and turns
Tebow once dominated future NFL players as a dual-threat quarterback for the Florida Gators. Playing in Meyer's read-option scheme allowed Tebow to shine as a runner while making the most of his limited skills as a passer. Regarded more for his no-nonsense running style than his ability to read a defense or deliver the ball with pinpoint accuracy, his skill set worked perfectly at the college level.
But as a pro, Tebow quickly got exposed as a practice squad-level quarterback. After entering the league as a first-round pick in 2010, he completed 47.9% of his passes for 2,422 yards, 17 touchdowns, and nine interceptions across three seasons.
By 2016, he officially put his NFL career on pause in an attempt to play baseball. While Tebow did well to at least last a few years in the minor leagues, he formally announced his retirement from the sport back in February. And with Meyer taking over in Jacksonville, it didn't take long for rumors of a reunion to surface. On May 20, the Jaguars signed Tebow to a one-year contract. Despite spending nearly a decade out of the league, the 33-year-old reportedly joined the Jaguars in an attempt to play tight end.
At least, that seemed like the plan.
Urban Meyer's plan sounds like an abject disaster for Trevor Lawrence and the Jaguars
On Thursday, ESPN's Dianni Russini appeared on "Get Up!" to deliver an update about Meyer's plan for Tebow.
"There are people in camp right now who strongly believe the reason why Urban Meyer brought Tim Tebow in is not to play tight end, but actually to use him in that utility role, that Taysom Hill role that we see Sean Payton use in New Orleans," she said. "In terms of comparing the two, we always talk about on this show how much Sean Payton loves Taysom Hill. It's been very obvious over the years. That same kind of love is what Tim Tebow and Urban Meyer have between each other. It could be a very similar situation, but in terms of football, this is something we could be seeing."
Meyer may love the idea of looking smart for trying to turn Tebow into Hill, but that plan has disaster written all over it.
Tebow's last appearance in the NFL came back in 2012. While there's no doubt he works hard to keep himself in incredible shape, he certainly doesn't have the same 4.71 speed he had coming out of college. And it's not like he polished his throwing mechanics or worked on his footwork in the pocket the last few years.
At this stage of his career, Tebow just doesn't compare to Hill as an athlete. Plus, Hill at least demonstrated solid accuracy as a passer (72.7% completion rate) in 2020. To think Tebow can make an impact as a thrower, runner, receiver, and special-teamer at his age seems like a major miscalculation of his actual abilities.
Moreover, any plan that involves taking the ball out of Trevor Lawrence's hands represents a step in the wrong direction for the Jaguars. You don't build your franchise around a quarterback of his caliber and then allow Tebow to play a decision-making role in games. Meyer should let Lawrence have every opportunity to make the final call on the field.
After all, why else would you draft him No. 1 overall?
Is the Taysom Hill role even worth it?
Another big problem with Meyer's plan: the actual value of Tebow's projected role.
Hill generates a ton of hype simply because no one else in the NFL has the same job duties. That doesn't necessarily make him more valuable than someone who plays one position, though.
Did the Saints truly benefit from taking the ball out of Drew Brees' hands so Hill could get some touches? New Orleans won plenty of regular-season games, but the team never came close to winning a Super Bowl title. Meanwhile, the Patriots won six by gladly letting Tom Brady run the show. And everything goes through Patrick Mahomes in Kansas City.
Why do anything different with Lawrence?
He's a generational prospect with the potential to become an all-time great. It makes little sense to dedicate any attention to turning Tebow into a Hill clone since he will require specific plays to be drawn up for him. Meyer's focus should be on putting Lawrence in the best position to succeed on every down.
Unfortunately for the dynamic quarterback, his new head coach appears to have big plans for Tebow. And if Meyer actually thinks his idea is a good one, Jaguars fans may be in for a bumpy ride this season.
All statistics courtesy of Pro Football Reference.