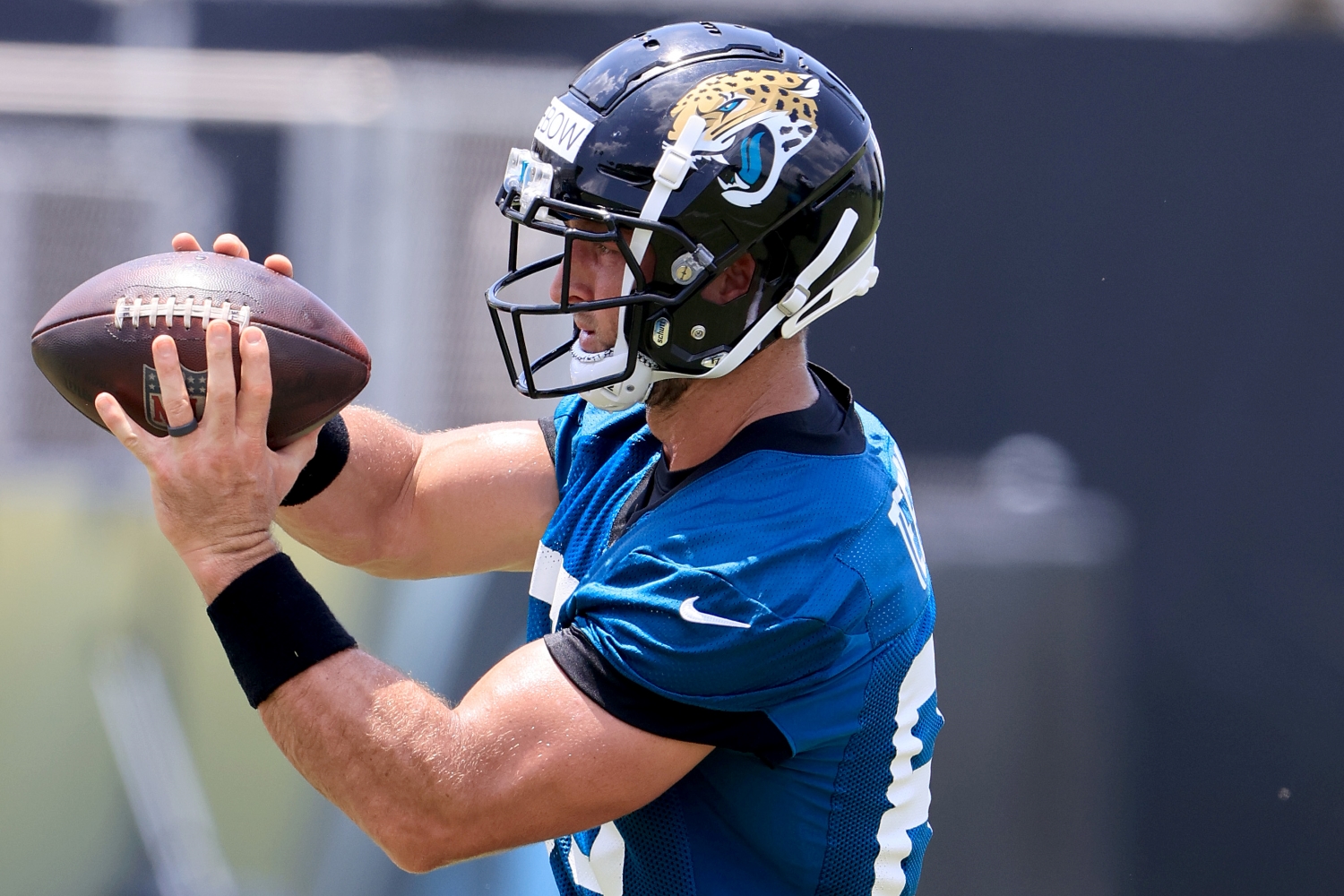 Urban Meyer Reveals the Truth About Tim Tebow's Journey to the Jaguars and His Chances of Making the Team
Wondering how Tim Tebow ended up on the Jaguars? Urban Meyer provided some more insight into how his former quarterback found a new career opportunity in Jacksonville.
Urban Meyer raised more than a few eyebrows by giving Tim Tebow a chance to resurrect his football career. Considering he turns 34 in August and hasn't appeared in an NFL game since 2012, the odds of Tebow succeeding at his comeback attempt don't appear strong.
So what inspired the Jacksonville Jaguars to sign someone who retired from playing pro baseball back in January? Thanks to Meyer, we now know the truth about what went into the Tebow signing. Plus, the Jaguars' new head coach also gave an honest assessment of his former college quarterback's chances of making the team during a recent discussion with Rich Eisen.
Urban Meyer and Tim Tebow have officially started new chapters of their respective careers
For both Meyer and Tebow, 2021 represents a chance for a fresh start.
Since stepping down as Ohio State's head coach at the conclusion of the 2018 season, Meyer has spent his time in front of TV cameras rather than on the sidelines.
But that won't be the case any longer.
Despite having zero NFL coaching experience, Meyer received an opportunity of a lifetime: the chance to work with Trevor Lawrence. By accepting the Jaguars' offer to become their latest head coach, the 56-year-old essentially tied his future to the former Clemson star, who the team took No. 1 overall in the 2021 NFL draft.
Widely viewed as one of the best coaches in college football history, Meyer must prove himself at the pro level. Ironically, the most-discussed player on the Jaguars' current roster also has to accomplish that task.
Although Lawrence should be generating the most buzz based on his potential, Tebow has stolen most of the spotlight in Jacksonville. The quarterback-turned-outfielder signed a one-year contract with the Jaguars on May 20, which ended weeks of speculation about a possible reunion between Meyer and the 2007 Heisman Trophy winner.
Expected to compete for a roster spot as a tight end or as a Taysom Hill clone, Tebow faces a challenging path this summer to make his dream of playing in the NFL again come true.
Meyer reveals the truth about Tebow's journey to the Jaguars
Meyer appeared on The Rich Eisen Show on Thursday to discuss a few Jaguars-related topics. To no surprise, the host brought up Tebow's journey to Jacksonville — a subject that raises questions about the team's motivations for signing a player whose last NFL game took place nearly a decade ago.
So how did the Jaguars decide to give Tebow another shot at making a living as a pro football player? Meyer provided details about what went on behind the scenes to bring him to Jacksonville.
"I'm on his foundation board. I know Tim. We talk," he explained.
During a conversation with his college coach, Tebow told Meyer, "I'm in the best shape of my life."
Then he asked for a favor.
"Well, could you have a couple guys look at me?"
According to Meyer, he told Tebow he had to think it through. Ultimately, though, the Jaguars did give him a chance to showcase his skills.
"I showed up and I left, on purpose," Meyer recalled. "Our GM was there. Our tight end coach and offensive coordinator were there. And they put him through a workout and they came back and said, 'My gosh, this guy's in incredible shape. He's a big athlete. Our tight end room has been struggling.'"
Tebow ultimately got the stamp of approval from Jaguars coaches by working on areas of his game they felt needed improvement.
Will the experiment work out for Jacksonville?
Will the Jaguars get anything out of the Tebow experiment? Or will Meyer's plan to use him as a gadget player fail to materialize?
Nobody doubts Tebow's work ethic or toughness. After all, the fact he's even attempting to play football again after spending the last six years on the baseball diamond deserves praise. But just because he's a hard worker doesn't mean he'll be a part of the Jaguars' 53-man roster.
In fact, Meyer himself raised doubts about Tebow's future during his discussion with Eisen.
"And what's the percentage of making the team? We don't know. This is uncharted waters," Meyer explained. "This is [going to] be very difficult. But he's been doing great. He's been doing great practice. He's learning the offense, as you can imagine. He's working as hard as anybody. I see a good camaraderie amongst the team and Tim and it's been good so far."
While camaraderie is great, that won't matter if Tebow can't make a positive impact on the field. So until he impresses in preseason games, he seems like anything but a roster lock.