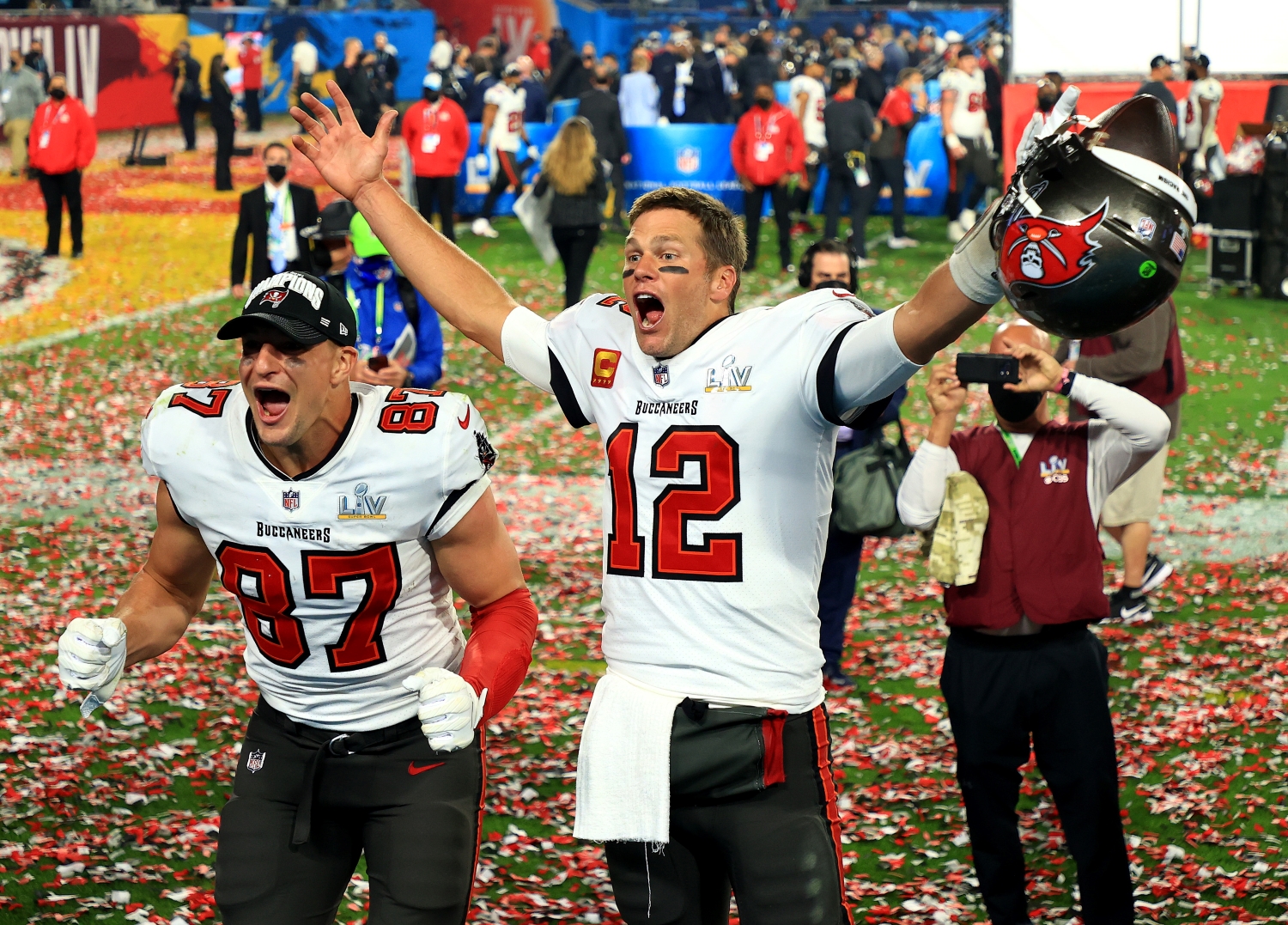 Rob Gronkowski Exposes Tom Brady for Selling a Big Lie to Buccaneers Fans
Rob Gronkowski exposed Tom Brady as a liar by letting Buccaneers fans know who's actually responsible for the tandem coming to Tampa.
Tom Brady trusts Rob Gronkowski to do the right things on the football field. However, the legendary quarterback may have a problem with his trusted tight end's recent admission about how the two New England Patriots icons ended up with the Tampa Bay Buccaneers. 
As it turns out, Brady has sold a big lie to his new legion of fans. But even if that's the case, the only thing that matters moving forward is whether he can lead the Buccaneers to back-to-back Super Bowl titles. And if Brady and Gronkowski get to hoist the Lombardi Trophy again in February, they will look even smarter for taking their talents to Tampa. 
Tom Brady recently admitted he rarely tells the truth
Don't always believe what the GOAT says.
In fact, you can dismiss quite a bit of what Brady espouses at the microphone. That's not based on some unfounded accusation, either. After all, the legendary quarterback flat-out admitted to lying during his profanity-laced appearance on HBO's The Shop.
During a discussion with Golden State Warriors star Draymond Green, Brady finally told the truth about how much he fibs in front of the cameras.
"What I say vs. what I think are two totally different things," he explained. "I would say 90% of what I say is probably not what I'm thinking. Which is challenging, you know? And I really admire people that actually can do that, and say what they think, because they invite a lot of other things into their life. And I think there's part of me that doesn't like conflict. So in the end I just always try to play it super flat."
Brady even talked about how he lies about opponents. Of course, he also does that for a specific purpose.
"From a strategic standpoint, I never want to give away like what we're doing, you know what I'm saying? Like, I usually say the opposite," Brady said. "Like if they've got a s—– corner, I'll be like, 'That guy's unbelievable! I don't know how they even complete balls over there!' In my mind, I'm going like, 'I'm going at that motherf—– all day!' You know? Because I don't want to give them any [strategic plans]."
Rob Gronkowski exposes Brady for selling a big lie to Buccaneers fans
Few people on this planet know Brady better than Gronkowski. After all, the two formed an incredible bond during their days with the Patriots. Unfortunately for the GOAT, that means his close friend has inside information on how the quarterback ended up in Tampa.
As it turns out, Brady has been selling a big lie to Buccaneers fans.
During TNT's telecast of "The Match" on Tuesday, Gronkowski exposed what really happened last offseason.
"Let me tell ya, I recruited Tom to Tampa! He didn't recruit me," said the five-time Pro Bowl tight end. "I told him he that he was going to Tampa, so he went to Tampa."
Considering Gronkowski was retired at the time Brady signed with the Buccaneers, his version of the truth certainly seems a bit confusing. Don't forget he only ended up in Tampa because Bill Belichick traded him for a fourth-round pick. Maybe Gronkowski's year away from football inspired him to want to trade in harsh New England winters for year-round Florida sunshine. Or maybe he's just trying to take credit for an idea that's clearly paid off for everyone involved.
As for Brady's version of what happened?
"It was a team decision," he explained. "How could I go somewhere and not bring the greatest tight end in the history of football? And he still has more to prove."
Can the dynamic duo lead Tampa to back-to-back Super Bowl titles?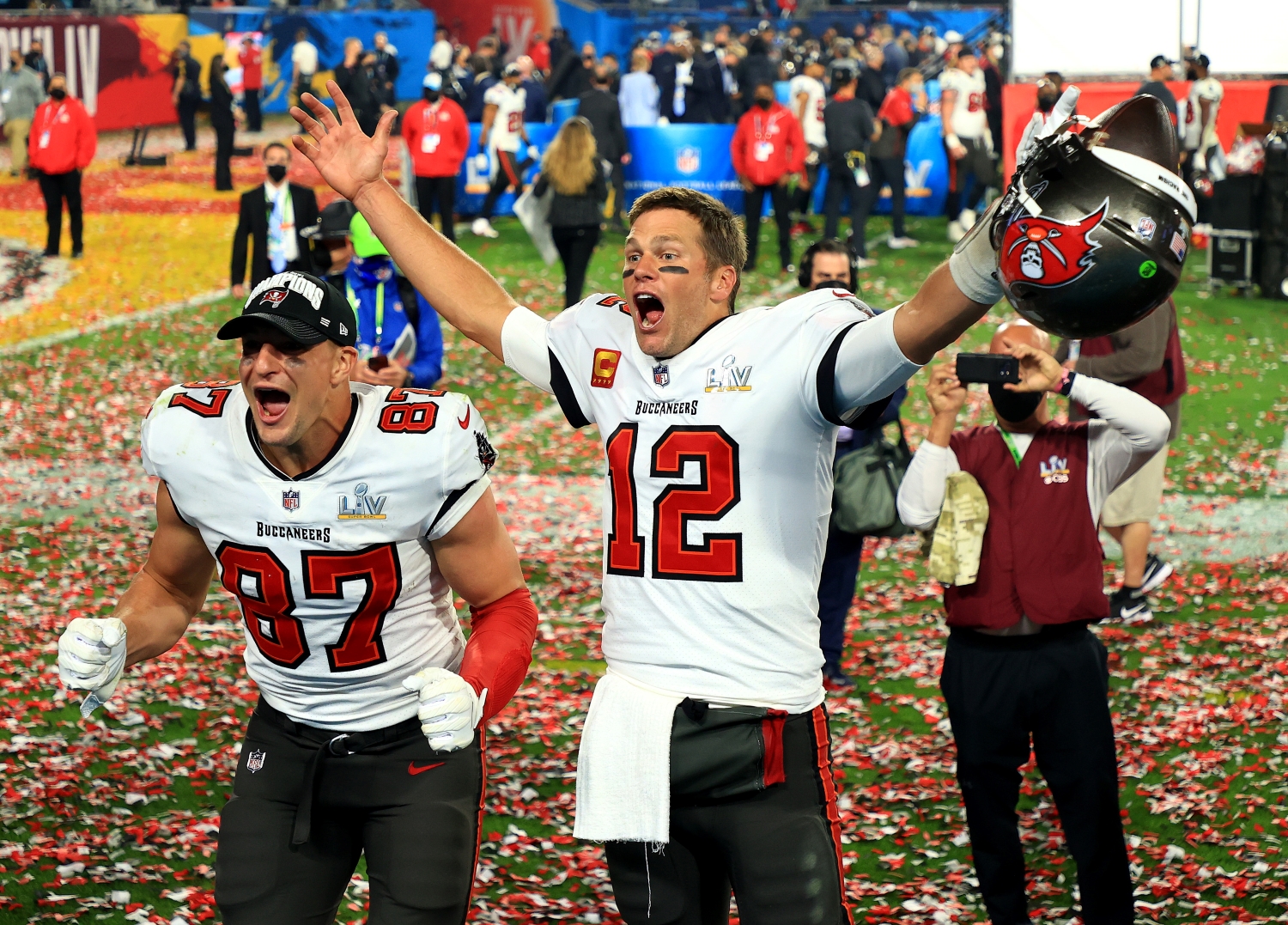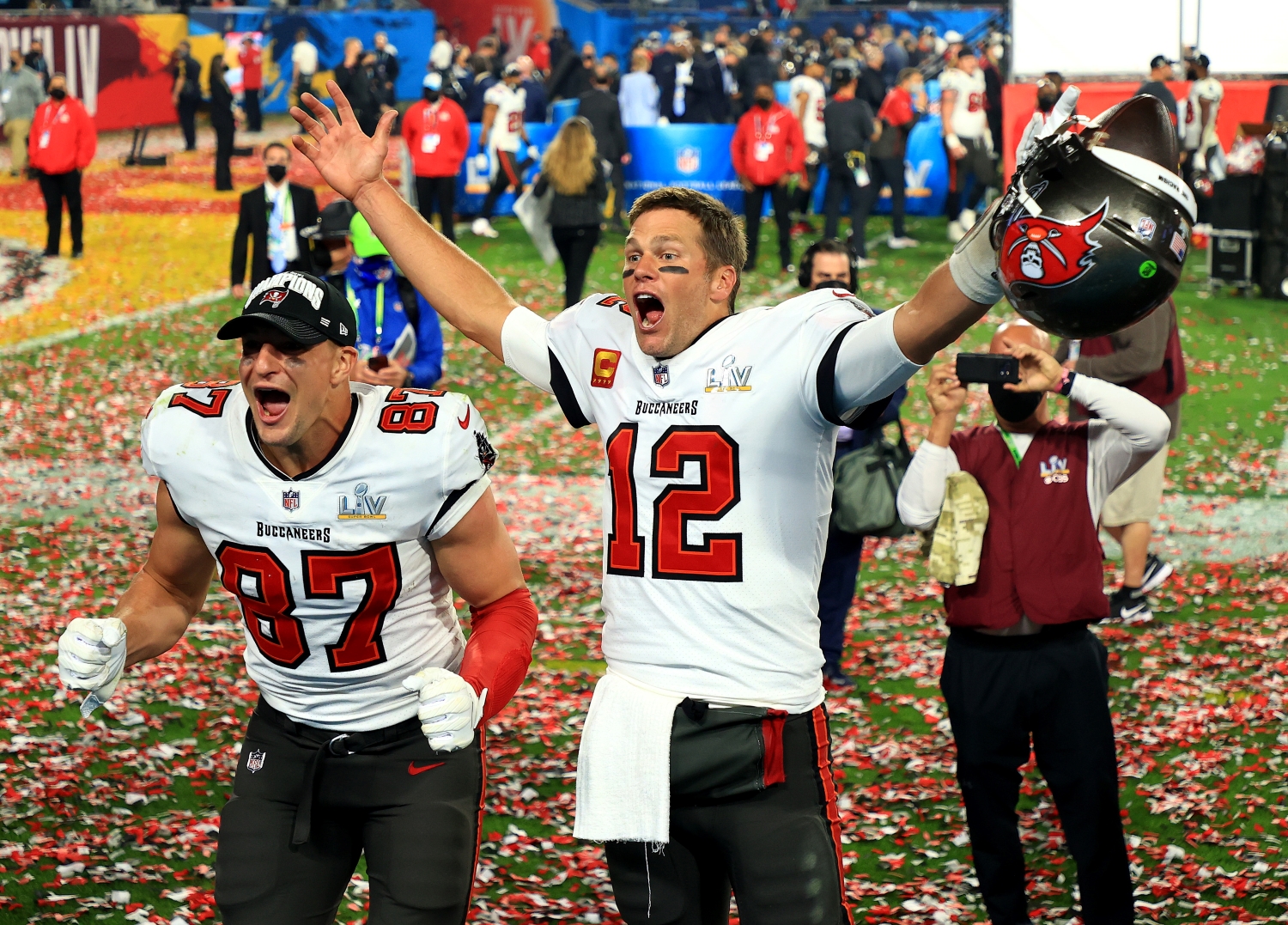 If their second season in Tampa goes as well as the first, Brady and Gronkowski should expect to spend an afternoon on the open water celebrating winning another Super Bowl victory. And based on the Buccaneers' current roster, they have an excellent shot of repeating as champions.
Tampa's offense features plenty of proven playmakers, a stout line, and the only player in NFL history with seven Super Bowl rings. As long as injuries don't pop up, expect the unit to put up big point totals on a weekly basis.
Meanwhile, the Buccaneers boast a fantastic defense headlined by the dynamic linebacker duo of Devin White and Lavonte David. Plus, the front seven includes established veterans like Jason Pierre-Paul, Ndamukong Suh, and Shaquil Barrett. That group should give offensive lines nightmares, which will only make life easier for a young secondary teeming with talent.
Ultimately, it will be an upset if Brady and Gronk don't win another ring together. And if they want to call Tampa home for a few more years, expect the front office to do everything possible to keep the legendary tandem together.