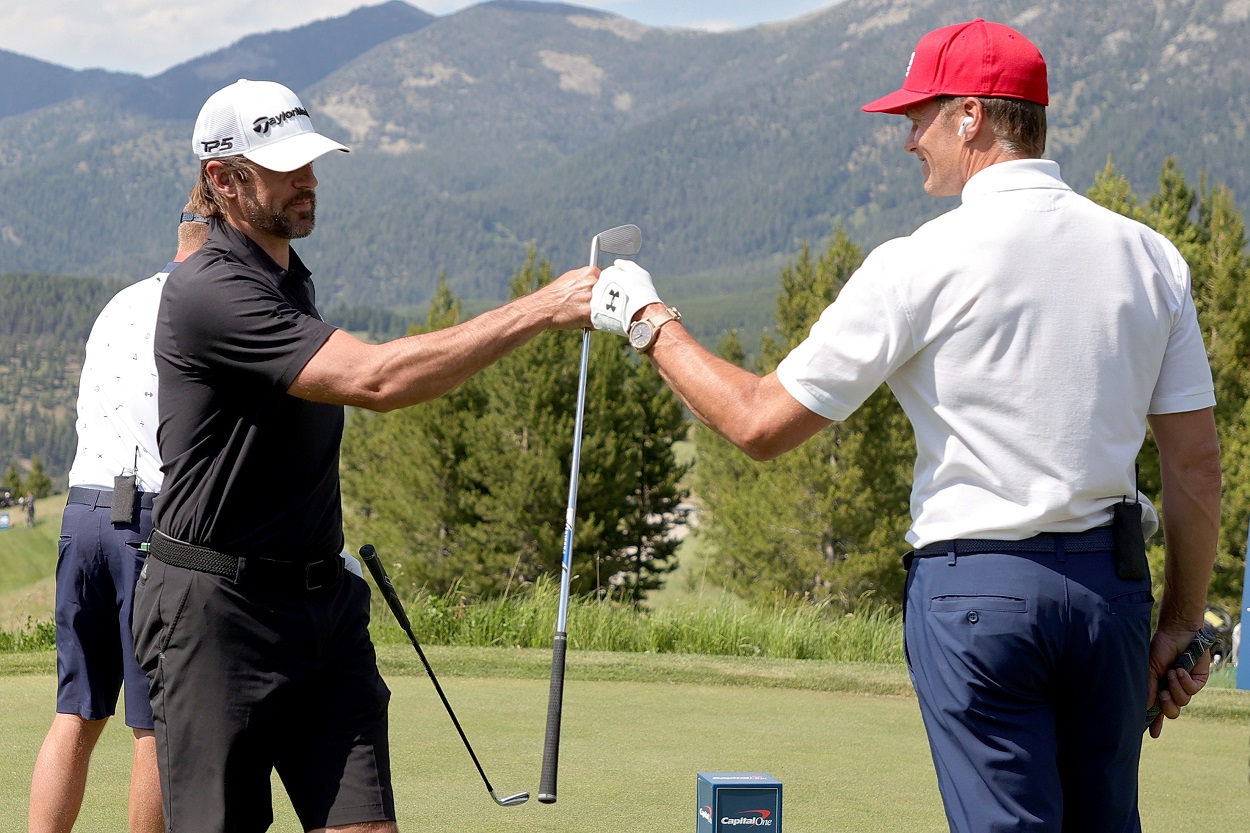 Tom Brady and Rob Gronkowski Ribbed Aaron Rodgers During 'The Match' About His Status With the Packers but Rodgers Got the Last Laugh
Aaron Rodgers took a little heat about his status with the Green Bay Packers during "The Match" as he dodged questions from the Turner Sports crew and got jokes from Tom Brady and Rob Gronkowski.
It took way too many holes to get done — seven to be exact — but Tom Brady finally did what everyone watching the latest edition of "The Match" wanted him (or someone) to do: he ribbed Aaron Rodgers about his status with the Green Bay Packers. But TB12 certainly wasn't alone in poking a little fun at the reigning NFL MVP, only it wasn't Phil Mickelson or Rodgers' partner for the day, Bryson DeChambeau, chiming in. No, Brady actually got a little help from longtime teammate Rob Gronkowski, who was one of the surprise guests on the Turner Sports broadcast, and it was absolutely glorious.
But things didn't end there as the Turner broadcast team, a team that included Charles Barkley, tried to get some info out of Rodgers as well, which turned out just as one would expect.
Tom Brady and Rob Gronkowski ribbed Aaron Rodgers about his status with the Green Bay Packers
While there was a little chatter from the broadcast team early on about Rodgers and his status with the Packers, which obviously isn't great at the moment, we got nothing from DeChambeau, Mickelson, or Brady through the first six holes. Now, Bryson I can understand as he doesn't want to get his partner riled up, but given the high level of trash talk that we know Lefty and TB12 can throw around, I've gotta say I was a little disappointed, as I'm sure many watching were as well.
But as the foursome hit the green on the seventh hole, Gronkowski called in. First, the look on Brady's face when he found out Gronk was on the line was priceless, as was their interaction about both of them being ready for Tampa Bay Buccaneers camp in a few weeks. And it was that conversation that led to the Rodgers chatter. Brady kicked things off with this gem:
"I'm studying my competition. I'm 30 yards away from Aaron, who is the leader of the Packers … I think."

Tom Brady on Aaron Rodgers
And then Gronk chimed in with this:
"You're studying the wrong guy. Aaron looks more lazy now than I did in retirement."

Rob Gronkowski on Aaron Rodgers
The beauty of the whole thing is that Rodgers took it all in stride, even chuckling as things were playing out before asking Gronk to repeat what he said. And what's even better is that Gronk didn't even know Rodgers could hear him. Just great stuff all around.
The Turner Sports crew tried to get some answers out of the Packers QB as well
A few holes later, Rodgers was just cruising along in his custom golf cart when Turner Sports announcer Brian Anderson asked him if he would be in uniform when the Packers face the Chicago Bears on October 17. And the reason for that particular question is because there was plenty of attention paid to a bear on the course.
As he often does on the field, Rodgers sidestepped but Anderson persisted, then asking if Rodgers would be in uniform on September 12 for Green Bay's opener against the New Orleans Saints, which the Packers quarterback pretended not to know. Or maybe he actually doesn't know what day the season starts. Either way, Rodgers simply gave the cookie-cutter answers of "I don't know" and "we'll see" with a little grin on his face.
Barkley then jumped in to say that Rodgers could simply tell just him what was happening, which drew another laugh and non-response.
He quickly changed the subject to say how much he was enjoying his day alongside DeChambeau, Mickelson, and Brady, and he certainly had plenty of reasons to enjoy his day as he played some really solid golf and helped raise a lot of money for charity.
Rodgers and DeChambeau defeated Brady and Mickelson in 'The Match'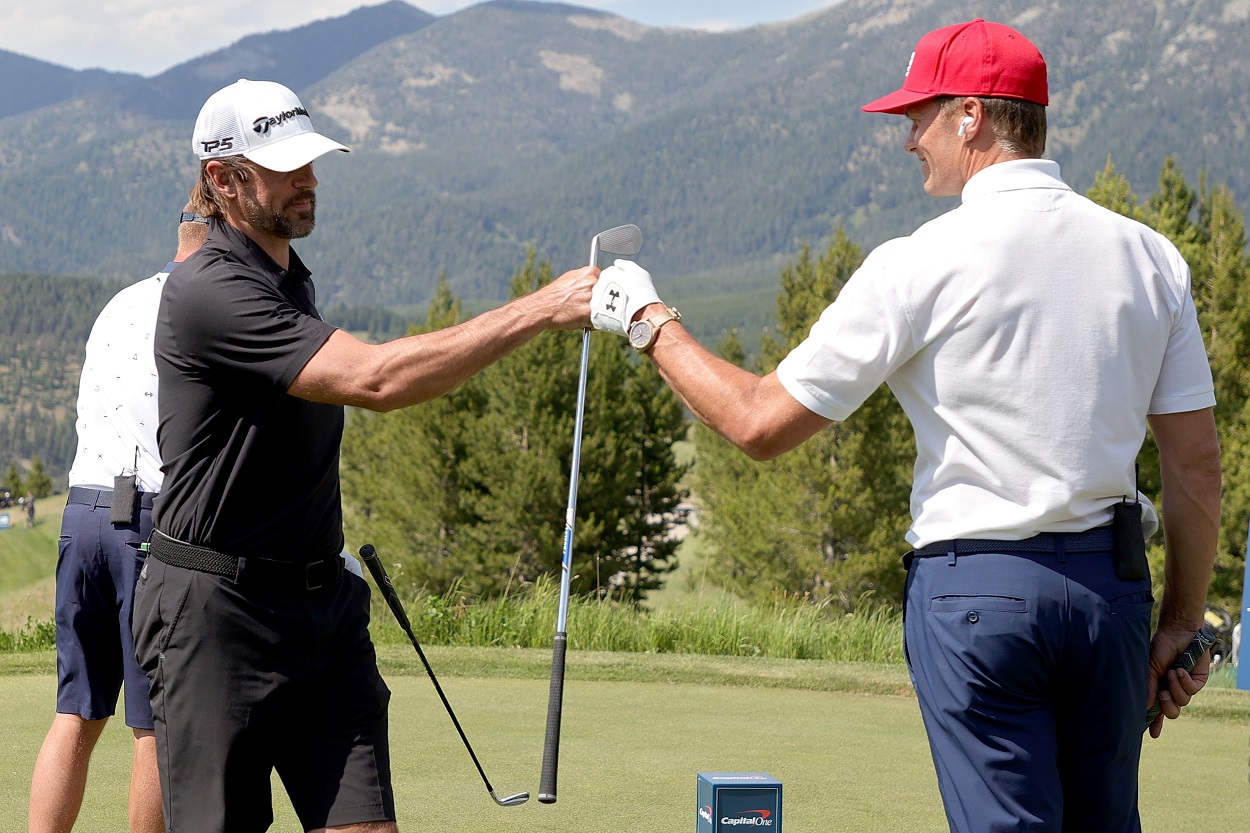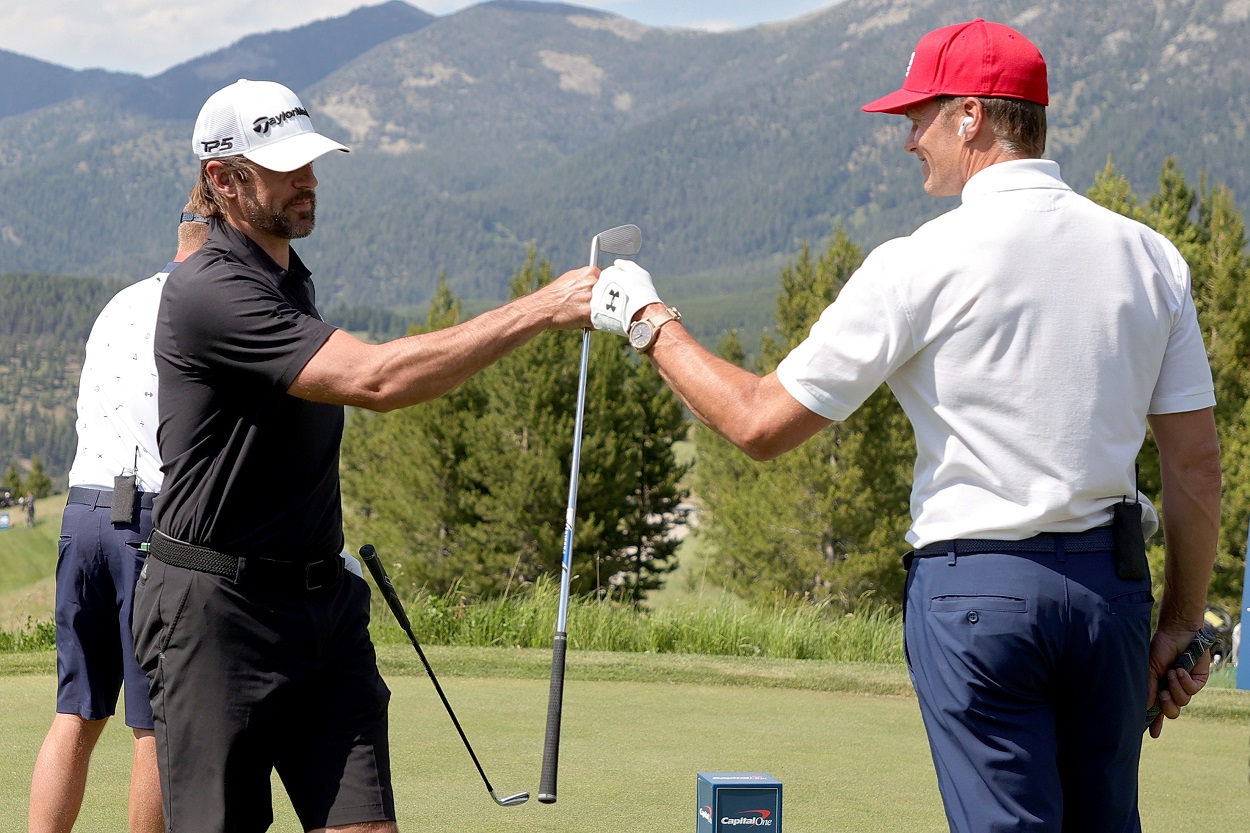 As for the actual golf that was played during "The Match," it was an absolute blast to watch. The scenery at The Reserve at Moonlight Basin in Big Sky, Montana, was absolutely incredible, as were many of the shots played by Rodgers, DeChambeau, Brady, and Mickelson.
DeChambeau and Rodgers jumped out to an early lead after Bryson chipped in for birdie on the first hole, but Mickelson and Brady fought back and quickly tied it up. While Brady may have gotten the better of Rodgers back in the NFC Championship Game, Rodgers was the better golfer on Tuesday afternoon. At one point during the battle, which was played under modified alternate shot format, Rodgers' drivers were used on six of seven holes as Bryson struggled off the tee for a stretch.
Rodgers and DeChambeau took control on the back nine and had a 2-up lead going into the par-3 16th. With both teams on the green, Mickelson got in his own little dig at Rodgers, telling Brady as he lined up their birdie putt that it was 4th & 3 and they were down eight so it probably wouldn't be ideal to go for a field goal, obviously referencing the aforementioned NFC title game.
But after Brady missed his putt, Rodgers had the last laugh as he rolled in his birdie effort to give his team a 3&2 victory.
Most importantly, however, "The Match," as it always does, raised a ton of money. At the end of the broadcast, it was announced that 6.3 million meals had been donated to Feeding America and $2.5 million had been raised for the My Brother's Keeper Alliance, an extension of the foundation of President Barack Obama, who was another surprise guest during the event.