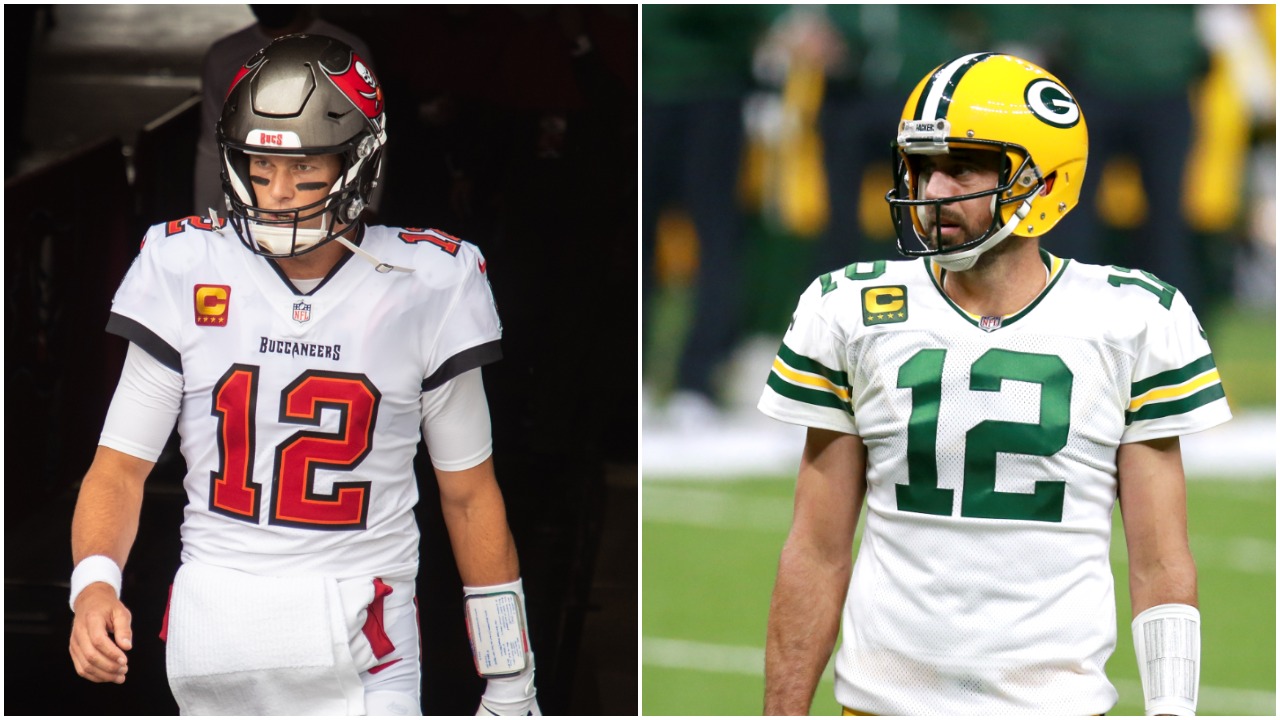 Tom Brady and Aaron Rodgers Wear No. 12 For the Exact Same Reason
Future Hall of Fame quarterbacks Tom Brady and Aaron Rodgers both wear the number 12 for the exact same reason.
Tom Brady and Aaron Rodgers are easily two of the best quarterbacks the NFL has ever seen. Both have won a Super Bowl, both have won Super Bowl MVP, and both have won NFL MVP on multiple occasions.
But that's not all the two have in common. As it's clear to see each and every time either puts on a uniform, both Brady and Rodgers wear No. 12 and are part of a very successful group of quarterbacks to wear that number, a list that also includes Terry Bradshaw, Roger Staubach, Ken Stabler, Jim Kelly, Bob Griese, and Joe Namath.
What's funny is that neither Tom Brady nor Aaron Rodgers wanted to wear No. 12 when they came into the NFL. But both ended up wearing it for the exact same reason: it's just the one they were given.
Why Tom Brady wears No. 12
When Tom Brady arrived at training camp for the New England Patriots in 2000 as a rookie, he wanted to wear No. 10, the same number he'd worn at the University of Michigan. However, punter Lee Johnson, who'd signed with the Pats ahead of the 1999 season, was wearing that number at the time.
Brady certainly didn't have the status he does now, so he didn't try to negotiate for the number he wanted. Instead, he simply settled for the one former Patriots equipment manager Don Brocher put on his locker, which was obviously No. 12.
When New England released Lee Johnson five games into the 2001 season, which would have been three games after Brady took over for an injured Drew Bledsoe, the future six-time Super Bowl champ thought about making the switch back to No. 10 but ultimately decided to keep No. 12, which has become a huge part of his brand.
Chris Godwin gave his number to Tom Brady when TB12 joined the Buccaneers
When Brady announced that he'd signed with the Tampa Bay Buccaneers after 20 years with the New England Patriots, people began to wonder if he'd still wear No. 12 as wideout Chris Godwin had been wearing that number for the Bucs since joining the team in 2017.
But Godwin was very gracious in giving up No. 12 to his new quarterback and switched to No. 14 out of respect for his new signal-caller. And he didn't ask for a single thing in return.
Why Aaron Rodgers wears No. 12
Much like Brady, Aaron Rodgers had hopes of wearing his college number when he entered the NFL in 2005. Rodgers had worn No. 8 in his two seasons at Cal-Berkeley, but when he joined the Green Bay Packers, longtime kicker Ryan Longwell was wearing that number.
Longwell was beginning his ninth season with the Packers when Rodgers joined the team, and the chances of a veteran giving up his number to a rookie were pretty low. So Aaron Rodgers just took the No. 12 that was given to him.
Again, like Brady, Rodgers had the chance to switch to his college number in his second season as Longwell signed with the Minnesota Vikings in 2006 but chose to keep No. 12. Rodgers is the 16th Green Bay player to wear the number and will likely be the last.
Stats courtesy of Pro Football Reference