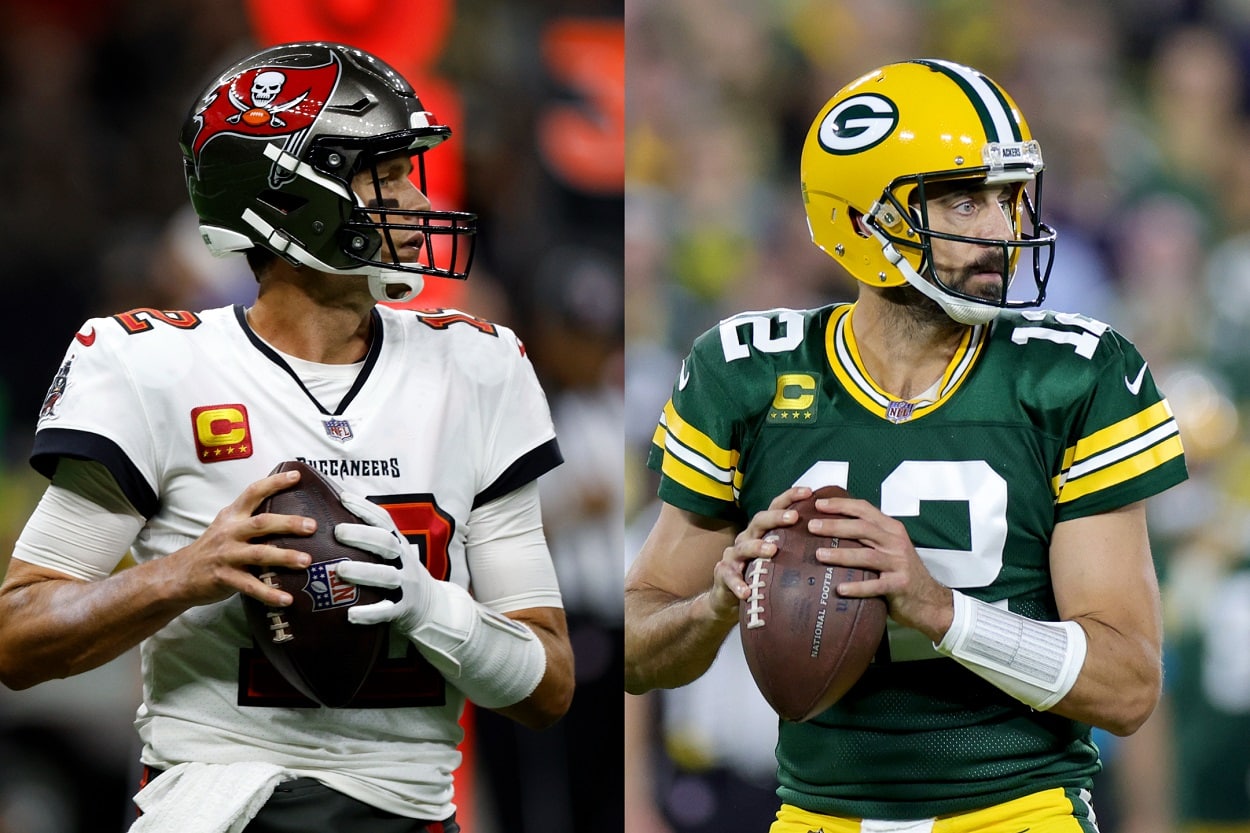 What Is Tom Brady's Record Against Aaron Rodgers?
A look back at every matchup that's taken place between future Hall of Fame quarterbacks Tom Brady and Aaron Rodgers.
Tom Brady and Aaron Rodgers are easily two of the greatest NFL quarterbacks of all time. But despite more than 40 years of combined time in the league, they haven't faced one another that many times, mainly because the two played in different conferences for many years.
Before Brady joined the Tampa Bay Buccaneers, he squared off with Rodgers just three times as a member of the New England Patriots.
The two first shared the field in a 2006 matchup between the Patriots and Packers when Rodgers came in for an injured Brett Favre during a lopsided loss. Brady and Rodgers were supposed to battle in 2010, but the latter suffered a concussion the week before and was unable to play. The two finally squared off as starters in 2014 and then again in 2018.
When Brady joined the Bucs in 2020, he matched up with Rodgers twice that season, once in the regular season and again in the NFC title game. Their next and possibly final matchup came in Week 3 of the 2022 season.
Here's a look back at the times Tom Brady and Aaron Rodgers faced off.
Tom Brady led the Patriots to a 35-0 win over the Packers in 2006
As mentioned, the matchup between the Patriots and Packers that took place on November 19, 2006, featured Tom Brady and Brett Favre as the starting quarterbacks. Brady was fantastic that night at Lambeau Field, completing 20 of 31 passes for 244 yards, four touchdowns, and zero interceptions in the 35-0 victory.
Favre was forced out of the game near the end of the first half with an elbow injury, which gave Aaron Rodgers a chance to shine. But he certainly didn't play in the manner we've all become accustomed to. Rodgers completed just four of 12 passes for 32 yards and was sacked three times.
Tom Brady-1, Aaron Rodgers-0
Aaron Rodgers won the first game in which both were starters
Brady and Rodgers finally met as starting quarterbacks when the Patriots and Packers met at Lambeau Field on November 30, 2014. And this time around, Rodgers was obviously a much better quarterback than he'd been eight years earlier. He was also the better quarterback that night as he outdueled Brady to lead the Packers to a 26-21 victory.
Aaron Rodgers completed 24 of 38 passes for 368 yards, two touchdowns, and zero interceptions. It's not as if Brady had a bad game — he was 22-for-35 for 245 yards, two TDs, and no picks — it's just that Rodgers was better.
Tom Brady-1, Aaron Rodgers-1
Brady beat Rodgers in 2018 in Foxborough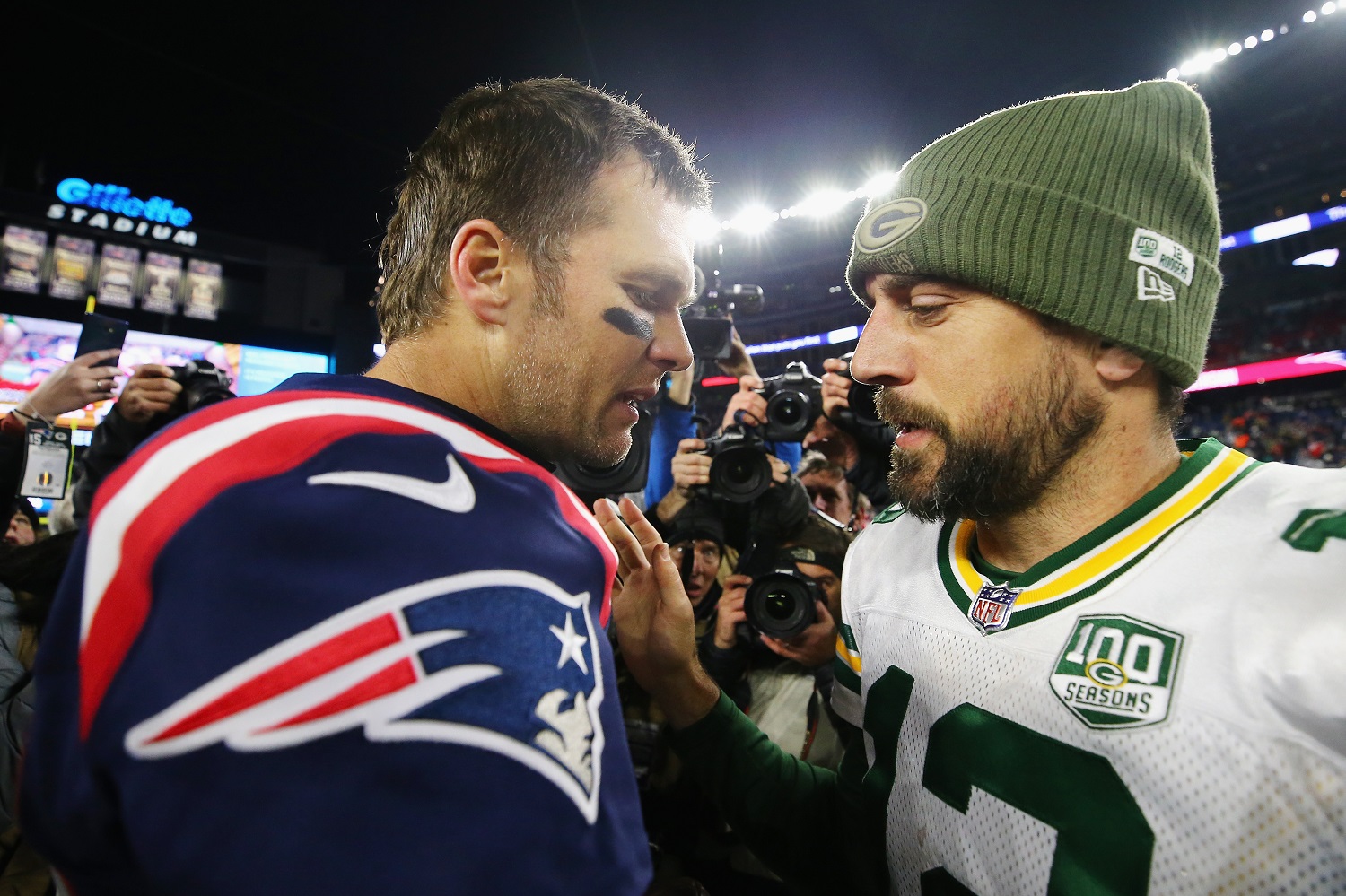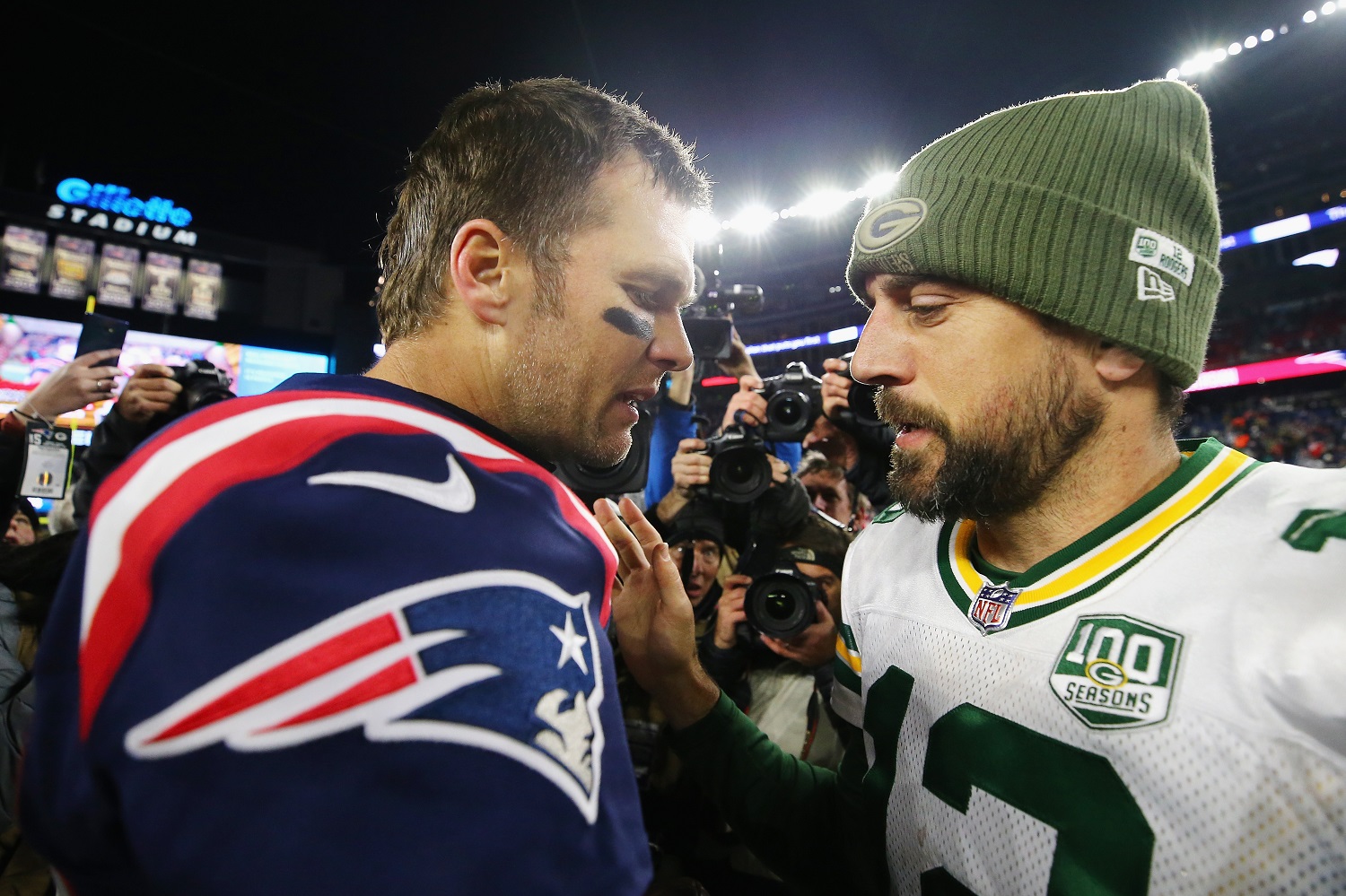 The third time Tom Brady and Aaron Rodgers shared the field came at Gillette Stadium on November 4, 2018, when the Patriots beat the Packers, 31-17.
Tom Brady completed 22 of 35 passes for 294 yards and a touchdown, while Aaron Rodgers went 24-for-43 for 259 yards and two scores.
Tom Brady-2, Aaron Rodgers-1
TB12 and the Bucs whooped A-Rod and the Packers during the 2020 regular season
For the first time as the quarterback of the Tampa Bay Buccaneers, Brady faced off against Rodgers and the Packers on October 18, 2020, and he once again got the better of his future fellow Hall of Famer. Rodgers and the Packers jumped out to a quick 10-0 lead, but the Bucs scored the next 38 points and won in a romp.
Rodgers had one of the worst games of his career as he completed just 16 of 35 passes for 160 yards with zero touchdowns and two interceptions, the first being a pick-six. Brady didn't throw for many more yards but was much more efficient, completing 17 of 27 passes for 166 yards with two touchdowns and no picks.
Tom Brady-3, Aaron Rodgers-1
Brady ousted Rodgers from the postseason en route to Super Bowl win number seven
The most high-profile matchup between the two came in the NFC Championship Game between the Bucs and Packers on January 24, 2021. And once again, Brady emerged victorious as Tampa Bay came away with a 31-26 win.
TB12 had a wild day at Lambeau, completing 20 of 36 passes for 280 yards with three touchdowns and three interceptions. Rodgers had the better stat line, completing 33 of 48 passes for 346 yards with three touchdowns and a pick, but still took his fourth consecutive conference title game loss.
Brady and the Bucs, of course, went on to defeat Patrick Mahomes and the Kansas City Chiefs in Super Bowl 55.
Tom Brady-4, Aaron Rodgers-1
Rodgers escaped with a narrow victory in 2022
In Week 3 of the 2022 season, Rodgers and the Packers traveled to Tampa Bay and walked away with a 14-12 victory over Brady and the Bucs.
Rodgers doesn't throw many interceptions, but he did throw one during this game. But that was really his only mistake as he played a highly efficient game, completing 27 of 35 passes for 255 yards with two touchdowns.
Brady played well also, completing 31 of 42 passes for 271 yards and a touchdown, but he couldn't convert a late two-point conversion, dropping his record against his friend and rival to 4-2.
Tom Brady-4, Aaron Rodgers-2
Stats courtesy of Pro Football Reference
Like Sportscasting on Facebook. Follow us on Twitter @sportscasting19 and subscribe to our YouTube channel.