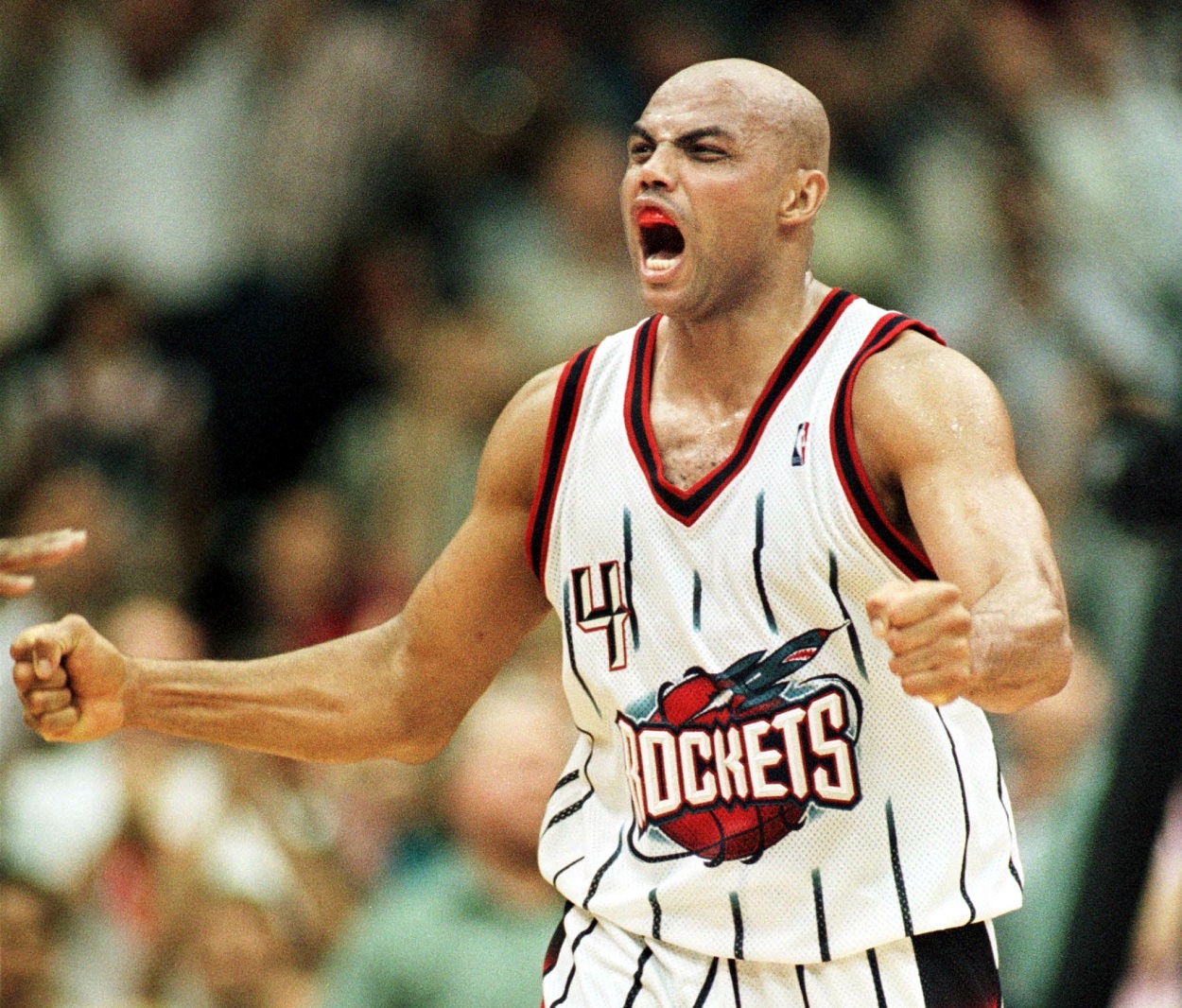 Charles Barkley Hating NBA Superteams Is a Bit Hypocritical Given Comments He Made When He Joined Hakeem Olajuwon and Clyde Drexler With the Houston Rockets
Charles Barkley criticizing NBA superteams is a bit hypocritical as he essentially created one in getting traded to the Houston Rockets.
Charles Barkley has made it perfectly clear that he's not a fan of the so-called "superteams" in the NBA, even openly rooting against the Brooklyn Nets trio of Kevin Durant, Kyrie Irving, and James Harden in the 2021 NBA playoffs. But this certainly isn't a new thing for Barkley. Over the years, he's made comments about LeBron James leaving the Cleveland Cavaliers the first time to join Dwyane Wade and Chris Bosh with the Miami Heat. He's criticized KD for leaving the Oklahoma City Thunder for the Golden State Warriors and Kawhi Leonard for leaving the Toronto Raptors for the Los Angeles Clippers.
What makes Barkley's disdain of NBA superteams so interesting is that he was part of one with the Houston Rockets. Chuck has claimed in the past that his situation with the Rockets was different and that he wasn't chasing a ring. But comments he made back then and how he ended up in Houston paint a different picture.
Charles Barkley was traded from the Phoenix Suns to the Houston Rockets in 1996
In 1996, just three years removed from winning NBA MVP and leading the Phoenix Suns to the NBA Finals, Barkley had become unhappy with the organization as the team was no longer competitive.
Barkley was still playing at an All-Star level, averaging 23.2 points and 11.6 rebounds during the 1995-96 season. But the Suns went just 41-41, good enough for just the seventh seed in the West, and were knocked out in the first round of the '96 playoffs by the San Antonio Spurs in four games.
In that same postseason, the Houston Rockets saw their dreams of a three-peat come to an end when they were swept in the second round by the Seattle SuperSonics, who eventually went on to lose to Michael Jordan and the Chicago Bulls in the NBA Finals.
Apparently feeling the need to match the Bulls and their three superstars in Jordan, Scottie Pippen, and Dennis Rodman, Houston, already with future Hall of Famers Hakeem Olajuwon and Clyde Drexler on the roster, traded many of its important role players, including Robert Horry, to Phoenix to bring in Barkley, thus becoming a superteam.
While it's somewhat common in today's NBA, back then it was essentially unheard of for a player to demand a trade, put together a list of preferred destinations, and then have that request accommodated. But that's seemingly exactly what Barkley did in '96.
A few years back, Barkley denied that was how things went down and said he never went chasing a ring. But comments made just after the trade indicated otherwise.
Barkley didn't seem to have any problem joining a superteam in 1996
In 2016, Barkley appeared on an episode of The Doug Gottlieb Show to discuss Durant signing with the Warriors and how disappointed he was in KD. When his trade to the Rockets was brought up, Barkley adamantly denied ring-chasing, or even that he requested a trade from the Suns at all. He said the only time he ever requested a trade was when he was dealt to Phoenix after spending the first eight years of his career with the Philadelphia 76ers, saying Philly was "a bad organization."
Barkley then went on to say that he never specifically asked to go to Houston to play with "old Clyde" and "old Hakeem."
Now, what needs to be noted here is that both Olajuwon and Drexler were NBA All-Star selections in 1995-96. Olajuwon averaged 26.9 points, 10.9 rebounds, and 2.9 blocks, earning Second Team All-NBA honors, while Drexler averaged 19.3 points, 7.2 rebounds, 5.8 assists, and 2.0 steals.
So, yes, while both were on the back nine of their respective careers, they were still performing at an elite level, which is probably why Barkley was so excited to team up with them in Houston. In comments made to two Philadelphia TV stations when the trade went down, Barkley essentially confirmed that he had facilitated the trade and made it crystal clear that his preferred destination was the Rockets as it set him up to win an NBA championship (h/t NBC Sports).
"I'm very excited. Obviously, it's something I wanted to do. Houston was my first priority."

"At this stage of my career, I'm not a great player. I'm a good player. But with Hakeem and Clyde, I have a great shot at a championship.

"I called the shots. When push comes to shove, I think you have to stand up to the system."

Charles Barkley
Does that sound like someone who didn't demand a trade and had no expectations of winning a title with "old" players?
Look, Chuck is certainly entitled to his own opinion on superteams these days, and I'm right there with him. But there's no shame in just admitting that he went chasing a ring and that it simply didn't work out, especially when there's proof out there like the quote you see above.
So how close did the superteam Rockets get to a title?
The Rockets superteam never even reached the NBA Finals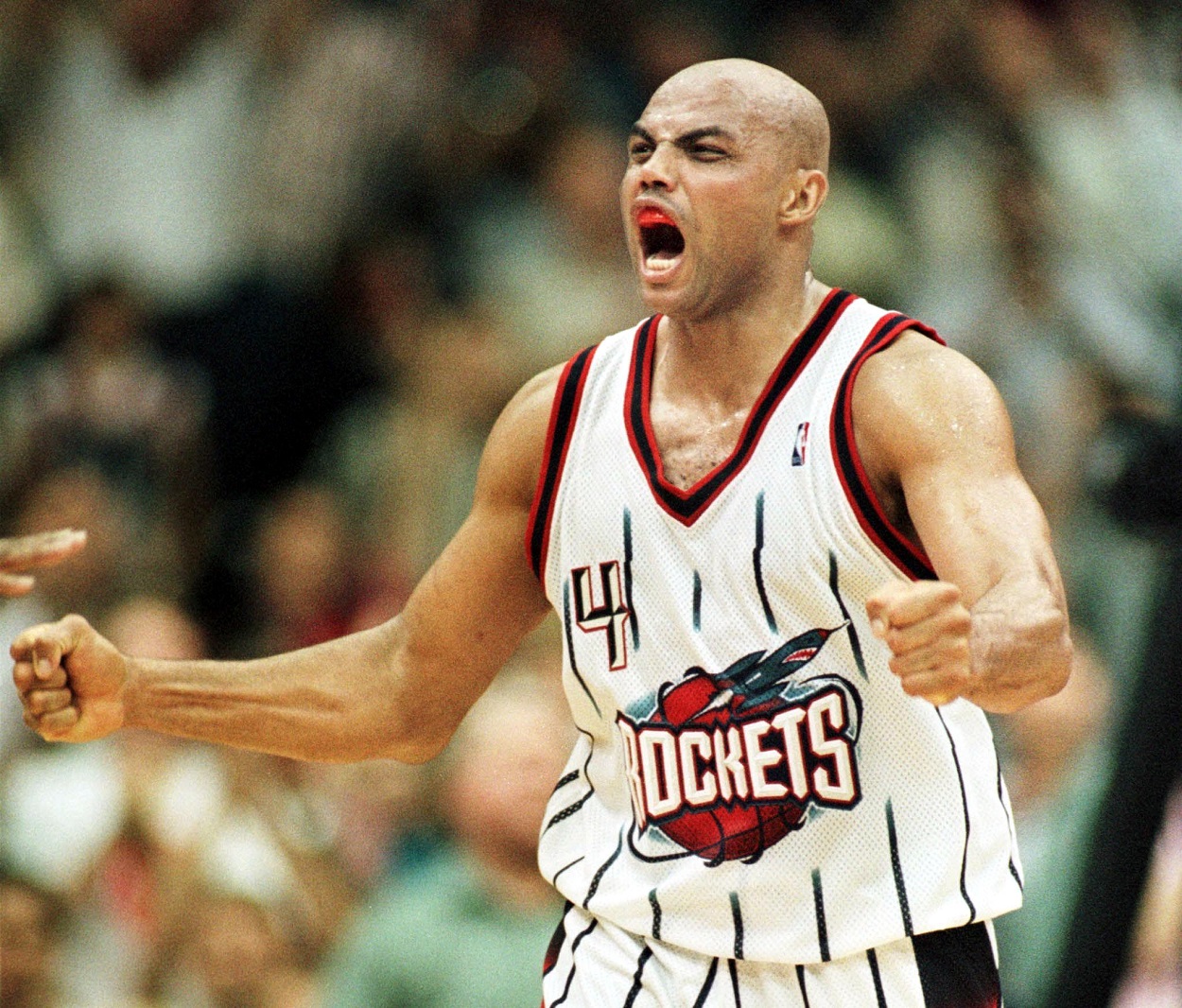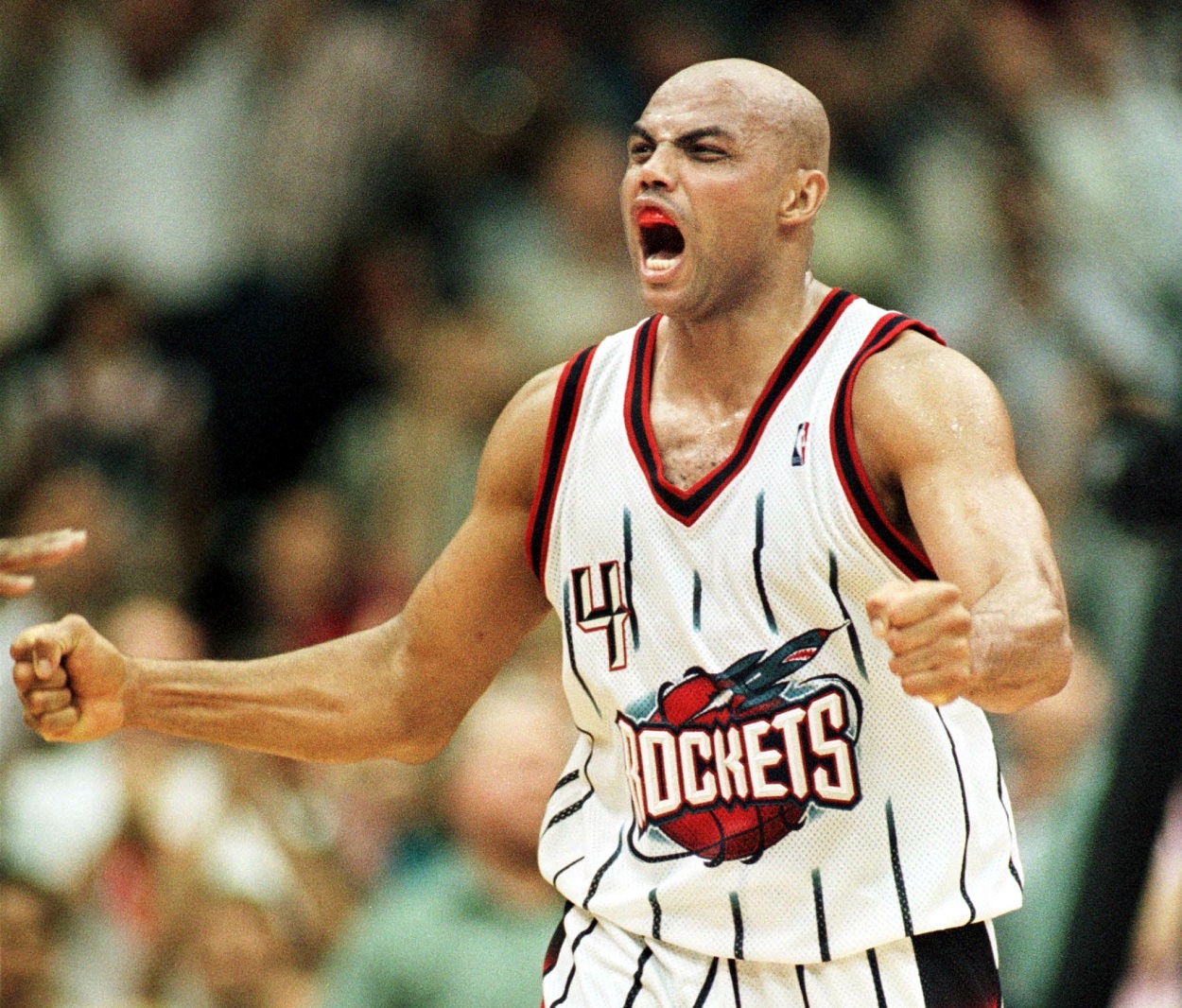 Armed with the superteam of Olajuwon, Barkley, and Drexler, all of whom were again NBA All-Stars in 1996-97, the Rockets were nine games better than they were in '95-96, going 57-25 to earn the No. 3 seed in the Western Conference.
After sweeping the Minnesota Timberwolves in the first round, Houston then knocked off the Sonics in seven games in the conference semis, setting up a matchup with the top-seeded Utah Jazz in the Western Conference Finals. The Rockets gave it everything they had but simply lost to a better team, bowing out in six games as John Stockton hit a buzzer-beating 3-pointer over the outstretched arms of Barkley in the clincher.
The following season, Barkley was plagued by injuries and started just 41 of the 68 games in which he appeared as the Rockets went 41-41 and were knocked out of the postseason in the first round, again by Utah.
Drexler retired ahead of the lockout-shortened 1998-99 season, at which point the Rockets took one more shot at a superteam by bringing in Scottie Pippen. But that didn't work out either as Houston, the No. 5 seed in the West, was again knocked out in the first round, this time by Shaquille O'Neal and Kobe Bryant's Los Angeles Lakers.
Barkley played one more season in Houston before calling it quits himself, ending his stellar career with zero championship rings.
Stats courtesy of Basketball Reference