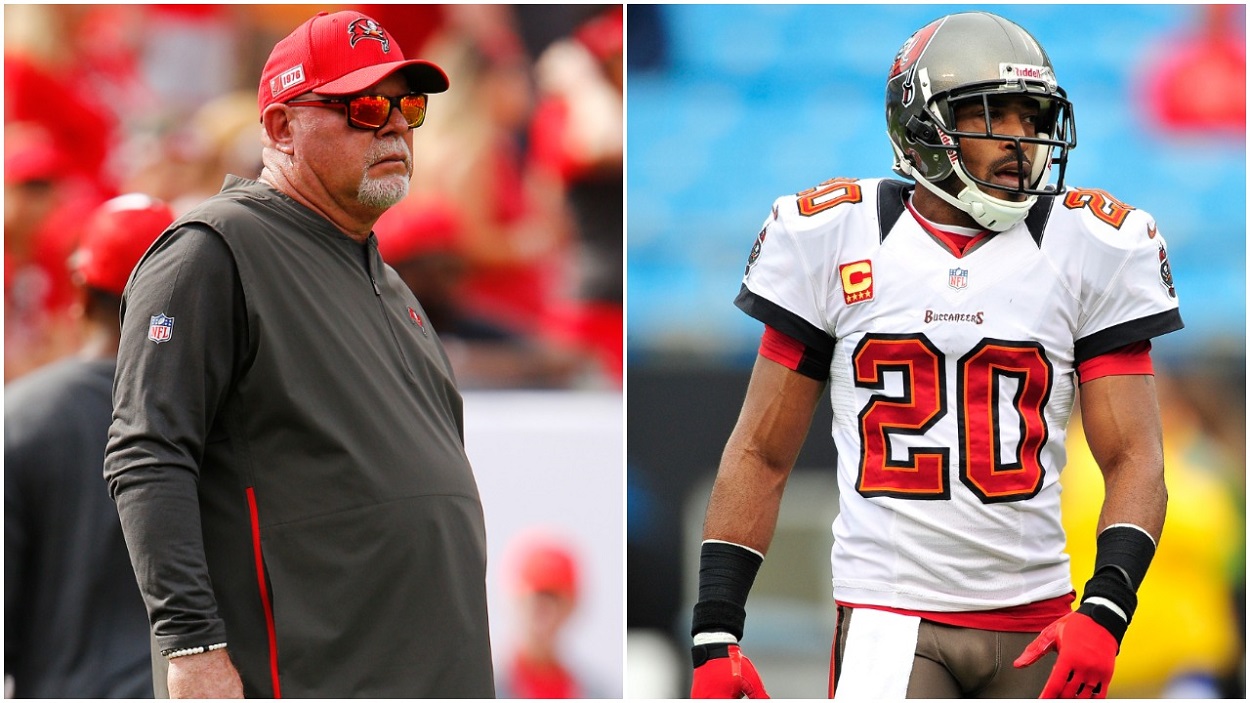 Bruce Arians Used to Babysit One of the Greatest Players in Tampa Bay Buccaneers History
Tampa Bay Buccaneers head coach Bruce Arians has a phenomenal connection to Bucs legend and Super Bowl champion, Ronde Barber.
Bruce Arians has the Tampa Bay Buccaneers back in the Super Bowl for the first time in 18 years and has a very special connection to one of the defensive stars of that previous Super Bowl-winning team, who just also happens to be one of the greatest players to ever don a Buccaneers uniform, Ronde Barber.
You see, back during his playing days at Virginia Tech, where he played quarterback, Arians roomed with Barber's father, James, who was the team's star running back and also coached alongside Arians for a short time at their alma mater as a graduate assistant. The two were very close and Arians and his wife, Christine, would actually babysit Ronde and his twin, Tiki, who played 10 seasons with the New York Giants.
Unfortunately for the Barber boys, life changed when their father abandoned the family not long after being let go by Virginia Tech, a decision that cost Arians a friend as well.
But Bruce Arians always followed the careers of Tiki and Ronde Barber and was absolutely thrilled to be on hand when Ronde was inducted into the Buccaneers' Ring of Honor in 2019.
Bruce Arians roomed with Tiki and Ronde Barber's father at Virginia Tech
James Barber was a year ahead of Bruce Arians at Virginia Tech but the two became very close when Arians joined the Hokies' varsity squad as a sophomore in 1972. Barber had already established himself as the team's star running back and rushed for more than 2,000 yards in his three seasons on the main squad, also scoring 30 touchdowns, at the time a school record.
Bruce Arians didn't make quite as big of an impact as he didn't become the starting quarterback until his senior season. Barber had already graduated by that point but the two would team back up a short time later as graduate assistants on the Virginia Tech coaching staff in 1975, the same year Tiki and Ronde Barber were born.
Both were assistant coaches at Virginia Tech but went in different directions after being let go
With both Bruce Arians and James Barber being on the Virginia Tech coaching staff, they bought condos very close to one another and Arians and his wife, Christine, would consistently help James and his wife, Geraldine, with young Ronde Barber as Tiki was often in and out of the hospital as a child with convulsions.
The two families were extremely close but things changed in 1977 when Virginia Tech changed head coaches. Arians and Barber were both relieved of their duties and each had to make a decision on whether or not to continue their respective coaching careers. Arians obviously chose to do so and spent the next four-plus decades in various roles with a number of college and NFL teams.
James Barber, on the other hand, went a different direction. Soon after being let go by the Hokies, James divorced Geraldine and left his family behind. He had issues with substance abuse and essentially had no relationship with his sons as they grew up. He eventually did turn his life around, got remarried, and had two more children. Barber did eventually make amends with Tiki and Ronde but it took multiple decades for that to happen.
Ronde Barber was inducted into the Tampa Bay Buccaneers' Ring of Honor during Bruce Arians' first year as the team's head coach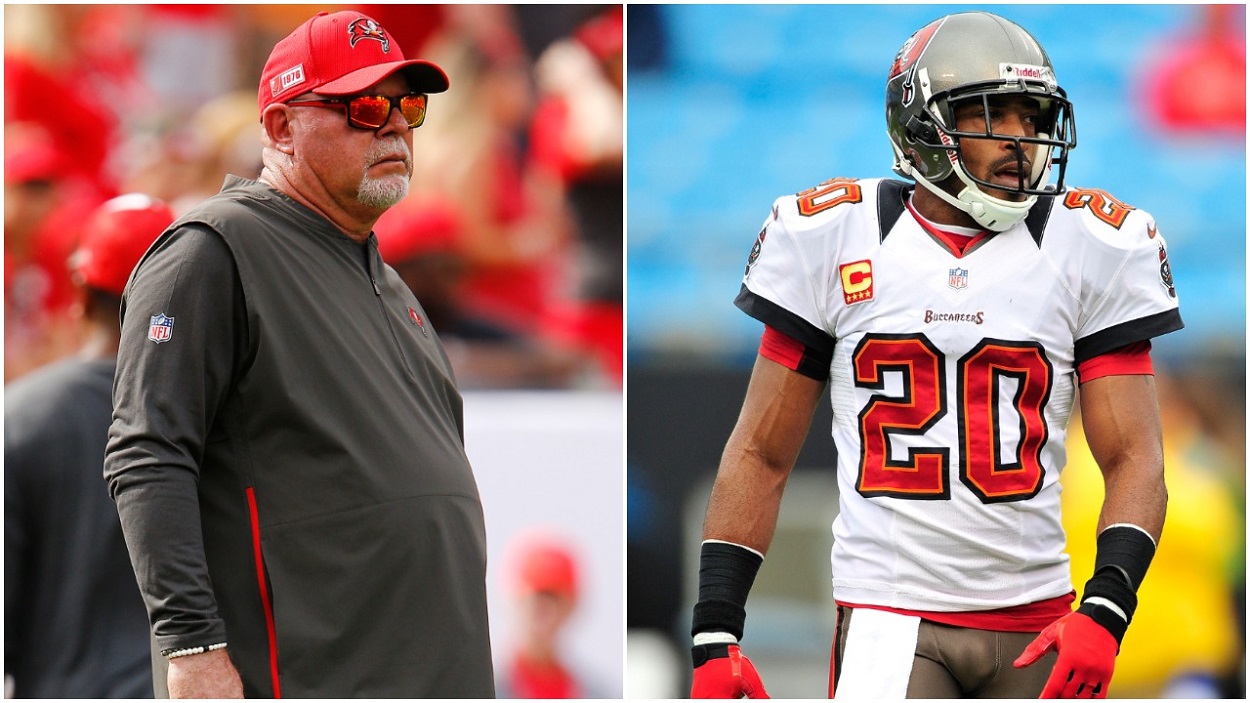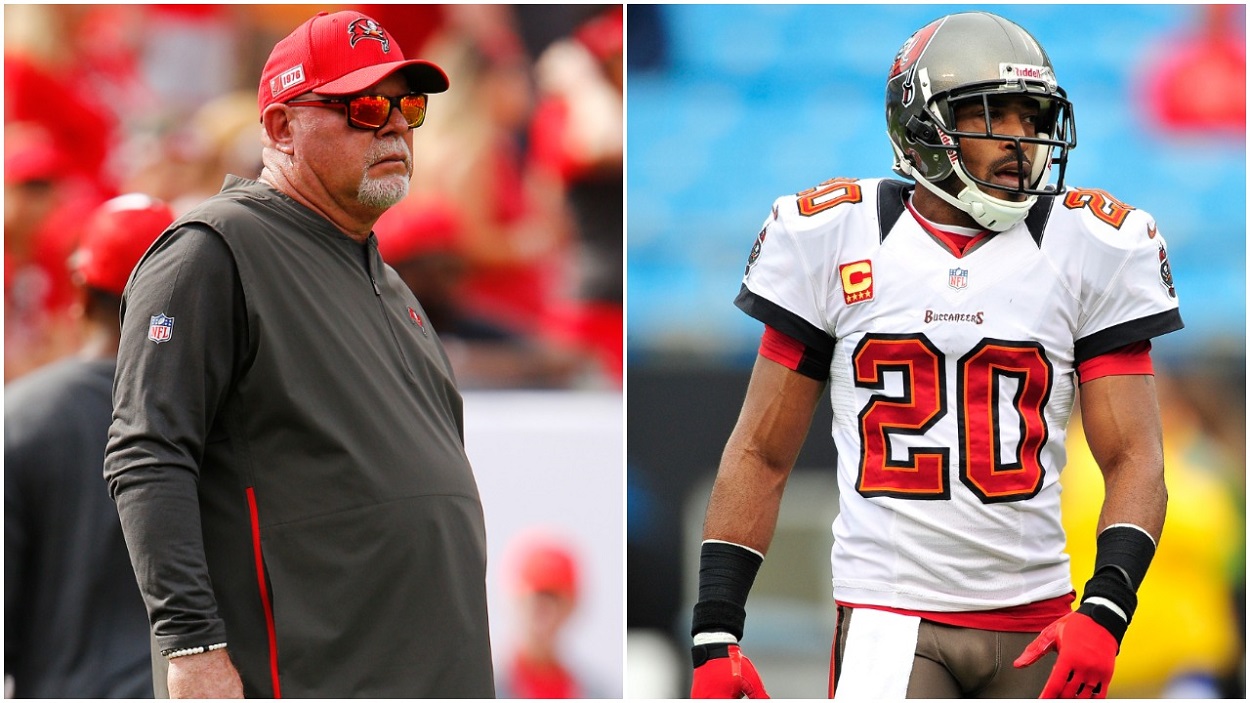 In 2019, seven years after Ronde Barber's final game with the Tampa Bay Buccaneers, he was inducted into the franchise's Ring of Honor and Bruce Arians was right there to watch it happen as it was his first year as the team's head coach. As the Barber twins became stars at the University of Virginia and then the NFL, Arians said he always kept tabs on them and he believes Ronde deserves a spot in the Pro Football Hall of Fame (h/t ESPN).
"They were probably 2, 2½, maybe 3 when we split apart. … [I] followed them throughout their entire careers. It was so fun watching them grow, becoming the men that they are. … I couldn't be more proud of both of them, but for [Ronde] to get into the Ring of Honor — that's huge — and I think the gold jacket shouldn't be far off."

Bruce Arians
Bruce Arians gets his chance to earn a Super Bowl ring with the Buccaneers on Sunday and you can bet Ronde Barber will be watching.