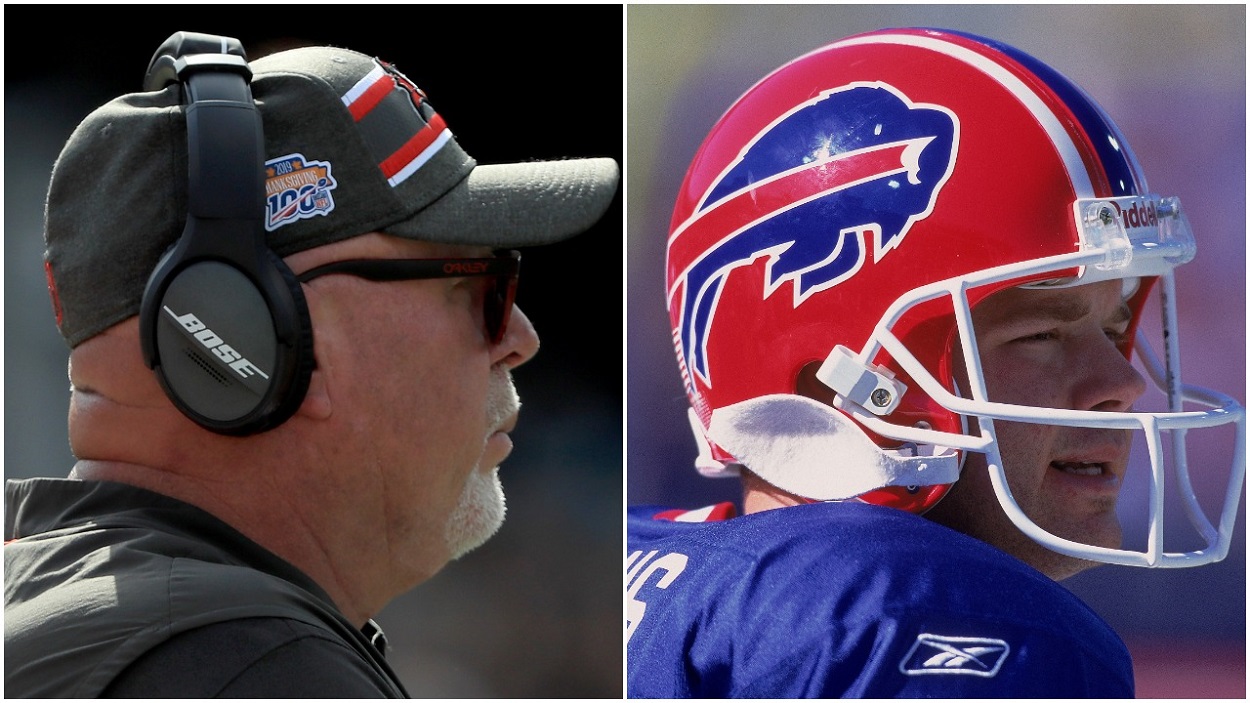 It's Sometimes Easy to Forget That Bruce Arians' Son Played in the NFL
A look back on the brief NFL career of Jake Arians, the only son of Tampa Bay Buccaneers head coach, Bruce Arians.
Bruce Arians, who is currently preparing his Tampa Bay Buccaneers for Super Bowl 55, which will be his first title game appearance as a head coach, has been around the game of football for a long time. Following his playing days at Virginia Tech, Arians immediately joined the coaching ranks and has excelled in a number of roles at both the collegiate and professional levels for more than four decades now, which is pretty common knowledge.
But one thing you might not know (or remember) is that his only son, Jake Arians, played in the NFL for a very short period of time and once replaced one of the league's all-time leading scorers.
Bruce Arians has spent 27 seasons in the NFL as a coach
Overall, Bruce Arians has spent 27 seasons in the NFL as a coach. After spending 14 seasons at the collegiate level, including a stint under Bear Bryant as a running backs coach at Alabama and a six-year run as the head coach at Temple, Arians joined the Kansas City Chiefs in 1989 as a running backs coach, a position he held for four seasons before returning to the NCAA to be the offensive coordinator at Mississippi State.
He returned to the NFL in 1996 as the tight ends coach for the New Orleans Saints and then spent the '97 season back with the Crimson Tide before returning to the pros for good in 1998 as the quarterbacks coach for Peyton Manning and the Indianapolis Colts, a role in which he served three seasons.
Arians then spent three seasons as the Cleveland Browns' offensive coordinator, eight seasons with the Pittsburgh Steelers as a wide receivers coach and offensive coordinator, and one more season with the Colts as an offensive coordinator and interim head coach before finally getting a real shot at the big job with the Arizona Cardinals in 2013.
Arians spent five seasons in Arizona, where he won his second NFL Coach of the Year award (he won the first in his interim year with the Colts), but retired following the 2017 season, which obviously didn't last long as he ended that retirement to become the head coach of the Tampa Bay Buccaneers in 2019. He now has the Bucs in their first Super Bowl in 18 years and will become the first man in NFL history to coach his team in the Super Bowl in their home stadium.
Bruce Arians' son, Jake Arians, played his college football at UAB
Not long after Bruce Arians finished up his third and final season as a graduate assistant at Virginia Tech, which was his first coaching job after playing for the Hokies for three seasons, his wife, Christine, gave birth to the couple's first child, Jake, in January 1978. The two had a daughter, Kristi, two years later.
As one might expect with his father being who he is, Jake Arians played some football growing up and became the placekicker at the University of Alabama at Birmingham (UAB) in 1996. In four seasons with the Blazers, Arians made 94.2% of his extra-point attempts, going 81 for 86, but struggled when kicking field goals, making just 29 of 53 attempts.
His best season, however, was his senior season in 1999 when he made 16 of 17 extra points and 12 of 15 field goals. It certainly wasn't good enough to get him drafted into the NFL but he did still get his shot at the pro level.
Jake Arians appeared in 10 games for the Buffalo Bills in 2001 as the initial replacement for legendary kicker Steve Christie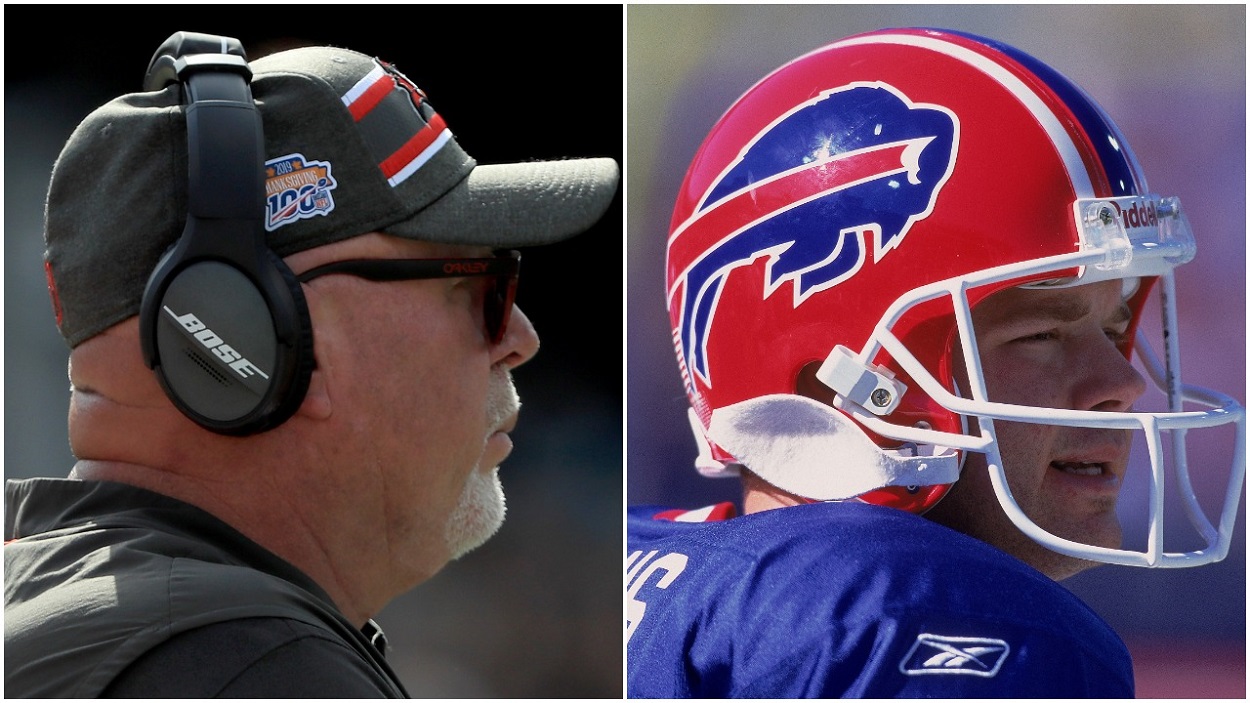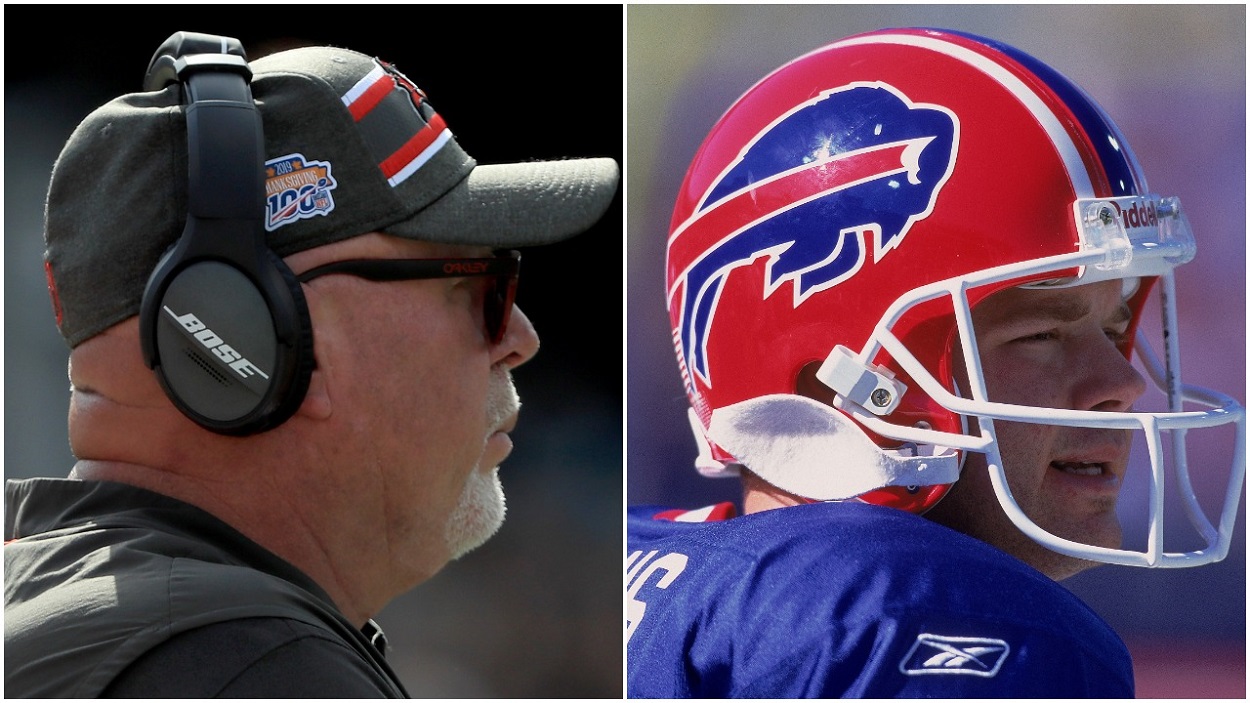 In 2000, which would have been Bruce Arians' final season of his first run with the Colts, Jake Arians was signed as an undrafted free agent to the Atlanta Falcons' practice squad but he never made it to the main roster.
Ahead of the following season, however, he was signed by the Buffalo Bills to replace Steve Christie, who'd been the team's kicker for nine seasons and is still the franchise's all-time leading scorer. Arians didn't handle kickoff duties as those were done by punter Brian Moorman but he did handle extra points and field goals.
But just as things had gone at UAB, Arians didn't have much trouble with the extra points but struggled when it came to field goals. In 10 games with the Bills, he made 16 of 17 extra points but made just 12 of 21 field goals. Arians was a perfect 6-for-6 from 20-29 yards but only 2-for-4 from 30-39 yards and 4-for-11 from 40-49 yards.
Arians was waived following Buffalo's Week 10 loss to the Miami Dolphins, which was the game in which he missed his only extra point of the season. Jake Arians never played professional football again but went on to a career in real estate and also serves as the President of the Arians Family Foundation.
Stats courtesy of Pro Football Reference