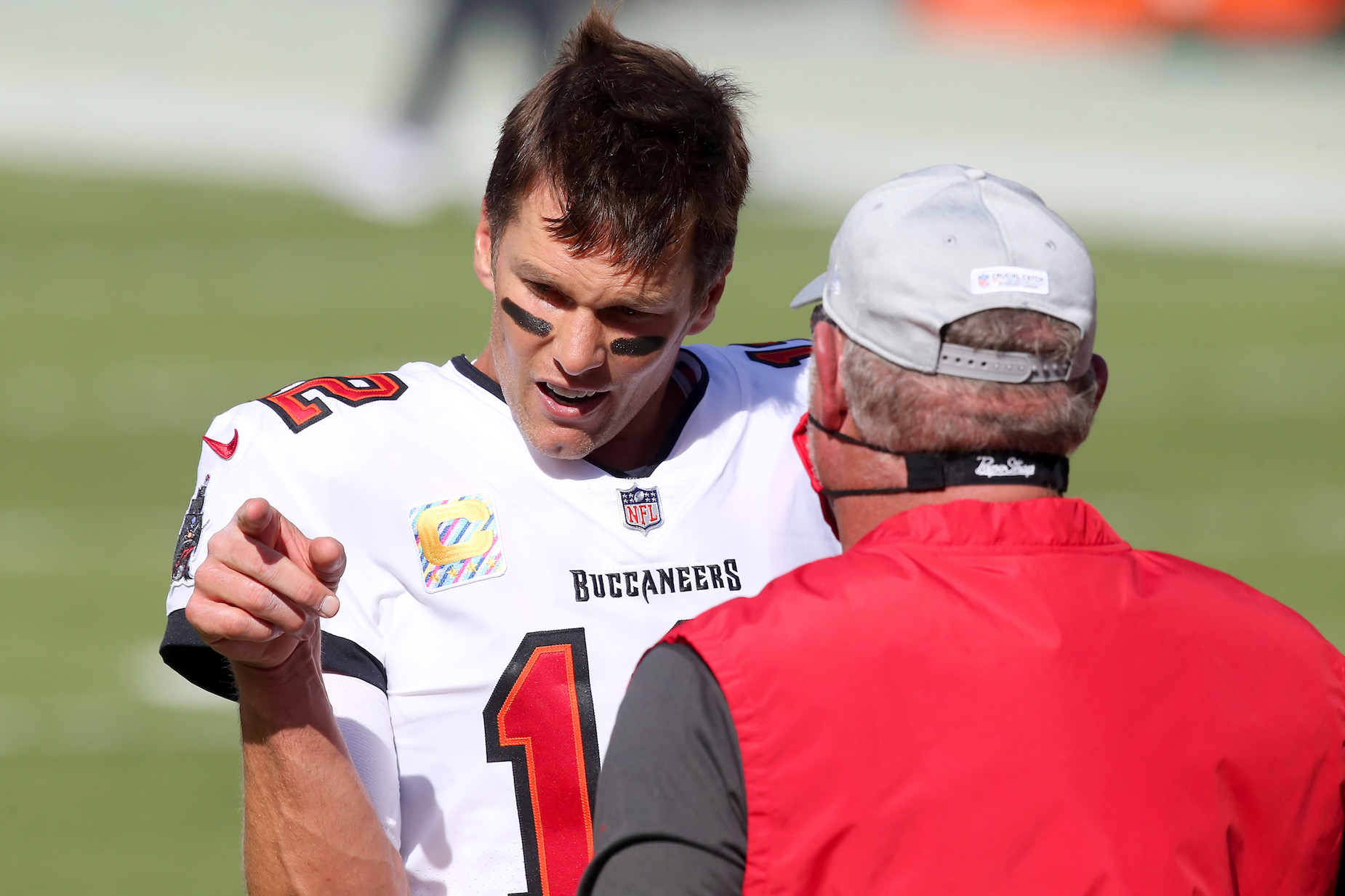 Bruce Arians Just Can't Stop Throwing Shade at Tom Brady
On Sunday, the Tampa Bay Buccaneers played a terrible game of football. On Monday, Bruce Arians threw some shade at Tom Brady.
For the past 20 years, Bill Belichick and Tom Brady were a packaged deal. The two legends, however, split up in March; the quarterback, of course, headed south to join up with the Tampa Bay Buccaneers. There, he's working with a new head coach: Bruce Arians.
While Belichick isn't exactly the most warm and fuzzy man, he rarely throws his players under the bus; when he wants to throw some shade, he's more likely to do it with biting sarcasm or an ironic nickname than anything else. In Tampa Bay, however, things are a bit different. Bruce Arians, it seems, can't stop blasting Tom Brady in the media.
Bruce Arians called out Tom Brady earlier this season
On paper, it seems like any coach's dream to work with Tom Brady; while the quarterback has plenty of limitations, he's a proven winner with plenty of experience under center. Bruce Arians, however, hasn't always been enamored with the quarterback.
After the Buccaneers dropped their Week 1 game against the New Orleans Saints, Arians took aim at Brady during his postgame comments. The head coach said his quarterback was at fault for two interceptions; he also said that he expected more from Brady in Week 2. While Arians later changed his tune on one of the throws, the public blame had already been assigned.
On another occasion, Arians also called Andrew Luck the "perfect" quarterback. While that, in of itself, wasn't a shot at Brady, it did raise a few eyebrows; given that TB12 uprooted his entire life to join the Tampa Bay Buccaneers, some expected that head coach would be a bit more complimentary.
Bruce Arians blasted his quarterback again after a terrible Sunday night
On Sunday night, the Tampa Bay Buccaneers met the New Orleans Saints in what was supposed to be a battle for NFC South supremacy. That battle, however, turned out to be pretty one-sided.
On the night, Bruce Arians' offense only put up three points; on an individual level, Brady struggled, too, throwing for 209 yards and three interceptions.
Unsurprisingly, the head coach wasn't too pleased with the quarterback's performance. This time, however, Arians was more subtle than he had been earlier in the year.
"The interception to [Antonio Brown] — that was just a poor throw," Arians explained when asked about Brady and the receiving corps potentially making different reads during the game, according to ProFootballTalk. "The one to Chris [Godwin] — Chris read the route properly, [but] Tom thought he was going deep."
Arians also appeared to question Brady's decision making. "Mike [Evans] was open a bunch in that ballgame," Arians said. "He didn't get targeted — that was all. Mike was open." He also added that the Buccaneers "should have" targeted Antonio Brown on the first third down of the game but "decided to go to Gronk" instead.
Tom Brady, in theory, knew what he was getting into
Based on the way that modern sports work, it's reasonable to wonder if there's a rift between Tom Brady and Bruce Arians; no one, after all, likes to be criticized by their boss in front of the whole company. The quarterback, in theory, though, had to know what he was signing up for.
While Arians is relatively new to Tampa Bay, he's been around the NFL for quite some time. There's no way that Tom Brady wouldn't have known how the coach treats his players. The quarterback also wasn't traded to the Buccaneers; he actively chose to leave New England to team up with the coach.
We also know that Brady is an incredibly motivated player and has no qualms about chewing out his teammates on the sidelines. Perhaps, in his final push for more silverware, he wanted to work with a coach that will ride him a bit harder than most.
At the end of the day, though, public criticisms and pointing fingers will be forgotten if Tom Brady and Bruce Arians can lift a Lombardi Trophy. As the cliche says, winning can solve everything.