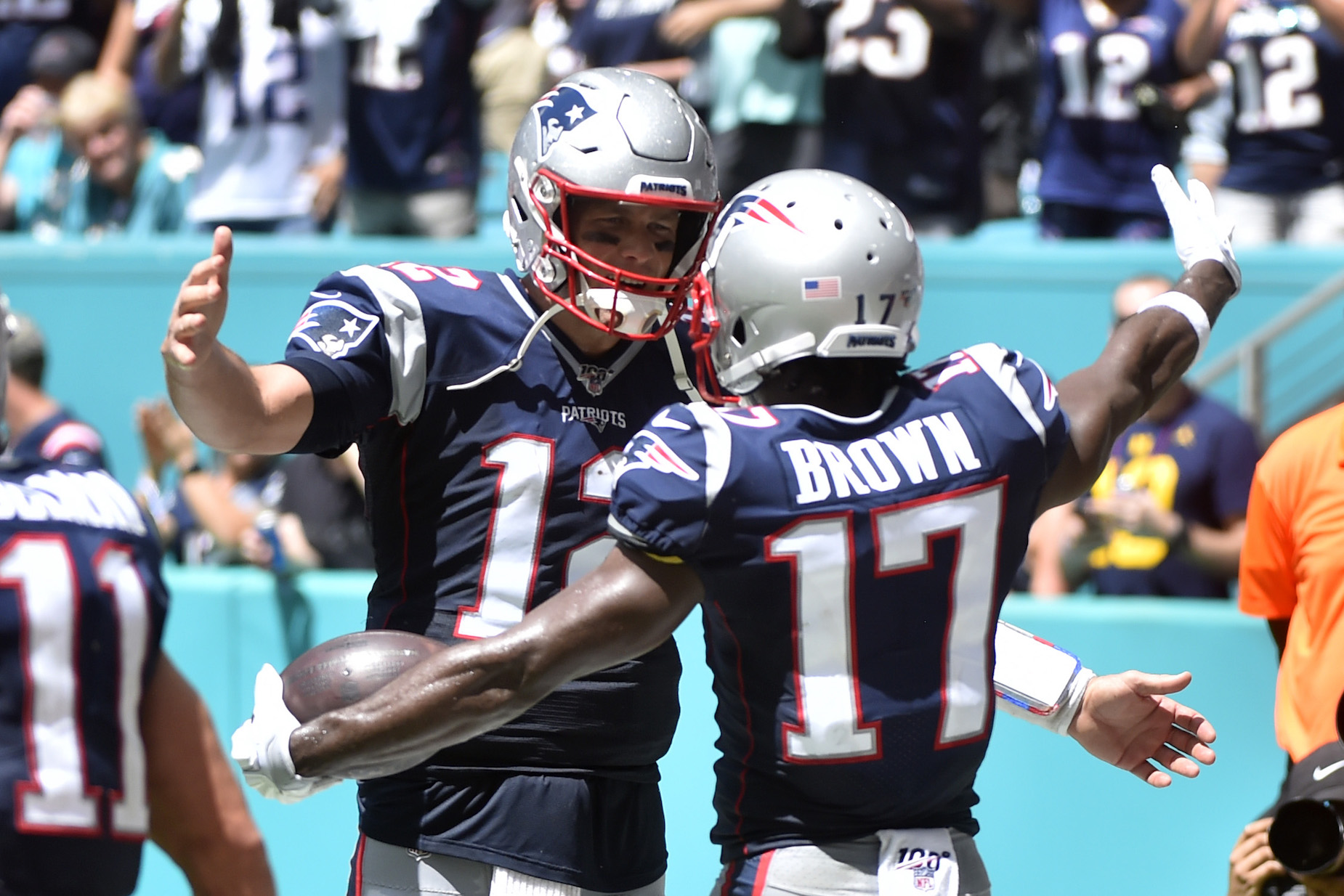 Are Tom Brady and Antonio Brown Friends?
Tom Brady and Antonio Brown have reunited on the Tampa Bay Buccaneers, but are the two NFL stars actually friends?
While both Antonio Brown and Tom Brady have plenty of talent, the two men seem to be pretty different from a personality-perspective. The quarterback, at least as far as the public can see, seems pretty perfect; the receiver, on the other hand, can't seem to avoid controversy wherever he goes. As of Week 9, though, Brady and Brown will be reunited and take the field as Tampa Bay Buccaneers teammates for the first time.
As almost everyone has learned in their own lives, though, you can work alongside someone without forming a close, personal bond. Tom Brady and Antonio Brown, however, seem to have developed quite a friendship during their relatively short time together.
Tom Brady and Antonio Brown first teamed up with the New England Patriots
Over the years, both Antonio Brown and Tom Brady have played alongside plenty of talented players. The two stars, however, didn't team up until 2019.
After his relationship with the Pittsburgh Steelers broke down, Brown joined the Oakland Raiders via trade. His time in the Bay Area, however, never really got off the ground. The receiver showed up to camp with frostbite on his feet; he also threatened to retire due to a helmet-related grievance. AB also ended up clashing with general manager Mike Mayock and was released ahead of Week 1.
Brown didn't spend long on the sidelines, though; he immediately signed a one-year deal with the New England Patriots, teaming up with Tom Brady. The two men seemed to have a good working relationship—the receiver caught four passes for 57 yards and a touchdown—but their time together only lasted one game. After sexual assault accusations surfaced, the Patriots cut the receiver; he remained unemployed until fall 2020 when he joined the Tampa Bay Buccaneers.
Joining forces as Tampa Bay Buccaneers teammates and roommates
In New England, Tom Brady and Antonio Brown's professional relationship came to a pretty immediate end. Come Week 9 of the 2020 NFL season, however, they'll be together again.
At the tail end of October, Brown signed a one-year deal with the Buccaneers; after his eight-week suspension expired, he promptly took a spot on the active roster, reuniting with Brady. Their connection won't be limited to the field, though.
Shortly after news broke that Brown was heading to Tampa Bay, a story began circulating that he'd be living with Brady. The quarterback has since confirmed that he and AB will be roommates, saying that he was trying to be a good teammate and help the receiver adjust to life on Florida's west coast.
Are Tom Brady and Antonio Brown actually friends?
While everyone in Tampa Bay has officially denied it, logic would dictate that Tom Brady wanted to bring Antonio Brown to Tampa Bay. Whether that is actually true or not, though, we do know that the two teammates consider themselves to be pretty close friends.
When discussing the fact that he and Brown were living together on Westwood One, Brady referred to the receiver as "a good friend." During his first media availability as a Buccaneer, Brown returned the favor.
"Tom is my boy, one of the greatest leaders to be around," Brown explained, according to Greg Auman of The Athletic. The receiver also said that he's learning from the legendary quarterback's approach to professional football and, according to the Buccaneers' official website, called Brady "one of my close friends."
When Antonio Brown takes the field on Sunday, he'll reignite the debate over whether he's worthy of playing professional football or not. It's safe to assume, however, that his friend Tom Brady will be glad to see him in the huddle.